We began our South Korean adventure with a week in Seoul, before zig-zagging our way through the country, stopping in Seoraksan National Park, Gangneung, YongPyong, Daegu and Golgulsa Temple. After a brief excursion to the island of Jeju, we ended our month in the city of Busan.
We've already talked about signage and the tiny towels, which turned out to be ongoing themes throughout South Korea. We also mentioned how friendly, generous and helpful people had been in Seoul, and this continued throughout Korea, too – at various points, complete strangers offered for us to share their makgeolli (while hiking), gifted us with small packages of yakgwa (while queuing for a restaurant), shared their locally grown persimmons (while checking out of a hostel) and insisted we help ourselves to their bag of kiwi fruit (while waiting for a bus). We aspire to have this level of outgoingness and generosity!
But probably our most unexpected discovery about Korea was when Sara went looking for deodorant…
While at high altitude, 'our' deodorant (yes, I'm afraid we now share deodorant to save weight and space 😬) exploded and so we needed a new one. Cue nearly a week of increasingly puzzled browsing in convenience stores, pharmacies, supermarkets and cosmetics stores before we realised something funny was going on. Why on earth couldn't we buy deodorant anywhere?! I felt like a total idiot googling it, so imagine my surprise when the search results brought back a series of blog posts from foreigners living in Korea about earwax genes, the resulting struggles of buying deodorant and how to get hold of it. I'm sure this is vastly simplified (and I'm afraid I haven't done a full literature review – after all, I was just trying to shop for deodorant), but it seems that the same gene that determines whether you have wet or dry earwax also determines whether you tend to produce armpit odour. While over 97% of Europeans have wet earwax and so need to buy deodorant, almost all Koreans do not. Who knew?! With the help of one of the blog posts, we eventually managed to buy an extremely expensive imported deodorant in a branch of Olive Young, you'll be happy to learn!

A very confused Sara
Carbon
Our travel to and within South Korea emitted the greatest amount of carbon of any country we visited on this trip so far. This was almost entirely due to our five hour flight from Almaty to Seoul, which emitted just over a tonne of CO2e. While we're disappointed to have emitted so much carbon on a single hop, it's also highlighted how much carbon we would have emitted if we'd not been making every effort to travel overland where possible.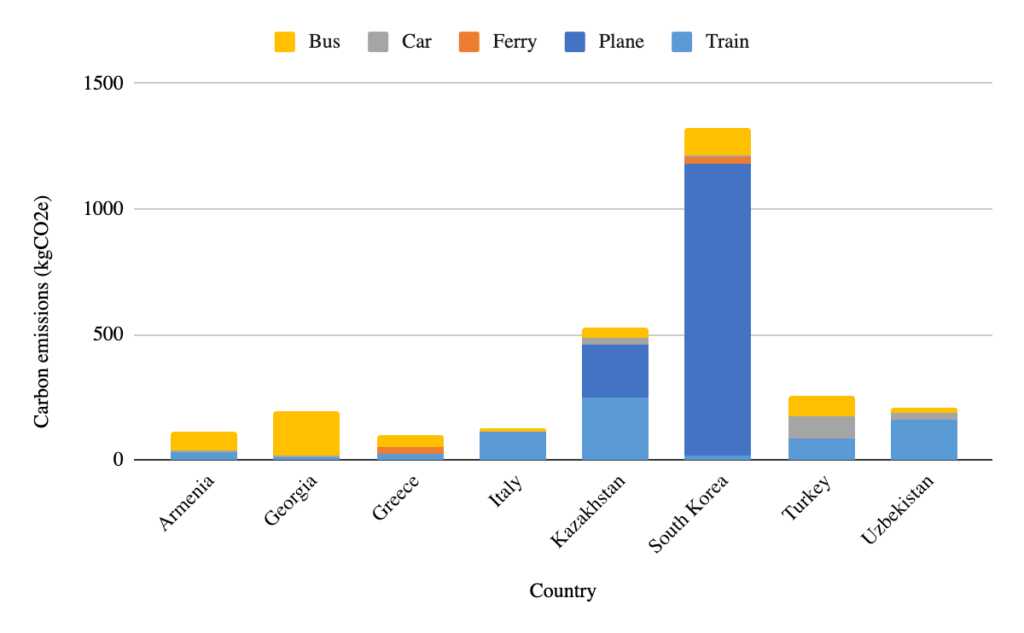 This has pushed our total emissions since leaving London to well over 2 tonnes, which we've offset via Gold Standard's Climate+ Portfolio. This means that as much CO2 has been prevented from entering the atmosphere as was emitted by our modes of transport, and consequently the net carbon emissions are zero. As always, carbon offsetting isn't as good as avoiding the emissions in the first place, but it is a way of taking responsibility for emissions that couldn't be avoided otherwise.
Cost
South Korea was our third most expensive country per day, though I feel like this does South Korea a slight injustice. Our high expenditure was mostly due the flight we took to get to Seoul and our 3-day skiing trip to YongPyong, while both food and accommodation were consistently impressive and affordable.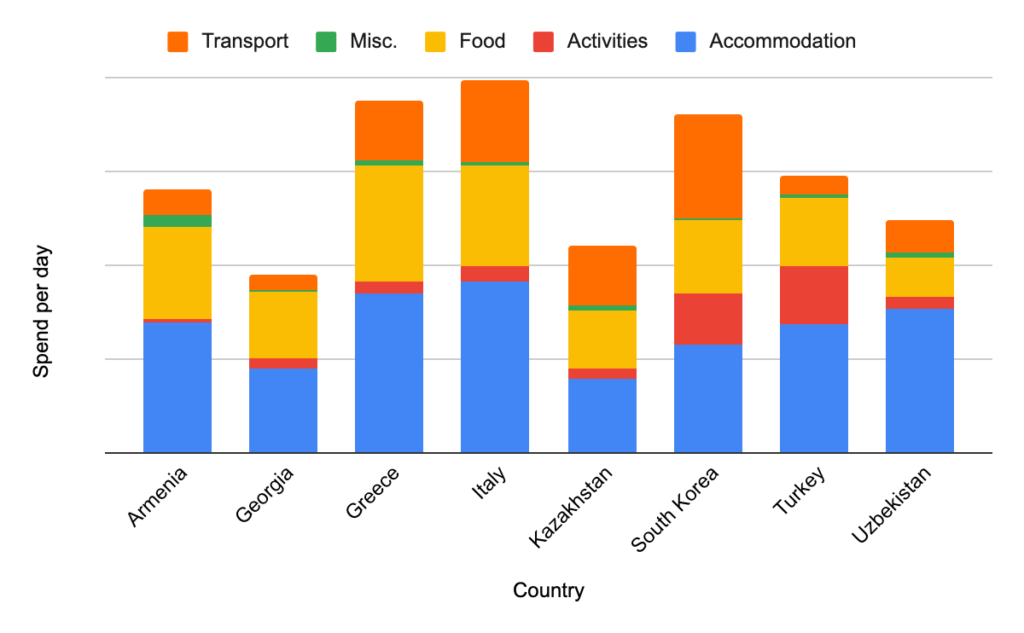 Cats
South Korea accumulated the third lowest cat count of our trip, despite our intervention at a cat cafe. I wasn't sure if it was fair to include these cafe cats, so I've separated our "cats per day" metric into "naturally occurring" cats and "paid for" cats. Sometimes I find it hard to tell whether I'm taking this too seriously or not seriously enough…
Meanwhile, Sara's been mulling over the fairness of visiting countries in different seasons, since cats are far more likely to be inside and out of view when it's cold outside. She's now considering introducing a "seasonally adjusted cat index" to control for the effect of outside temperature. Good to know I'm not the only crazy one!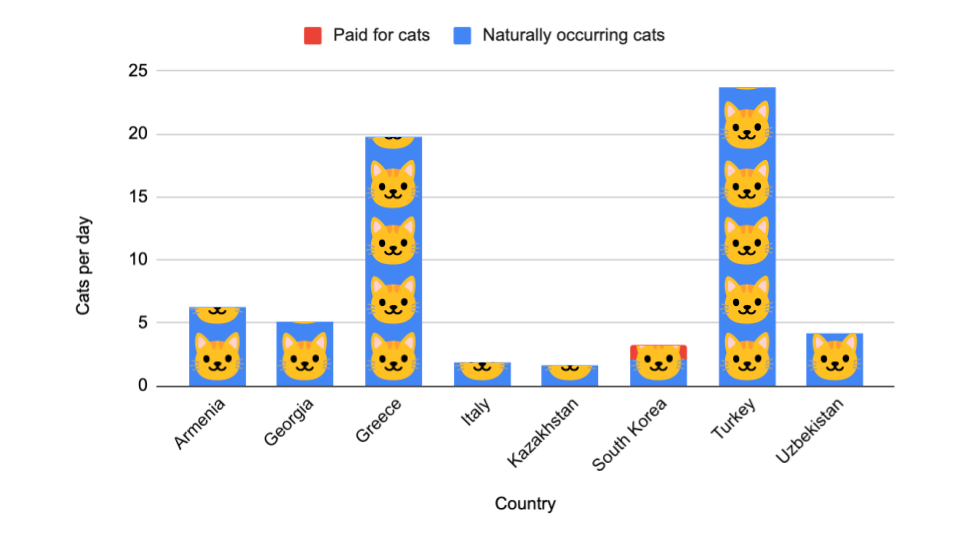 As always, we met some cats eligible for our prestigious awards.
🏅Joint award for friendliest caretaker
🏅Least menacing cat gang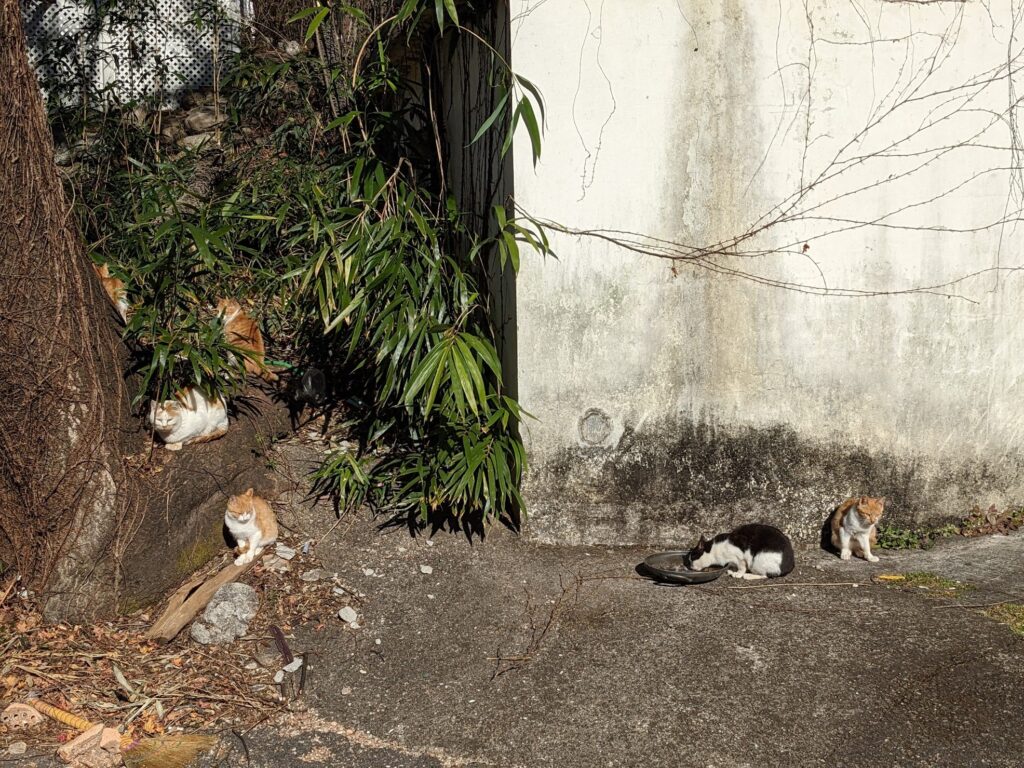 ---
While we were sad to say goodbye to South Korea, we were also excited about our 33 day itinerary for Japan. On top of this, we couldn't wait to catch up with our good friends George and Erin for a few days in Tokyo, and also spend a week travelling around Honshu with Sara's sister Katie.