Our Armenian adventure started in Yerevan, traced a circle around the northern cities of Gyumri, Vanadzor (with a day trip to the Debed Canyon) and Dilijan, before returning to Yerevan. We were struck by quite how different the capital was compared with the rest of the country – Yerevan felt developed and had no shortage of fashionable restaurants and cafes, while the rest of Armenia felt much quieter in comparison. Still, I'm really glad we travelled beyond Yerevan to get a more balanced view of the country.
We travelled exclusively by local buses and long distance marshrutky in Armenia, with the exceptions of our train ride between Yerevan and Gyumri and a late night taxi to Yerevan airport.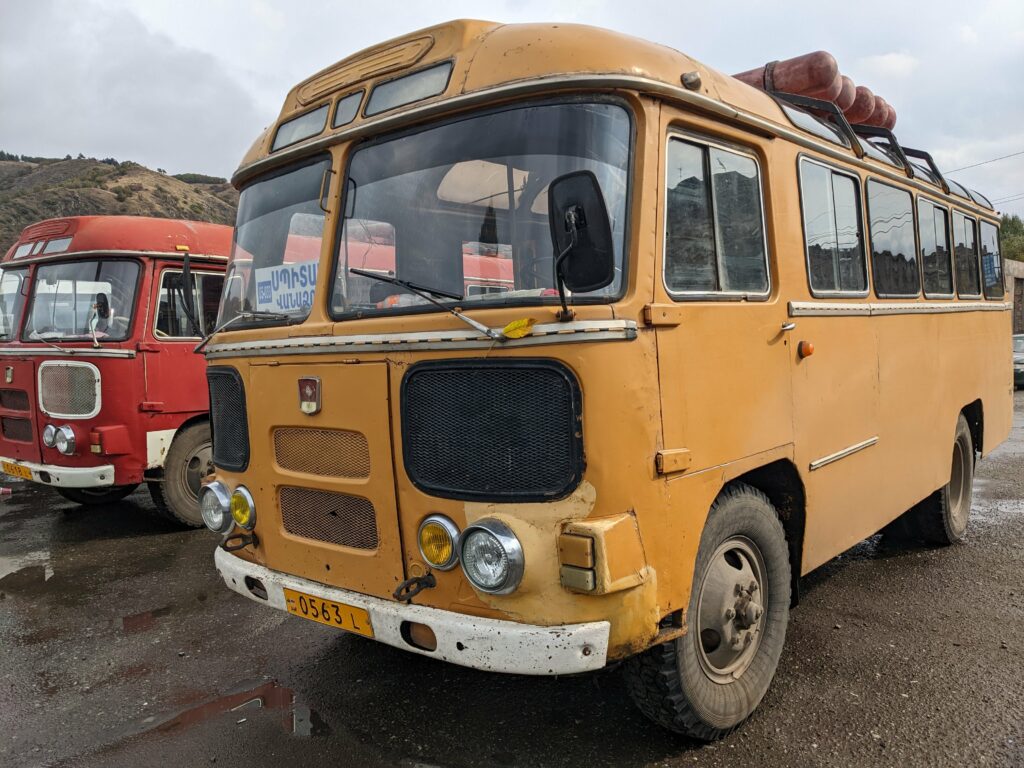 Carbon
Our travel in Armenia emitted a little more than half of the carbon resulting from our travel in Georgia. This was due to both travelling more distance by train in Armenia, while also travelling less distance overall. Still, this didn't seem to save us any time, as we spent just over 23 hours in transit in both countries.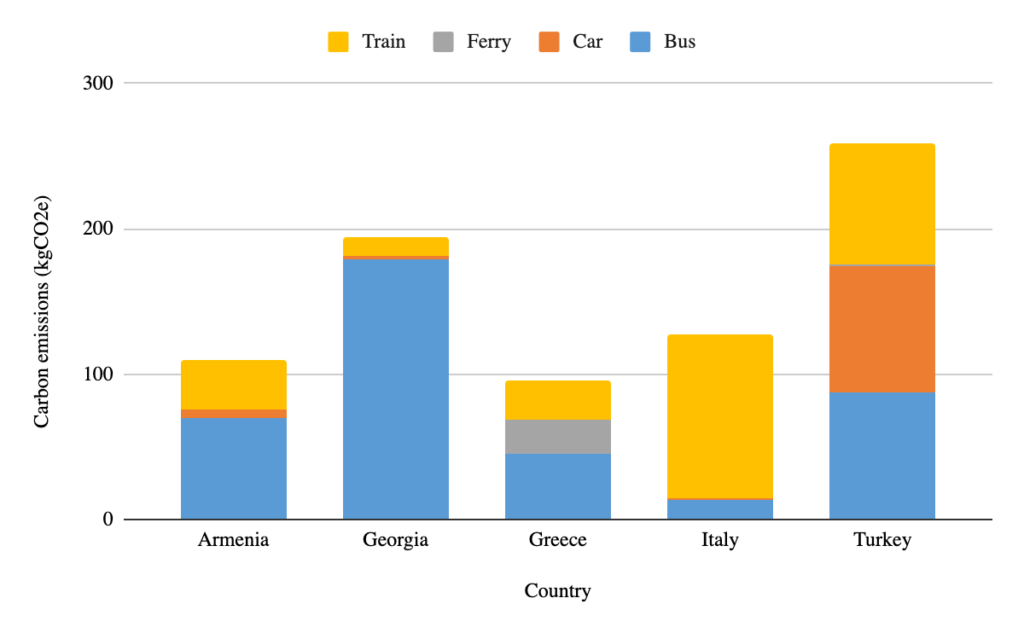 This brings our total carbon emissions since leaving London up to 786 kgCO2e, and increasingly close to the 1,000 kgCO2e minimum offset size.
Cost
Although we spent less money in Armenia than any other country so far, I was surprised that our spend per day in Armenia was slightly higher than it was in Georgia. This seems to be due to a slightly higher proportion of our spend on transport and accommodation, since we travelled more distance per day in Armenia, while also making the most of Yerevan, a real foodie city.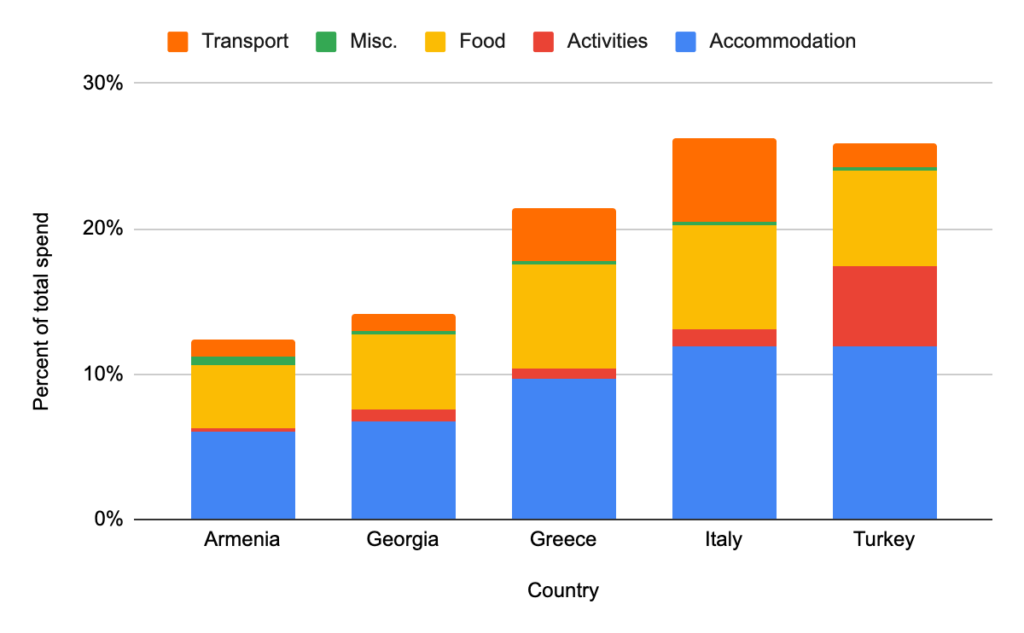 Cats
Armenia just managed to beat Georgia, coming in with 6.2 cats per day. At this point I'm wondering if anywhere will come close to Greece or Turkey.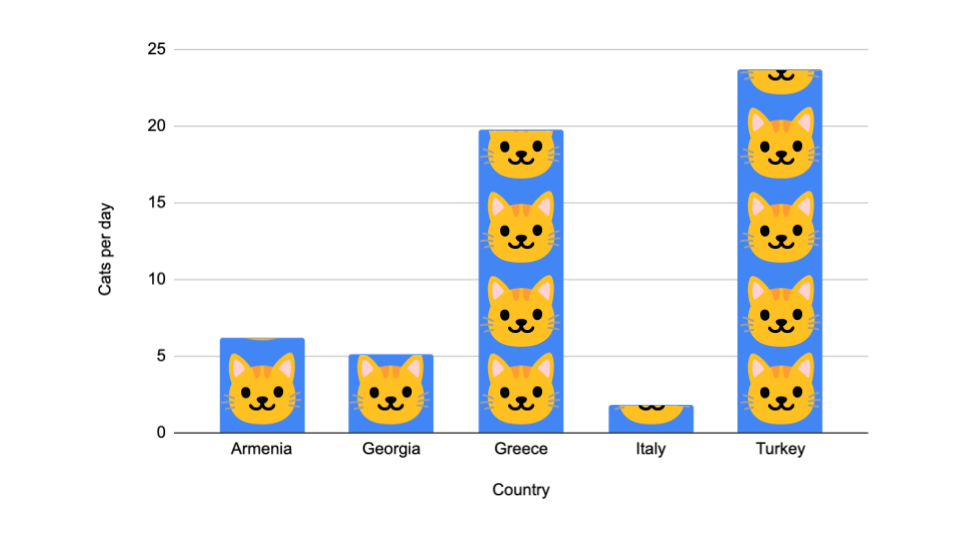 And now it's time to call out our animal highlights…
🏅Cutest used car salesperson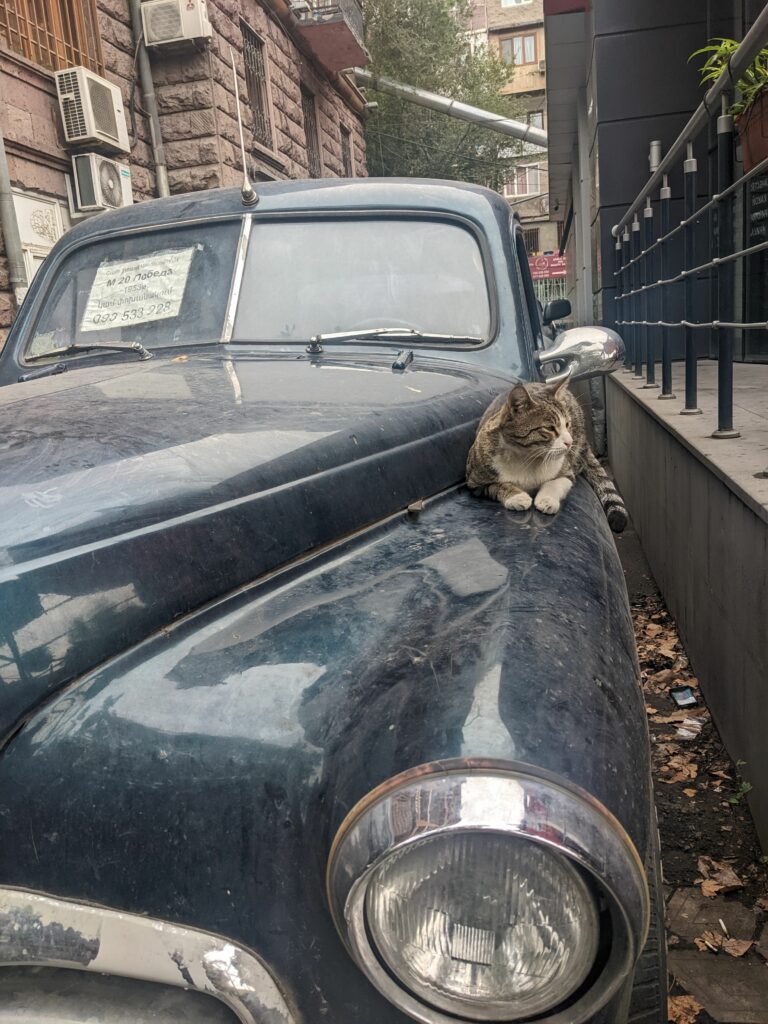 🏅Furriest water fountain Visitor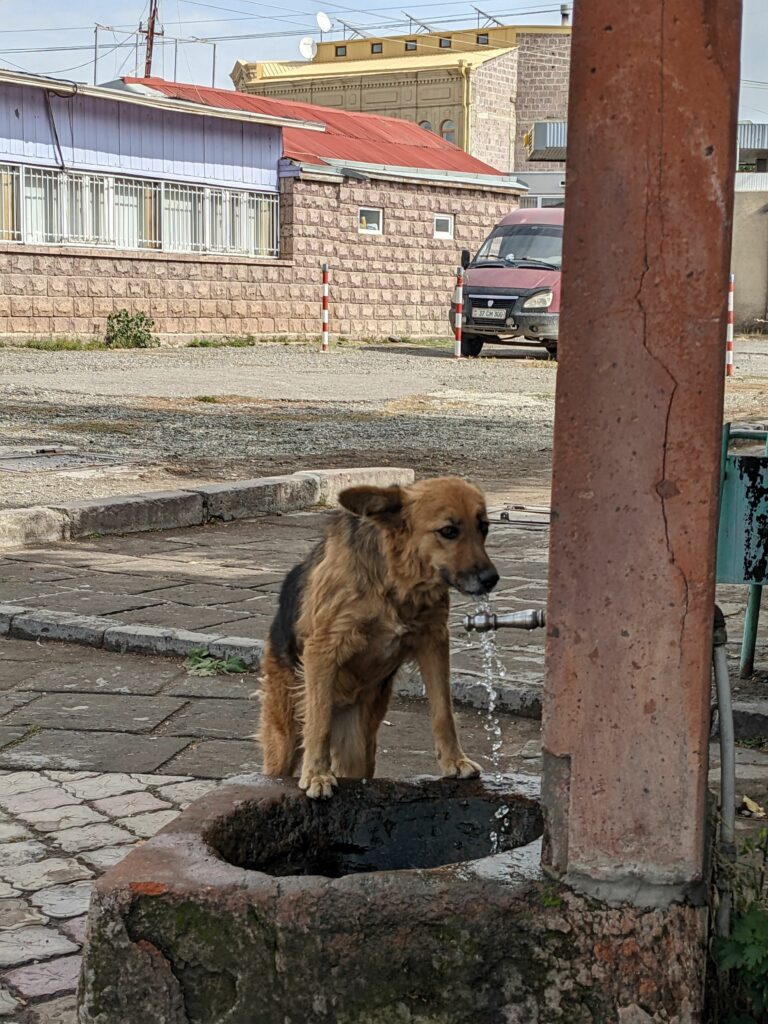 🏅flirtiest bus station attendant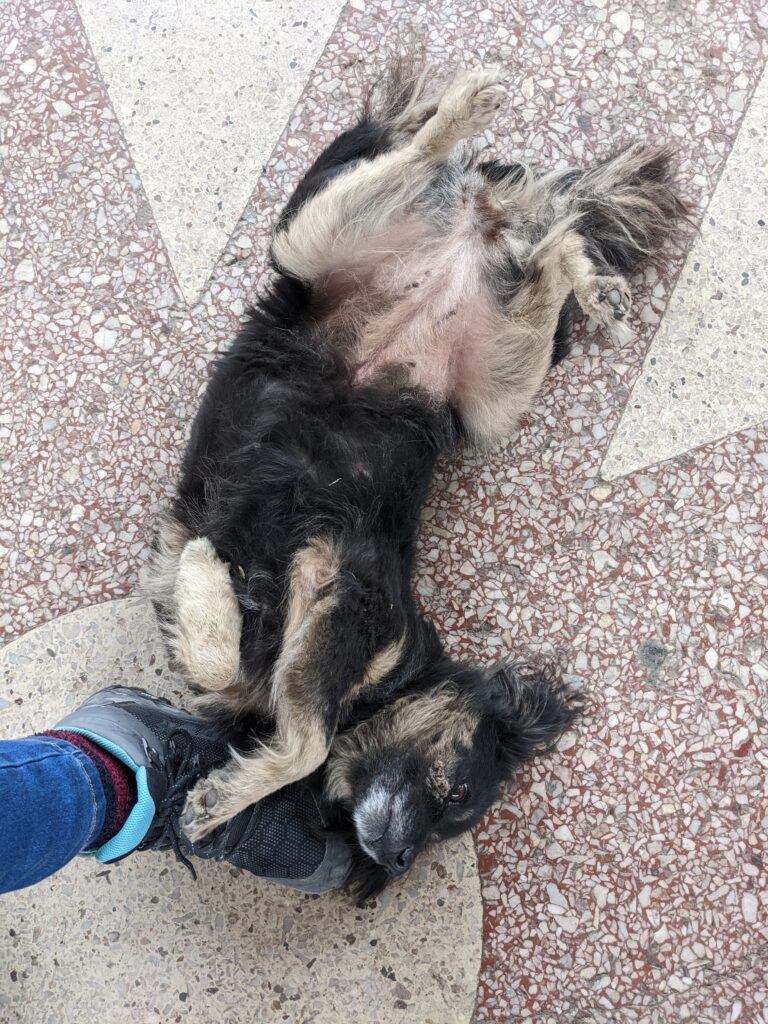 Food
Our friends from the Tbilisi-Yerevan sleeper train gave us a whole list of food, drink and restaurants to try while we were in Armenia, and we were nothing if not obedient. The most impressive of these was probably Ghapama, which consists of a pumpkin filled with rice, dried fruit and buttery fried flat bread. This was beautifully presented at the Lavash Restaurant, where the top of the pumpkin was removed, the sides sliced and the whole thing opened up like a flower.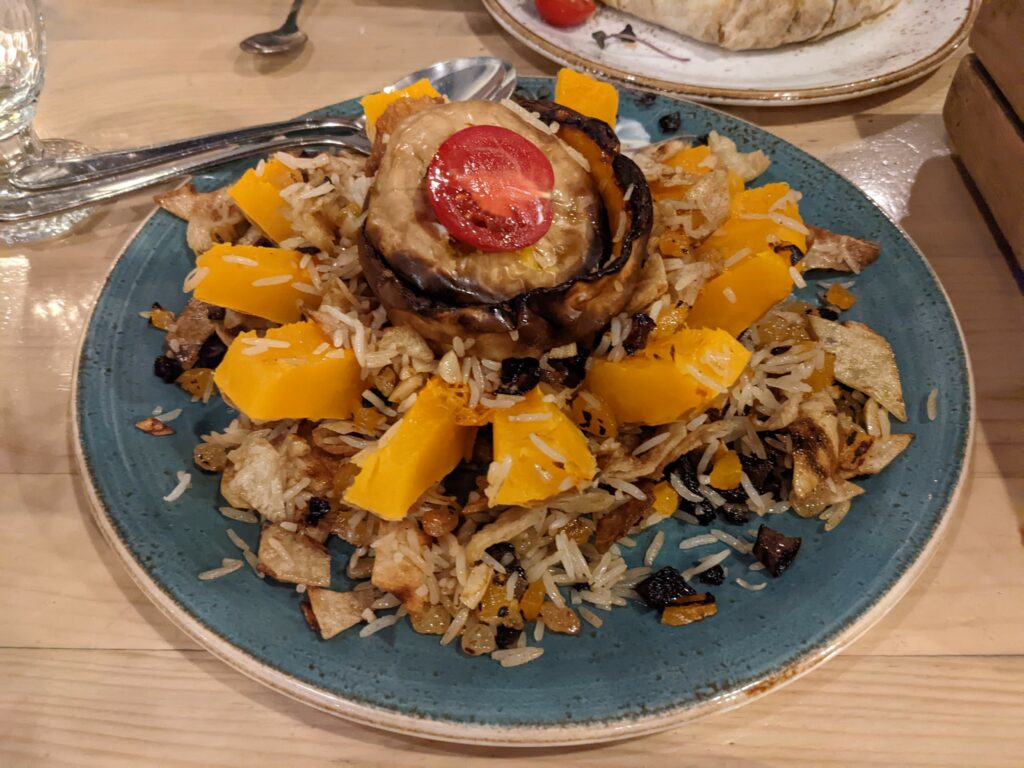 ---
This concluded our brief 10 day tour of Armenia, and also our time in the Caucasus. Now only 200 km of Caspian Sea and 400 km of semi-arid steppe separated us from the Silk Road city of Khiva, Uzbekistan.