From Auckland, we flew halfway across the Pacific to Honolulu and crossed the International Date Line. We woke up on Tuesday in Auckland, spent our entire day there and boarded a flight at 22.40, had a night on the plane and then woke up as we landed in Honolulu on Tuesday morning (again). This was a first for both of us, and meant that:
We were irrationally excited
Our spending against budget on Tuesday 30th was a bit of a disaster since we lived the day twice over
Despite point 1, we forgot to book accommodation for our second Tuesday. Whoops!
Our photos look like absolute chaos, flipping wildly between being in Auckland at 11am and Honolulu at 11.01am. This gave us the idea that we could do a time-travelling diary of our two Tuesdays…
So, here's how our two Tuesdays unfolded, arranged by local time in each destination.
10am
🏢 Auckland: We checked out of our hotel and left our big bags with the front desk, before walking through Auckland Domain (via many closed paths and diversions) to the Auckland Museum, which sits right in the middle. We actually came here on our very first day to watch the sunset, so it felt like nice symmetry to revisit on our last day.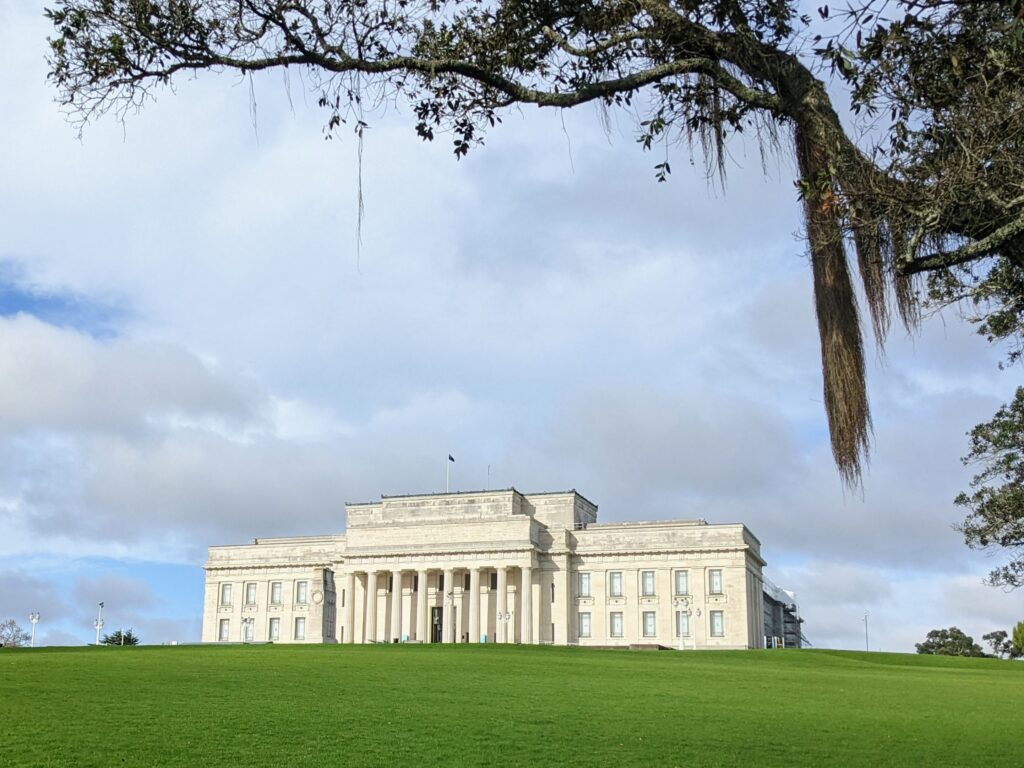 🌺 Hawaii: Meanwhile, in Hawaii, our flight landed and we cruised out of the airport at record speed. Who has ever got through US immigration in under five minutes?! There was no queue whatsoever and while the officer initially seemed slightly concerned about our plans to stay in the country for nearly 50 days (well within the permitted 90 days, but admittedly still quite a long time), he soon got distracted by his absolute horror that we might consider crossing the country by train!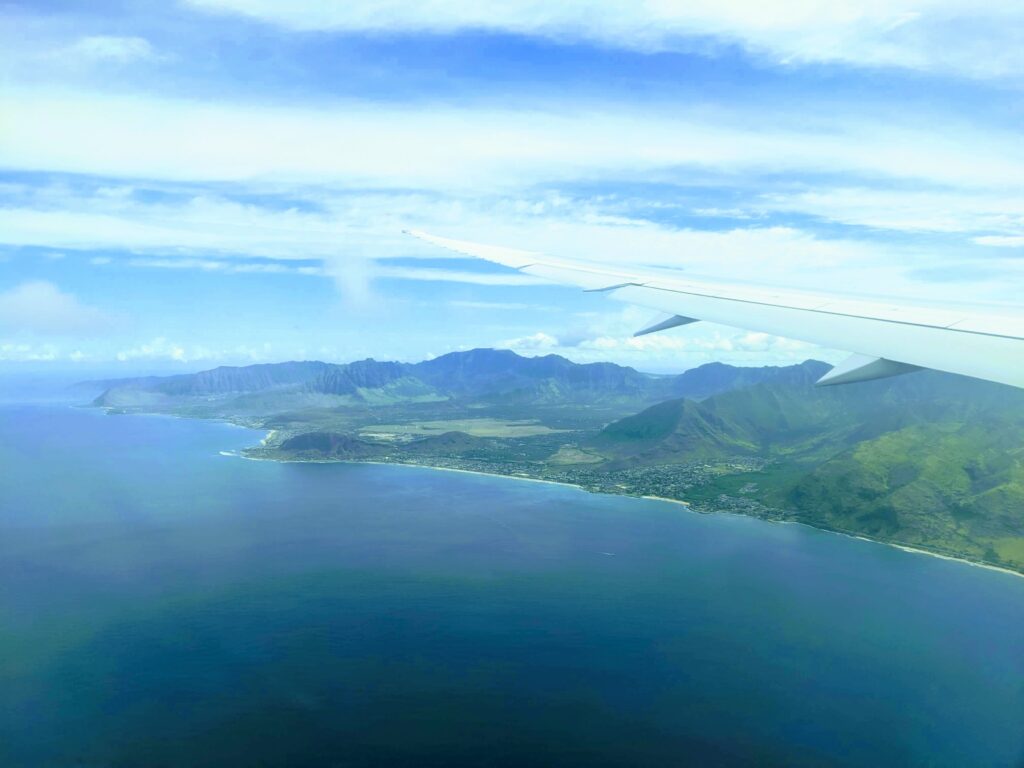 10.30am
🏢 Auckland: Inside the museum, we met Peter and Barbara, two rare T-Rex skeletons (not casts!). These were very cool and we were particularly pleased to meet Barbara, as she is one of only three female T-Rex ever discovered. It blew my mind that Palaeontologists could tell she was female not from her size or shape, but through tiny chemical differences in her bones because she was pregnant at the time of her death. Meanwhile, we could see Peter's injuries that likely resulted in his death.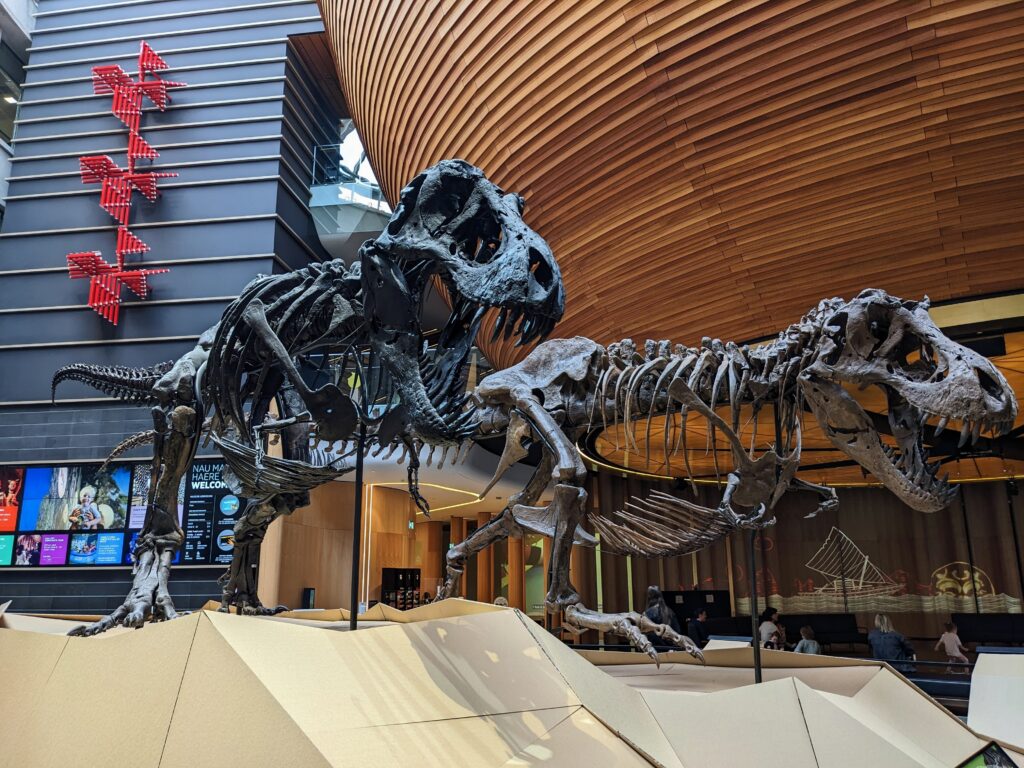 11.00AM
🏢 Auckland: We began looking at exhibits on Māori and other Polynesian culture, but really spent most of our time dodging huge school groups before we realised just how much museum there was upstairs and so headed up for some peace and quiet. In the Natural World section, we laughed a lot at this quote on an exhibit about Charles Darwin:
His visit to New Zealand was brief, confined to the Bay of Islands, and made little impression on him

Auckland Museum
Poor New Zealand!
🌺 Hawaii: We arrived at our hotel (a last-minute interim when we realised we had nowhere to stay on our extra Tuesday – we'll move to an apartment tomorrow). Our room wasn't ready but we commandeered the ground floor bathrooms to change and freshen up, then set off to explore Waikiki.
11.30am
🌺 Hawaii: Within minutes, we came across a very public Hula lesson in the street. We did not join in!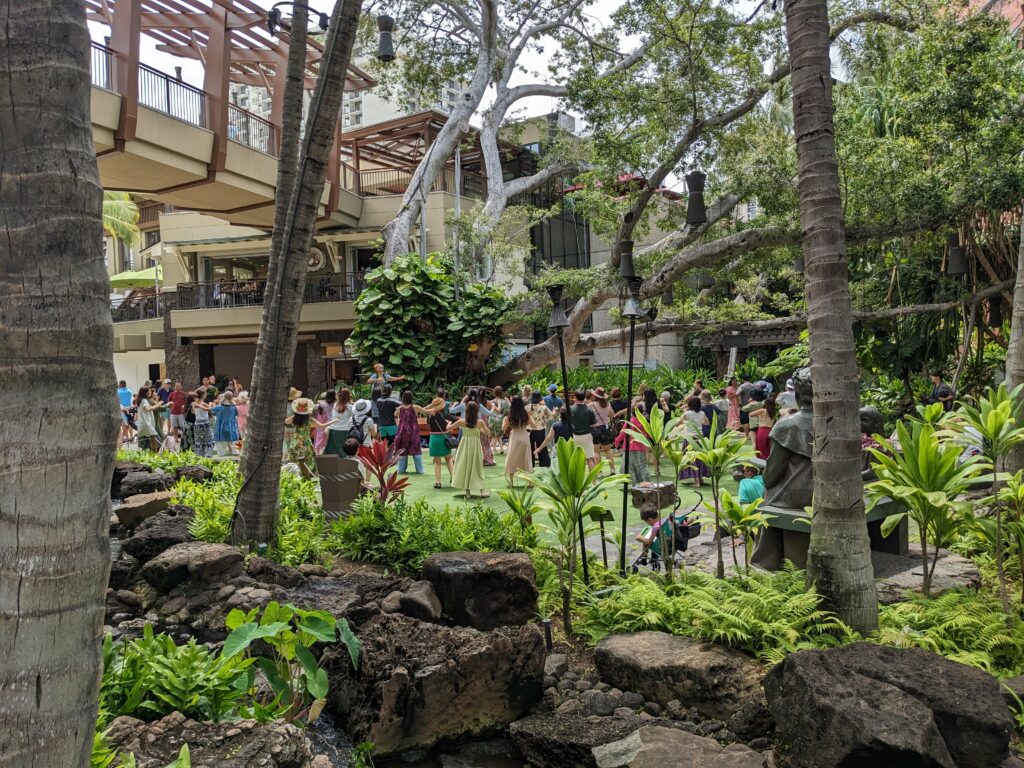 Midday
🏢 Auckland: After exploring a First World War exhibition together (fascinating to see it from New Zealand's perspective), we parted ways. Oli spent some time in the Second World War exhibition, where his top sight was an anti-aircraft gun that had been bought from the US Navy after the war for two bottles of gin! Meanwhile, I headed to the Robin Morrison Road Trip exhibition, which featured photographs that he had taken on a seven-month trip around the South Island in 1979. I loved this – the use of colour and the composition of his photographs were beautiful and really did serve as a time capsule of the late seventies. It felt wrong to take photographs of his photographs to put on the blog but I do keep thinking about them – I'm going to have to buy the book!
🌺 Hawaii: We took a walk on the beach and the promenade, soaking in the buzz and feeling intense culture shock. We weren't in sparsely-populated, low-key NZ anymore! We saw surfers catching waves further out to sea, body boarders closer to the beach, people playing in the shallows and even a man using a metal detector in the water – I wonder whether he found any treasure.
1pm
🏢 Auckland: We met up for a (mediocre) lunch in the museum cafe. We arrived and ordered separately and then staff definitely suspected that I was stealing Oli's lunch when it came out and I claimed it while he was in the loo!
🌺 Hawaii: After a long time in the same country, we were ready to embrace a new cuisine so we headed to Five Star Poke, which served (you guessed it) poke bowls (containing marinated raw fish, rice and sometimes other vegetable goodies, such as seaweed and edamame beans), pretty much the only thing we knew about Hawaiian food.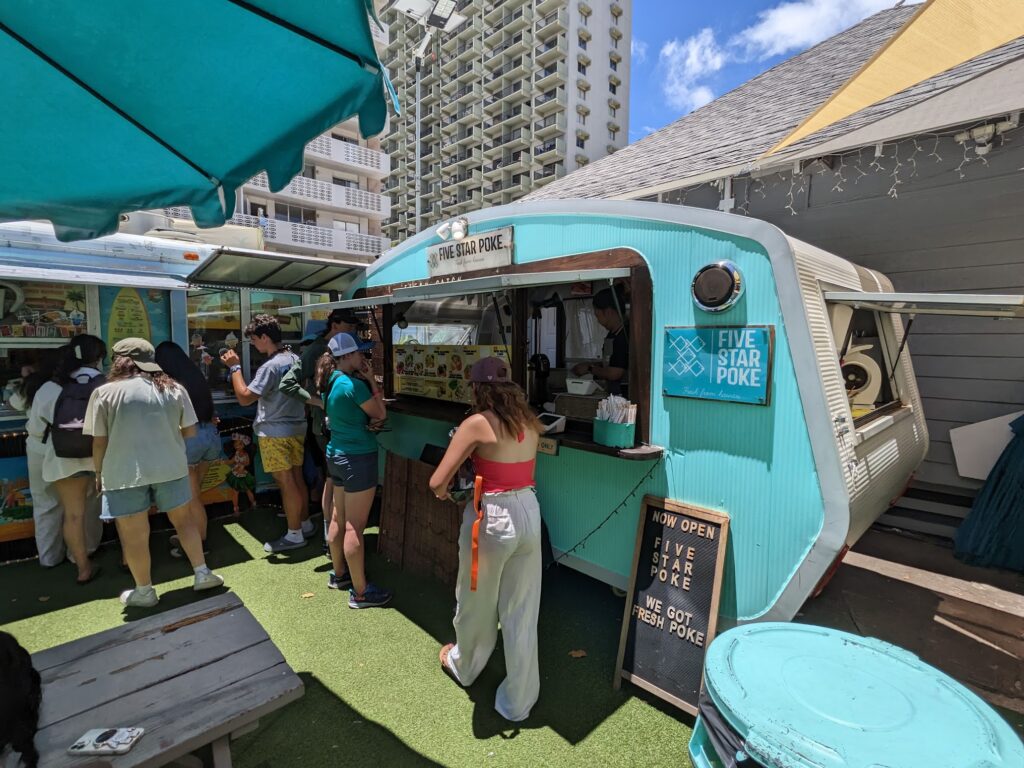 2pm
🏢 Auckland: We walked across the city in the sunshine to the 328m-high Sky Tower, an iconic part of the city's skyline and the tallest freestanding structure in the Southern Hemisphere.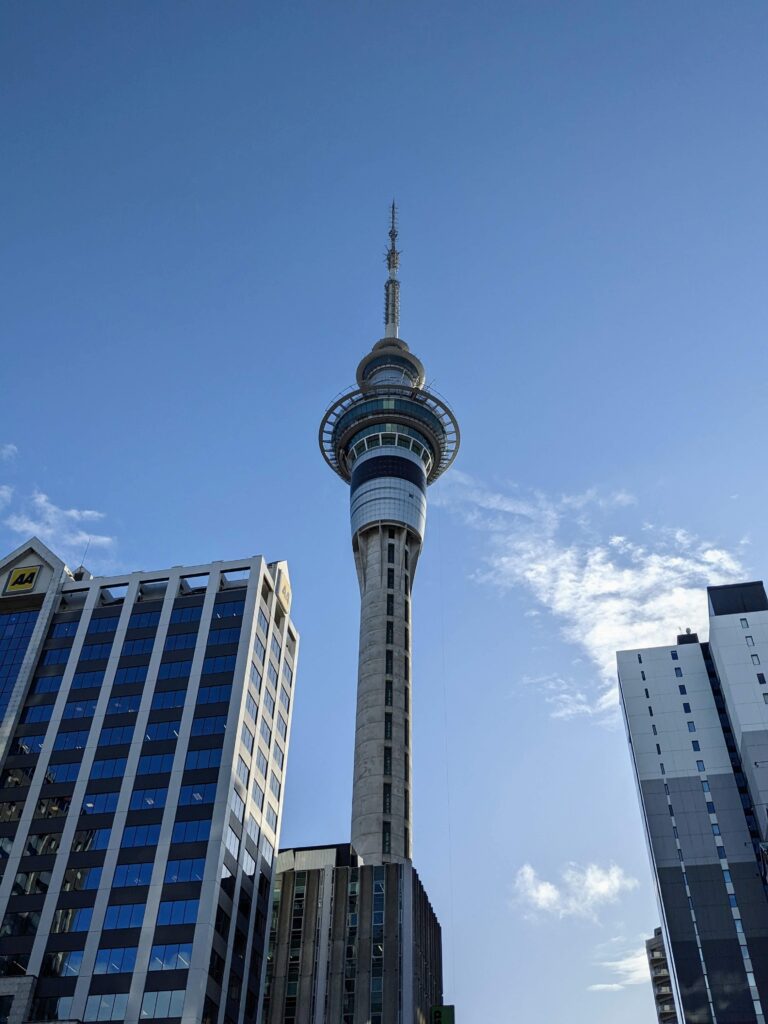 3.30pm
🏢 Auckland: From the tower, we had beautiful views of the city, the harbour, multiple volcano cones and the outlying islands. It was only slightly disconcerting having orange-suited people hurtling past the window as they base-jumped from the level above us!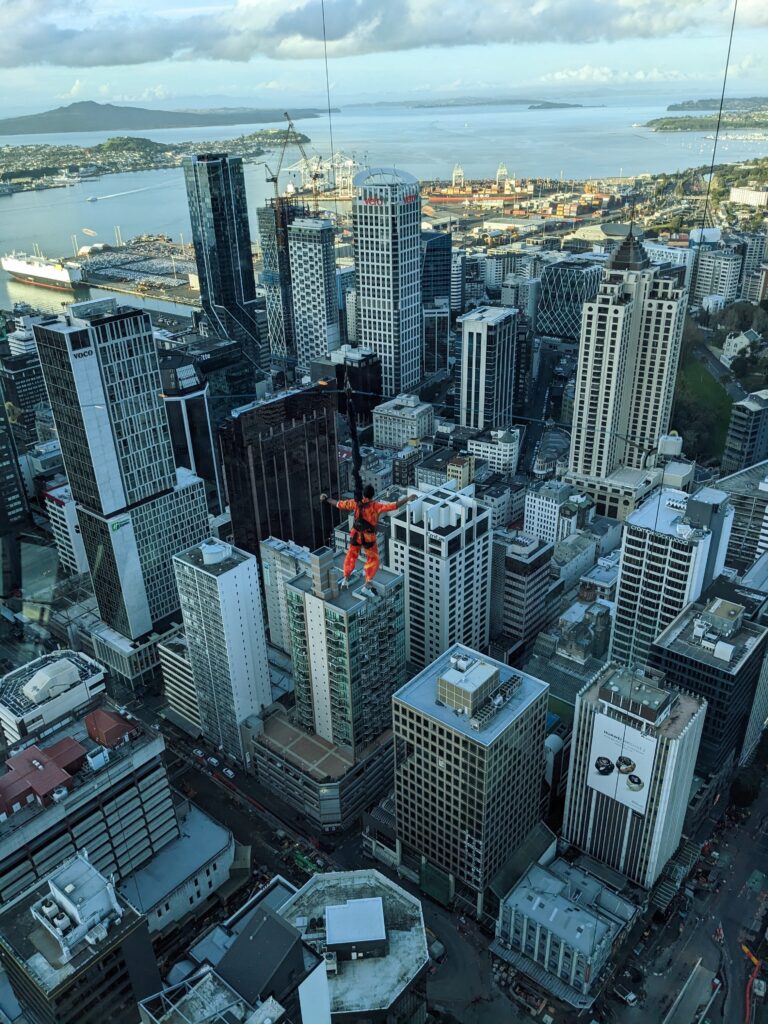 🌺 Hawaii: We checked into our hotel the moment our room was ready and promptly fell asleep.
5pm
🏢 Auckland: We had a very early dinner at Bona's Thai, served by the loveliest husband and wife team, before heading back to the hotel to pick up our big bags and say farewell to Auckland.
6.30pm
🏢 Auckland: We walked to the central station, where the chap at customer services joined us in our confusion about the best way to pay our fares without buying two transport cards (which seemed a bit ridiculous, as we were on our way out of the country). I'll just say this: if your ticketing structure is so complicated that even your own employees don't understand it, then it probably needs a bit of work… Anyway, at length we managed to buy tickets and took the train to Puhinui and a connecting bus to Auckland International Airport.
🌺 Hawaii: We rushed out of our hotel with just minutes to spare and arrived at the beach bang on 6.30pm (having read that people normally set up chairs several hours before!) to watch a Hula performance while the sun set behind us.
7.30pm
🏢 Auckland: Even with our ticketing adventures, we still arrived at the airport SO early that we had time to kill, so we set about trying to palm the transport card we'd just bought onto someone else. This was harder than it seemed! Eventually, we donated it to a newsagent who sold the cards and she promised us that she'd pass it onto the next people who came to buy one. I wonder where it is now!
8pm
🏢 Auckland: Once we'd passed through security, we set about playing a round of one of our favourite games: Leftover Currency Golf. This is where you try to buy as many tasty snack items as possible using any remaining cash, and then count up your change to calculate your score. Lowest score wins!
🌺 Hawaii: We joined a very long queue to try the most famous noodles in town at Marugame Udon. We were surprised to see such strong Japanese cultural influence here, but we read that Japanese people were actually the second largest ethnic group in Hawaii, a result of the long tradition of relations between the two. Anyway, the food was delicious and tasted just like Japan.
10PM
🏢 Auckland: We boarded our flight and Oli took full advantage of the New Zealand wines while I watched Nomadland. Then it was time to try to get some sleep before beginning our Tuesday all over again in the morning…
🌺 Hawaii: We arrived back at our hotel, exhausted from our two Tuesdays.