After a few quick errands in Queenstown (the biggest city for some distance) we set out towards Haast on the wild west coast.
Our first stop was in Arrowtown, a beautifully restored gold mining town, which was no stranger to tourism. We joined the other day-trippers in taking photos along the town's main street, which looked like it had been lifted straight out of a western movie. We then plonked ourselves down in the sun with a cone each of Hokey Pokey (vanilla and honeycomb) ice cream. Sara swears this Hokey Pokey was way better than the first time we tried it in Akaroa, although I think it's just the first time she had a cone to herself.
Arrowtown is also famous for the preservation of its Chinese settlement located just outside the main town. This settlement was home to many gold mining immigrants, who were invited to New Zealand to work in gold mining and hoped to earn their fortune. Many ended up staying even after the gold boom, which was particularly surprising given the discrimination that they experienced, including verbal abuse, racist newspaper articles, and discriminatory government policies. In 2002, the New Zealand government officially apologised to the Chinese community for their treatment.
Back on the main road, we passed the iconic Kawarau Gorge Suspension Bridge, built in 1880 for access to the goldfields. However, after traffic was moved to a new two-way bridge in 1963, it became the world's first commercial bungee jumping site. We watched one guy throw himself off the bridge before quickly concluding that it was our budget stopping us follow suit, and nothing to do with fear.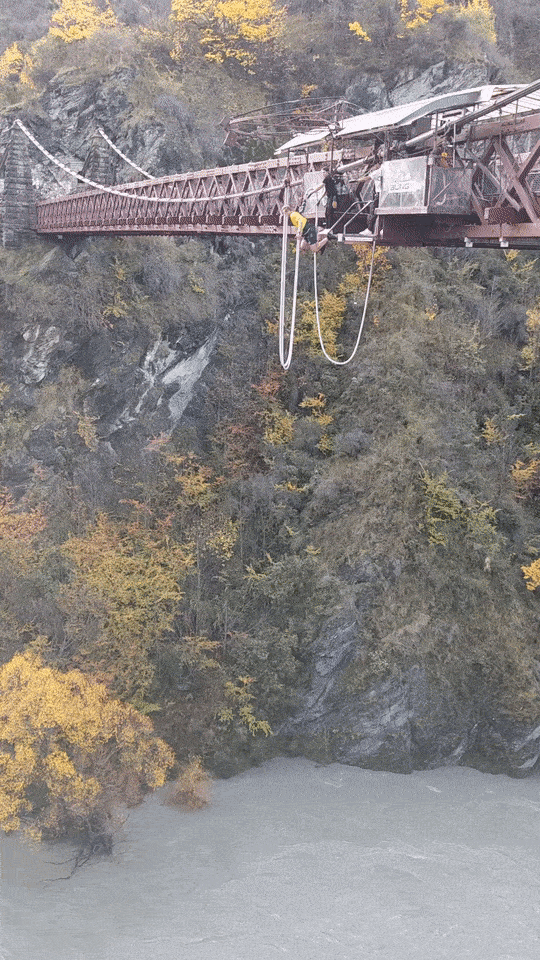 That evening, we stayed in the lakefront town of Wānaka. Maybe this says something about the town itself, but one of its top attractions is a tree which appears to be growing straight out of the lake. We enjoyed a cold but sunny morning walk along the lakefront to see what all the fuss was about, and with a typical "huh", confirmed that the tree does, indeed, exist. The best bit was actually watching other people's photoshoots in front of the tree – we just couldn't compete. Instead, we took the obligatory quick selfie, and got back on the road.
As much as we've enjoyed taking public transport over the past few months, we've also missed the option of stopping on the spur of the moment as we pass a worthy-looking detour. And it was exactly this reason that made us pull over as we approached the Lake Hawea Lookout, which consisted of a single picnic bench with absolutely breathtaking views across the glistening lake. After enjoying our lunch, it felt only right to top it off with yet another Tim Tam Slam.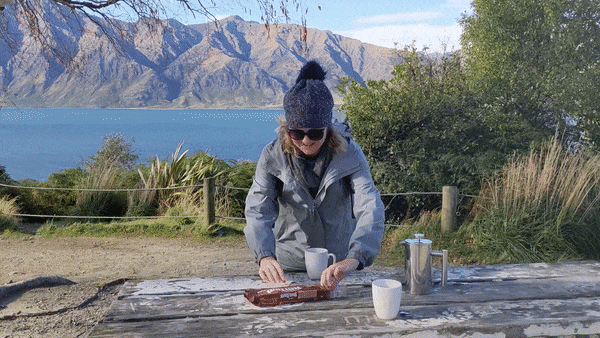 That night we stayed in the frontier town of Haast, which to be honest was less of a town and more of a gas station, a pub and a holiday park. We'd read mixed reviews about the owners of our holiday park, who appeared to shout at visitors for the most minor faux pas. For this reason, Sara opted to stay in the van, and sent me to the site office to check in. I told Sara that it would be fine and I'd just turn on the charm. She looked extremely doubtful, but I swear, I nearly forced a smile out of the site manager.
Still, the site was only a stone's throw from Haast beach – our first proper look at the wild west coast. Standing on the stunning but completely empty beach that stretched for miles in both directions, it became clear that we'd left the Queenstown day-trippers well behind, and this was where Great Coast Road really begins.