Time for a quick review of our journey through Greece…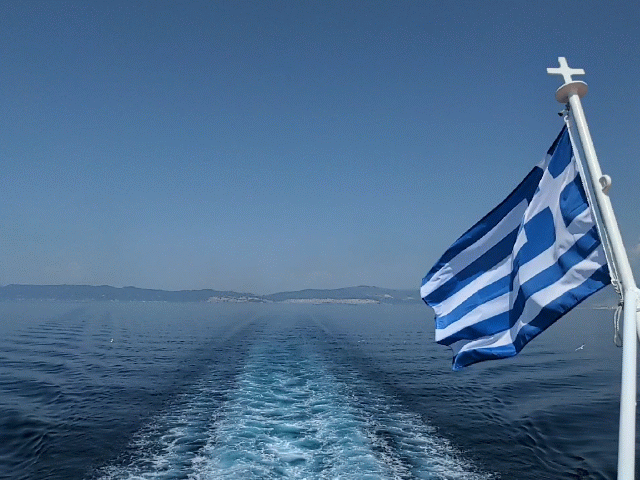 Carbon
We travelled the majority of distance in Greece by modern, comfortable and quick coaches. I say the majority, since the bus that took us over the border from Xanthi to Istanbul was none of the above. Still, that'll teach me to book a bus connection with a company called "Crazy Holidays."
Our two week itinerary from Bari to Xanthi emitted 96 kgCO2. That's slightly less than our first two weeks through Italy, although to be fair we travelled less distance in Greece, since I've included the journey across France in Italy's total.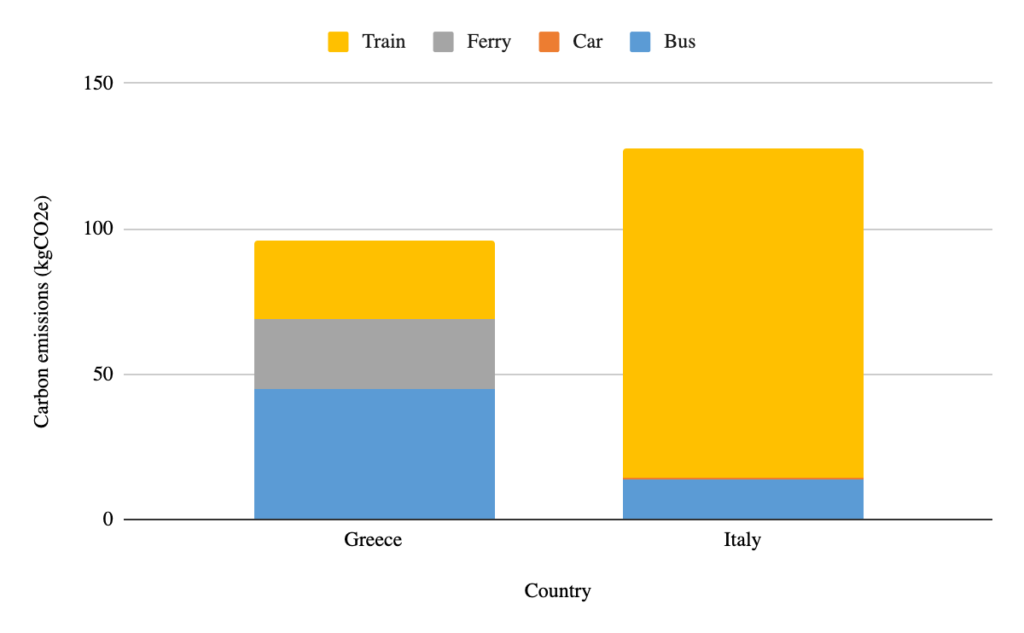 Surprisingly, our travel through Greece only emitted 7% more carbon per kilometre traveled than our travel through Italy (and France). I'd expected our buses and ferries in Greece to be much less efficient than Italy's trains, but according to the UK government data, coaches are actually more carbon-efficient than typical national rail trains. I'm unsure how accurately these UK-based efficiencies extend to Italy and Greece, but it's certainly good enough to alleviate the guilt of travelling by petrol-powered vehicles.
Costs
It wasn't a problem at all in Greece to stick to our daily budget as we found it excellent value for money. Even though we ate out more regularly than in Italy, we spent less money overall, and Sara is dreaming of a world where she can get a carafe of half-decent wine for €3.50 in every restaurant! Despite including the cost of our travel to Italy (across France) in the Italy column, the proportion of our expenditure across transport, food and accommodation remained similar for both countries. We're interested to see how this will pan out in other parts of the world.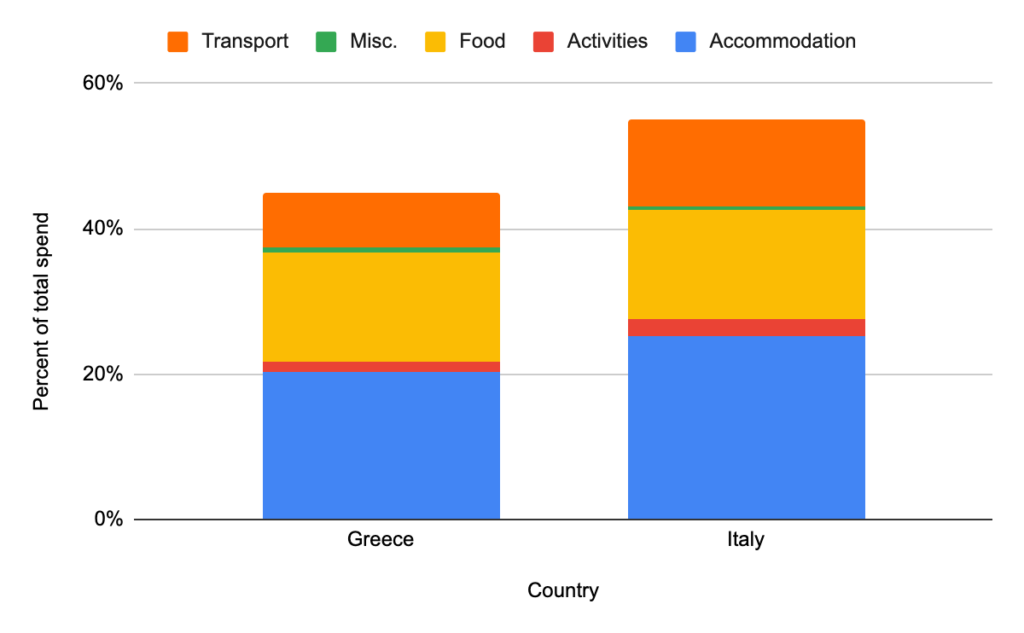 Sustainability
Towards the end of our journey across Greece, we started to notice these panels and barrels on the roof of almost every building. They turned out to be solar water heaters, and according to wikipedia, they typically work by heating a "working fluid" using the sun's rays, and circulating this fluid through a tank of water. If only the UK got enough sun to make these worthwhile!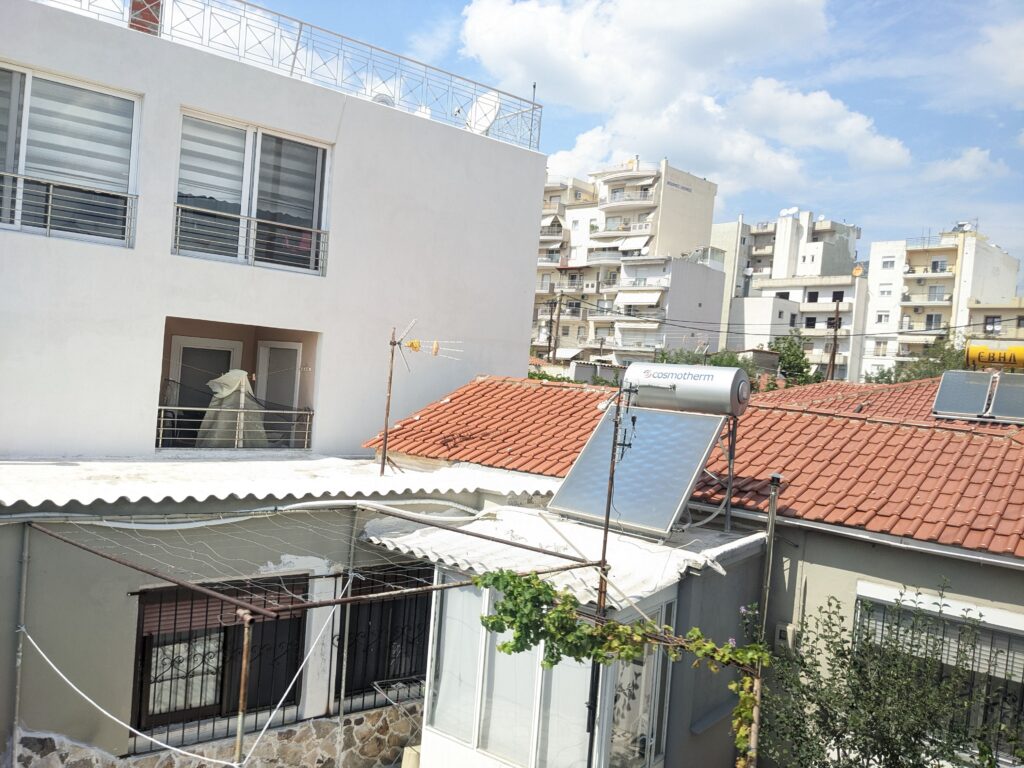 Although we didn't buy a single plastic bottle of water from any shops in Greece, we did end up with one on our table with pretty much every restaurant meal. Hopefully the restaurants had better access to recycling facilities than we did!
Cats
We saw a grand total of 257 cats during our time in Greece, completely blowing Italy's total of 27 out of the water. Sara's noticed that just counting cats per country might not be the fairest comparison, given that we'll spend different amounts of time in different countries. For this reason, we're going to introduce a new metric of cats per day. Greece still comes out on top, with 19.8 cats per day, compared to Italy's 1.8 cats per day. Spoiler alert: Turkey is going to be wild.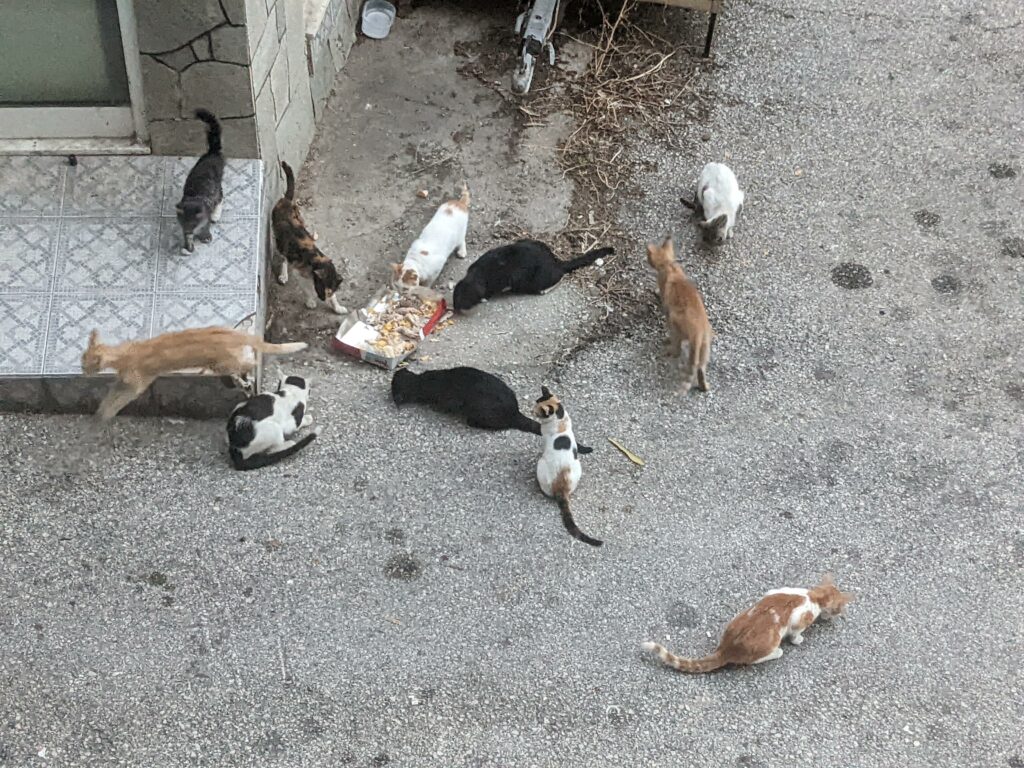 Hospitality
It would be wrong not to mention how welcome we felt just about everywhere in Greece. Hotels were friendly, Airbnb hosts seemed genuinely glad to have us to stay, and restaurants appeared to open their doors during most waking hours. On top of that, the quality of food and drink (barrel wine, I'm looking at you) that can be purchased for very affordable prices made Greece a highly enjoyable place to spend time.
---
While we had a lovely time on Thasos, visiting one island was hardly the island-hopping adventure of our travel dreams. Clearly another trip to Greece is on the cards, but we'll definitely need more time and we'll also ideally avoid peak season next time.