We made four stops on our relatively short route through northwestern Laos. We started in the mellow capital city of Vientiane, before taking a high speed train to the UNESCO-listed town of Luang Prabang. We then fully embraced travelling slowly with a two day cruise up the Mekong river, overnighting at Pak Beng, before making a final stop in the border town of Huay Xai.
When we were planning our route, we considered crossing from Cambodia into southern Laos, and working our way north towards the capital (rather than cutting across Thailand and directly entering northern Laos). However, we'd read that these southern border crossings were rife with corruption, we hadn't quite applied for our e-visas in time, and we were also acutely aware of the considerable travel times through this part of the country. We'll return one day to explore the south.
Carbon 🚆
At 689 km, our route across Laos was the shortest of any country we've visited to date. As a result, our travel in Laos emitted only 57 kgCO2e – the second lowest so far.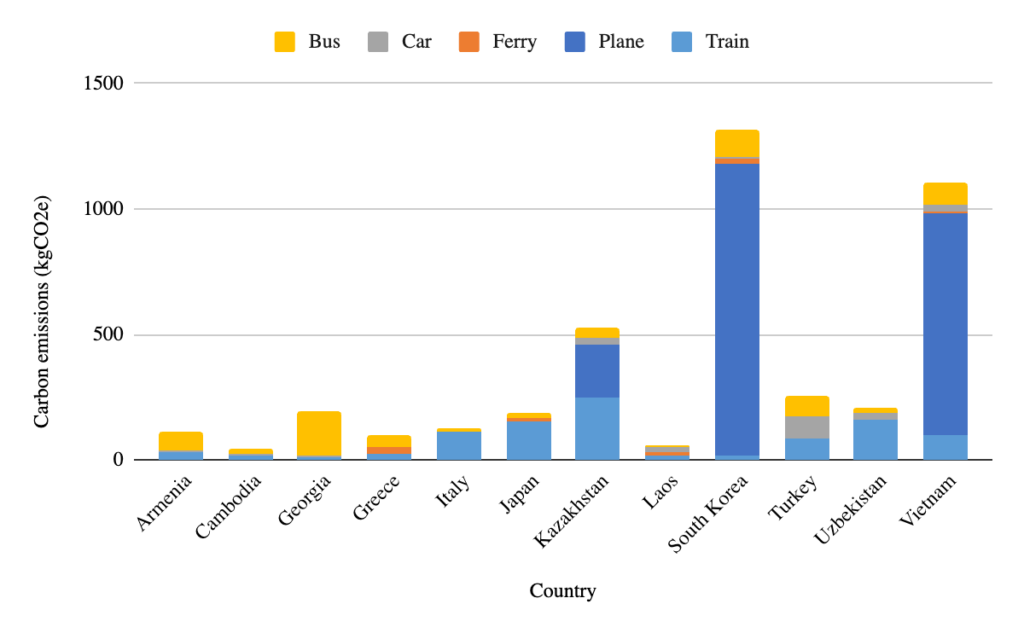 Despite covering most of the distance by train and boat, the largest source of emissions was actually the cars that we travelled in. Most cities we visited lacked much public transport, so when the distances were too large to cycle, we had to rely on taxis to get to and from transport hubs or sights outside of the cities.
Cost 💰
Laos is a pretty affordable country, and our daily expenditure wasn't far off Georgia, which still holds the crown for our lowest daily expenditure to date. I imagine our spend per day would have been the lowest if wasn't for our splurge on a very comfortable cruise along the Mekong River.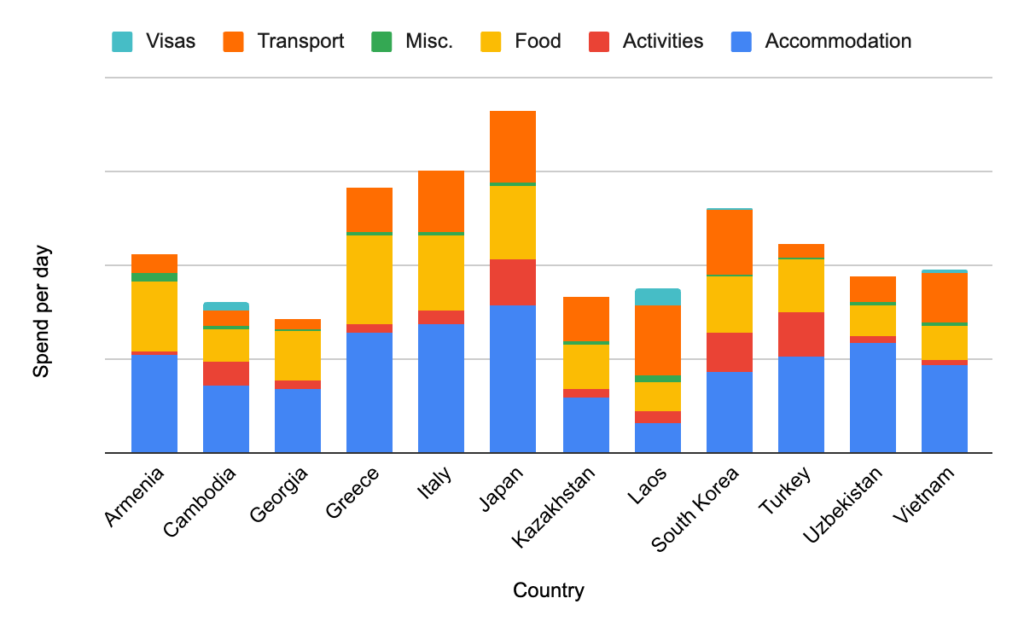 Much like in Cambodia, the cost of our Lao visa seemed disproportionately high compared to other countries. Again, this was due to the short amount of time we spent in the country.
Cats 🐈
Laos arrives bang in the mid-table on our cats per day metric.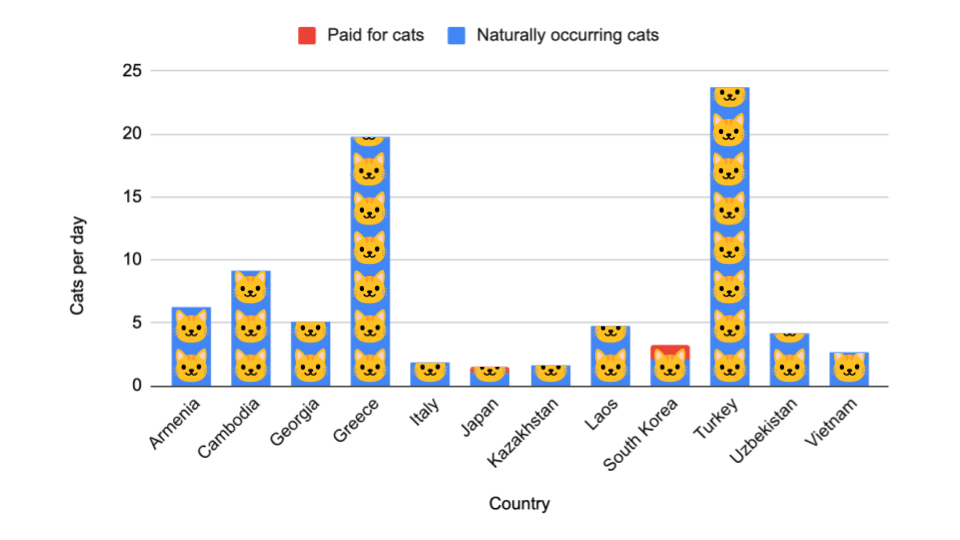 But as always, there we some high-quality cats hidden away if you knew where to look…
🏅Most patient Mum
These two ginger kittens were wreaking utter havoc while their Mum sat calmly in the middle and let it happen. Actually, if you look into her eyes, you can see she's rethinking a couple of her life choices.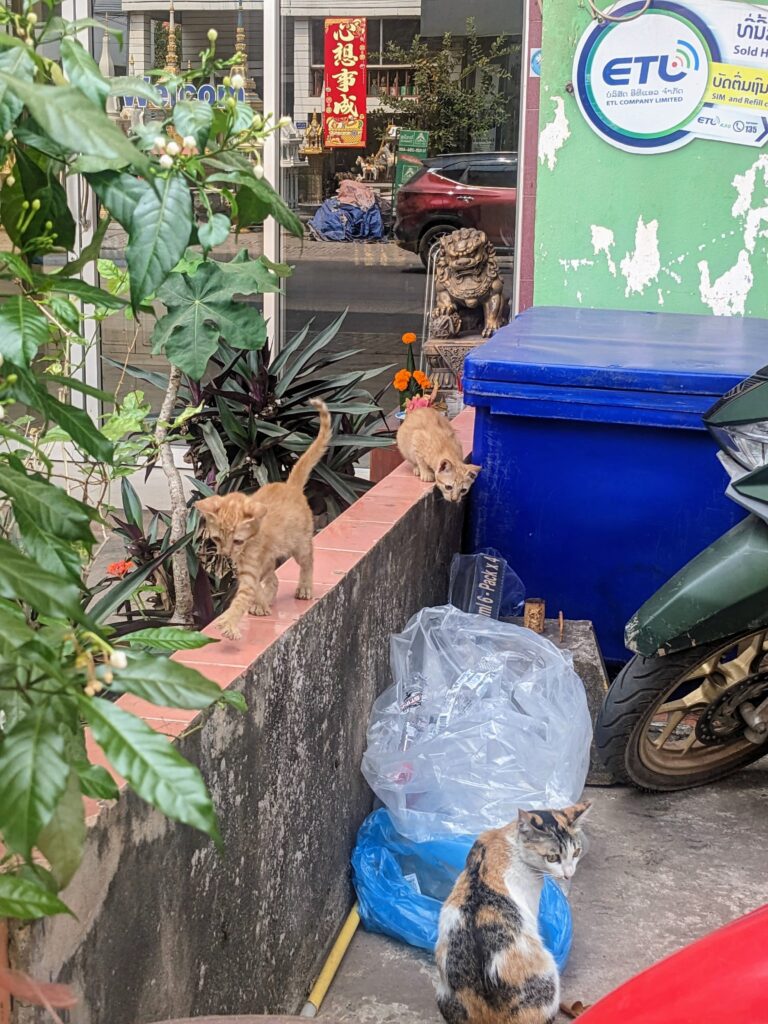 Food 🍽
I'm not sure how Lao Sausage didn't make it into any of our last four blog posts, but it definitely deserves an honourable mention. This sausage is made from fatty pork, lemongrass, galangal, kaffir lime leaves, shallots, coriander, chillies, garlic, salt, sticky rice and fish sauce. It was so full of flavour that it only took one mouthful before I told Sara it was the best sausage I'd ever eaten.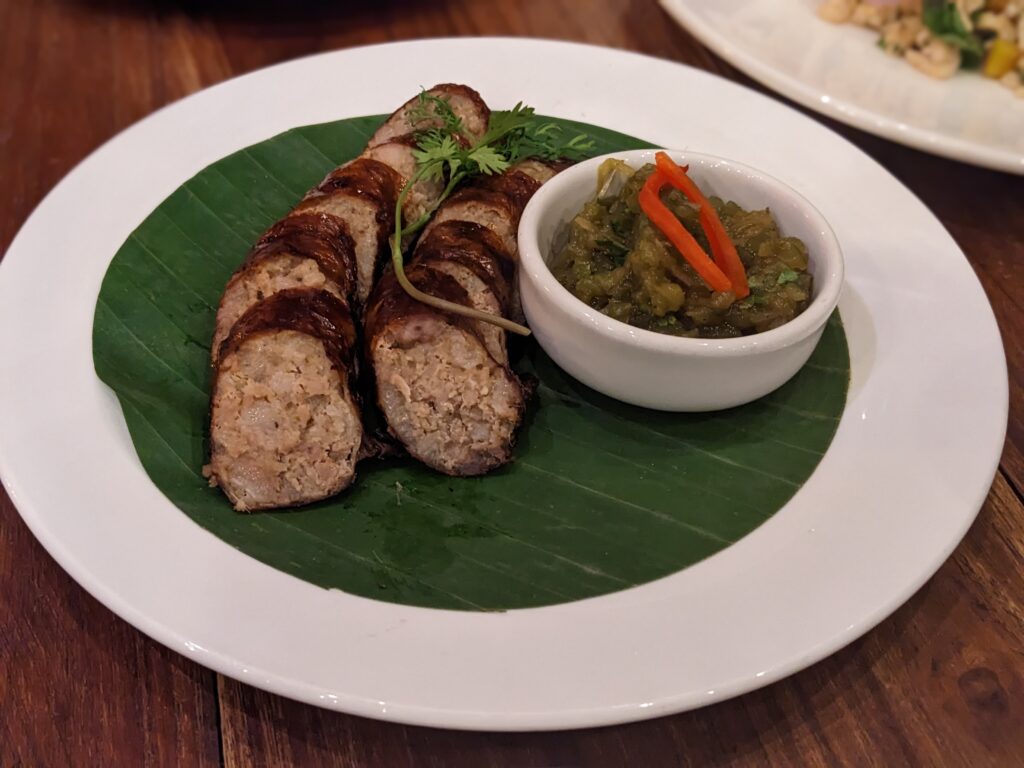 ---
With Laos behind us, we turned south to continue our south-east Asian adventure back through Thailand and towards Malaysia and Singapore.