From lovely Brisighella, we hopped back onto the rail replacement bus (our favourite) and then a train to reach Ancona, from where we would board our international ferry to Greece.
We'd read that Ancona was a typical port city but that we'd uncover its charms if we just gave it a chance. To be honest, that wasn't necessary – we passed through this arch even before we'd reached our accommodation and it was a stunning introduction to the city.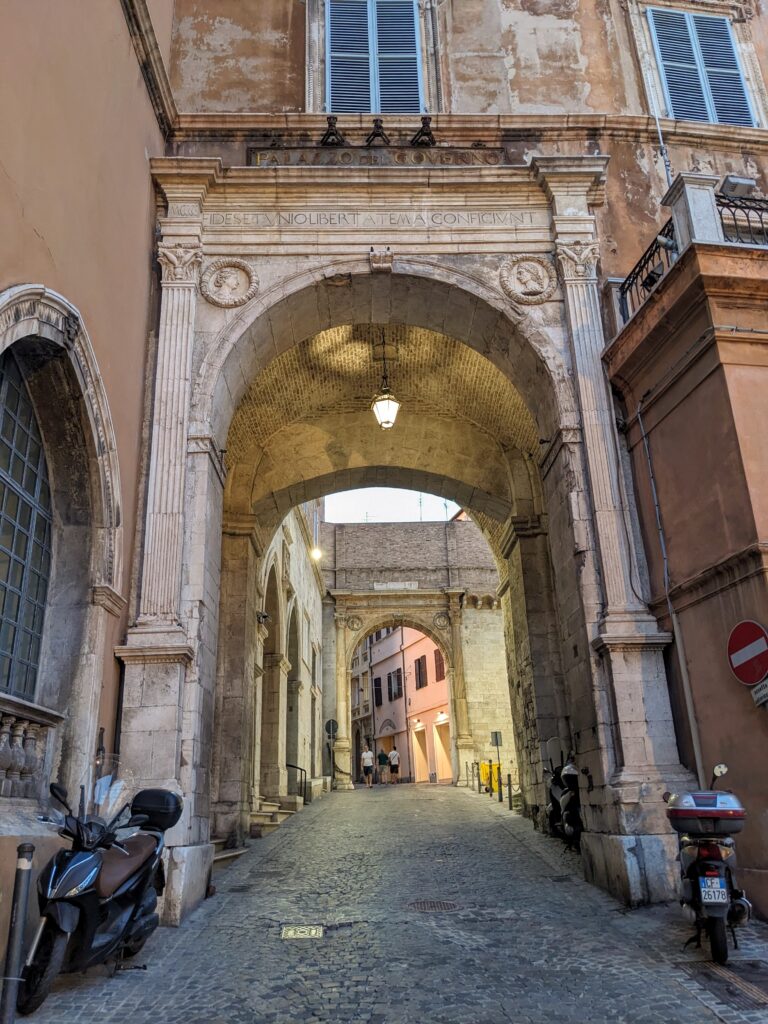 With less than 24 hours in town, we headed straight up to the cathedral, which sits atop a cliff overlooking the city. I tried feeding Oli to the lions who were guarding the door, but they weren't very hungry.
From our vantage point, we had a great view over the old town and the port, but we were particularly taken with the sunset over the shipbuilding yard (romantic)! We could see the components of a huge ship being assembled on the dock and some parts were so large they looked like blocks of flats – it was pretty cool!
The next morning, we headed off on foot to catch our ferry to Corfu, but sadly, this wasn't the first port we've visited that was clearly not built with pedestrians in mind. Eventually, we found a sign that suggested we needed to check in at a building some 20 minutes' walk away before returning to where we were, but there were no pavements to get there. We were busy Brysoning our way along in the heat when thankfully a passing chap all but ordered us onto a shuttle bus that was running in that direction. The existence of this bus had (literally) passed us by and we were very relieved to enjoy the air conditioning for a few minutes. While checking in, we got our first hint that our ferry might be a little late, but the casualness of the woman's tone and her lack of apology suggested this wasn't anything new!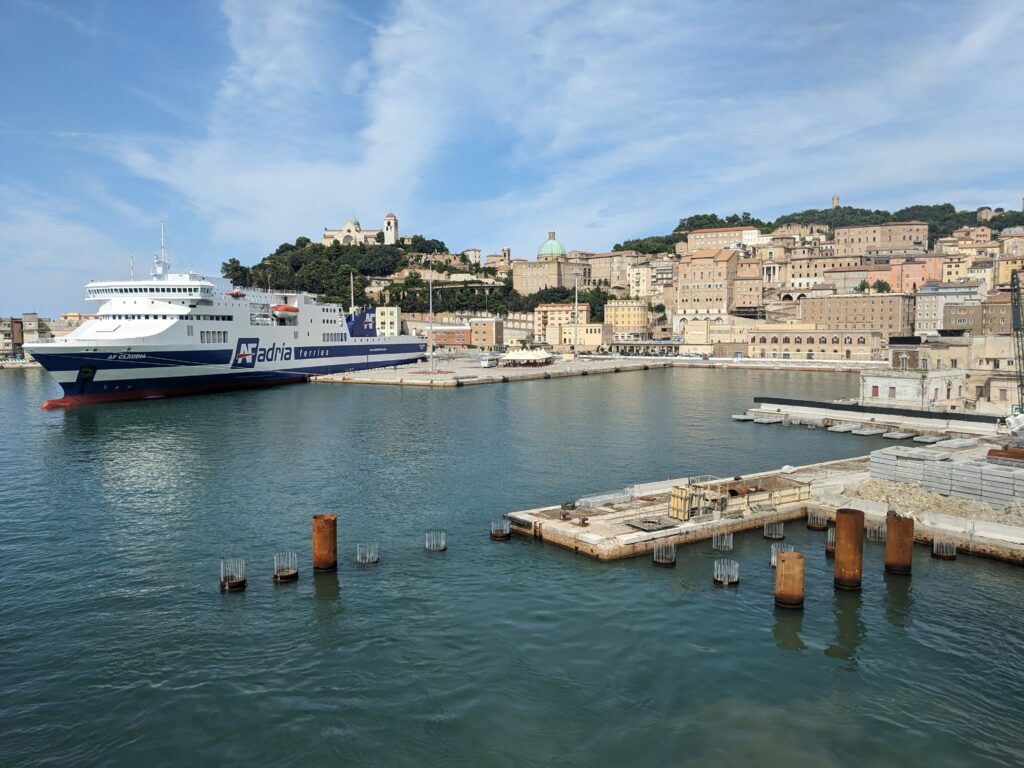 Once we made our way back to the passenger terminal, we headed through security, where an atypically kindly border guard pulled me aside. "Madam," he said, "There is no ship." This really made us smile – no ship at all?! He went on to explain where we could wait inside, which wasn't at all obvious so I'm glad he told us. And sure enough, the ship didn't appear for quite some hours so we spent most of the day quoting his line. Madam, there is no ship…
Eventually, our ship, the Olympic Champion, docked and we watched the lorries unload painfully slowly, before it was our time to join the utter chaos and attempt to board under the very hot sun.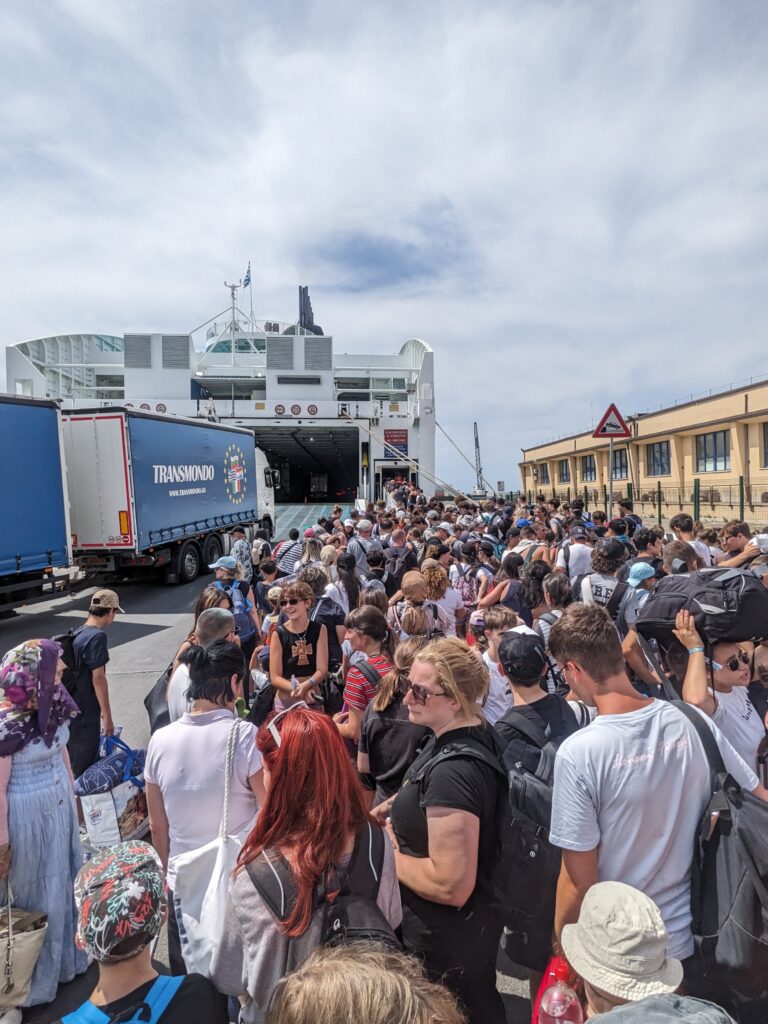 After a long discussion about which side of the ship we should aim to sit so that we would be in the shade as we sailed south (and some confusion about which end of the ship was the front), we were slightly puzzled to find the sun in our eyes most of the afternoon. So convinced were we about our calculations that we considered whether (a) the ship was sailing in the wrong direction or (b) the sun was setting in the wrong place, before eventually concluding that we are just absolute idiots and had sat on the wrong side.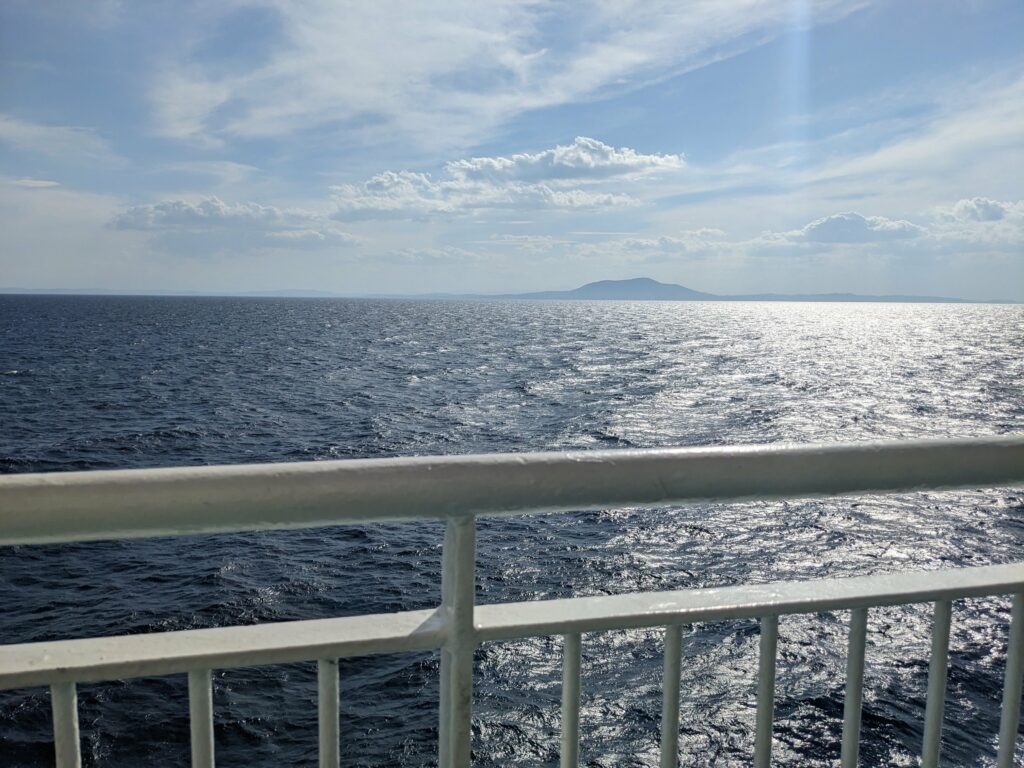 These crossings are quite the experience, but thankfully we knew what to expect having taken a similar route last summer. Firstly, there are three main ticket types: deck space, airline-style seating and private cabins. Unlike some of the very civilised long-distance ferries we took in Japan and South Korea, getting a cabin this time was way out of our financial reach, costing at least twice the price of an already-expensive deck ticket. But deck tickets really are the wild west – you have to barge your way onto the ship and claim some sleeping space in a mad rush, and there were people laid out on yoga mats, air mattresses and even in tents everywhere (and I mean everywhere – on the open deck, in busy corridors, crammed into stairwells, at the entrance to the restaurant…). So, we went for the middle option, the airline-style seating. This got us a reserved seat in a large lounge full of rows of reclining chairs. The lights remained on and the television was blaring until a frustrated fellow passenger unplugged it around 2am, so it wasn't exactly a restful night – particularly as we were sat close to a (very popular!) door that led directly out onto the windy deck. Thankfully, our eye masks and noise-cancelling headphones did their jobs and we got at least a bit of sleep.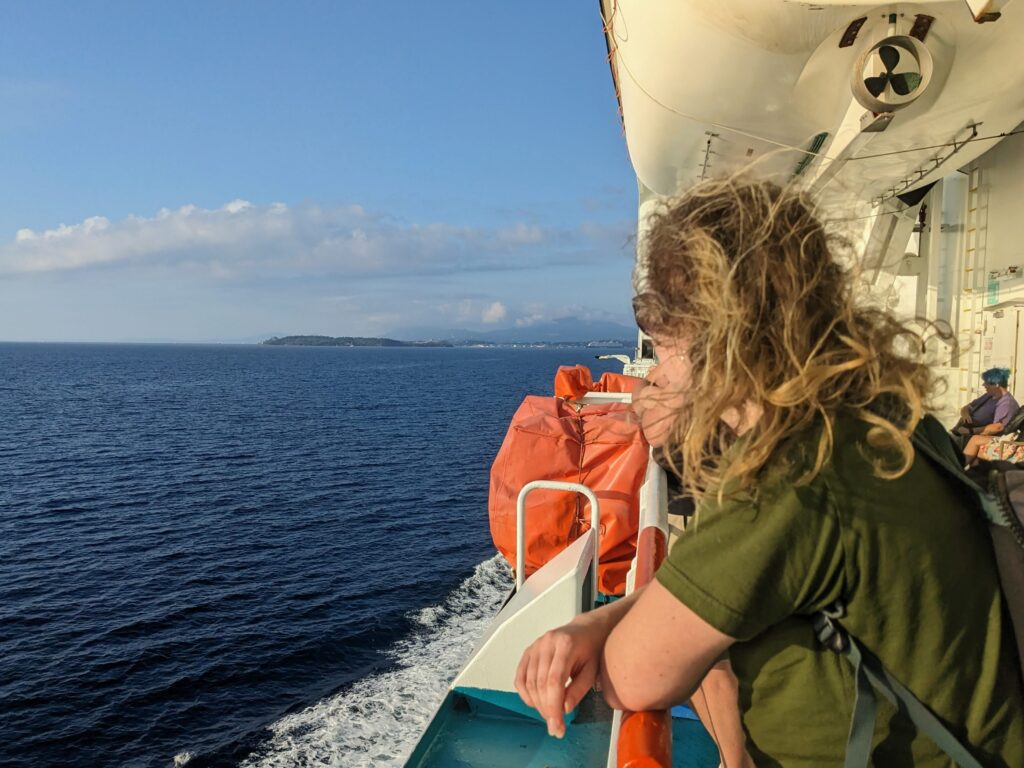 The next morning, we stood out on deck in the sunshine as the Greek coastline drew closer, before stumbling off the ship in Corfu Town, finding our way through another un-pedestrianised port, and taking a bus across the island. It was time for our Corfu 'holiday' to begin! 🏖