In one long travel day, we made the journey from Cologne to London by train (although when I say long travel day, I should probably clarify that most of our time was actually spent in Brussels, eating waffles 🧇 and drinking beer 🍺). We'd previously taken the Eurostar many times but had only really considered it a feasible option when our end destination was in the same country as where the Eurostar terminated, but actually, the whole journey was remarkably straightforward and I'd definitely choose this over flying to most places in Europe in the future.
⏰ 09.30: Cologne HBF to Cologne Ehrenfeld
We joyfully packed up our bags one last time, with me telling Oli that I finally felt like I'd nailed my speedy packing in the last few weeks. He brought me down a peg or two by pointing out all the things that weren't in my already-zipped bag and I realised that actually I hadn't got better, I'd just become more cavalier!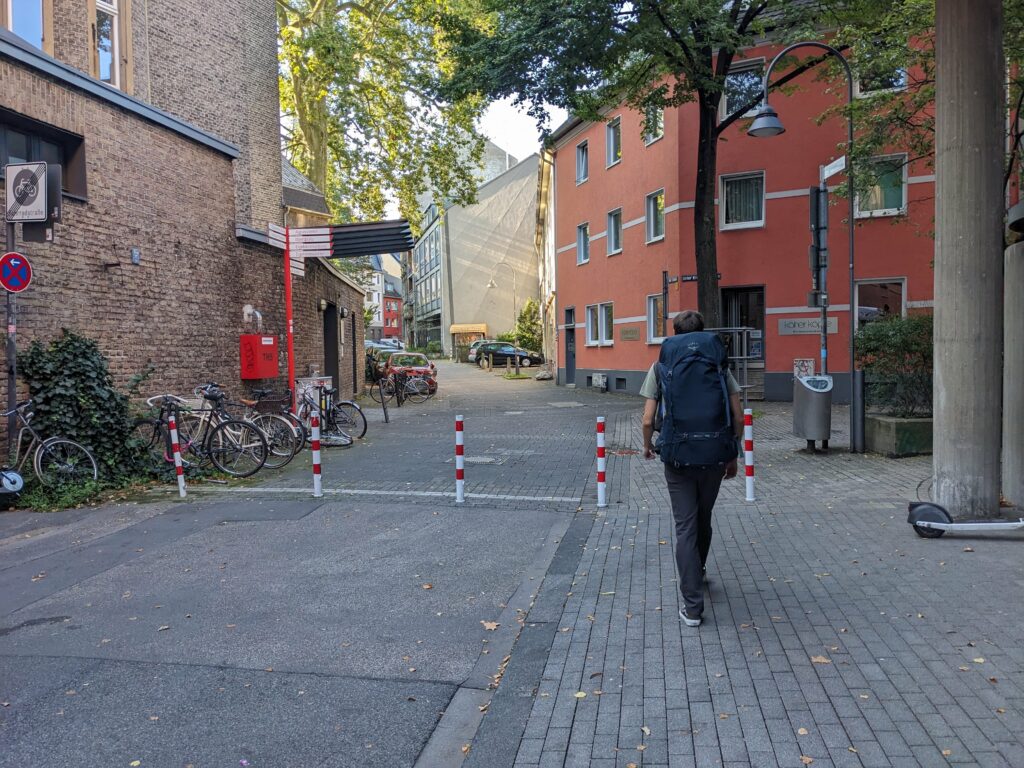 A quick walk to the station and a pretzel later and we were ready to board our first train: a quick hop from the central station to the out-of-town high-speed station. Here, we waited patiently while our long-distrance train was nowhere to be seen – either on the platform or any of the departure boards. At least we weren't in a hurry – another British couple approached us for a chat and they were on edge because their Eurostar connection left them only 35 minutes between trains, and check-in closes 30 minutes before departure. We made our best attempt at sympathy, but seriously, who would book that tight a connection?!
⏰ 09.55: Cologne Ehrenfeld to Brussels Midi
The InterCity Express arrived in the end (only 10 or so minutes late) and we hopped on. We'd decided to save a few pennies by not reserving seats (this costs extra in Germany), and although the train was busier than we'd hoped, our bet still paid off when we found seats near one another. We didn't need to chat, anyway – trains are strictly for blog writing or napping! Less than 2 hours later, we pulled into Brussels. It was such a smooth journey that there's not much to mention other than the train's impeccable 10/10 toilet score!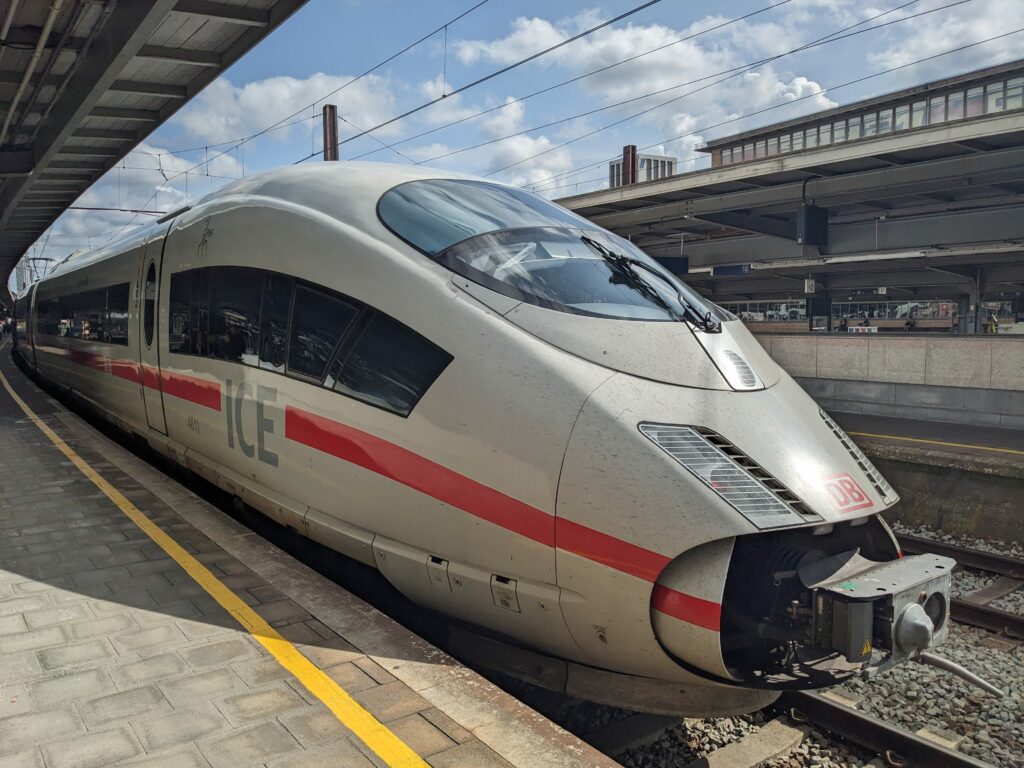 ⏰ 11.35: Waffle and beer consumption
We thought we might as well give ourselves an afternoon in Brussels before boarding our final high-speed train of the trip, so we left our bags at Brussels Midi station (making sure to get an XXL locker so that we wouldn't jam the lock with our bag straps – our debacle in Seoul still haunts us!) and hopped on a local train into the city centre. After much Googling, we think that this journey was included in our Eurostar tickets, but as no one checked we never found out for sure!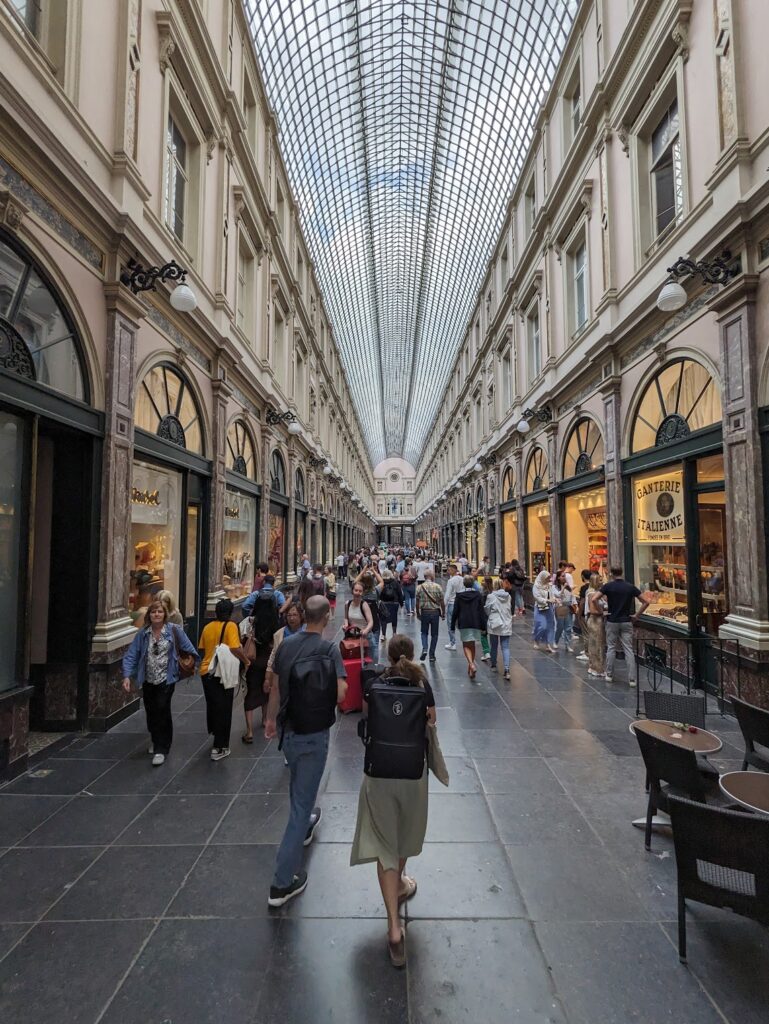 Once there, we paid a quick visit to the Grand Place (beautiful but no match for Salamanca's amazing Plaza Mayor) before getting onto the serious business of eating and drinking.
At my request, our first stop was Le Roi de la Gaufre for a Belgian waffle. We knew we'd come to the right place when the lady asked if we had a few minutes so she could make us a fresh one, despite having a huge pile of cooked waffles in front of her. She then smothered it in dark chocolate and it was well worth the wait – as you can probably tell from the picture below, I was quite excited!
At Oli's request, our next stop was Delirium Café, which is a Brussels classic where you can choose from a literal book of beers – over 2000 of them! Sadly, we only had time for one round so we didn't get too far through the menu, but there's always next time…
⏰ 18.50: Eurostar to London St Pancras
We then headed back to Brussels Midi with plenty of time to spare to wrestle our backpacks from the storage locker and find something convenient to eat on the train for dinner. Then, we headed through security (where the Swiss Army knife was scrutinised one last time but ultimately returned to us), exited the Schengen Area and passed through the UK border before hopping on the train. In less than 2 hours, and after 389 days away, we were back in London!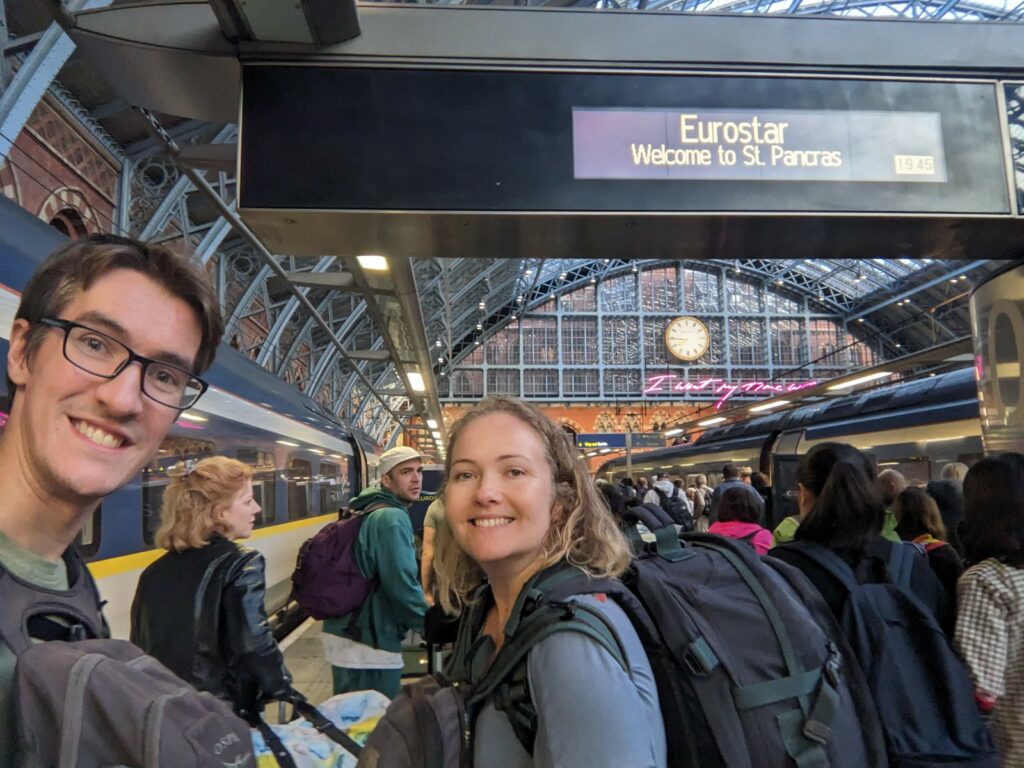 ⏰ 19.45: Gah! A rail strike
We still needed to cross London to reach Oli's parents' house (aka Thomas' billet 🐈) so we were delighted to learn that there was a rail strike in progress 😩. At least this gave us an excuse to take the Elizabeth Line, which got fully up and running while we were away, but the long and busy bus ride was less welcome.
But really, the journey was all worth it when we arrived back and were greeted by our best friend in the whole world, Thomas. He was home alone as Oli's parents were away on holiday, and we were relieved to find he hadn't forgotten us at all in the year we've been away. What a little legend!