We spent 12 days working our way down the west side of Malaysia, starting with an ascent of what was once the steepest cable car in the world on the island of Langkawi. We then ate ourselves silly in George Town, before going hiking in the Cameron Highlands. Finally, we topped off our Malaysian adventure with a few days ogling at Kuala Lumpur's skyline.
Carbon 🚆
As with most countries in Southeast Asia, our carbon footprint in Malaysia was relatively small since we only travelled 1,117 km. We also covered most of the distance by bus, which kept our carbon footprint low.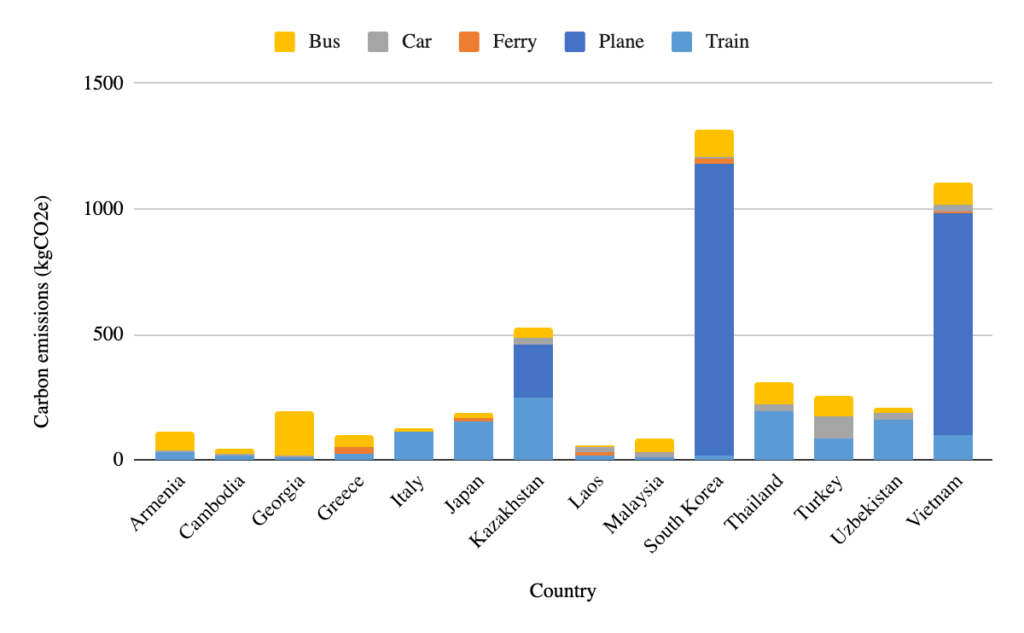 Cost 💰
Malaysia was one of the more affordable countries we've visited, which meant that we were able to stay in some lovely hotels along the way.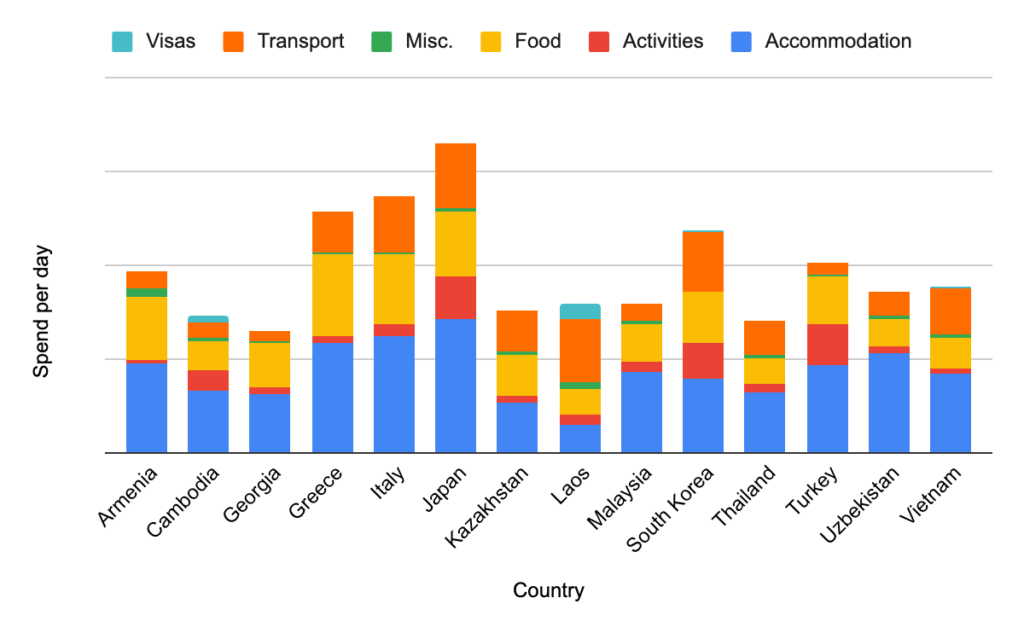 We spent a higher proportion of our budget on accommodation in Malaysia compared to most other countries. I wouldn't say that accommodation was particularly expensive in Malaysia though, but rather transport, food and activities were relatively affordable, which might explain the imbalance.
Cats 🐈
Malaysia really delivered when it came to our feline friends, stealing the third spot on the podium from Cambodia.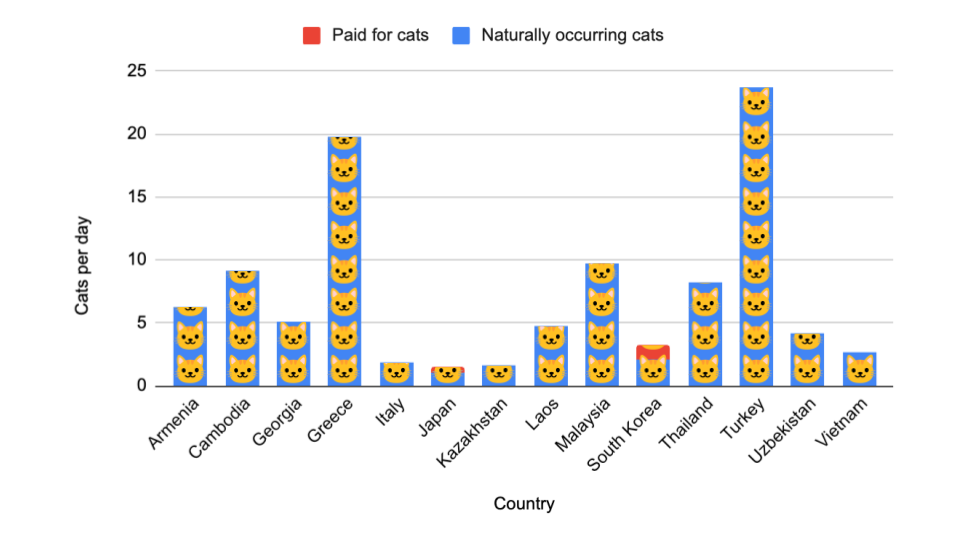 Across Southeast Asia, we noticed lots of cats with short or kinked tails, which at first saddened us, as it appeared that many were the victims of some form of accident or abuse. However, further research has revealed that short or kinked tails are actually encoded into cats' genes in Southeast Asia, and they only don't exist in Europe because this gene as been systematically bred out for aesthetic reasons. Phew! Anyway, time for some awards…
🏅Highest performing guest relations manager
We've mentioned our friend George before, but we couldn't omit him from the awards section! Here he is wishing us a good day while we were eating breakfast. What a cross-eyed charmer 😻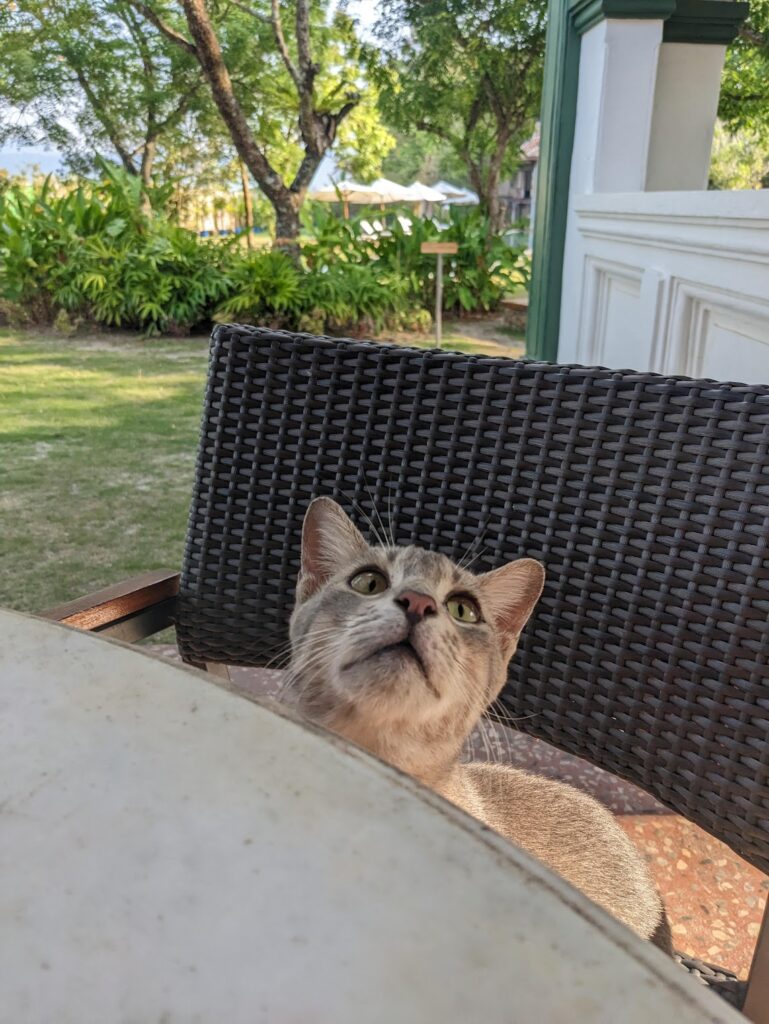 🏅Joint award for friendliest kitten
These two tiny friends knew how to turn on the charm. We nearly didn't re-board our bus at a rest stop because we were so busy chatting to the lovely girl on the left.
🏅Cutest prawn appreciator
One night Sara didn't quite finish her dinner, so she took away a couple of prawns wrapped in a paper napkin – pocket prawns, if you will. The risk was very real that the prawns would be forgotten and that we'd find them weeks later, but fortunately we met this hungry fellow on the way back to our hotel. He was slightly nervous at first, but once he'd caught sight of Sara's pocket prawns, he quickly found his confidence!
🏅Most dedicated to recycling
This mum suspected that some tins of fish hadn't been perfectly washed out, so she was using her keen sense of smell to ensure the bag of recycling wasn't contaminated with food waste. And best of all, she passed on the importance of recycling only clean food containers to her kitten, too!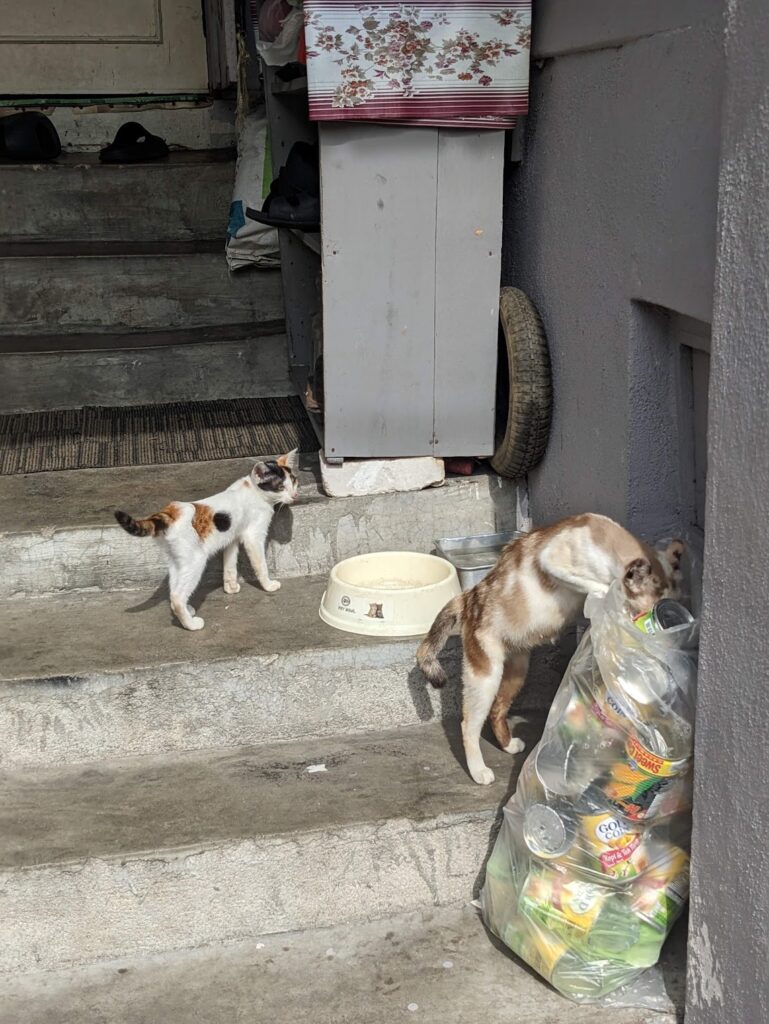 Culture 👨‍👩‍👧
Three cultures in one. Malaysia is a brilliant destination when you consider that you basically get three cultures for the price of one: there's a fascinating mix of Malay, Chinese and Indian people, foods, architecture, religious traditions, and languages wherever you go in the country. It certainly keeps things interesting, even if it did present us with a bit of a challenge with finding space to try all the local foods!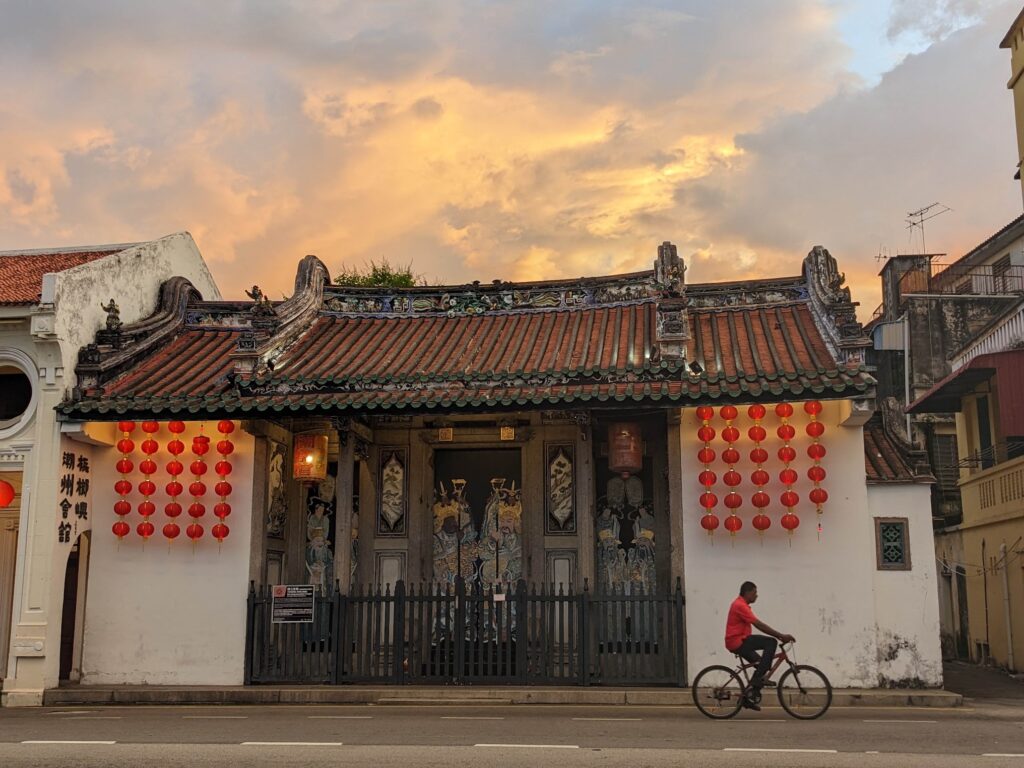 Ramadan. We arrived in Malaysia, a Muslim-majority country, on the third day of Ramadan. We'd read lots about what to expect but were still a little apprehensive – as you might have noticed, we really, really like food and didn't want to miss out, but also really didn't want to make a faux pas.
Overall, though, I'd say that it had a net positive result on our travels: the mixed population definitely made it easier because we knew if we headed to a Chinese area then there would be plenty of restaurants open and people eating. The Ramadan food markets that ran every day from mid-afternoon to evening were also a big bonus with so much delicious food all in one place, even though we consistently hit them at the wrong time – we kept thinking that people would be out around Iftar (sunset), but actually by this time they were home and getting ready to eat with their families.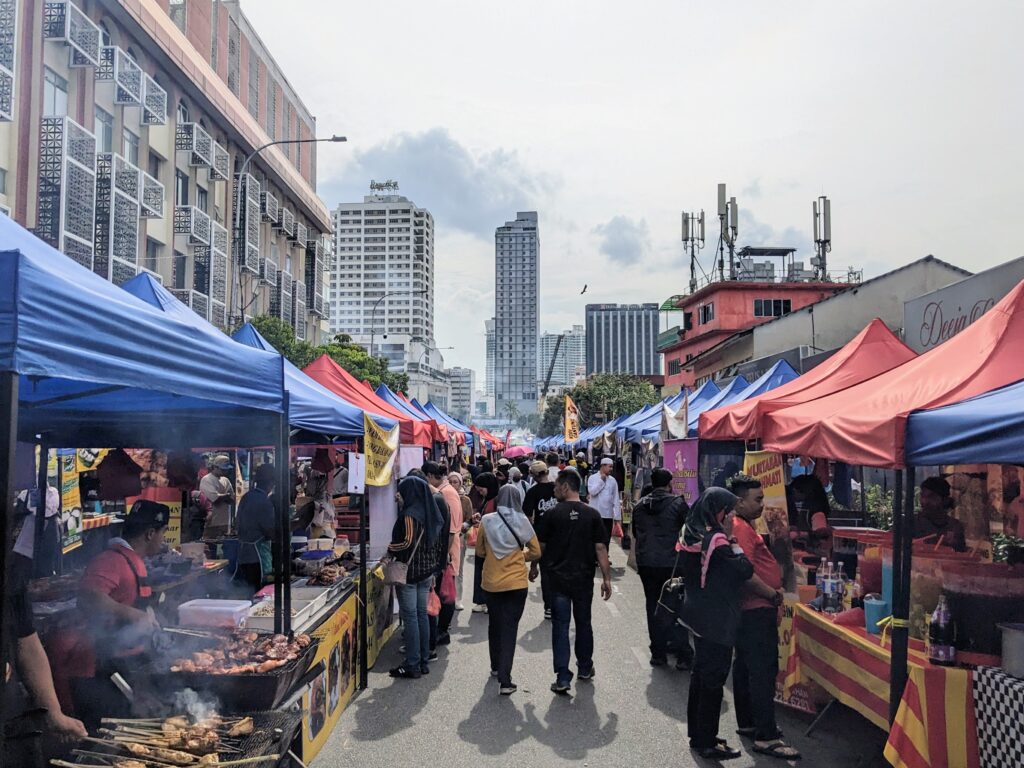 But the biggest bonus of all from a traveller's perspective was that there was less crowding at tourist sites – for instance, the Langkawi Sky Bridge has a reputation for hours-long queues but we strolled right in, and the Cameron Highlands is apparently normally one big traffic jam at the weekends, but had just the right level of buzz when we visited. So, while we might not have planned to be here for Ramadan normally, it was actually really interesting to be in the country during such an important period for lots of the population, and had a few unexpected bonuses for us, too.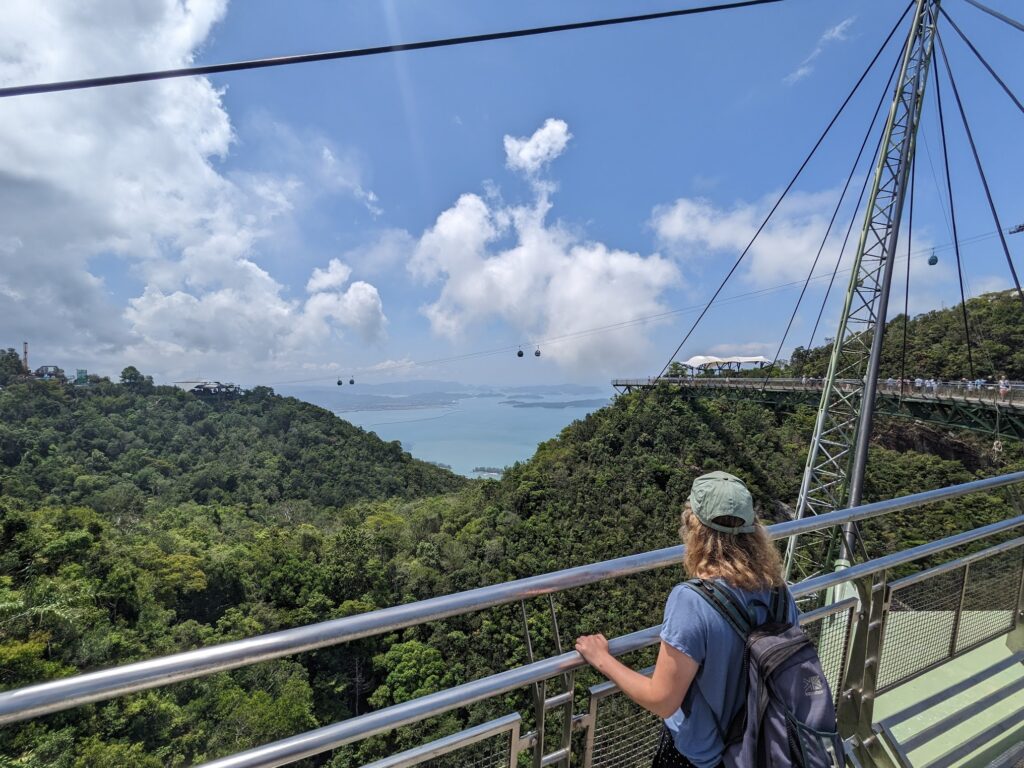 Money. Not a transaction went by where the person wouldn't ask for smaller change, even when we'd paid with what we would regard as a reasonable note (e.g. 10 MYR for an 9.50 MYR bill). People would often peer suspiciously into Oli's wallet and question him on its contents, just in case he was harbouring a smaller note – "No, they're US Dollars," he'd protest. "Well what about that one?" they would demand. "No, that's an old ticket!" People even gave us a discount on a couple of occasions just so they didn't have to give change, and we also massively overpaid when we realised the buses don't give change. We've been to plenty of places where having exact change is useful, but none where people are quite so obsessed with it as Malaysia!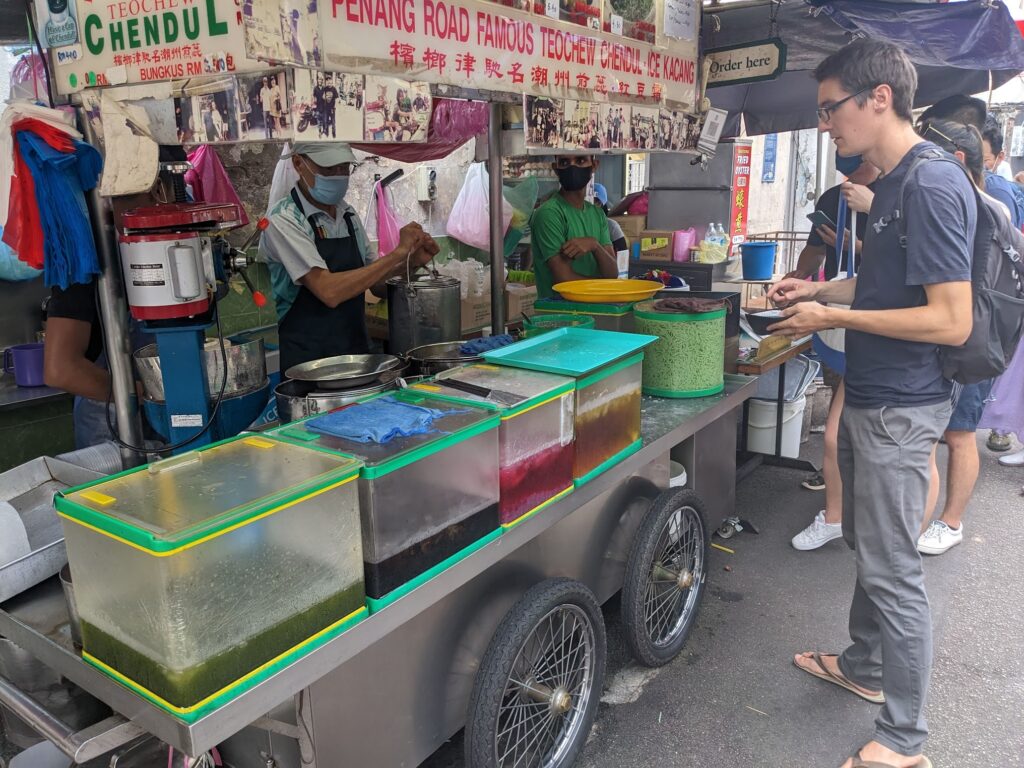 ---
From Kuala Lumpur, we made the well-travelled journey directly south to Singapore – Race Across the World's final checkpoint, and our final destination in Southeast Asia.