The next stop on our journey south through Malaysia was the Cameron Highlands, an inland region of approximately 700 sq km that was developed into a hill station by the British in the 1920s.
We've been to a couple of hill stations now: Munnar in Kerala (India), Đà Lạt in the Central Highlands of Vietnam, and now Tanah Rata. They have a couple of things in common, namely that although they are surrounded by lots of natural beauty, the towns tend to be quite traffic-clogged and not terribly scenic, and that they are much cooler than the rest of the country they sit in. Obviously, providing an escape for the unacclimatised occupying British (or French, in the case of Đà Lạt) is one of the main reasons they were first developed, but this is the first time we've really enjoyed their cooler climates – it has been HOT recently.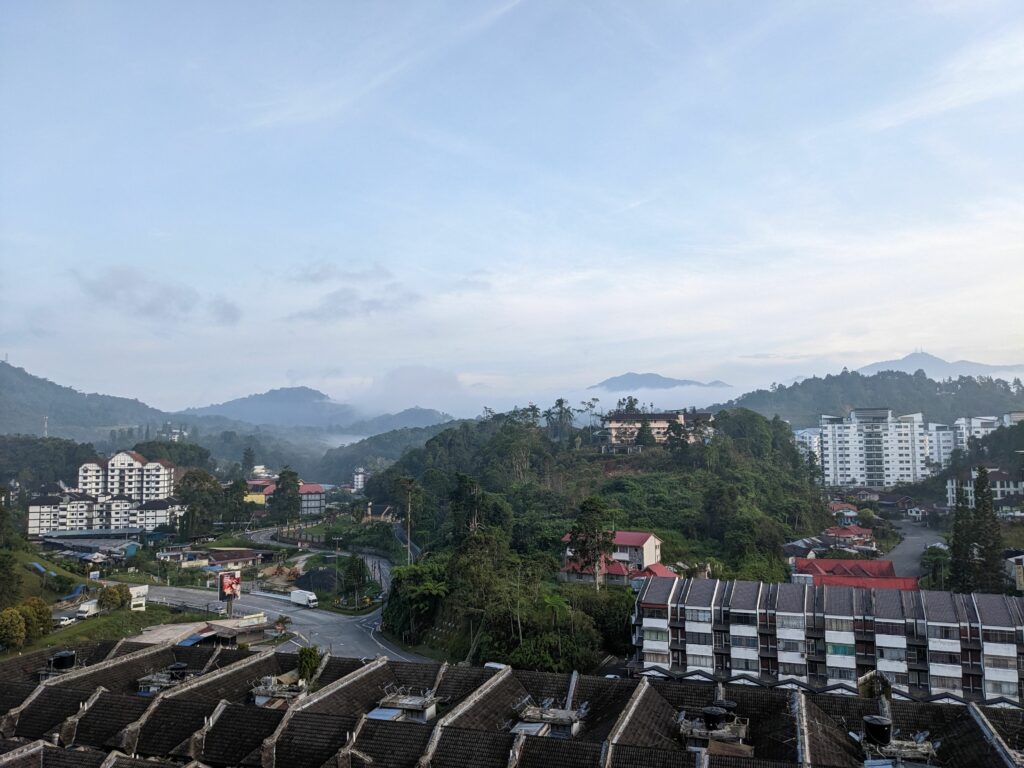 One of the most popular activities on a visit to the Cameron Highlands is acting like the British of the 1920s and 1930s by spending time in mock-Tudor hotels and eating cream teas. Now I don't know if you've noticed, but we're actually incredibly good at pretending to be British, so we had to get in on the action. We headed to the Smokehouse Hotel & Restaurant, which dates from 1937. I wasn't expecting to be particularly convinced, but the mock-Tudor building did feel uncannily familiar (although see the second slide for a less charming attempt at mock-Tudor architecture!)
The gardens were lush and could almost have passed for a country cottage garden, as long as you squinted your eyes and ignored some of the more exotic specimens that definitely wouldn't thrive in the UK.
Meanwhile, the interior did an excellent imitation of a country pub!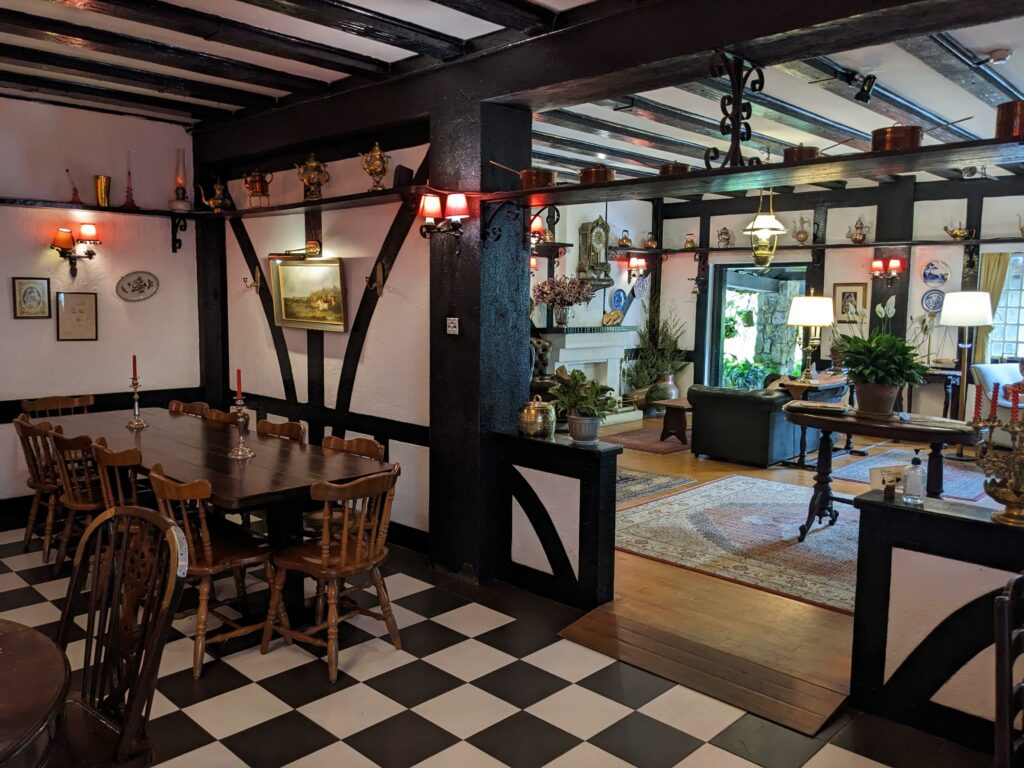 And finally: the food. Oli ordered a Highland rarebit sandwich and we were pretty amused with what turned up. The entire plate, including some of the underside, was smothered in cheese sauce – they'd certainly done a thorough job! However, my afternoon tea was pretty spot on, although Oli had to stop me from telling the staff that they really should consider serving clotted cream rather than whipped cream with the scones. When I realised that I couldn't actually explain what exactly clotted cream was, I decided perhaps that was an argument to save for another day.
One of the other major pastimes in the Cameron Highlands is hiking. Despite this being a popular activity, we read that many of the trails are gradually falling into disrepair or being blocked off by rampant development in the area. We hiked two of the most popular trails, but even to access these meant having to squeeze through a gap in the fence to get to the alternative starting point, since the original trailhead sits underneath a new apartment block. It's a shame that this part of the area's appeal (for us, at least) is gradually being lost in favour of big hotels and other attractions: namely growing strawberries, picking strawberries, eating strawberries, building giant models of strawberries…
Anyway, we had a great (and quite hilly!) 6 km walk. We started by climbing through the jungle to a viewpoint. It was quite a steep start, and it's never good when you're climbing through trees and there's no view to pretend to admire when you need a break!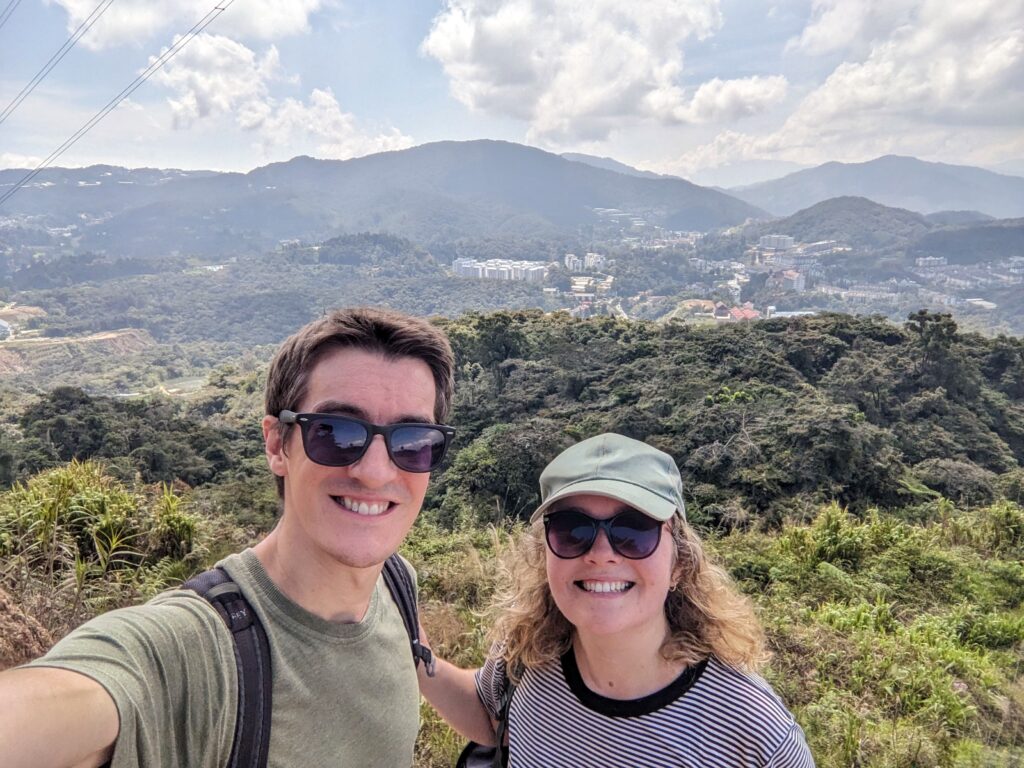 Next, we descended gradually, following a small river down to a village and some steeply-terraced fields.
Finally, we entered a tea plantation and walked through it to reach their cafe, where we enjoyed some masala tea as a reward for our hard work. We arrived back in town just as the heavens opened and were very smug about our timing, which had for once gone somewhat to plan! Even the rainy weather was a nice reminder of home – I can totally see why this area appealed to the British in the 1920s.
That concluded our time in the Cameron Highlands, and it was time to face a very long and windy bus trip through the mountains towards Malaysia's capital city, Kuala Lumpur.