When we read that 79% of hotel rooms in O'ahu are located in Waikiki, the holiday neighbourhood of Honolulu, we confidently assumed that we would stay somewhere else on the island, perhaps a rustic seaside shack on an undiscovered beach. Reality soon set in and we realised that we had neither the budget or the forward planning to make this possible, so Waikiki it was to be! While this isn't exactly our usual style, it did mean that we were right in the action, with Waikiki Beach, literally hundreds of restaurants and food trucks, and superb people-watching opportunities within a stone's throw of our apartment.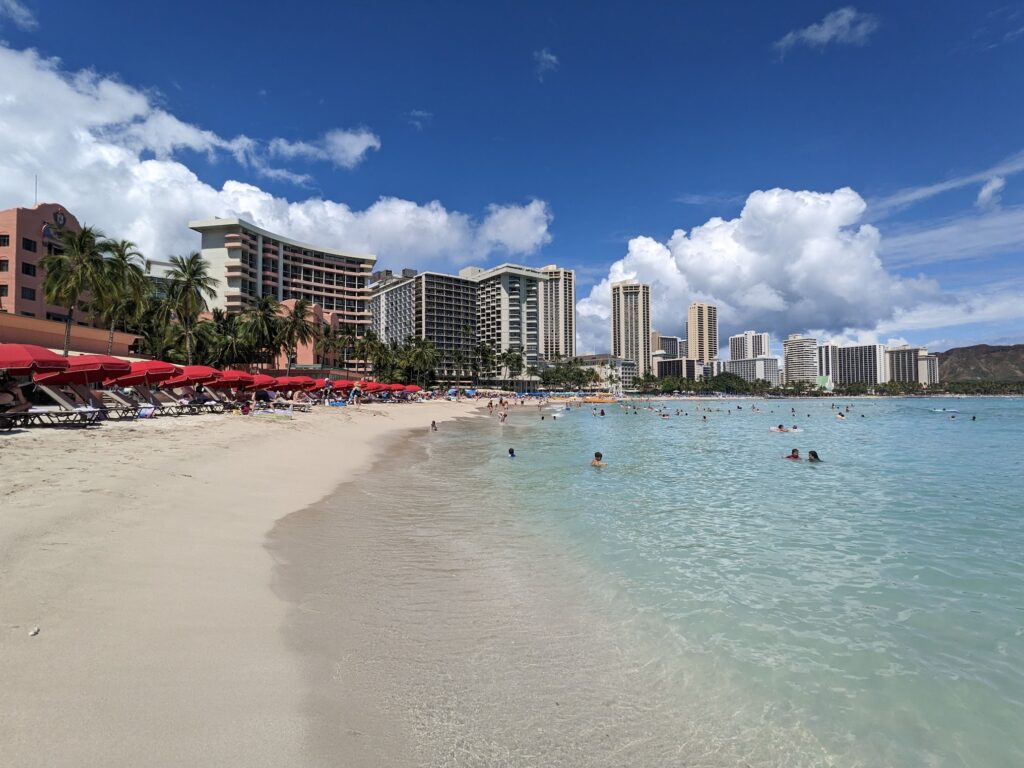 Waikiki's mass tourism was quite the contrast to New Zealand, which seemed very peaceful in comparison. It wasn't just the population density either, as almost everyone in Waikiki is on holiday, which produces a vibe that I can only describe as Vegas-meets-Rio. It took us a few days to settle in and really appreciate the Americana, but we soon got into the swing of things. For instance, we dropped into The Cheesecake Factory for lunch, and found the portions so large that Sara stretched her burrito, beans and salad to cover both lunch and dinner!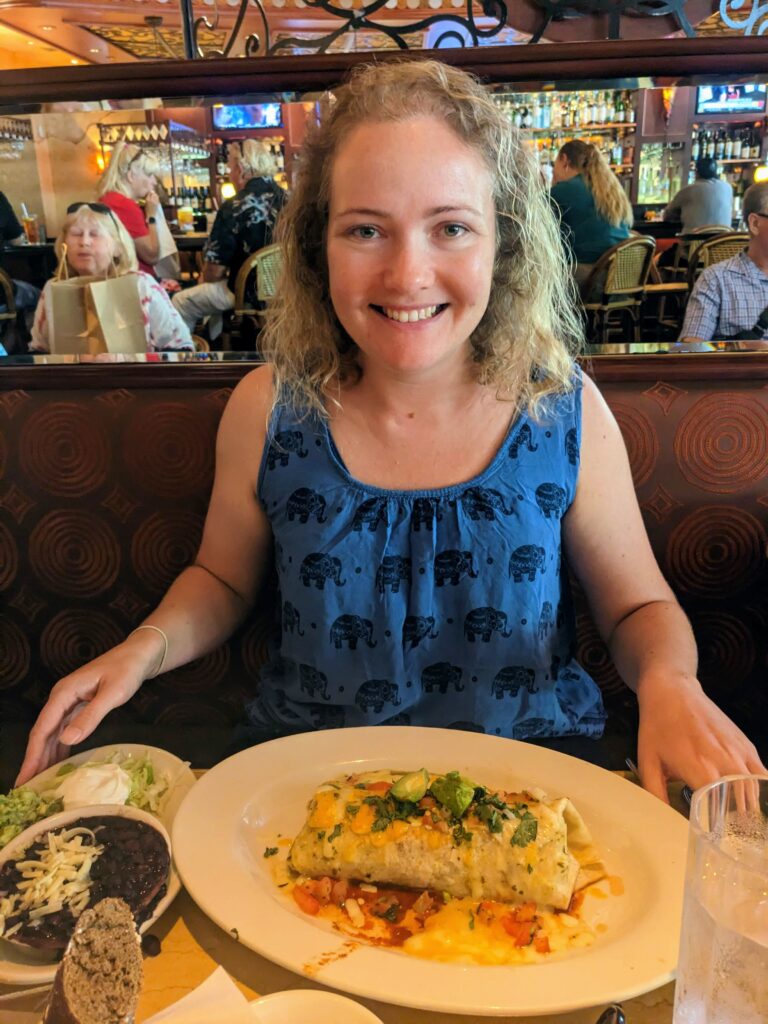 It took the best part of two days on the beach watching the tanned surfers and picture-perfect sunsets before our feet started to itch. We were keen to see a bit more of Oʻahu, Hawaii's most populous island, which we explored through three separate excursions…
Excursion 1: Hiking to the summit of Diamond Head
Waikiki beach is bound at one end by Diamond Head, a dormant volcanic cone, which affords awesome views across the city and bay. Having read that this was a "steep and strenuous" hike, we donned our walking boots and set off. And when I say set off, I mean from our apartment in Waikiki, which was a good 5.5 km scurry (of course we were running late for our timed entry) up to the visitor centre and trailhead, located in the centre of the volcano's crater.
Arriving at the visitor centre, it became clear that we were the only people who had brought our walking boots to Hawaii. Everyone else was in trainers and sports gear, and we stuck out like a pair of sore thumbs. So much so that I even heard someone say "it's because they're European" when I passed them on the left side of the footpath (instead of the conventional right), but I was only letting someone with a walking stick use the side of the path with the hand rail! I was still fuming from this interaction a few minutes later when I realised that of course most of Europe also drives (and passes people) on the right, so really, the joke was on them!
From the visitor centre, we climbed the remaining 171 m of elevation to Lookout Point, with our walking boots providing excellent traction against the steep and strenuous gradient. We arrived at the summit to stunning views across the bay and city from the WW2 battery, which had been built to make use of the natural vantage point to defend O'ahu's coastline (although it had never fired a shot in anger).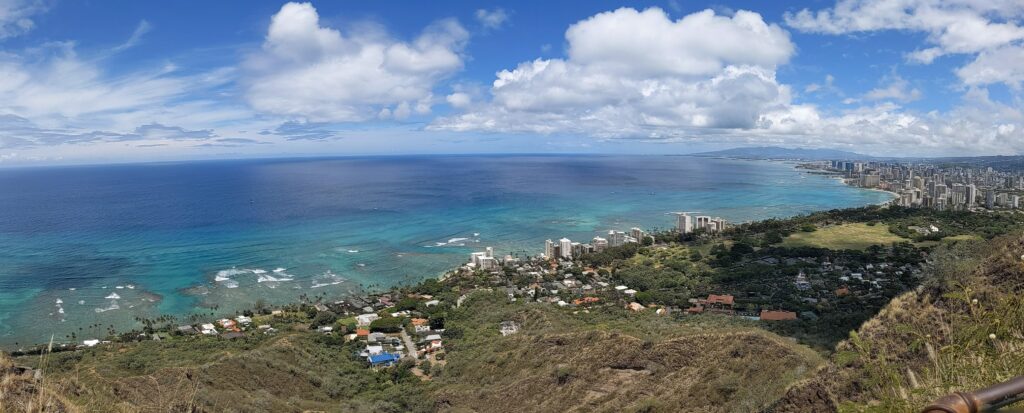 We were famished by the time we headed back towards Waikiki, so we bent our route around the Rainbow Drive-In, an iconic Waikiki institution serving up plate lunches. This is a quintessentially Hawaiian meal, which combines Japanese white rice with American comfort food, and is accompanied by side of coleslaw or macaroni salad. We went for Shoyu (soy sauce) chicken and Kalua (island style) pork, and although neither plate was much to look at, they were exactly what we needed to get us the remaining few kilometres home after our hot 11 km hike.
Excursion 2: The sunken history of Pearl Harbor
No visit to O'ahu would be complete without a trip to Pearl Harbor. It was here that 353 Imperial Japanese aircraft carried out a surprise attack in 1941, causing huge loss of life and damage to the US Air Base and Pacific fleet. The raid was hugely successful in inflicting damage and undoubtedly changed the course of history; but rather than preventing the then-neutral USA from entering the war as intended, it resulted in the USA declaring war on the Empire of Japan, Nazi Germany and Italy.
We took a public bus from Waikiki to the Pearl Harbor visitor centre, and a US Navy shuttle ferry over to the sunken USS Arizona battleship in the middle of the harbour. A solemn white memorial sits directly above the submerged battleship, which rests in the same location as at the time of the attack, over 80 years ago. The battleship's ammunition magazine received a direct hit during the bombing raid, and the resulting explosion was responsible for the loss of 1,177 of its officers and crewmen, many of whom are still entombed within the battleship today.
You can just about make out the outline of the USS Arizona on Google Maps satellite view if you zoom in.
Visiting the memorial was a sombre experience, and following our visit we were in need of both some mood repair and sustenance. This came in the form of a sandwich from the memorial cafe, which Sara tried to liven up with a little sachet of mustard. Our sandwiches soon drew the attention of some cute little birds, who gained in confidence and hopped closer with every bite we took. Sara tried to waft them away with her hand when they got too close for comfort, and unintentionally flicked a big blob of mustard in their direction. Presumably thinking it was their lucky day, one little bird must have had the shock of his life when he gave it a taste. It didn't put the poor fellow off, though!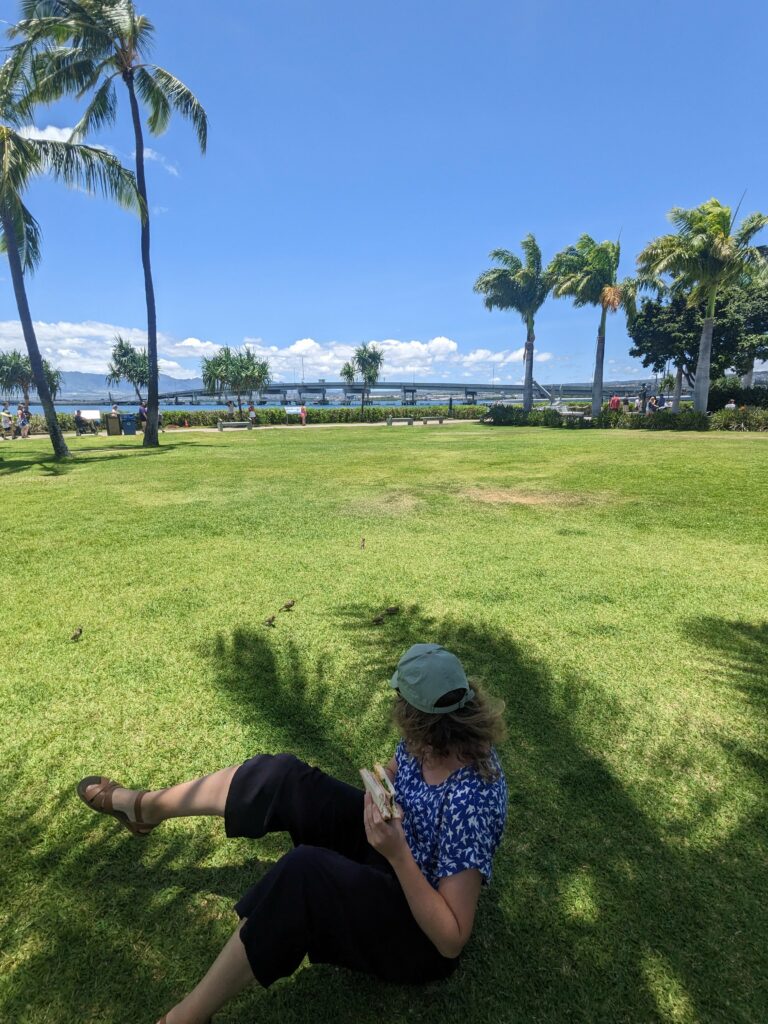 In the afternoon, we took a shuttle bus into the active military base on Ford Island to board the USS Missouri. This battleship is best known as the site of Japanese surrender while it was moored in Tokyo Bay, thereby ending the Second World War. Today, it is permanently moored in Pearl Harbor and has been turned into a floating museum. Although the battleship wasn't commissioned until after the raid on Pearl Harbor, it did serve in the Pacific Theatre during the war. In fact, it still bears a battle scar or two, including a dent where a Japanese kamikaze pilot struck the side of the hull and bounced off – the bomb it was carrying having failed to explode on impact. We learned more about other kamikaze missions in the onboard museum and read a few of the terribly sad letters that the Japanese pilots had written to their families, knowing they were about to embark on their final mission.
Excursion 3: Swimming with sea turtles on Laniakia Beach
Eager to see as much of the island as possible, we hired a car for a day and departed Waikiki on a mini road trip. Always on the look out for opportunities to reduce our carbon footprint, I spotted a great deal on a mystery electric car, which turned out to be a Tesla Model 3.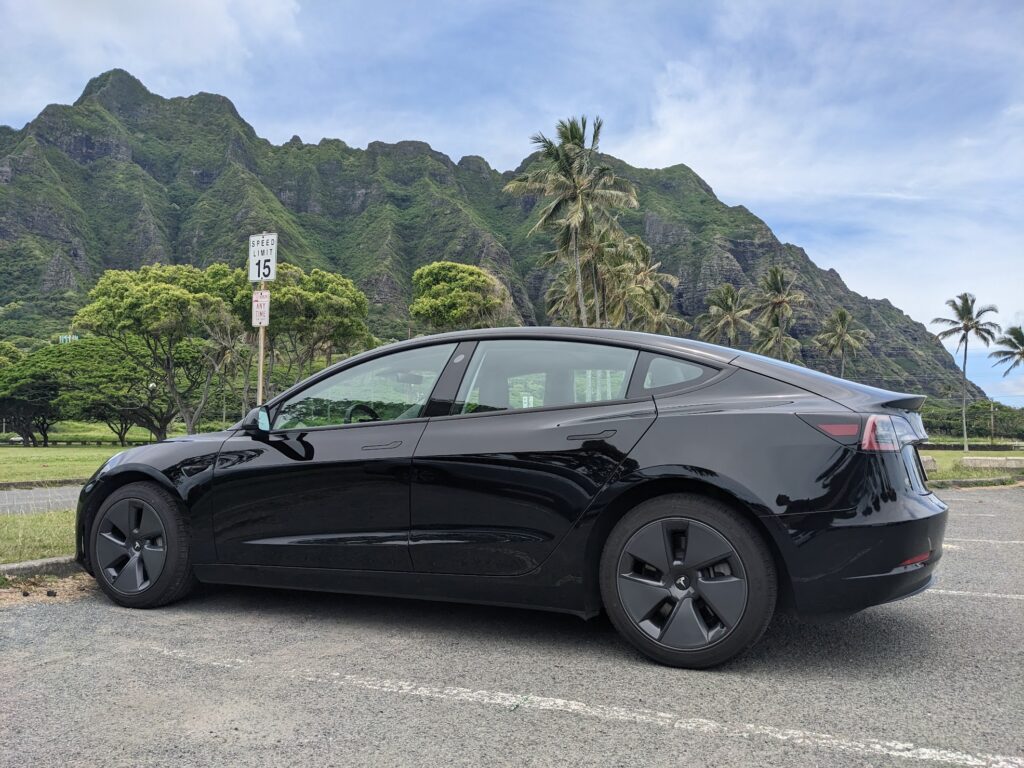 We put our foot down and headed straight for Kualoa Regional Park, a huge strip of parkland that meets the ocean at a narrow sandy beach. The bay affords excellent views of Mokoli'i Island, which is also slightly questionably referred to as the Chinaman's Hat (for its almost perfectly conical shape). We preferred our new name of the Wizard's Hat.
We continued on to Hakuku on the North Shore with lunch in mind, having read about a legendary shrimp truck called Giovanni's. The truck was actually located next to six or so other food trucks that also looked great, but Giovanni's had by far the longest queue so we knew we were on to a winner. We hedged our bets between a plate of hot and spicy shrimp and a plate of garlic butter shrimp, each of which came with two healthy balls of rice and a slice of lemon. Eating the shrimp was a messy business, as much of the sauce was on the outside of the un-shelled shrimp, but the flavour more than made up for the mess.
We broke the journey back to Waikiki with a stop at Laniakia Beach, where we'd heard we might see a sea turtle or two while snorkelling, if we were lucky. Sara grabbed a snorkel and headed out into the shallows, but with poor visibility in the sea, didn't find much at first. However, while looking out for a turtle the size of a fist, you can imagine her surprise when a giant turtle swam right underneath her. Slightly panicked, she surfaced only for a turtle conservation volunteer to call out to her, "Ma'am, there's a turtle, like, right behind you!" Overwhelmed, Sara clambered up the beach for a sit down, only to pass a couple more on the sand and rocks between the shore and her towel. We certainly didn't expect it to be quite so easy to spot them – even the smallest were the size of dustbin lids! After this, I didn't even bother going into the water – there was no need!
On our way back to drop the hire car, we finally found out why we got such a good deal on our electric car – it was nearly impossible to recharge the thing. We attempted four different charging stations before finally having some success. We ended up charging it at a slow charger while we ate dinner in a very uninspiring strip-mall, but even then, we had to wait a further 45 minutes for it to reach enough charge to avoid a penalty fee when we returned the car. Knowing this, we unplugged with just enough charge in the battery, then drove very tentatively to drop off the car. We avoided a penalty with just 1% to spare, not bad!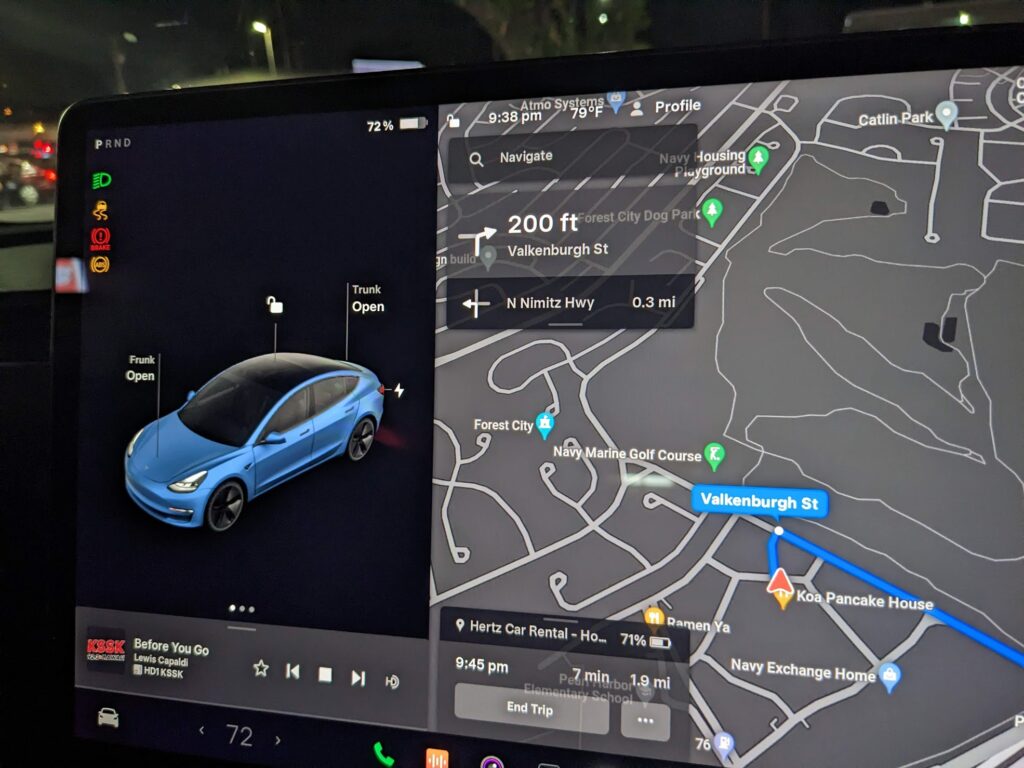 I'm not sure how O'ahu ended up in a situation where there are too many Teslas on the road for the number of superchargers, but it made for a slightly stressful ending to our road trip. On top of this, I've since learned that Hawaii's electricity is generated largely by petrol-fired power stations, so I'm not sure that electric vehicles are much better for the environment than petrol vehicles anyway. Still, it was at least encouraging to see demand for electric vehicles, even if the infrastructure has some way to go to match it.
---
We rounded off our stay on O'ahu by watching a free firework display above Waikiki Beach and the lagoon. We'd really enjoyed having plenty of time to relax in Hawaii, partly due to a miscalculation related to the International Date Line. If we'd had even more time (and the ferry was still running!), we would have loved to explore "The Big Island" of Hawaii and its volcanoes, but it's always nice to have a reason to return if we're ever in the area 😉.