After a couple of long flights across the Pacific, we were excited to be getting back on a long-distance train again. Although travelling on Amtrak has been growing in popularity in recent years, it's still pretty niche, with only a small proportion of the population as diehard fans. Meanwhile, domestic flying remains the default, and it's easy to understand why, given its relative speed, price and choice of routes. But Helen and Mick had a couple of trips under their belts already, and having heard their stories and consumed more cheesy, relentlessly optimistic Amtrak content from Jeb Brooks than we'd care to admit, we were very keen to get in on the action.
From Seattle, WA, we took an overnight train to Whitefish, MT – the gateway to Glacier National Park. This was our first taste of Amtrak's Empire Builder route, which we'll ultimately ride all the way to Milwaukee, WI, just shy of its terminus in Chicago, IL.
We boarded the train from King Street Station, a beautifully restored 1906 terminus in Downtown Seattle.
Since this was our first of three long-distance journeys aboard an Amtrak train, I thought I'd do it justice with a full review…
The room(ette)
Sara and I shared a "roomette", which consists of two wide seats facing each other in a small lockable compartment. While it has plenty of space for two travellers, there's not a lot of room for luggage beneath the seats, and it's quite a squeeze to host any guests!
At night, the train attendant folds the seats down to form the lower bunk, while the upper upper bunk folds down from just above the window. Sara definitely drew the short straw on the upper bunk, with a slightly narrower bed and heavily restricted head room. Having said that, they were probably the most comfortable beds we've ever slept in on a train.
Amtrak trains also have larger ensuite "bedrooms" to which our budget did not stretch, and daytime "coach" carriages which we'll test on a later leg of the Empire Builder route.
The food
Amtrak sleeper-car tickets include three-course meals in the ticket price, which are served in the dining car and accompanied by a view – what a way to travel! All tables seat four diners, which means that couples are often treated to polite conversation with two other Amtrak travellers. Fortunately we were already a party of four so we didn't need to share with anyone else, although we still overheard plenty of very forced conversations over our early breakfast. Meanwhile, we were free to sit in stony silence until we'd all had our coffee!
For dinner, I had coconut shrimp to start, a flat iron steak for the main event, and a slice of lemon cake to top it all off. Much like the beds, we were genuinely impressed with the food – the shrimp was satisfyingly crispy, the steak was genuinely comparable to anything you'd find in a restaurant, and the lemon cake was deliciously sweet.
The main downside of eating this much good food is that there's pretty much no way to burn it off while on the train. Fortunately, we woke up on the doorstep of Glacier National Park the following day, although we still found time (and space) for a breakfast quesadilla before alighting!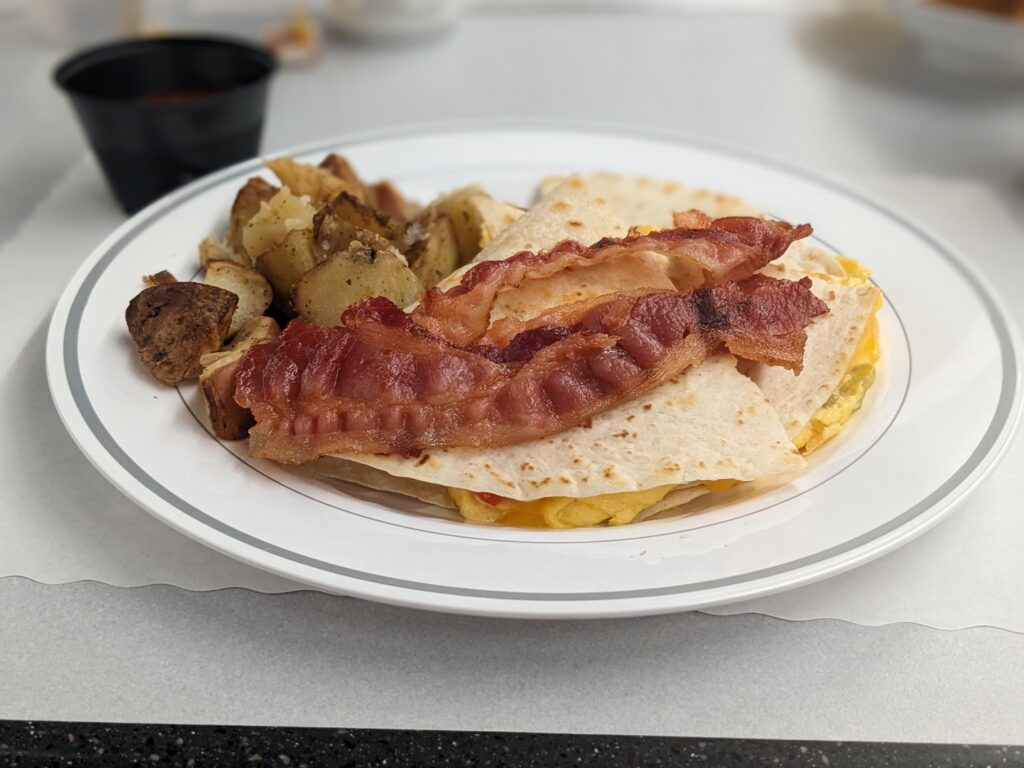 The scenery
Our train departed Seattle heading north, and unexpectedly (for me, at least) tracked the coast for quite some way before turning east. This meant that we were treated to some stunning afternoon sun over Puget and Possession Sound from our little compartment.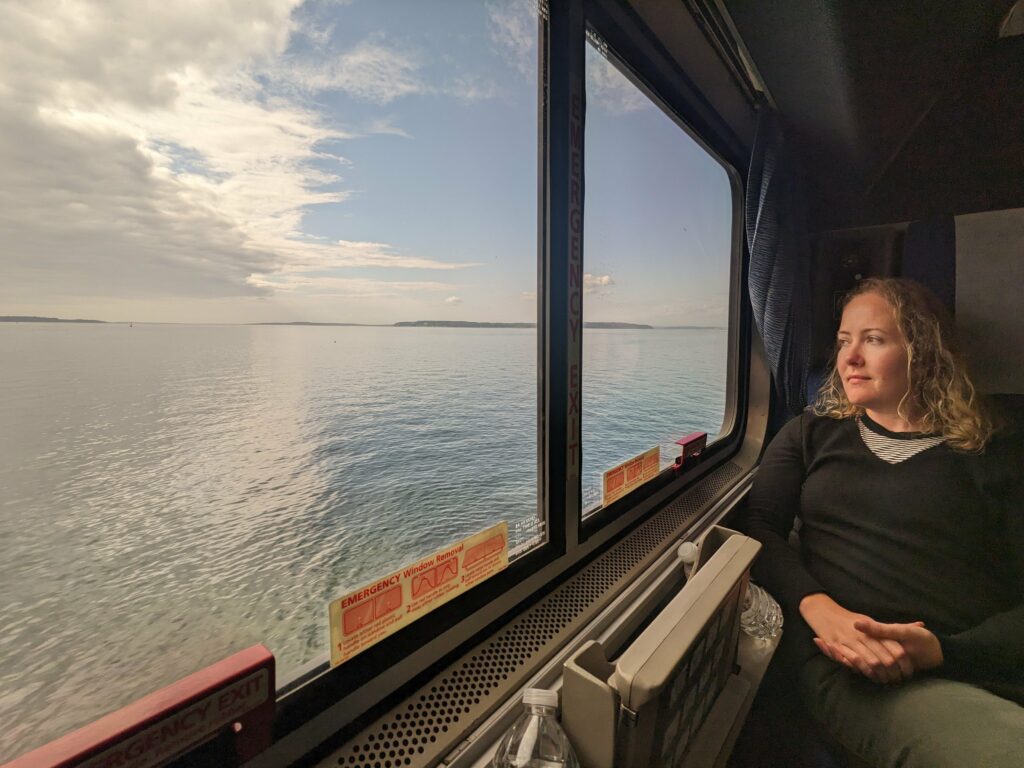 Our train also featured a beautifully light observation car, with plenty of huge windows stretching all the way up to the carriage roof. The only issue with this car, though, is finding it – Helen and I both made independent expeditions into the staff-only section of the train in our attempts to find it! With such a long train and with so many similar looking carriages, it was really quite disorientating.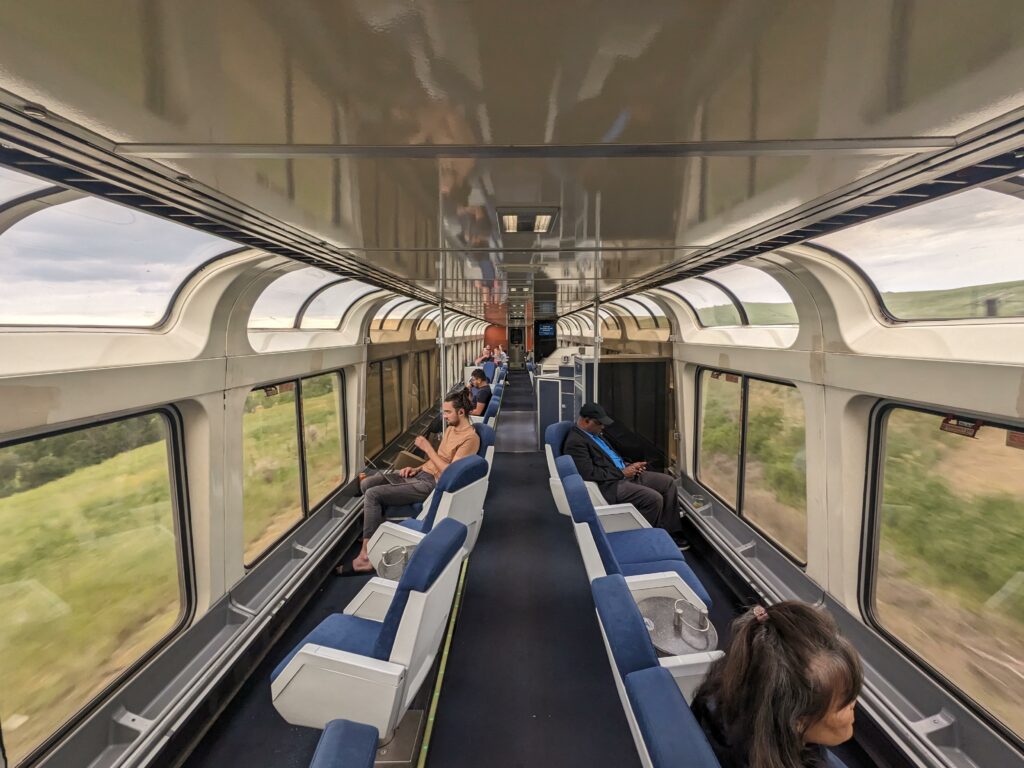 Later on in the journey, we passed through the tiny town of Dryden, WA, whose residents had turned out in force to treat us to an "Amtrak salute". This consisted of about 15 residents lined up beside the railway exposing their bare behinds for all to see. It was an incredibly coordinated effort! For better or worse, there wasn't time to reach for my phone to take a photo, so you'll have to make do with the mental image instead.
The speed
Our train averaged 71 km/h over the 943 km route from Seattle to Whitefish, including stops at stations. While it isn't exactly high-speed rail, it's still significantly faster than our long-distance trains across eastern Turkey on the Doğu Ekspresi and from Kazakhstan to Uzbekistan.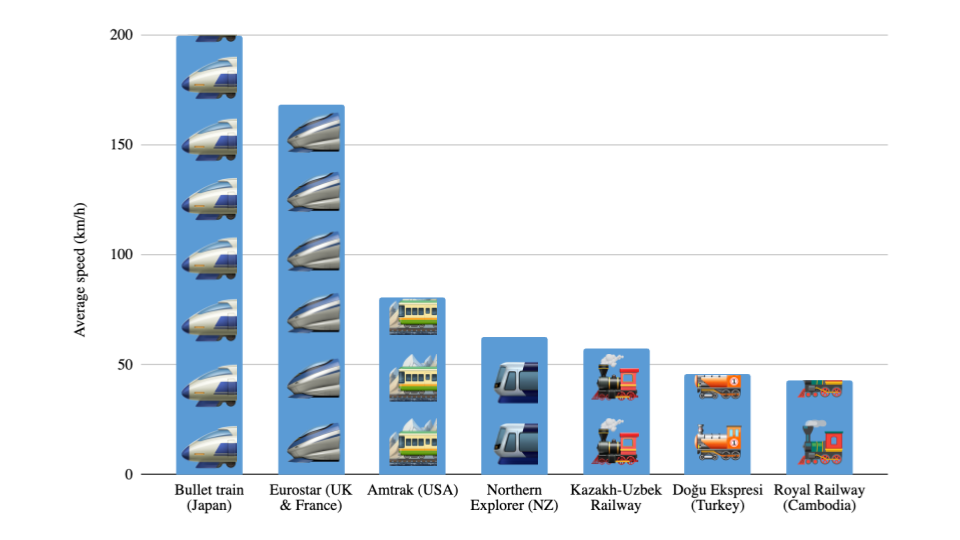 Amtrak trains are often criticised for their frequent (and sometimes unscheduled) stops. These occur because passenger trains must give way to freight trains, since Amtrak rents the rails from the freighters who own them. This can lead to delays accumulating along the route, although our train only arrived about 30 mins late in Whitefish, which is apparently pretty good going!
The price
Long-distance Amtrak trains are both slower and considerably more expensive than commercial flights, so they're up against some pretty tough competition. In fact, our train journey cost nearly three times the cost of the cheapest flight from Seattle to Glacier's nearest airport. Having said that, this Amtrak route was still cheaper per kilometre than our Eurostar and New Zealand trains, and neither of those included meals or a sleeper compartment!
---
In terms of carbon, our rail journey emitted 41% of the CO2 that would have been emitted by a direct flight. These savings aren't quite as large as I'd expected, owing to the wonky route taken by our train as it left Seattle and passed through the mountains.
Overall, Amtrak felt like the definition of travelling slow and low. It gave us the opportunity to enjoy the mountains, prairie and small towns from the train window, while also giving us a sense of scale of the distance we were covering. Here's our final scorecard for how Amtrak ranks against the other trains we've taken on this trip:
Comfort: ⭐️⭐️⭐️⭐️★
Food: ⭐️⭐️⭐️⭐️⭐️
Scenery: ⭐️⭐️⭐️⭐️⭐️
Speed: ⭐️⭐️⭐️★★
Value: ⭐️⭐️⭐️★★