The Doğu Ekspresi is the daily east-west train route spanning the width of Turkey. It used to run all the way from Istanbul in the west to Kars in the east, although with the arrival of high-speed rail, it now connects only Ankara to Kars via a mere 1,944 km of track (!). I'd seen the railway referred to interchangeably as the Doğu, Orient, and Eastern Express, which confused me until I found out that all three terms mean "East." Even more confusingly, the ambiguity of the term "East" means that the name also collides with the Orient Express, the direct train from Paris to Istanbul, which is sadly now lost in time.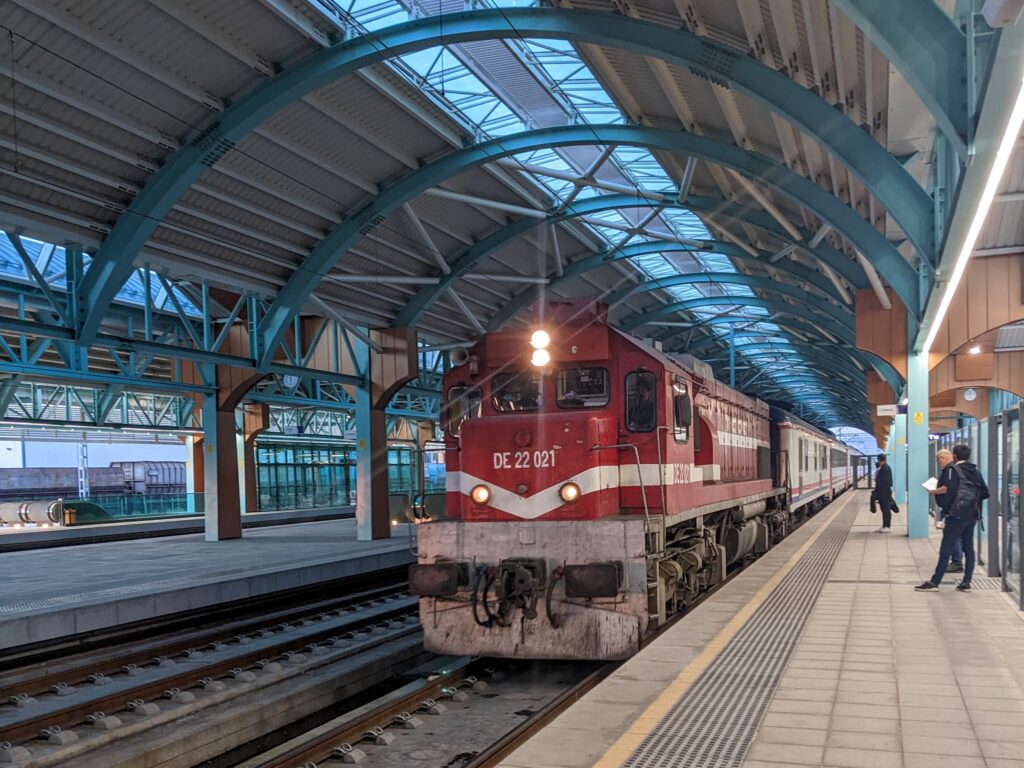 Booking a sleeper carriage on the Doğu Ekspresi is notoriously difficult for a few reasons. First, demand for tickets far exceeds supply, so most are booked as soon as they go on sale (which, unhelpfully, is any time between 15 and 30 days before departure). Second, tour companies tend to block book carriages directly with the train company before they even go on general sale. And third, men and women can't share a (4 berth) sleeper compartment overnight unless the whole compartment is booked. For these reasons, we opted for spacious pullman style seats and planned a daytime itinerary from Sivas to Erzurum, which rather poetically departed at sunrise and arrived at sunset.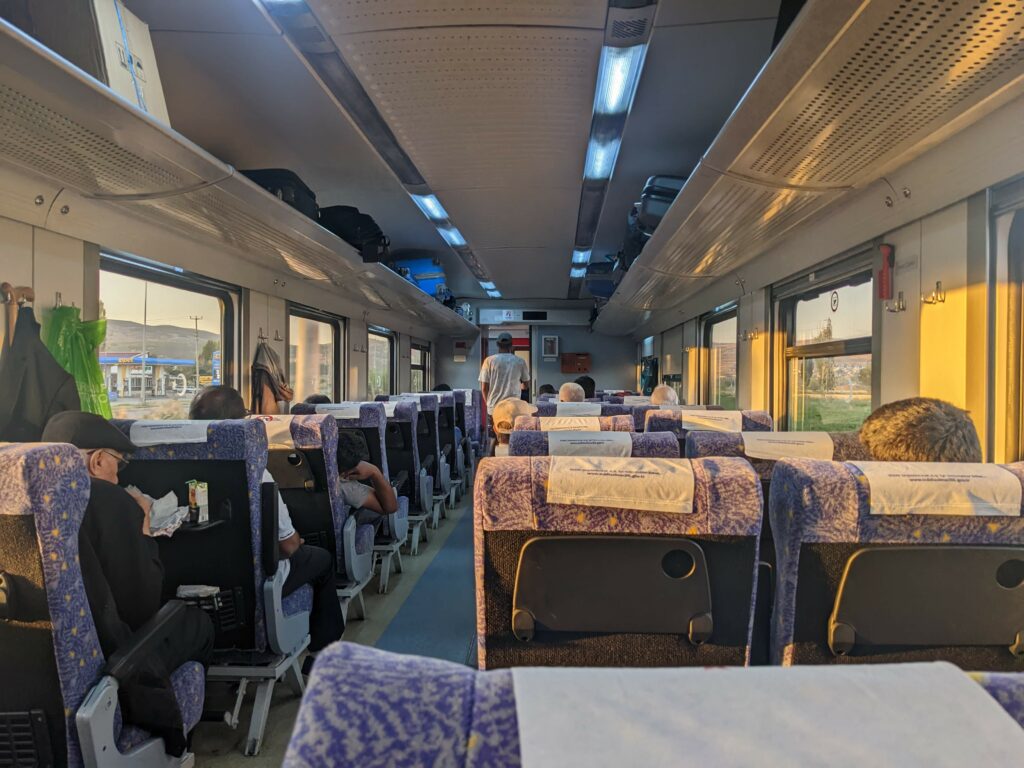 ---
With bleary eyes, we checked out of our hotel at 4.20am, and walked through Sivas in darkness. This train route is notorious for long delays, but without a way to track the train, we had no choice but to arrive at the station ahead of its scheduled departure.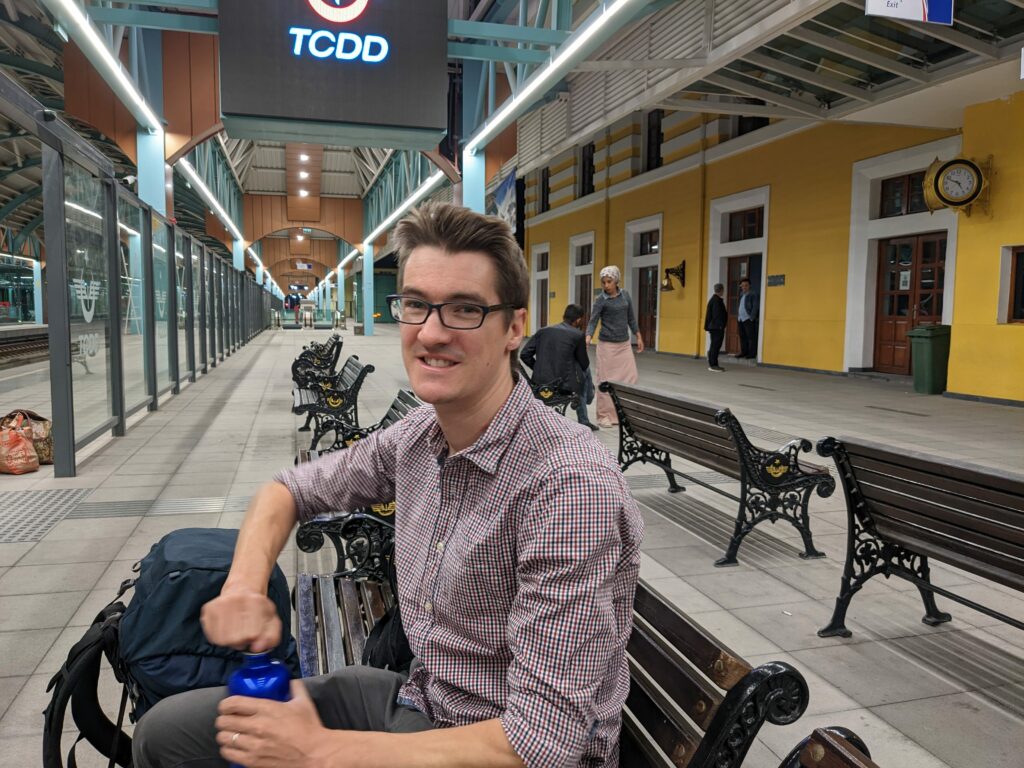 Although we'd heard that delays of 4 hours were quite common, our train departed Sivas a mere hour and 20 minutes late. Still, this gave us plenty of time to eat our makeshift yogurt and honey breakfast, and we happily trundled out of the station just as the sun was rising.
Put simply, this was by far the most spectacular train ride I'd ever been on. Over recent years, the route has become so popular that a second "touristic" train was scheduled consisting of only sleeper carriages. However, this train was discontinued earlier in 2022, further adding to the supply and demand problem. Still, it's hard to appreciate the scenery if you're asleep, so we were happy in our upright seats and did our best to keep our eyes open despite the early start to our day. Sara even told me off for paying more attention to my laptop than what was outside the window, before promptly nodding off herself.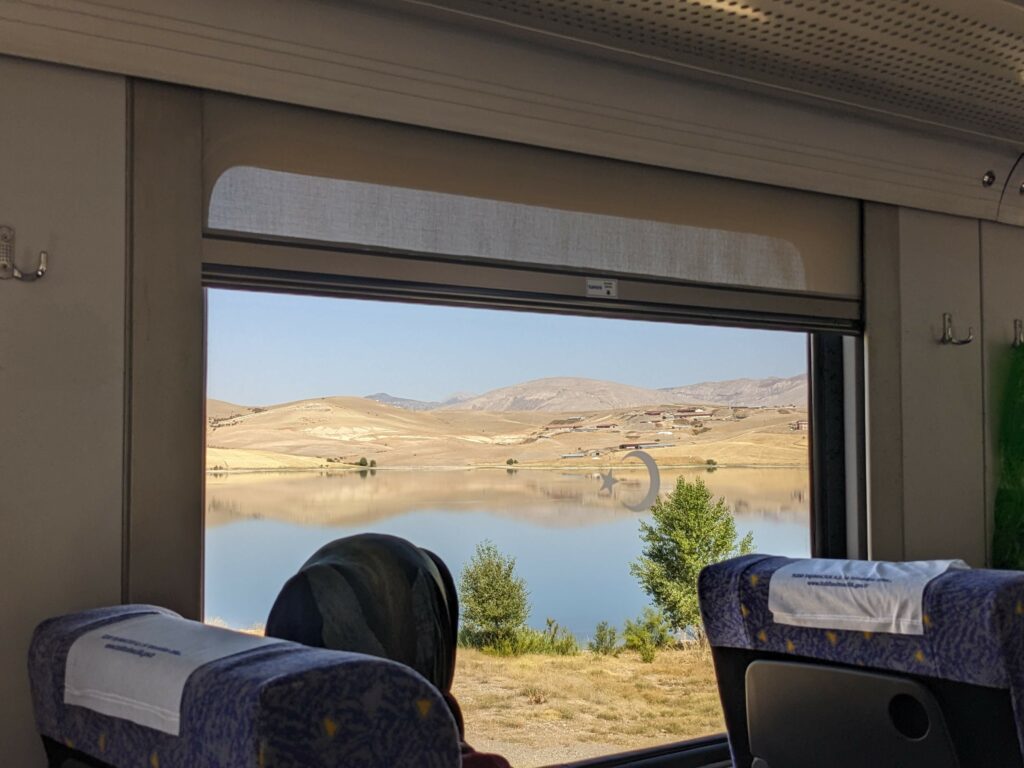 The train snaked through mountainous terrain (aided by only a handful of tunnels) for the majority of our journey under a huge and cloudless sky. In fact, the track rarely seemed to hold a straight line, and in some areas the rock face came right up to the train window on both sides.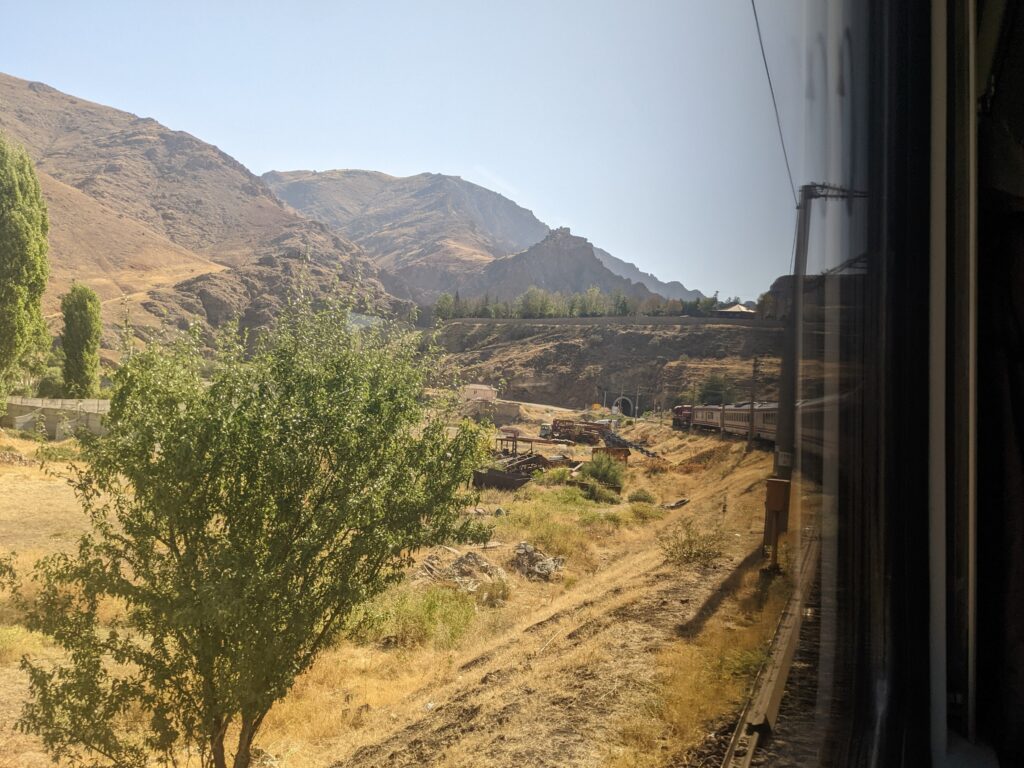 To stretch her legs, Sara took a walk down the train and found the sleeper carriage. It's only looking at this photo now that I realise that these compartments don't have a view out of the right hand side of the train. This made me even happier with our "choice" of upright seats.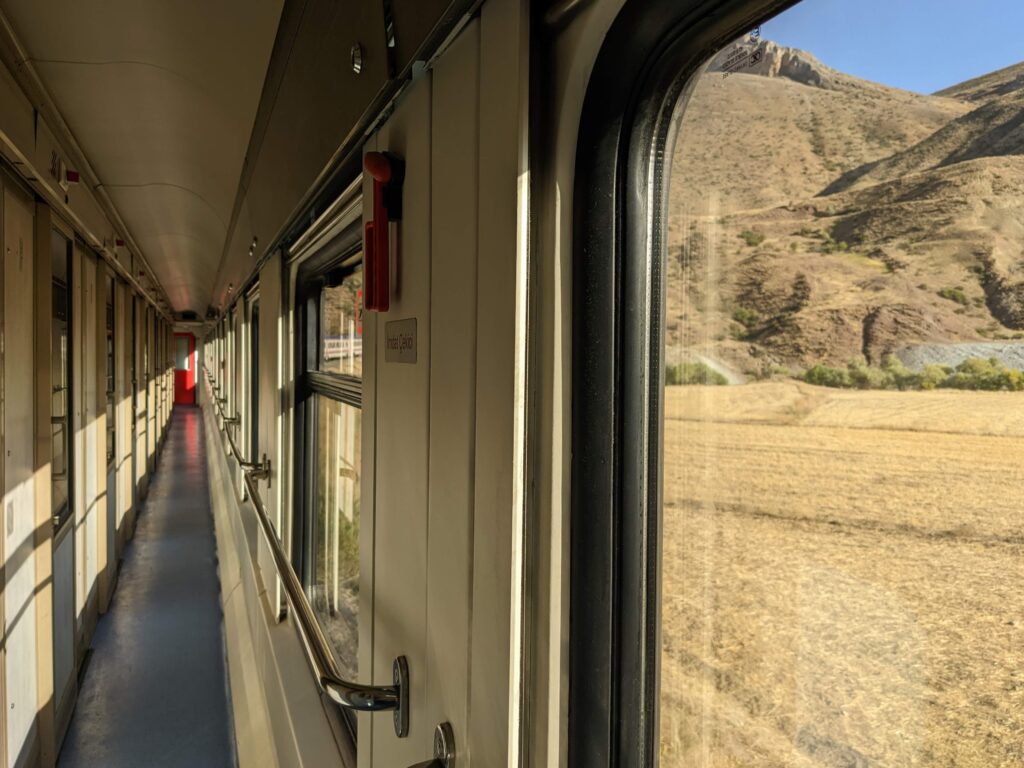 As the train continued into the late afternoon, the rocky mountains gave way to more fertile plains, with the low sun turning the landscape golden and casting long shadows behind every lone tree.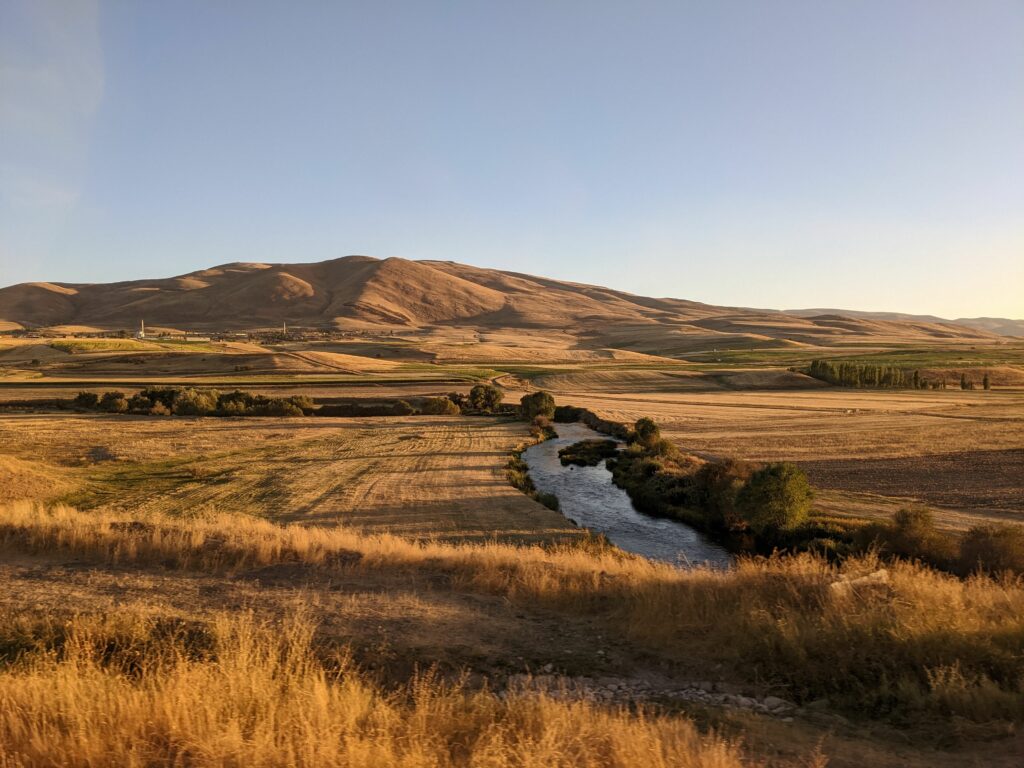 Finally, we pulled into Erzurum around two and half hours late, although to be honest I'd stopped counting by this point, and was happy to appreciate the journey for what it was. Some of the stops en route had been incredibly brief, so we were waiting at the doors with our bags on, ready to mind the (rather large) gap down from the train to the platform.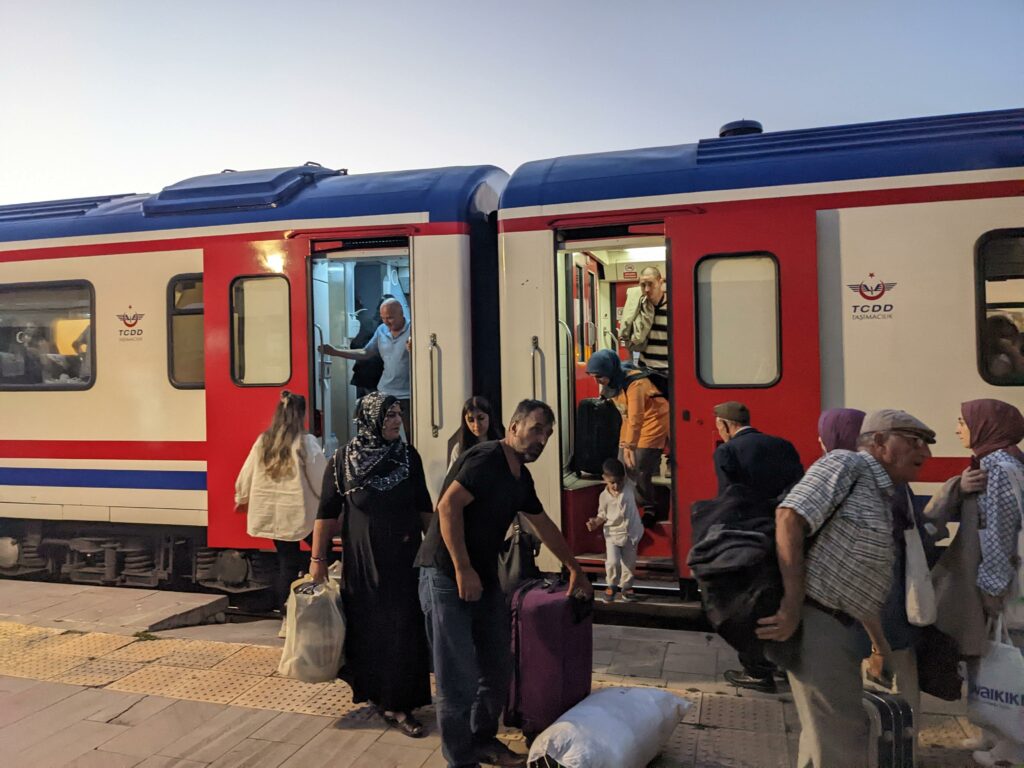 ---
In total, our tickets cost the equivalent of £3.49 per person to cover 547 km of track over a period of 12 hours. At an average speed of 46 km/hour (28 mph), there's plenty of time to gawp at the spectacular scenery.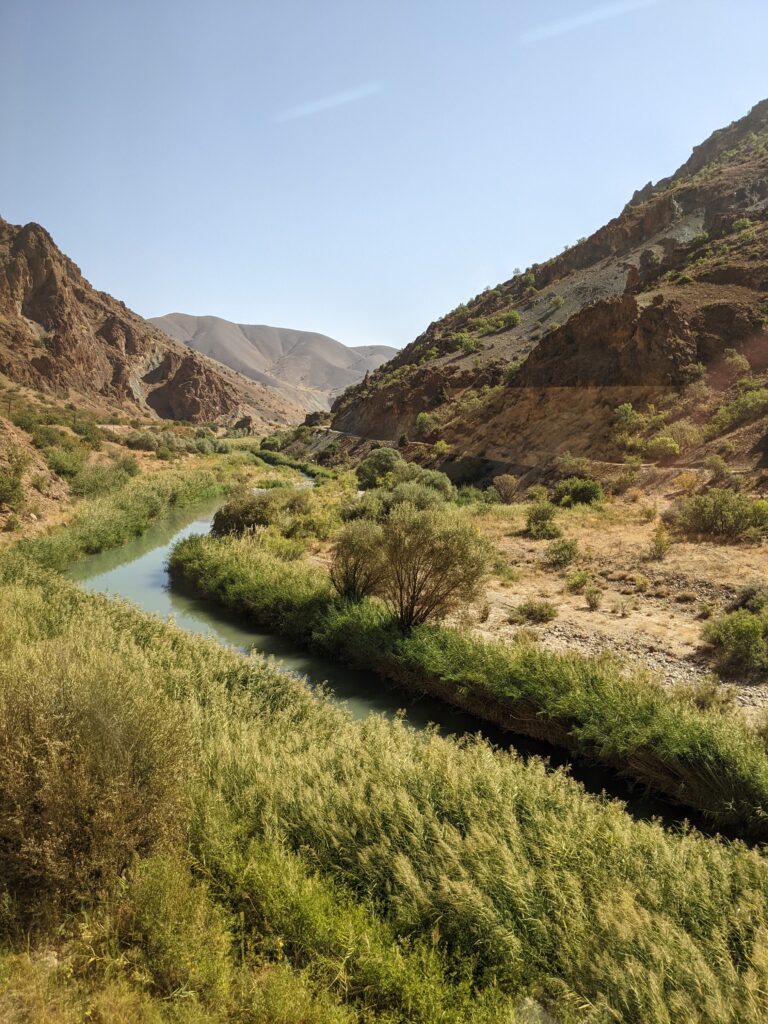 Although we only travelled a little over a quarter of the Doğu Ekspresi's full distance, it definitely scratched the itch left by our cancelled Trans-Siberian Railway adventure. It also gave me an appreciation for the importance of covering long distances in multiple short stretches, rather than in one go.
Sadly, this is where we leave Turkey's rail network behind – after a few days exploring Erzurum, we plan to travel north by bus towards the Georgian border.