Hawaii had felt like a bit of a cultural slap in the face after relaxed NZ, but we felt much more at home as soon as we arrived in Portland, a city known for being independent, progressive and quirky. Portlanders may have borrowed their unofficial city slogan (Keep Portland weird) from Austin, TX, but it certainly does seem to fit here.
We were staying in the artsy Alberta neighbourhood, which we liked immediately. The houses had incredible curb appeal and the residential streets were leafy and quiet, but the main street had a great buzz, with independent grocers, cafes, craft beer bars, and tempting homeware shops. It wasn't overly gentrified, though, and definitely retained a sense of Portland's 'weirdness', with every available surface plastered in flyers and lots of street art around. It also felt fiercely inclusive, with prominent signs on nearly every business making it very clear that anyone was welcome here.
As soon as Mum and Dad arrived, via a flight to Seattle, a very long-winded airport experience and a slow drive south, we headed straight out to NE Alberta Street to check out some of Portland's famous food carts. Mum and Dad were planning to stay home, but then we mentioned beer and bluegrass and it didn't take long for them to change their minds! It felt like a strong start on Portland's food scene – we found a Senegalese food cart selling some of my favourites, which was a blast from the past (I visited Senegal in 2006, ate amazing food and have been struggling to find anywhere that sells it ever since). I washed my chicken yassa (barbequed chicken with a lemony caramelised onion sauce) down with a beer from Conscious Sedation, and we all settled down to watch the Tuesday night bluegrass jam that was unfolding. Overall, an evening very well spent!
The next morning, we headed to Nob Hill in Northwest Portland to explore further. Just like in Alberta, we found lots of independent businesses, attractive houses and a really cosy neighbourhood feel. This contrasted with the Downtown area and the Pearl District, which still had a lovely mix of architectural styles but felt much rougher around the edges, with some buildings empty and shops boarded up.
It was a pretty warm day and, as usual, we walked much further than planned, so an ice cream pitstop at Portland-legendary Salt and Straw was a must. I asked everyone to rate their orders but I foolishly let them all come up with their own avatars and scoring systems, so make of the below what you will!
👾 Oli: Lemon curd and whey (B+)
🐕 Dad: Double fold vanilla (7.5/10)
🍷 Mum: ½ Lemon curd and whey, ½ Chocolate gooey brownie (5/6)
🐱 Me: Cinnamon snickerdoodle (⭐️⭐️⭐️⭐️⭐️)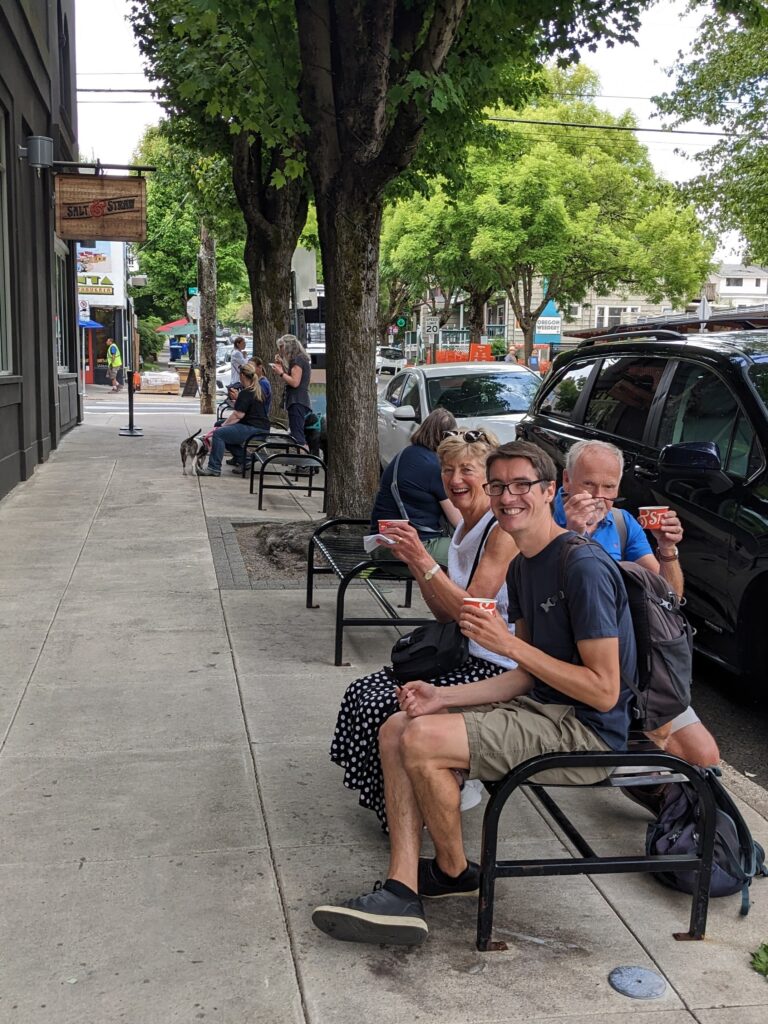 Next, we headed down to the river to see whether there was any evidence of the Rose Festival, about which we'd received some baffling recommendations from a pair of Portland locals we'd chatted to in Hawaii. "Oh, it's the Rose Festival!" they said, "So there will be lots of ships in town." We tried to clarify what was the link between roses and naval ships, but it was clearly so blindingly obvious to them that they couldn't even find a way to explain. To be honest, we're still none the wiser!
Anyway, other than a closed funfair and lots of fencing, we couldn't see much evidence of festivities (to be fair, it was a Wednesday afternoon), but Oli had found out that a Canadian naval ship was due to arrive in the afternoon. This meant that the Steel Bridge would need to be raised, and we wanted to see this for ourselves as we'd read that the levels telescoped into one another, which sounded unlikely but very cool! Unfortunately, by the time we arrived, the Canadian ship was safely moored on the dock, so we missed any bridge action. I think the ship probably arrived while we were gorging on ice cream, though, so it's hard to be too regretful…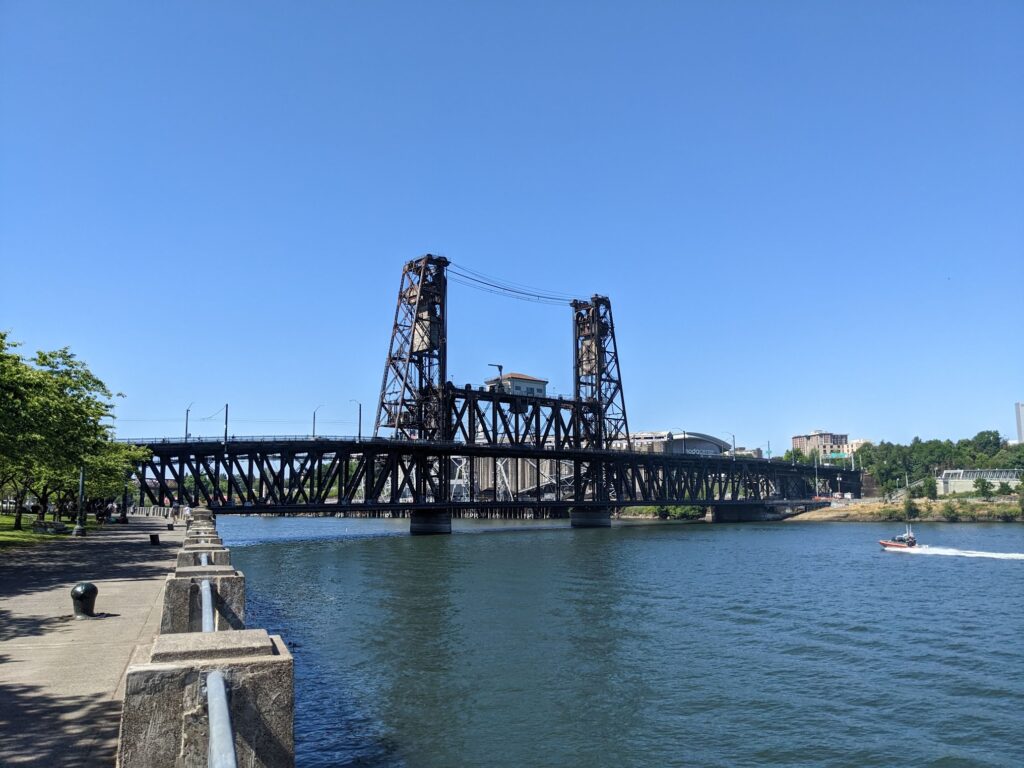 All in all, we didn't have much luck at the Rose Festival, but thankfully the International Rose Test Garden was more of a hit (Portland is famous for its roses, if you're wondering why all the rose-themed attractions). This garden sits on a hillside in Washington Park and acts as a test bed for new rose varieties, with more than 600 types on display at any time. To be totally honest, I normally think that roses are a bit overrated (I'm a daffs girl! 🌼), but this garden was pretty impressive. I guess we'd caught it right at the peak of the flowering season, and many of the bushes were absolutely laden with blooms. I'm not sure my photos do it justice at all – it was beautiful!
That evening, Mum and Dad were in charge of our dinner plans, having arrived in Portland with a food wish list courtesy of their pre-departure Netflix research of Somebody Feed Phil. We were only too happy to be dragged along on their mission to Prost Marketplace, another pod of street food carts, because it sounded absolutely delicious! Oli and I hedged bets by sharing a Methi Mirchi Shrimp bowl from DesiPDX and chopped brisket with pinto beans from Matt's BBQ. Both were delicious – the prawns were juicy, smoky and salty, and paired beautifully with the pumpkin seed pilau rice and unexpectedly fiery coriander chutney, and the brisket tasted just as good as it looked. For me, though, the BBQ pinto beans were undoubtedly the star of the show. Meanwhile, Dad went for sliced Texas BBQ brisket, which looked sensational. When I asked Mum what cuisine she was eating (from Native Bowl), all she could tell me was that it was vegan and contained beans! But I am reliably informed that it was great, so happy bellies all round. We rounded off the night with some excellent German beers from Prost.
Portland was right up our street – I'm pretty sure that anywhere that's famous for street food, craft beer and coffee will always be a hit with us. But we reluctantly tore ourselves away from the food scene and set our sights on the journey to the Olympic Peninsula, in the far northwest of the lower 48 states.