Michigan's 'Gold Coast' (I'm not sure many people call it that but we did read it somewhere!) is a long stretch of shoreline down the eastern side of Lake Michigan. Because it faces west, it gets lovely sunsets over the lake and is sometimes compared to California (again, probably not very often!) We spent five days making our way southbound from the town of Ludington (where we disembarked the SS Badger) to Indiana Dunes National Park, one of the United States' most newly designated national parks.
Stop 1: Muskegon
Muskegon is a classic lakeshore holiday town with a beautiful white sand beach, a lighthouse, and plenty of ice cream options. Before heading to the beach, we picked up picnic sandwiches at a traditional deli. "I'm going to blow their minds with my pronunciation of tomato," Oli joked before we went inside. Sure enough, he did!
A little later, we decided we had just enough room for an ice cream each. Now, we've all spent enough time in the States to know the two golden rules of food ordering:
Ask for the smallest size
Never, ever, ever add any extras
But still, our single scoop ice creams had SIX scoops each! Everyone else had theirs in a cup so they were still in a pickle but not nearly as much of a pickle as me – it melted well before I could eat it and I had to go in the lake to wash the chocolate ice cream off my face, arms and legs! It wasn't until I got in and it felt a bit different that I realised that of course this was freshwater rather than saltwater – I still can't get over that this is a lake and not the sea. Probably better for cleaning off ice cream, though!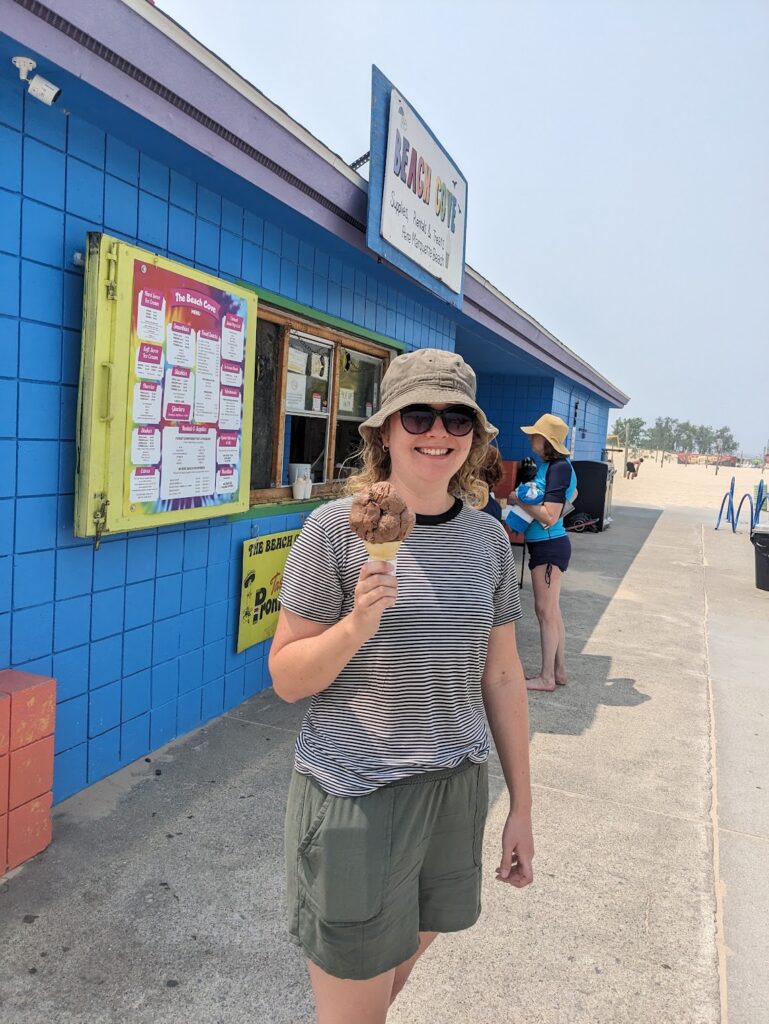 That evening, we took a walk along the breakwater to the lighthouse for sunset. The atmosphere was so hazy from the wildfires that it reminded us of the red sun we saw when watching sunset over the Mekong. It was quite strange watching boats disappear from view when they were just metres from the shoreline – Oli compared it to being in The Truman Show.
Stop 2: Little Paw Paw Lake
Our original plan had been to make a stop in either the posh resort town of Grand Haven or boaty Saugatuck, but we soon realised (as often happens) that our ambitions didn't quite fit with our habit of last-minute bookings – or our budget. So instead, we stopped for breakfast in Grand Haven (below left) and a walk in Saugatuck (below right) on our way south.
In the end, our budget-friendly stop in a holiday house neighbouring Little Paw Paw Lake turned out to be the unexpected highlight of our journey along the Gold Coast. If it weren't for the house, which we picked mostly because it was available last-minute, we never would have visited the lake as it was pretty tucked away. But we had a couple of lovely swims from the tiny beach, caught two gorgeous sunsets and we even saw fireflies each evening – magical!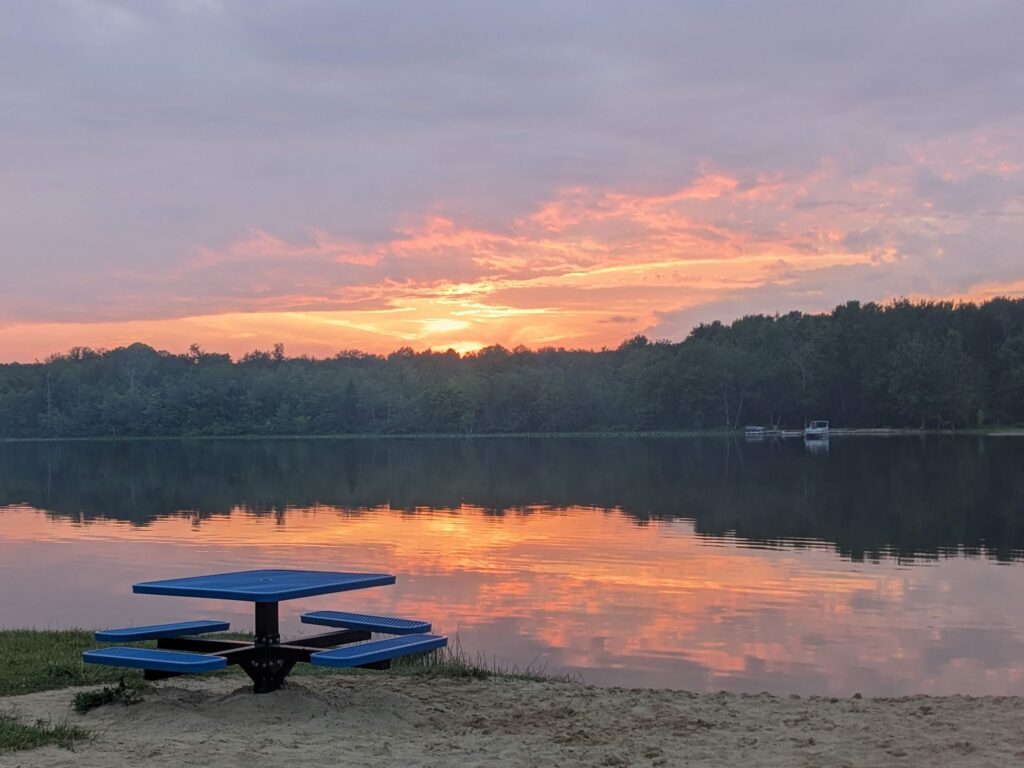 Stop 3: Indiana Dunes National Park
Despite its frankly excellent, puntastic name, Indiana Dunes is a bit of a funny national park. Its re-designation was apparently opposed by the National Parks Service because of its small size and similarities more with national lakeshores than national parks, and we'd read that we should temper our expectations before visiting: Yellowstone this is not. But it was on our route around the southern tip of Lake Michigan towards Chicago, so we thought it was worth dropping in for the day.
As this was the beginning of the Fourth of July holiday weekend, most people seemed to be using the park as a way of accessing beaches within reach of Chicago – not a bad idea as it was HOT! However, being sandwiched between two industrial areas, the beaches weren't nearly as beautiful as those we'd visited further north.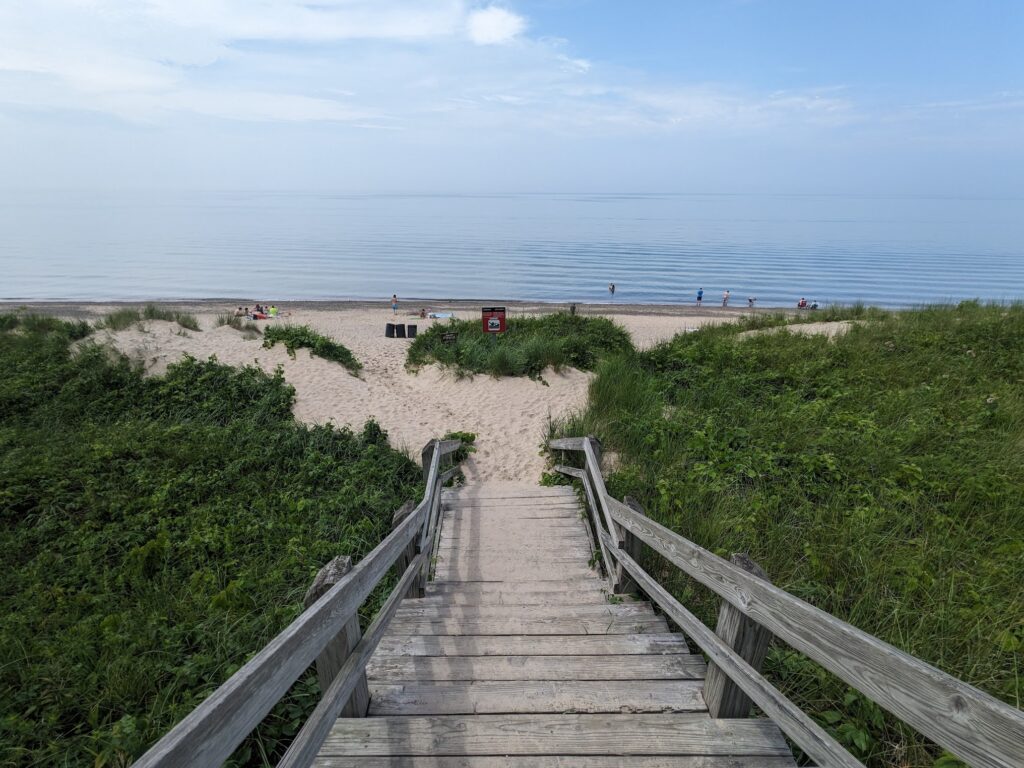 Instead, we began our visit at the Century of Progress homes, which had been built to showcase innovative building techniques for the 1933 World's Fair held in Chicago. Five of them were then moved in 1935 to a clifftop location within the park ready for us to nose at them. My favourite (because I am shallow) was the flamingo-pink, Florida Tropical House, which was based on an ocean liner, but I also liked the shiny, porcelain-enamel Armco-Ferro House, which was constructed from prefabricated panels and inspired designs for post-war prefab housing.
Lastly, we took part in Diana's Dare, which the park's information emphasised was a hiking challenge. Dutifully, we stocked up on water and put on our walking boots before discovering that no, we hadn't misread the distance – it really was a 0.8-mile loop on a boardwalk! This reminds me of something…
Our next destination after our Gold Coast road trip was a long awaited one: Chicago! This city has been on my list for a very long time (I know I say that about everywhere) and we've been within striking distance around Lake Michigan for over a week. But first, we had to get there, which was an adventure all of its own. I'll let Oli fill you in on that next time…