Our journey from Bangkok to Nong Khai began with a metro ride to the other side of Thailand's capital city. I'm really glad to have made a last-minute check of our departure station, as it turns out long distance trains no longer depart from the old Italian-designed station near Chinatown, and instead leave from a brand new station in the north of the Bangkok. In fact, this station is so new that we ended up walking for what felt like miles past vast, empty waiting areas before finally arriving at our platform. It actually felt more like an airport than a train station.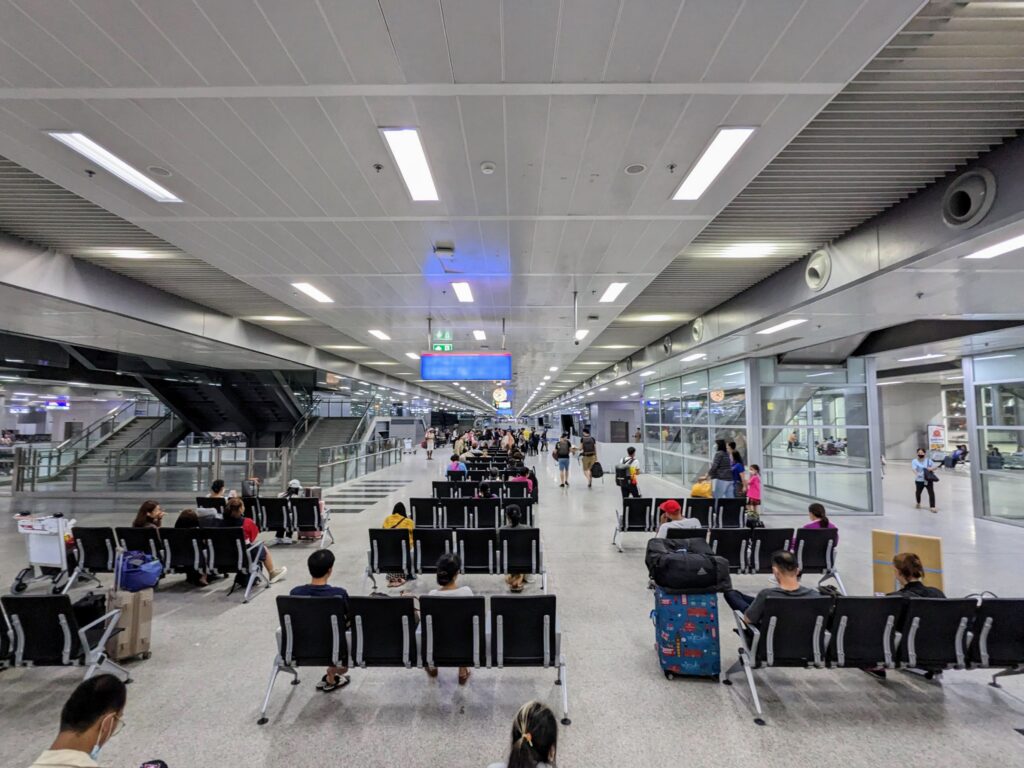 The train itself was without a doubt the most spacious "open sleeper" we've ridden so far. There were two bunkbeds on each side of the aisle, both of which were oriented parallel to the aisle, meaning there were only four beds in the space that would normally be occupied by six. On top of this, each bed was 182cm (6 foot) long, meaning that I fit exactly, albeit with my head and feet touching either end.
The train's relative comfort meant that the 611 km journey passed in (almost) the blink of an eye.
After a slightly short night, we arrived in Nong Khai at 6:25am. It didn't take us long to find a cafe on our route into the city, so we settled down at one of the outside tables. I optimistically asked for an off-menu orange juice and they brought out a bottle of orange Fanta. I'm not sure I can count that as one of my five a day… Still, beggars can't be choosers when there's only one business open and the sun is still yet to rise!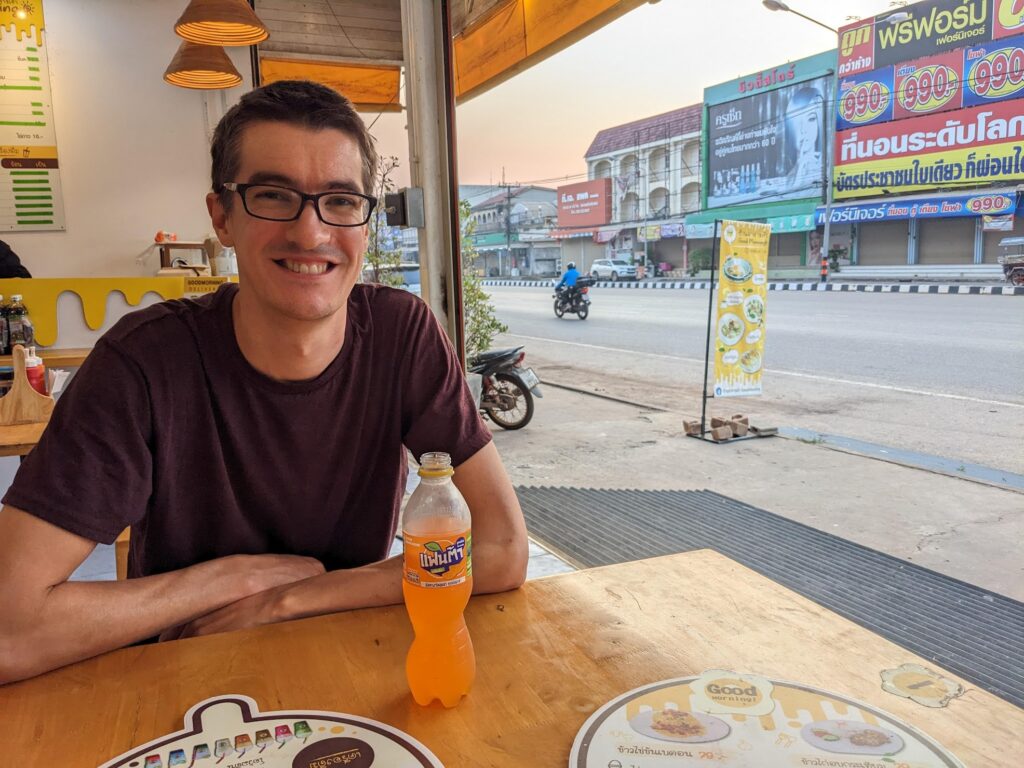 Nong Khai is by far the most pleasant border town we've ever visited. Situated on the Mekong River (which at this point divides Thailand and Laos), it combines a low-key, small town vibe with an immense 10 km promenade. This made for some incredible sunsets, during which the sun turned a deep shade of red as its rays passed through Thailand's hazy atmosphere.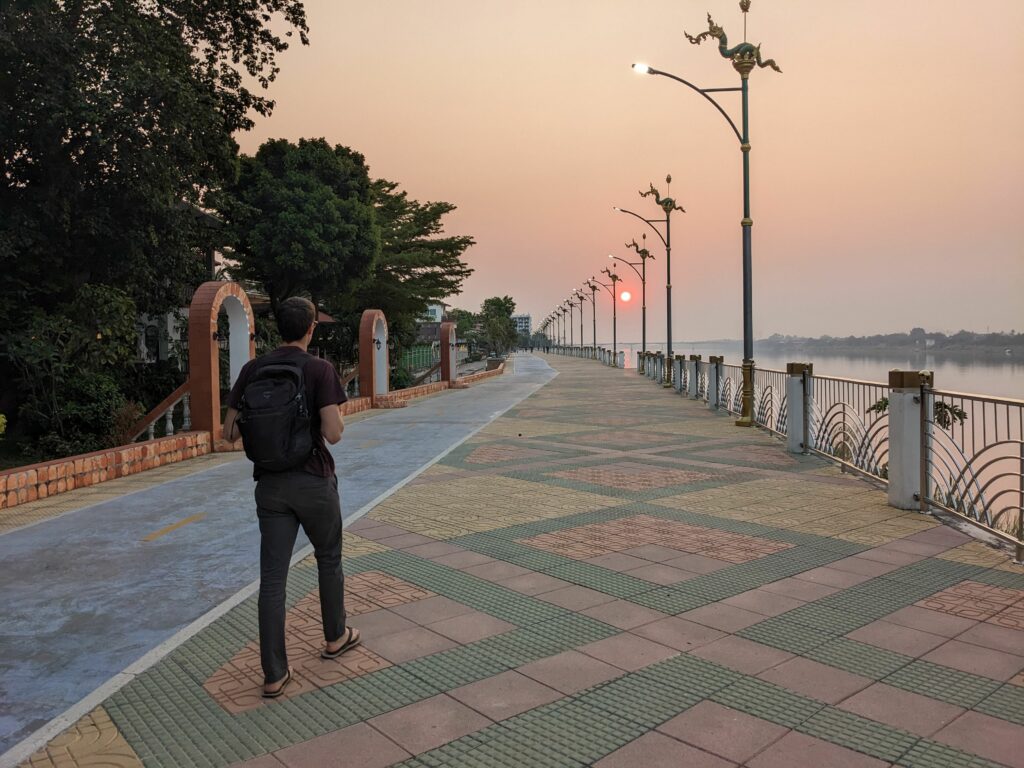 Nong Khai's star attraction is the Sala Keoku, a park filled with hundreds of concrete sculptures created by the sculptor and spiritual leader Bunleua Sulilat. Many of the statues follow Buddhist or Hindu themes, including a 25 m tall seven-headed snake sheltering a seated buddha, and a collection of statues depicting reincarnation and the path to enlightenment.
The park also featured a museum dedicated to its creator, Sulilat, which is where things started to get weird. This three storey building unsurprisingly featured many more statues, but also a contained number of personal effects from the later stages of the sculptor's life. On the top floor of the museum, we came across wheelchairs, hospital beds, a photo of a blood-stained handkerchief (!), and right at the back of the room, the preserved body of Sulilat himself lying beneath a dusty perspex dome. We both took a quick look around before getting thoroughly creeped out and leaving rather quickly. We were very happy to get back out into the daylight.
That evening, we cycled 6 km along the promenade in search of an unlikely-sounding craft beer bar that Sara had spotted on Google Maps. We were feeling even less confident as we left the town and the promenade narrowed, but as promised, the bar eventually appeared with a stunning sunset terrace overlooking the Mekong River and Laos on the opposite bank. The setting was just incredible, and the beer at least as good as anything I've drank in London. We could hardly believe our luck.
We rounded off the day with a spontaneous decision to eat at a Shabu-shabu restaurant called KingKong. While a handful of restaurants in Nong Khai seemed to cater largely to the few tourists passing through, this was very clearly a local affair. The best way I can describe it is as an all-you-can-eat joint, where you cook various cuts of pork on metal plate in the centre of the table, surrounded by a moat of simmering broth for cooking vegetables. Dangerous? Yes. Delicious? Also, yes. We muddled our way through our dinner, and despite our good intentions, never quite used enough pork fat to prevent us from smoking out the surrounding tables (who were kind enough to pop over and give us some tips). Still, we had a great time, and it's always nice to offer a source of amusement/bemusement to the staff and fellow punters.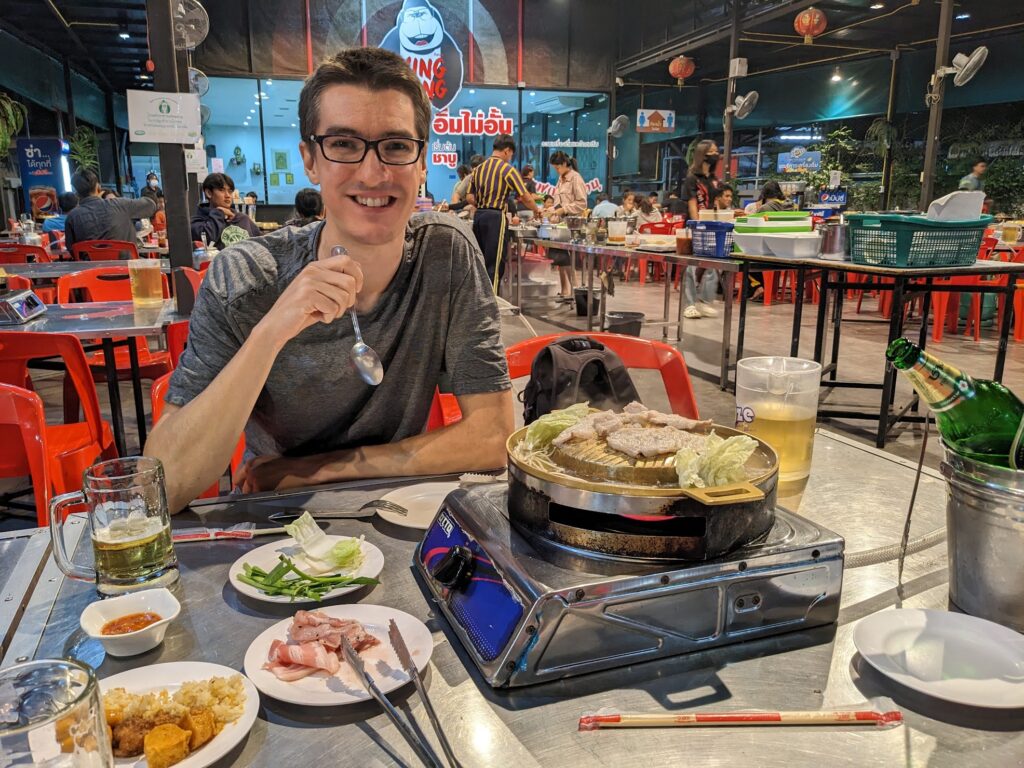 ---
We enjoyed Nong Khai so much that we added an extra night on to our stay, but as always, it was time to move on all too soon. Our next stop was Vientiane, the capital of Laos, just a short hop across the Mekong River. This concluded the first of two passes through Thailand, and we were already looking forward to returning on our way back down towards Malaysia.