With less than 48 hours in Philadelphia and an ambitious itinerary featuring Rocky filming locations, bells, Philly cheesesteaks and street art, we had no choice but to hit the ground running…
🛤 The Pennsylvanian Railroad
Our route from Pittsburgh to Philadelphia started with a sunrise walk across the David McCullough Bridge on our way to Pittsburgh Union Station. I had to do extensive Google street-viewing the night before to check that the whole route had pavements (not a guarantee here!), but in the end, this wasn't the problem – finding the station entrance was! I'd routed us towards the grand station entrance, but only after rattling each of the locked front doors did we realise that this was no longer part of the station. It turns out that the original station building was converted into residential and commercial space in 1988, and the current station is now housed in an ugly annex which I mistook for a car park! Anyway, we used all our contingency time doing laps of the building but made it onto the train just in time 😅
Our final Amtrak journey took 7.5 hours to cover the 476 km to Philadelphia. As always, it was a pleasure watching the landscape slowly change outside the windows – from the forested hills, gorges and steel bridges of southwestern Pennsylvania to the open landscape and neat farms of eastern Pennsylvania.
We arrived at Philadelphia's grand and catchily named William H. Gray III 30th Street Station. After Cleveland and Pittsburgh's rather under-utilised stations, it was encouraging to be back in a bustling transport hub once again.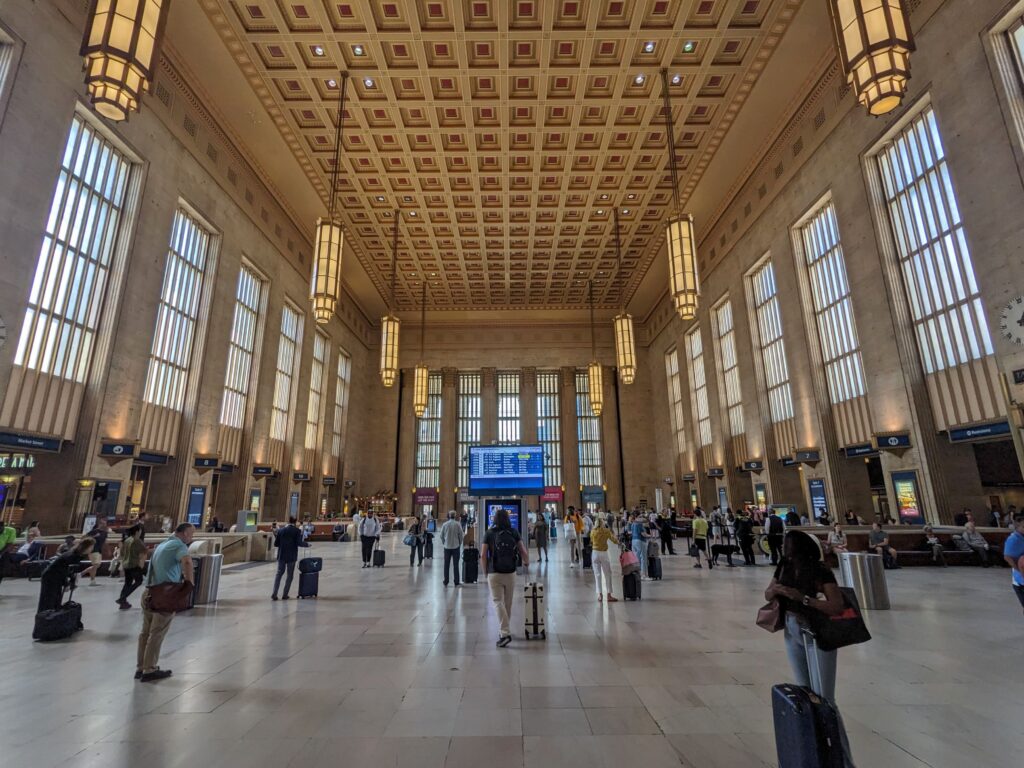 🏃 Gonna fly now (running like Rocky Balboa)
The Rocky franchise is famously set in Philadelphia, and as a big fan, I wasn't going to miss the opportunity to recreate his epic training run through the city. I set out just after sunrise with my headphones on and my phone loaded with the Rocky soundtrack. My first stop was the Italian Market along 9th Street, which has barely changed since the original Rocky movie was filmed in the 1970s. With a few hours until the market opened for business, I had the road to myself for the moment.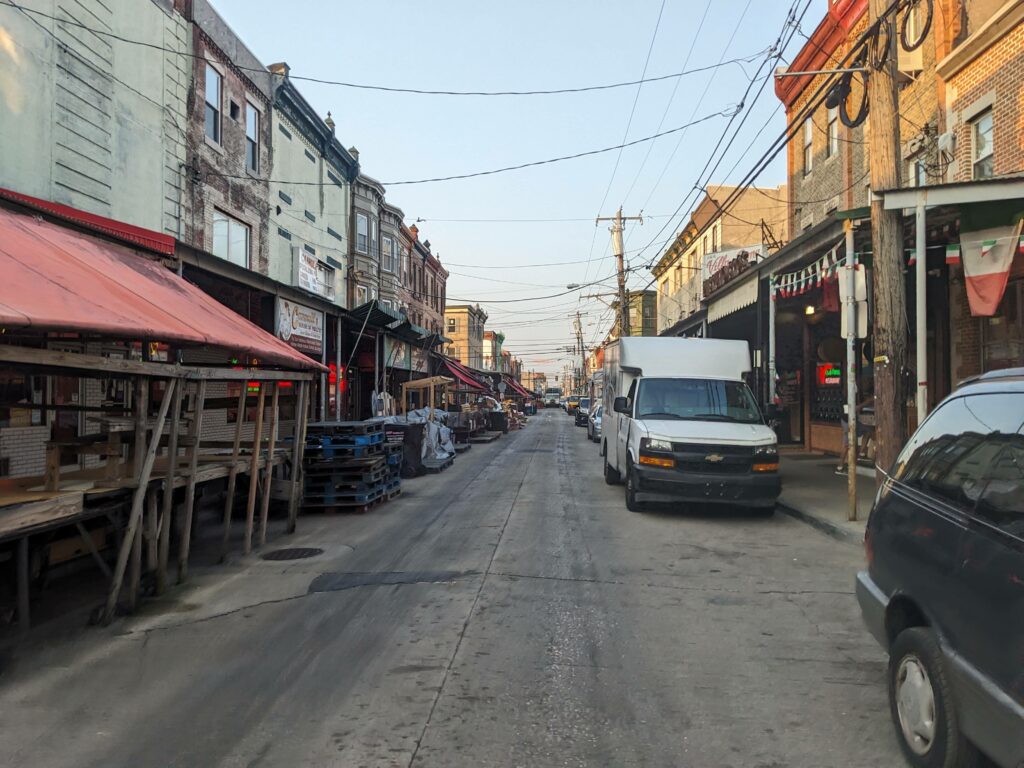 My route continued through leafy residential streets towards the increasingly commercial city downtown and along the grand Benjamin Franklin Parkway to the iconic Philadelphia Library stairs. By this point the temperature was already hitting 30 degrees, even though it was still only 07:20 in the morning. Time for a shower and some coffee!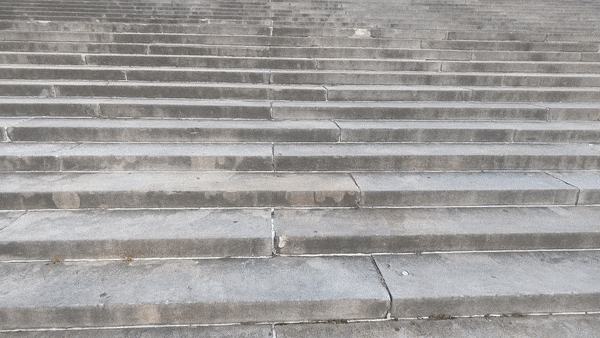 🔔 Independence Hall and the Liberty Bell
Philadelphia is often referred to as the "birthplace of America", since it's where the Declaration of Independence and the American Constitution were debated and adopted back in 1776. We visited this very site, which is now known as Independence Hall, but at the time was the Pennsylvania State House.
We also had the chance to check out the Liberty Bell, a 940 kg symbol of independence. We enjoyed learning (from our friend George) that this symbol of American patriotism was actually cast in London, although to our amusement we didn't see this mentioned anywhere in the exhibit surrounding the bell. Then again, given it cracked shortly after arriving in Philadelphia, maybe it's not something to shout about…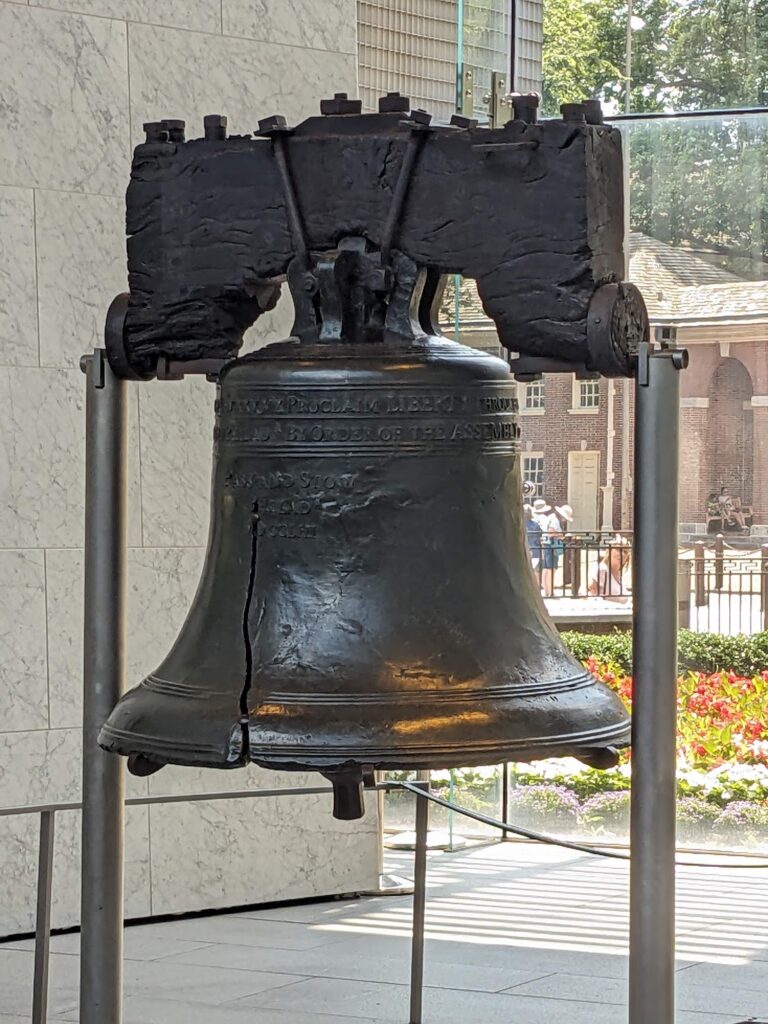 🥖 Searching for the perfect Philly cheesesteak
Philly cheesesteaks (or just cheesesteaks, as they're known in Philadelphia) are an absolute city staple. They consist of thinly sliced rib-eye steak packed into a bread roll along with (optional) sautéed onions and (crucial) melted cheese. Traditionally Cheez Whiz is used, which is an orange-yellow spreadable cheese, but trust us – it's way better than it sounds! The cheesesteaks were pretty filling too, and we found that one each more than satisfied us for dinner. We sampled as many as our time in the city and appetites would allow, and our favourites came from Sonny's Famous Steaks. They managed to pack a ton of flavour into the roll as well as keeping the steak moist enough not to need any further sauce, but not to the extent that it turned into a dripping mess. Now, I don't think the end result is supposed to look pretty, but we really did our best in photo below!
🧑‍🎨 Walking the Mural Mile
The street art programme in Philadelphia began in 1984 as an attempt to beautify the city and reduce the amount of graffiti. Since then, the programme has been hugely successful, with Philadelphia becoming undoubtedly the street art capital of the US, and with the medium bridging many divides within the city's communities. The programme is still active today, and we saw evidence of several new murals in progress. The art works cover themes such as Philadelphia's history, civil rights, diversity and inclusion. We thoroughly enjoyed walking the Mural Mile, and tried to take as many photos as possible along the way.
For some reason, we both had the preconception that Philadelphia was a bit rough, so it wasn't really on our radar until we happened across our guidebook's description of it as a city with "rich history and small town charm". And sure enough, we loved Philadelphia almost immediately. The narrow streets and mixture of high-rise and residential neighbourhoods gave the city an almost European feel. Downtown Philadelphia was walkable too, with most neighbourhoods interspersed with leafy parks to escape the summer heat. Sitting in some of these parks, I could have easily mistaken the scene for a London park, had it not been for the Italian-American accents surrounding us.
From Philadelphia, we hopped on a bus to our final stop in the US; New York City.