The next stop on our journey north-west was Ljubljana, the capital of Slovenia. We first visited on our 2010 interrail trip and, despite the torrential rain that plagued our visit, we loved it, so we were excited to return in the August sunshine. By the way, you might be wondering how on earth to pronounce the city name – we thought we had it nailed from our last visit (something like liub-liana), but the comments section on this guide is an absolute treat as no one seems to agree! I just hope we didn't butcher the pronounciation too badly…
We began our 48-hour visit at the castle, where we felt like we had unfinished business, since last time we climbed to the very top of the highest tower (which in turn, sits on a very tall hill) only to be met with a wall of cloud and no view at all of the city. So, we made this our first stop and the weather couldn't have been more different. Consequently, there were also more crowds, which came as a bit of a surprise although it really shouldn't have been! Anyway, we had a great view of the Ljubljanica River weaving through the old town, the modern city beyond, and the mountains that surround both.
If last time we visited it was too wet, this time it was (borderline) too hot. Thankfully, though, we stumbled across a slightly bizarre rain installation in Prešernov trg, one of the central squares. It might not look like it from the photo, but as soon as we stepped inside the circle, it felt like there was torrential rain falling. Weird but refreshing!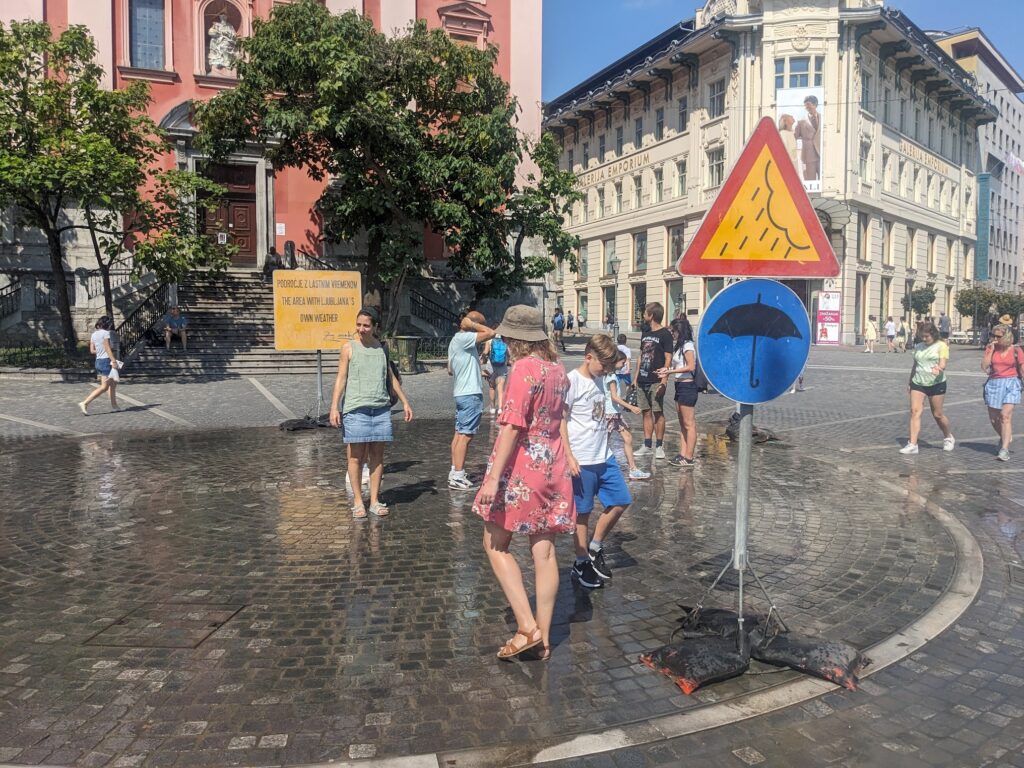 Otherwise, we just spent time exploring the pedestrianised streets and soaking up the summer atmosphere. I do sometimes wonder why the makers of cheesy Hallmark movies feel the need to create fictional European nations, when they could just use somewhere that already looks like it's from a fairytale! But then again, maybe this under-the-radar vibe is part of Ljubljana's appeal.
We ate really well while we were in town, although if I'm honest this was mainly things like outstanding tacos from Patrón and great Japanese food and atmosphere in Matsuri. But we also couldn't pass up the chance to sample some Slovenian food, even if what we selected wasn't exactly weather-appropriate! We shared a bowl of ričet, which is a barley dish somewhere between a soup and a stew. I've only just read that it's best known as being food served to prisoners, so I assume it's not meant as fine dining, but that's alright! Eaten alone, it was very mellow (akin to a lentil soup), but it paired perfectly with the punchy sausages on top and went down very well. I would happily eat this every day in the winter but I might not choose it again on a hot summer's day…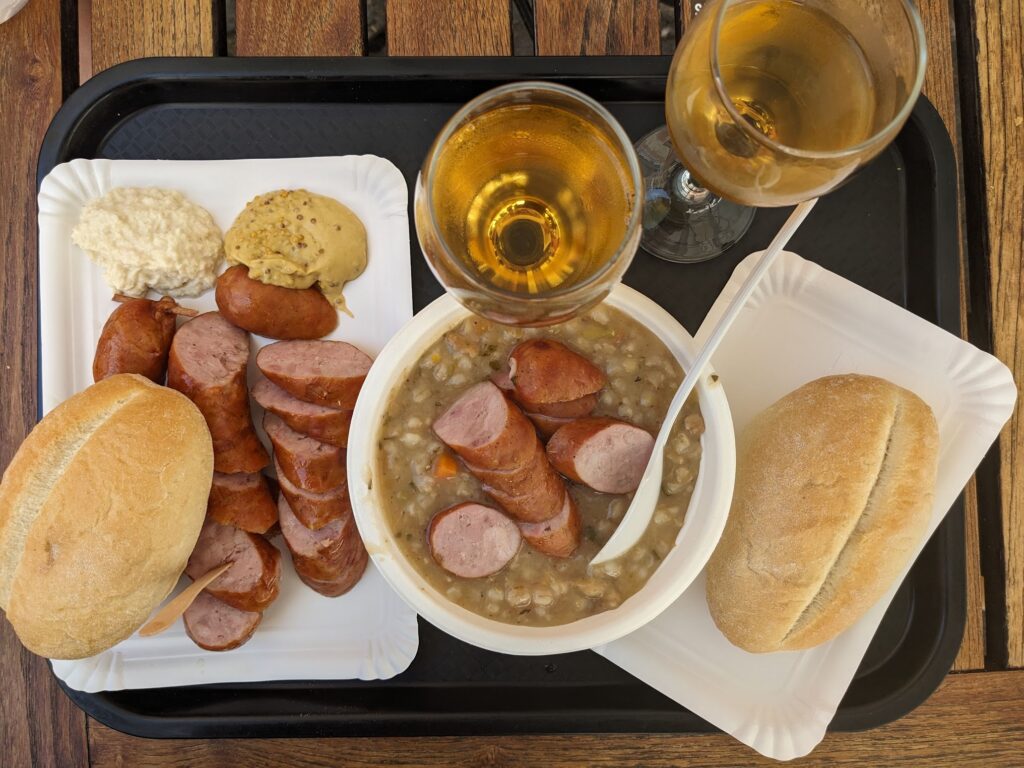 Ljubljana definitely falls into the category of "cities where we'd happily live" and I'm sure we'll be back again sometime soon – it feels like the perfect weekend destination and the rail route from London looks really cool. But for now, it was time to move on again, this time to Austria. Feel free to watch The Sound of Music in preparation for the next post! 😉