We arrived in New York (by bus from Philadelphia) feeling pretty accomplished, having completed our traversal of the United States. We'd both visited the city previously, so were happy to skip most of the main tourist sights in favour of eating as much good food as possible while spending as little money as possible (our budget is in TATTERS)!
We began our visit with an attempt to witness Manhattanhenge, a twice-annual phenomena where the sun sets in line with the east-west direction of Manhattan's urban canyons. Unfortunately, it was cloudy around the horizon so we didn't see it in all its glory, but we did still thoroughly enjoy getting involved in the rabble who had gathered to photograph it.
The Pastrami on Rye
I knew that there was a legendary deli in NYC that was known for its pastrami sandwiches, but the fact that it took all of about 3 seconds of Googling to remind myself of the name did get me a little worried – was this just hype? Many of the reviews I read suggested otherwise, so we made our way to Katz's Deli to join in the lunchtime chaos.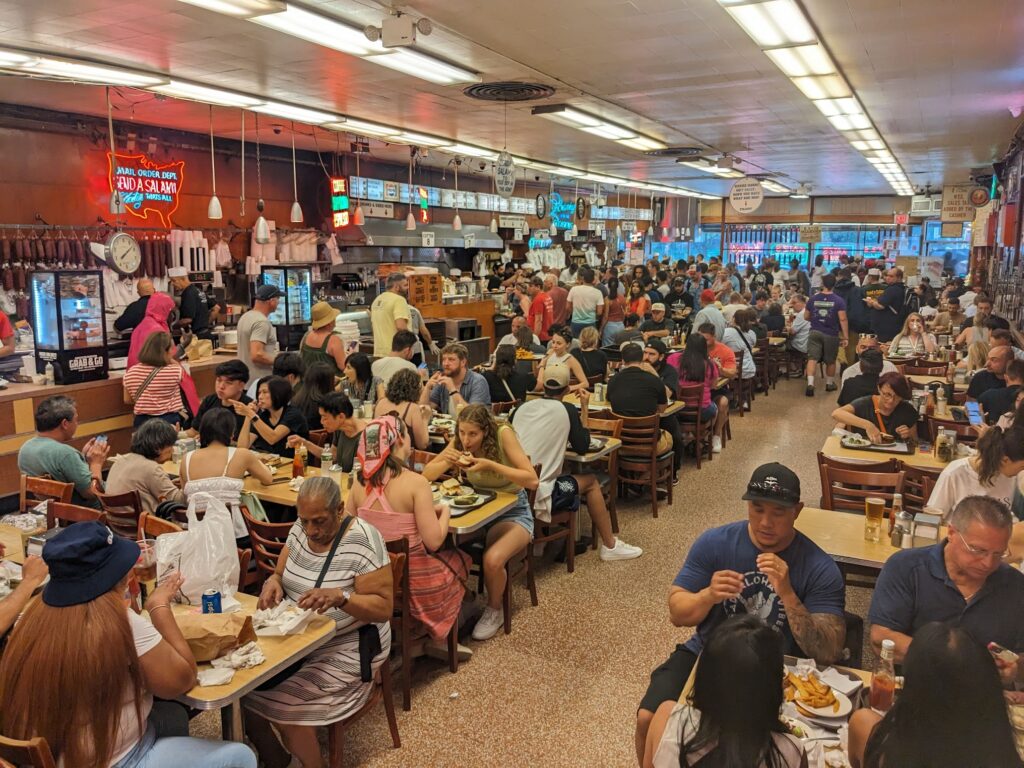 Our pastrami was hand cut in front of us, and the chap added mustard to just one half of the rye bread (me being a lover and Oli a hater of the yellow stuff). Then we settled down and dug in – one sandwich between the two of us due to its very generous size! We were also given a whole plate of pickles, which I happily took care of. They were pretty chunky, so I'm not sure if I was supposed to poke them into the sandwich but I went for chomping them like a rabbit with a raw carrot. To be honest, these were the weak link – more salty than vinegary, but it was still good to eat something green with my lunch.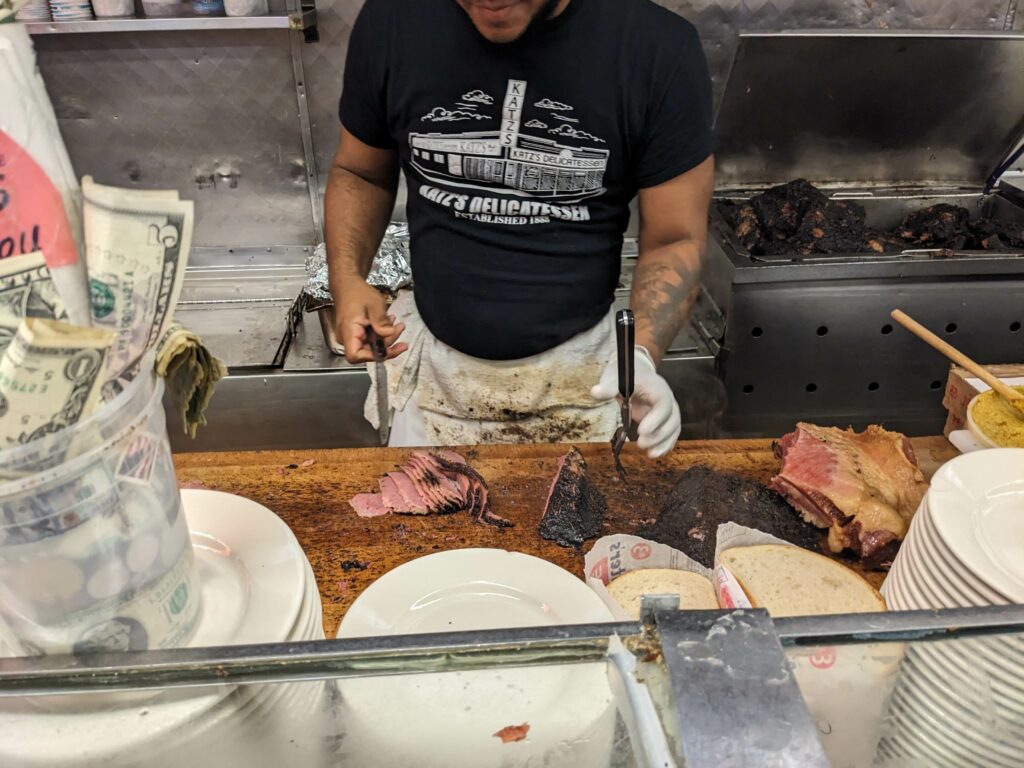 We loved the hectic atmosphere in the deli, but the meat was the real star – smoky, salty and melt-in-the-mouth. It was also the thickest-cut pastrami we'd ever seen and reminded us more of smoked brisket, which got us wondering – what was the difference between the two? (Short answer: it's complicated!)
To help us digest our feast, we took a walk through Chinatown and the Financial District, and then hopped on the (free!) Staten Island ferry. This gave us a great view of the Statue of Liberty and back towards Manhattan without spending a cent, so it was the perfect activity for us.
The Xi'an Feast
That evening, we headed back to Chinatown to pay a visit to Xi'an Famous Foods, a small chain that serves food from western China and had appeared on a couple of best-in-NY lists. We ordered the spicy cumin lamb hand-ripped noodles (left) and the spicy and sour pork and cabbage dumplings (right).
Yes, the presentation on paper plates left a little to be desired but that just reflected how low-key and casual this place was – just as we like it. And it was evident how much they cared about the quality of food they served, because there were long-winded posters on display imploring customers to reconsider ordering food to take away.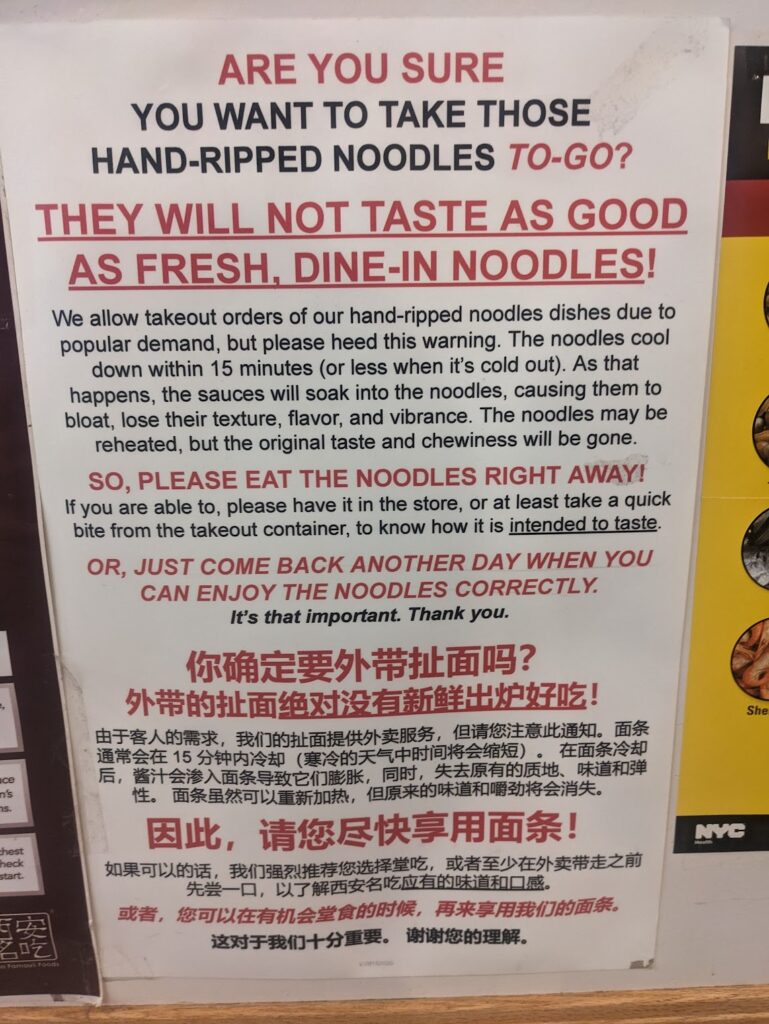 There were even informational videos playing on a loop encouraging customers to try the noodles as they were meant to be served, rather than requesting a drop in spice level. We love a bit of spice so ordered 'medium' as recommended, and they were no joke – we were both crying with joy by the end! Oli loved the wide noodles, which had a satisfying bite and paired so well with the warm, cumin-spiced lamb and fiery chilli crisp. Meanwhile, I couldn't get enough of the dumplings, which were less spicy but sat in a seriously tangy sauce.
It was the cheapest meal we ate in the city by some margin, but it was also our top pick for the food itself. My mouth is watering thinking of those dumplings 🤤.
The Coal-fired Pizza
To warm up (quite literally – it was baking hot) for our next feast, we headed on a Tourguide Oli-led walk around Greenwich village, which took us through the leafy streets past Monica's apartment building from Friends (well, the exterior anyway, the interior was a set in Los Angeles) and the Stonewall National Monument commemorating the Stonewall Uprising of 1969, which marked the beginning of the LGBTQ+ rights movement in the United States.
Once we'd worked up an appetite, we headed to John's of Bleecker Street, which we'd read was a good example of a NY speciality: the coal-fired pizza.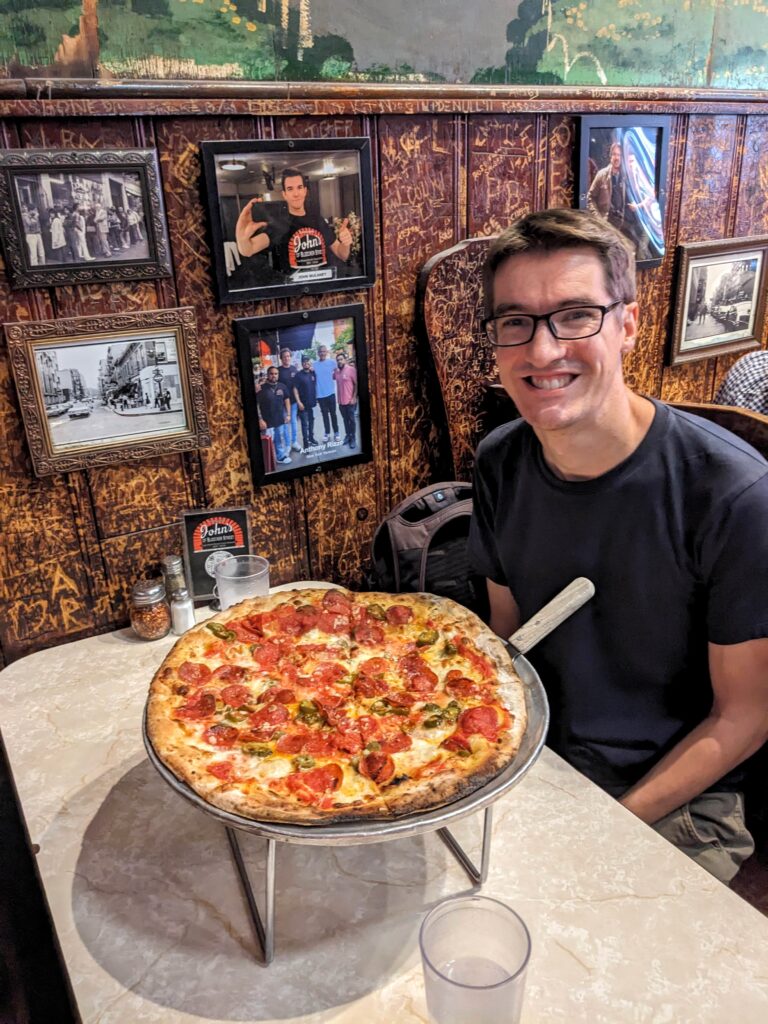 We really liked the decor of this restaurant, which felt very NY, with photographs of famous customers plastering most available surfaces and scratched graffiti covering every remaining square inch. But in the end, the pizza just tasted much like a pizza, really, regardless of the cooking fuel! It also has to be one of the least nearly neutral meals we've eaten on the whole trip 😬. Perhaps it's for the best that new regulation will require these iconic New York establishments to install emissions control devices wherever possible, even if it has caused a bit of a stir amongst traditionalists (and proprietors)…
To help digest this meal, we took a walk on The High Line, a raised urban park set along the old freight railway line that ran through the Meatpacking District, Chelsea and Hudson Yards. It's an ingenious design, with lovely planting and places to stroll, lounge and buy ice cream (don't worry – even we couldn't find space for this). It also has mini-amphitheatres that allow you to sit and admire the street scenes below. We loved this, and it renewed our hopes that the proposal to build a London version on the disused freight line that runs just past our place in Camden might someday come to fruition.
The Neighbourhood Favourite
When our friend Erin saw that we were staying pretty near her old apartment in Brooklyn, she told us that we had to visit Colina Cuervo for an Ecuadorian breakfast. "I still think about their breakfast all the time," she told us. This sounded important, so we made our way there on Sunday morning even though it was raining so hard that there were rivers flowing down the roads. On the way, we received a flash flood emergency alert and had to shelter under the awning of a funeral home until the worst passed! But we made it there eventually and it was well worth the swim.
We shared an Ecuadorian fried rice (left) and a pork hash (right). Both contained generous helpings of crispy roasted and shredded pork, but the pork hash was especially intriguing, being centred around hominy rather than the usual potato. I've seen this on menus before but never really stopped to think what it was – cue a lengthy Googling session where we attempted to understand the differences between what we mean by corn and maize in the UK versus the US (yes, this is really what suffices as our mealtime conversations these days). I'm still not certain we can visualise from which crop this kernel came, but it was tasty either way!
Our post-brunch activity was a trip to Coney Island, an old-school beach resort with a boardwalk and several amusement parks. It probably wasn't the best idea to make the trip on a rainy Sunday afternoon, but it sounded like the kind of offbeat attraction we might just enjoy, and it's also known as the birthplace of the hot dog so we just had to make the pilgrimage. In the end, we simply couldn't find space even to share a hot dog, but we reassured ourselves that we could guess how it would taste!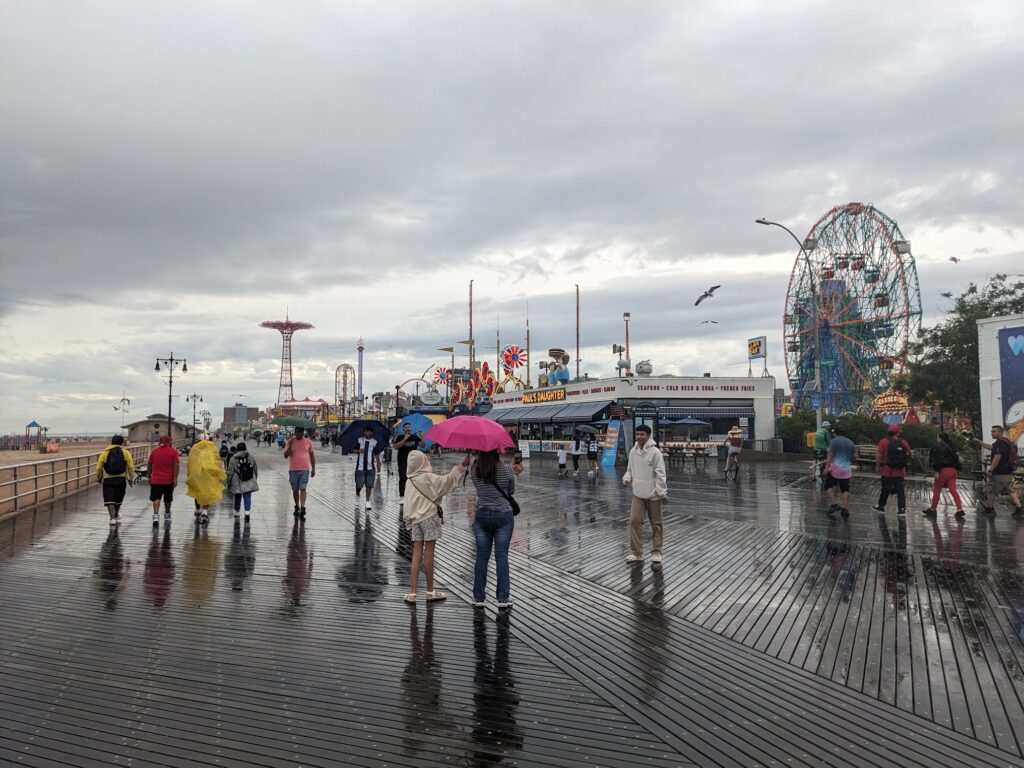 The Blast from the Past
Our final meal in New York was a long time in the making – in fact, I've had it planned ever since we were in Japan. We developed a bit of a taste for the ramen chain Ichiran, which serves up delicious Hakata-style ramen and allows you to specify exactly how you'd like your meal to be prepared using a paper form and then sit in a booth with minimal distractions to enjoy it. Upon leaving Japan, I was devastated at the thought that the constant flow of ramen was coming to an end. Most of the places we'd eaten were individually owned, but I discovered that Ichiran had three branches in New York, so it was inevitable that we'd find our way to one of them while we were in town.
If I'm being exceptionally picky, the broth was slightly oiler and not as spicy as it should have been based on my order form selections, but it still made me incredibly happy and I managed to burn my mouth in my enthusiasm, so I can't complain too much.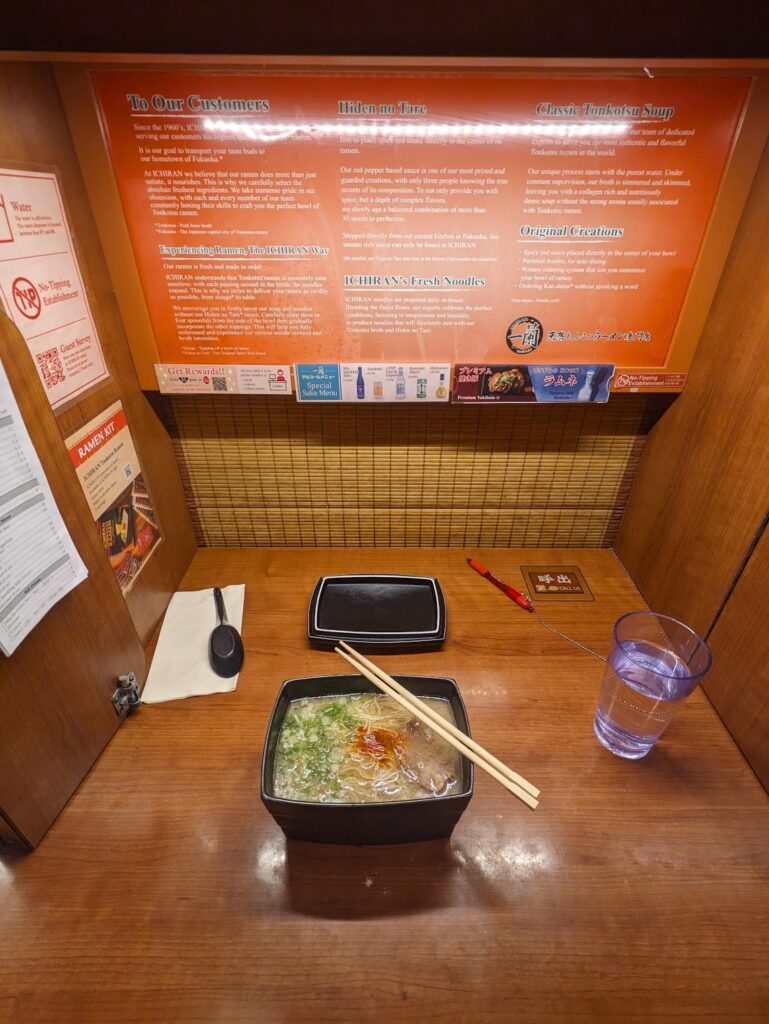 Our final post-meal activity was a walk across the Brooklyn Bridge, which is an iconic attraction but something we'd both missed on previous trips. Crucially, it is also free! There were no less than five 3D photography vendors on the bridge playing Empire State of Mind by Jay-Z feat. Alisha Keys – as if we needed any help to get that stuck in our heads (the sixth vendor, mercifully, hadn't got the memo and was playing something different). Thankfully, the views more than made up for the slightly irritating music.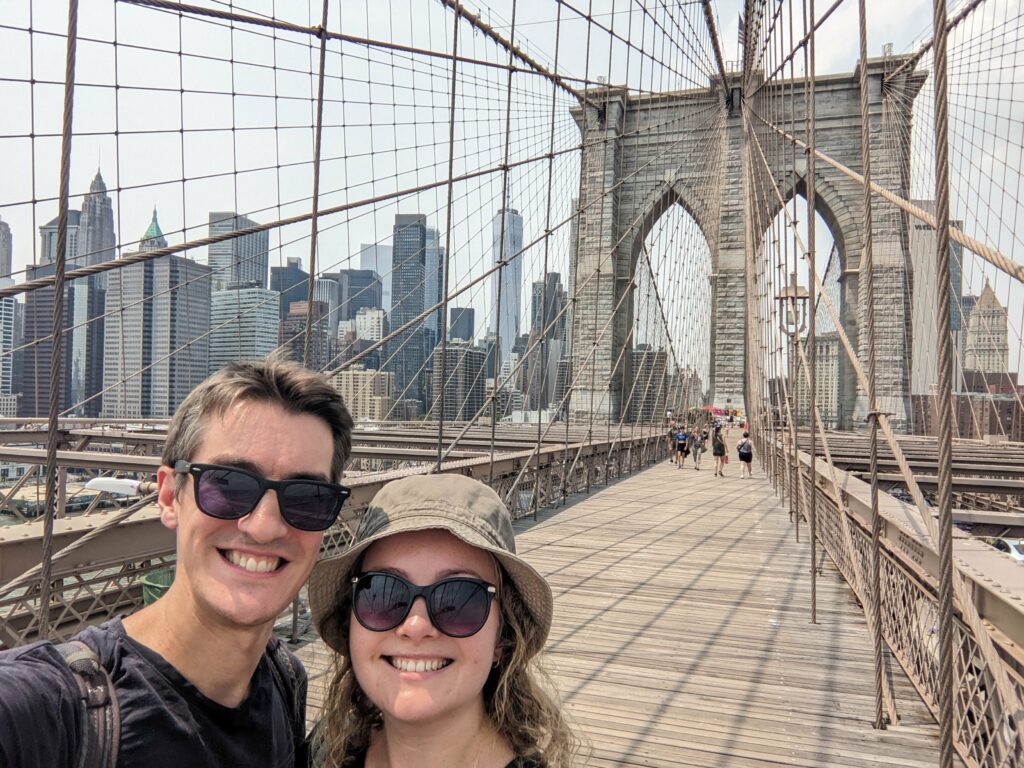 ---
This excellent few days of eating concluded our time in the United States, so we took a long and convoluted journey on public transport to JFK and hopped on a transatlantic flight to Lisbon, Portugal.