We were all set for our three-hour hydrofoil crossing to Fukuoka the following day when Oli received a very unwelcome email that it had been cancelled due to a maintenance issue. This was a major blow as we'd planned quite a bit of our itinerary around catching one of the first ferries to Japan since they were restarted post-Covid. Prior to 2020, there was a choice of up to five high-speed crossings daily and several more overnight crossings operated by different companies, but we had the choice of a single weekly ferry when we booked.
We grabbed our laptops and soon had a list of options, including waiting a week for the next hydrofoil crossing on Christmas Eve or taking a flight from Busan to Fukuoka. Thankfully, we found a third option: one of the previously suspended ferry companies had restarted operations literally the day before and had some available berths. After a long-winded reservations process (including many phone calls and having to re-do some of our immigration paperwork), we finally got ourselves booked onto an overnight crossing to Shimonoseki. This meant that we were arriving one day later than expected and into a different city, but at least we would make it to Japan!
The crossing itself went smoothly, although with this now being our third overnight ferry in a week, the novelty was starting to wear off a little!
We followed our now-established routine of cracking open a couple of beers and eating instant ramen with sauna eggs, but this time, we also headed outside to watch our departure. It was dark and cold and so we were out on deck all by ourselves, but it was a great way to bid farewell to lovely South Korea.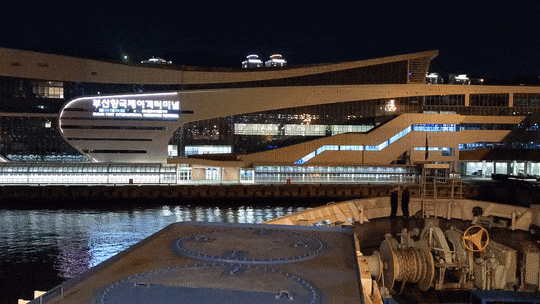 The next morning, we arrived in Shimonoseki, a small city at the very western tip of Honshu, one of Japan's four main islands. To be honest, it turned out that we were somewhat immune to Shimonoseki's charms – it hadn't been on our original itinerary and seemed to be made up mostly of concrete overhead pedestrian walkways. However, we were still totally delighted to have made it to Japan after some uncertainty.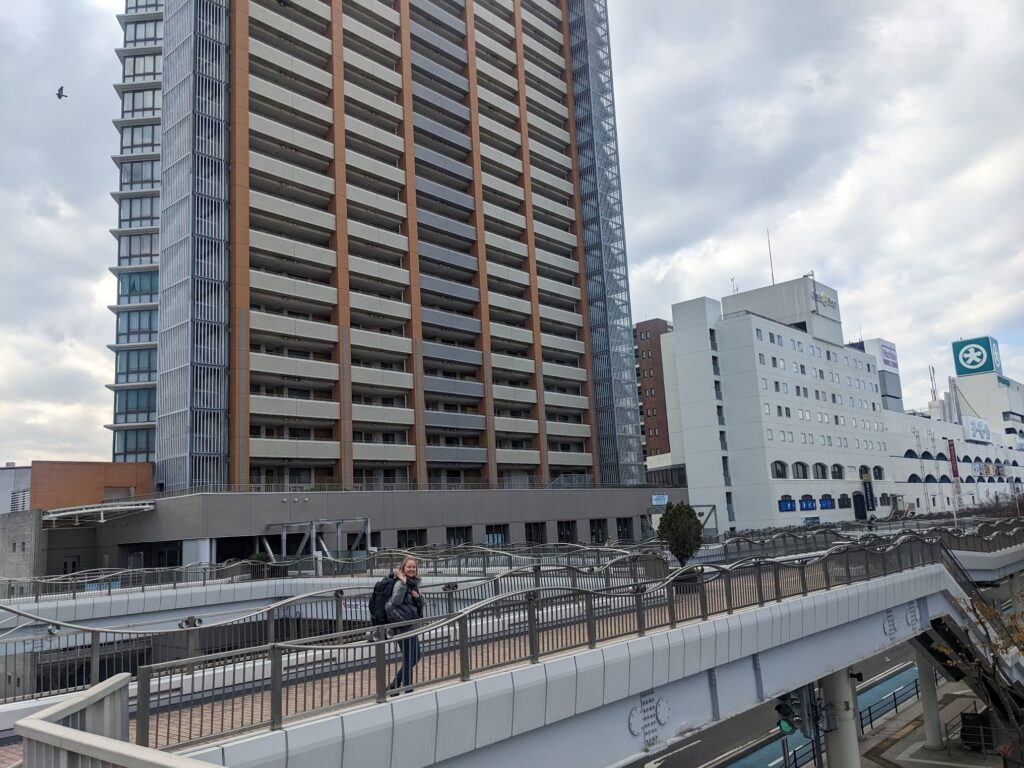 To be fair to Shimonoseki, the weather probably didn't help as it was cold, grey and snowy (but not the good kind of snow). Its major attraction was the fish market, but having visited Korea's largest in Busan the previous day, this didn't hold so much appeal for us. It is also known for fugu, the 'edible' pufferfish that is potentially fatal if prepared incorrectly. I wasn't aware that I'd ever watched enough of The Simpsons to have references stored away, but it turned out that I had! We weren't keen to share Homer's fate so we stuck instead to some delicious yakitori (barbecued skewers) for our first Japanese dinner.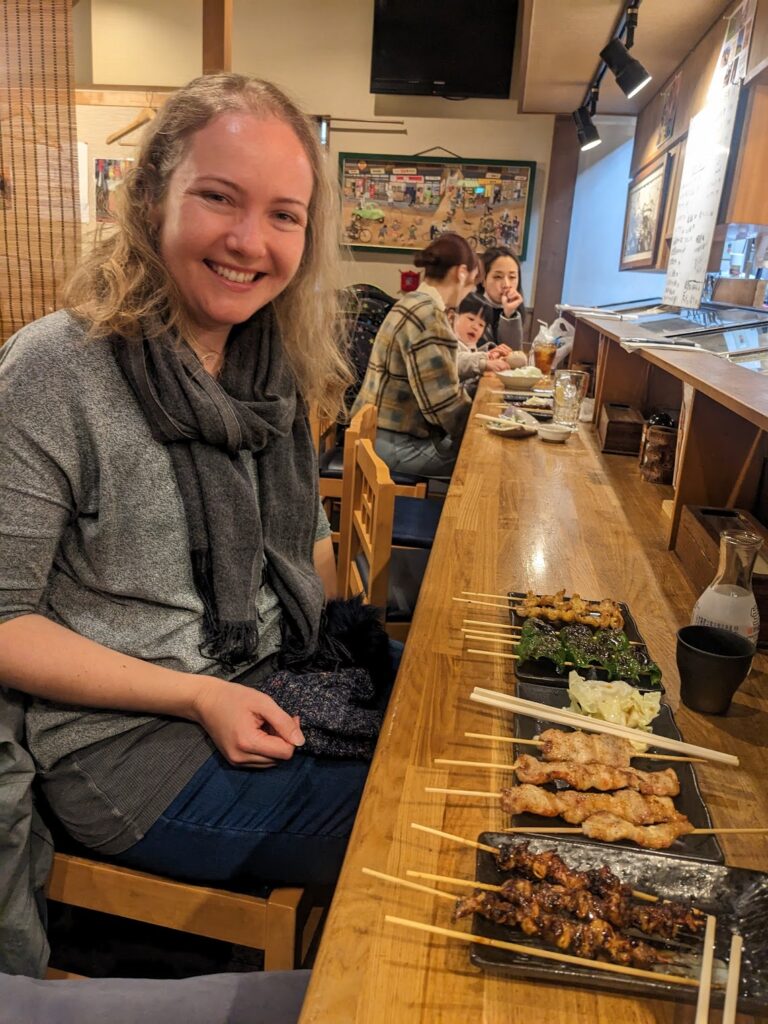 The next day, we headed south by bus to the vibrant city of Fukuoka, which was our originally-planned gateway to Japan. Full disclosure: we didn't have a clear itinerary in Fukuoka, but we'd read that it was the home of tonkotsu ramen, and with our plans still slightly awry following our ferry cancellation, this seemed as good a place as any to start!
I'm glad we did, as it was genuinely the best ramen of my life and a great eating experience to boot. We chose to visit Ichiran, which is now a nationwide chain but was founded in Fukuoka. First, we selected and paid for a set lunch at the vending machine, which spat out two meal tickets. Next, we filled out a form to refine our selections to make sure that our ramen broth was perfectly customised to our needs. Finally, we sat down at individual booths with our own water dispensers, a call button and a set of wooden signs (in English and Japanese) in case we wanted to communicate with the staff without saying a word.
When our food was ready, it was delivered through a bamboo blind at the back of the booth, and this was then drawn so that we had a moment alone with our ramen. It was an introvert's dream eating experience! I loved every moment.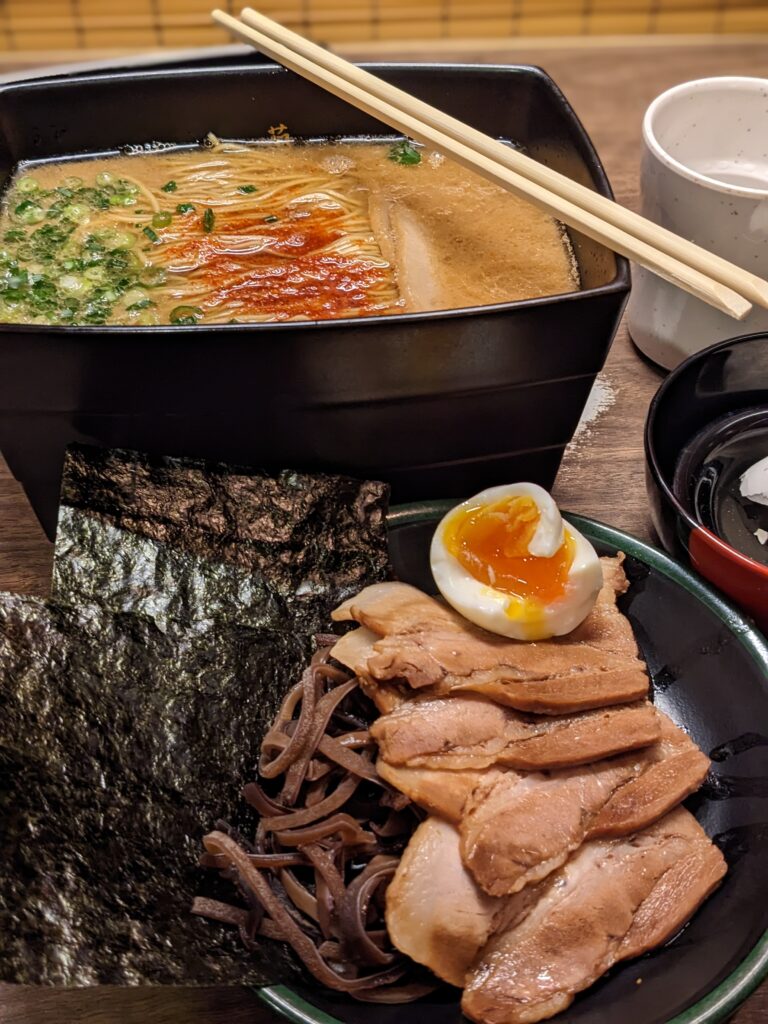 In an attempt to digest our lunch as quickly as possible so we had room for our next planned meal of Fukuoka specialities, we took the metro to Ohori Park to take a walk around the lake, castle ruins and formal Japanese garden. It was a stunning afternoon and perfect for a stroll.
Our final stop on our brief visit to Fukuoka was at the famous yatai (food stalls) that line the riverside. These are essentially tiny streetfood restaurants where you perch on extremely narrow stools and can make friends with your neighbours and the staff running the stall – a jarringly sociable contrast to our peaceful lunch!
Although yatai are found across Japan, we read that the city had over 100, the highest concentration found anywhere. We do wonder whether the number had been affected by Covid, as we didn't see anywhere near that many (or perhaps we were just lost, as usual). In any case, we had a fun and atmospheric dinner of sausages, gyoza (Japanese dumplings) and more yakitori.
The next day, it was time to take a bullet train south to Kagoshima. Although this was also a highly anticipated experience for me, my excitement didn't get anywhere close to Oli's, so I'll let him do the honours of describing taking his first Shinkansen in the next post.