Having spent slightly longer than we'd intended in Spain and with grand plans to eat vast quantities of tagliatelle al ragù in Italy, we spent just two days and nights crossing the South of France.
Our first stop was the city of Montpellier. After a delicious late lunch of Vietnamese food (we deemed this legitimate local cuisine given the long history between France and Vietnam), we spent some time wandering around the old town and commercial centre of the city.
Later, we headed to the Place Royal du Peyrou, which we'd read was a popular spot for an evening stroll and also housed Montpellier's Arc de Triomph (with a little less traffic than Paris' version).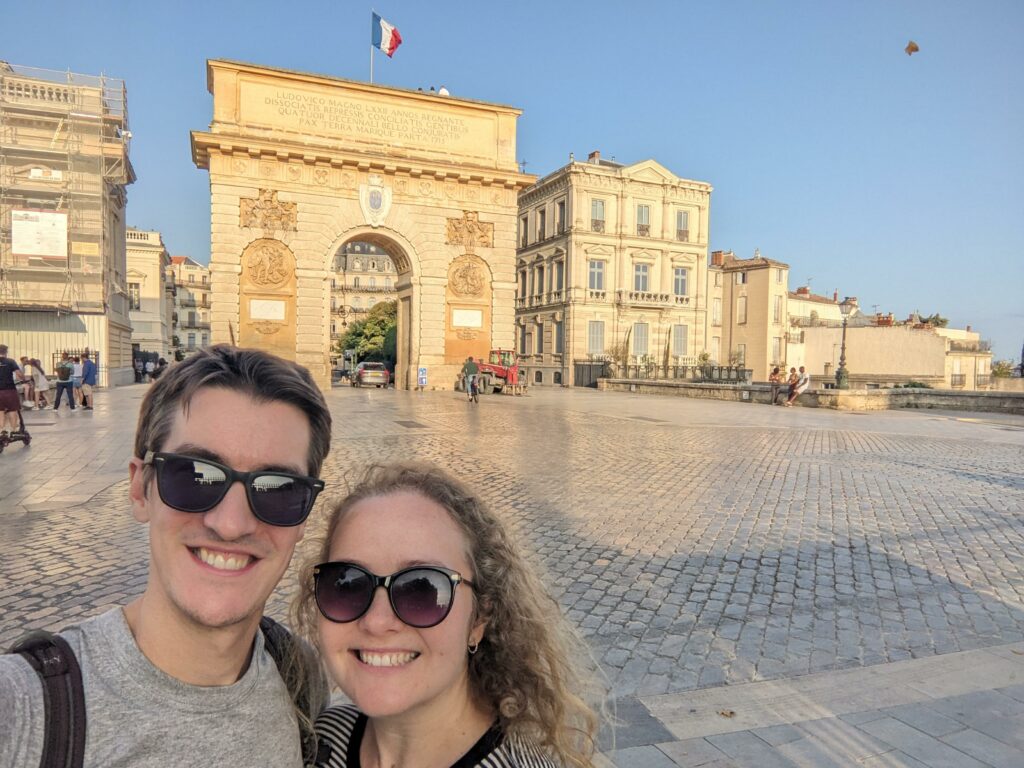 The park itself was the terminus of the Aqueduc Saint-Clément, which was built in the 18th century to bring water from the surrounding hills into the city, and the end point was marked by the beautifully ornate Chateau d'eau du Peyrou.
As night fell, both the aquaduct and the water tower were lit up and looked even better than before. Trust France to turn something as functional as city plumbing into something so beautiful!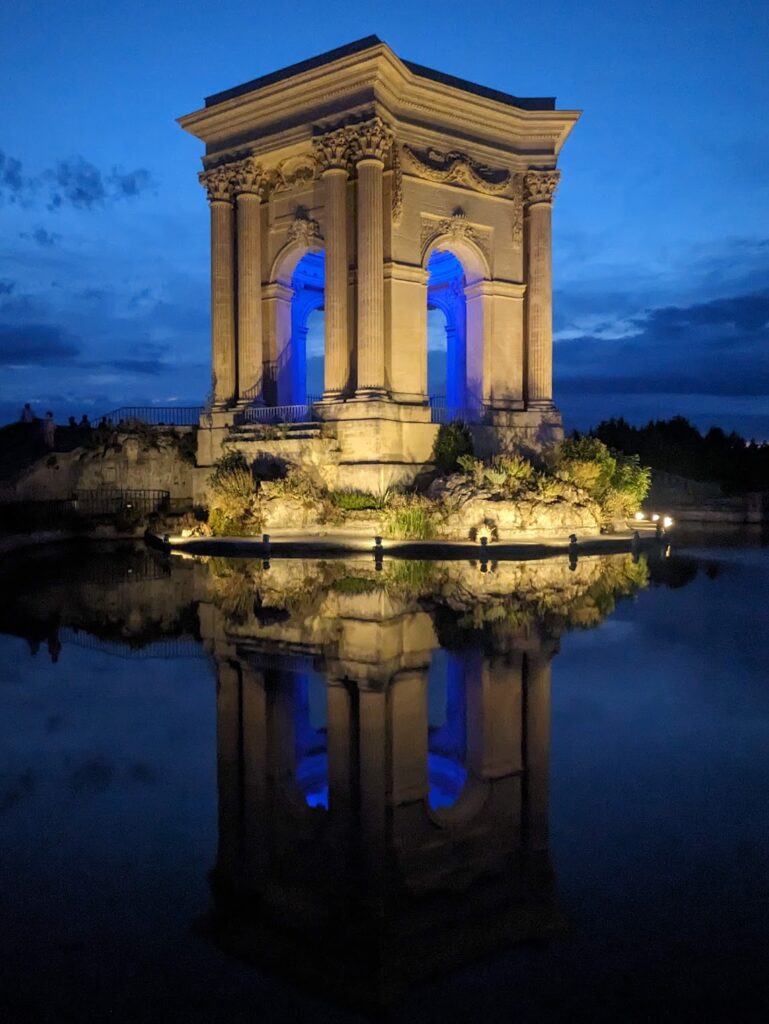 Our favourite part of the park, though, was the perfect summer-evening atmosphere. Lots of people were out playing their musical instruments or had set up speakers to accompany them practising different styles of dancing, from breakdancing to swing – but this wasn't busking, they were just making the most of the good weather and outside space to do something they enjoyed. It was so lovely to watch!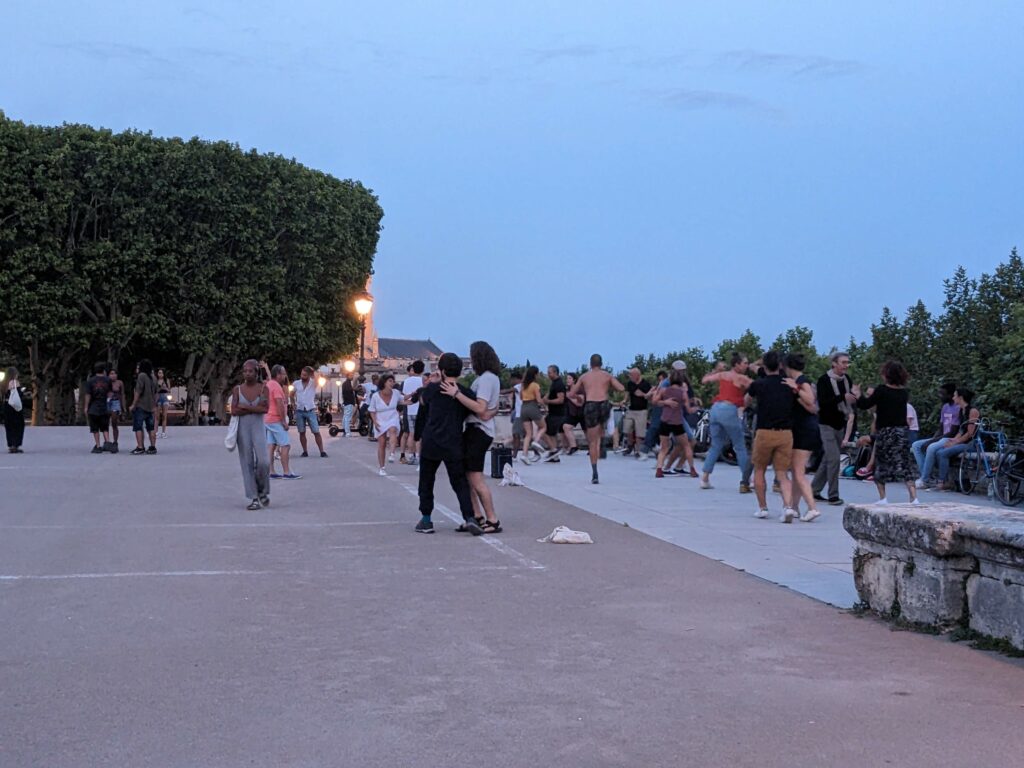 As usual, we had an early start the next day, so we tore ourselves away from the action and headed back through quiet streets to our room, ready for a new city tomorrow.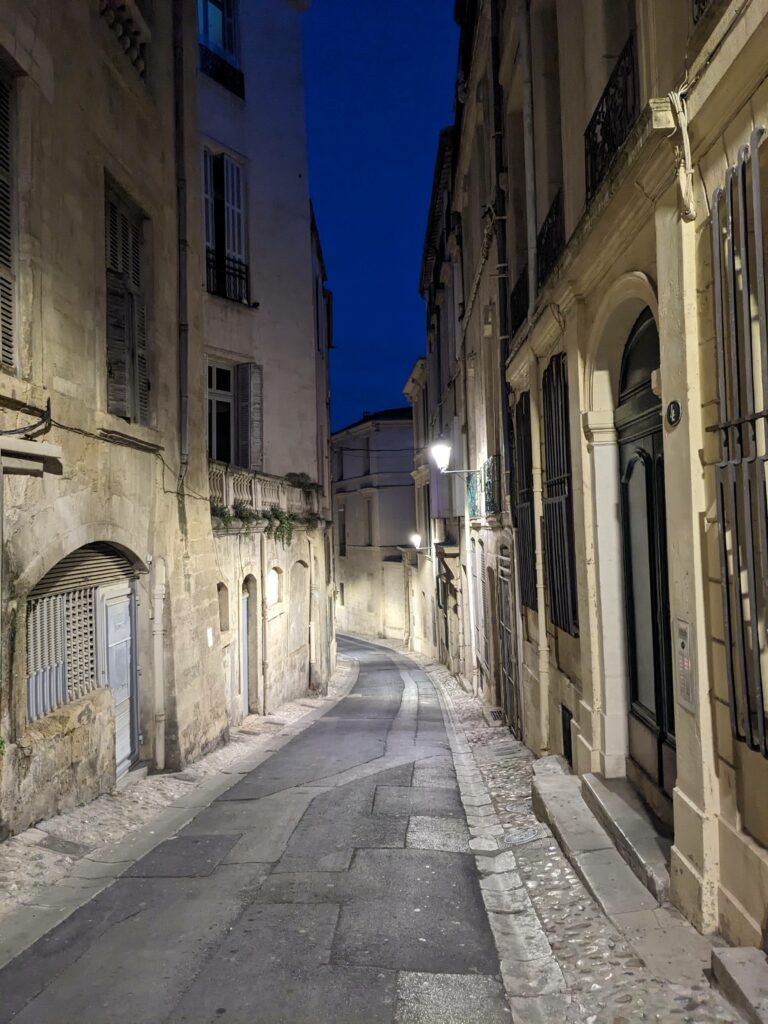 Bright and early the next morning, we boarded a tram and then a long-distance bus to Aix-en-Provence, a quintessential Provençal town with an intimidatingly unpronouncable name. At least, I'd always wondered how on earth to pronounce the Aix part, but it turns out it's simply 'X'. Endearingly, they had made use of this in various puntastic ways around town, including naming their buses L'Aixpress.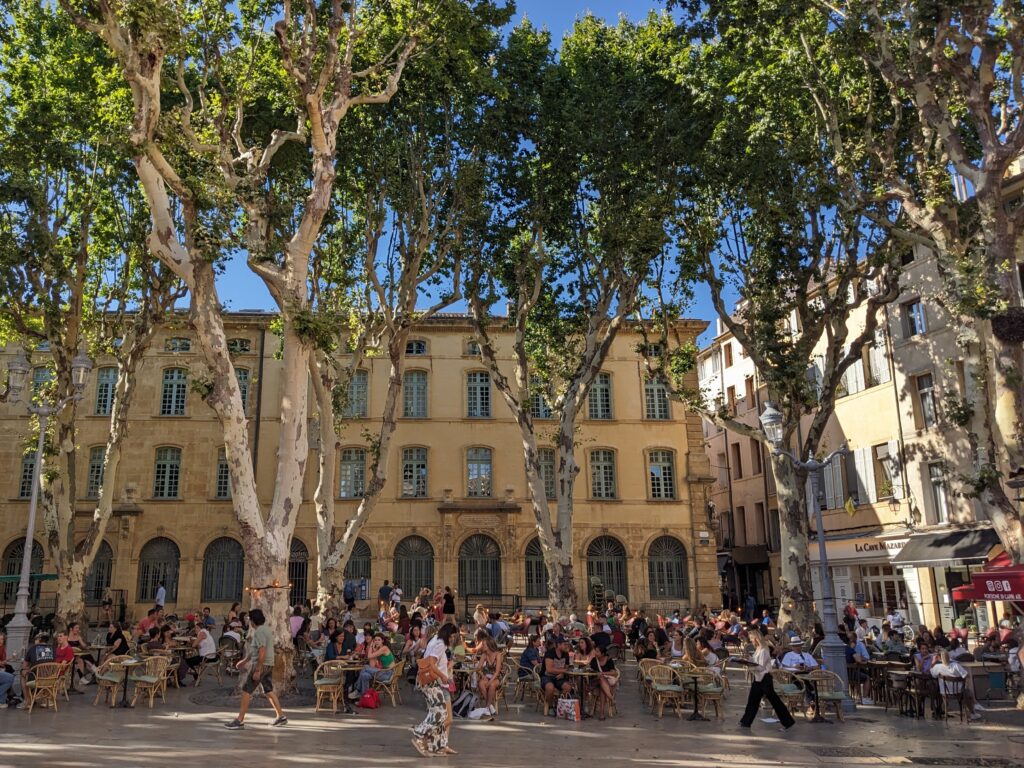 The entire centre is pedestrianised (unless you are very brave, very stupid or a local resident), which made exploring on foot a real pleasure. We are very glad to be back in Europe where not having a car can be a help rather than a hindrance!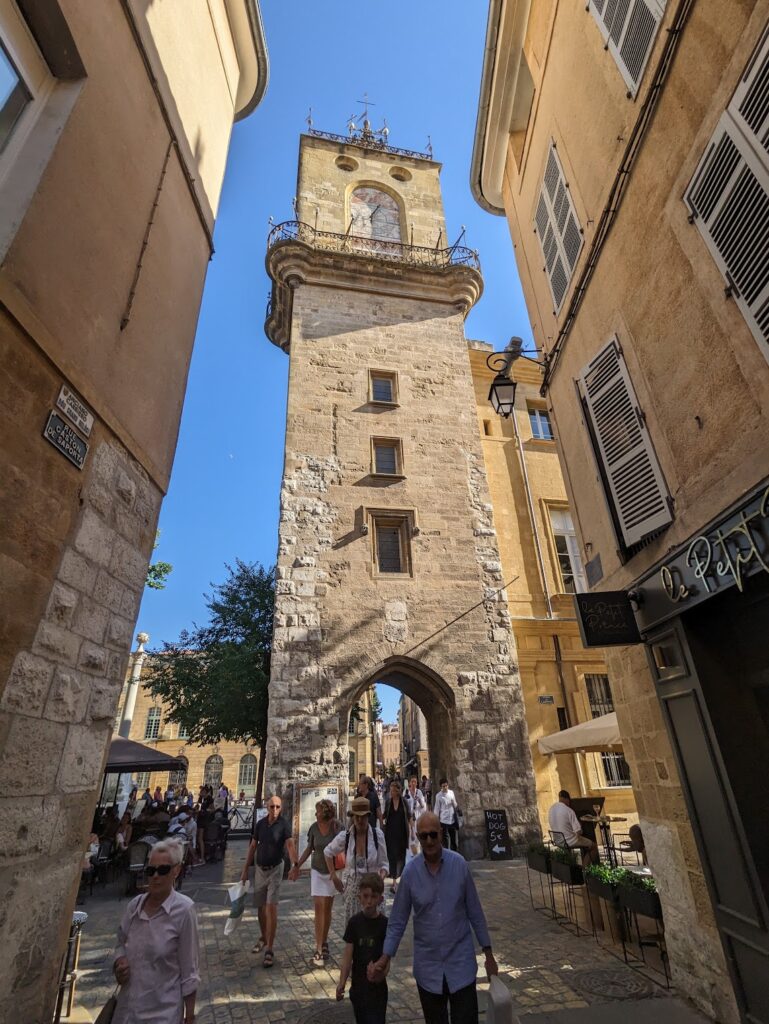 As we wandered around town, we discovered lots of the fountains that are something of a local speciality. It was incredibly tempting to dive right in, but I suspect that wouldn't be quite the thing to do here…
Instead, we headed to Maison Weibel to try the local delicacy, the Calisson d'Aix. These are delicate, marquise-shaped sweets made from a paste of ground almond and candied melon, topped with icing. You're probably imagining that we wafted into the patisserie and ate them from beautiful china accompanied by an espresso (or maybe not, actually, if you've read any of our previous posts), but what actually happened is that we purchased a gift-wrapped bag and then raced to one of the pretty squares and scoffed them all at once because lunch was many hours ago. We did at least pause to make some tasting notes, which are probably best summarised as that I thought they tasted like iced marzipan and Oli didn't agree. We did both enjoy them, though!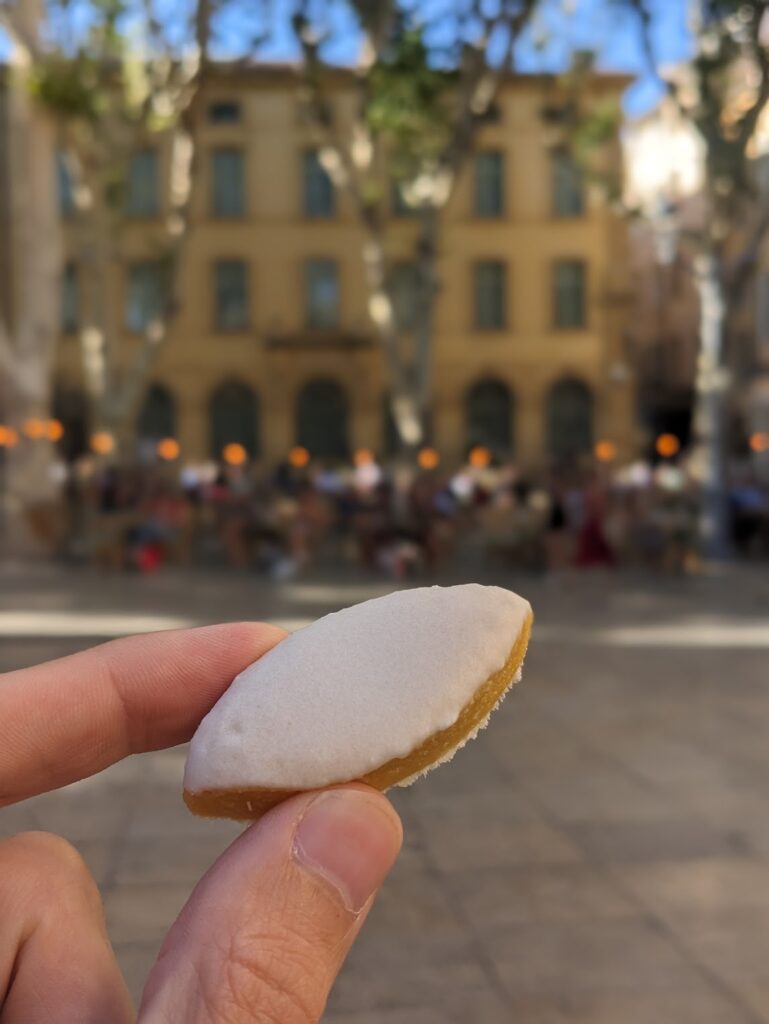 Aix-en-Provence was architecturally quite reminiscent of what we'd seen the previous day in Montpellier, but there were many more visitors and it was more gentrified, with less of a 'real-city' feel. We both liked it, but I imagine it would really come into its own on a quiet autumn day. Based on what we saw so far, I think it's 1-0 to Montpellier, on the merits of the outstandingly convivial local atmosphere in Place Royal du Peyrou, but to give them a really fair trial we'll have to pop back for a weekend at some point. And this is actually feasible, given both towns are a quick Eurostar and TGV from London – this is the closest to home we've been in a very long time!
From Aix-en-Provence, we boarded an eight-hour bus into Italy, the first hop of a very long travel day.