We've just spent 48 days travelling more than 20,000 km across 15 states and 5 different timezones in the USA. Summarising our journey across this huge country in a single post isn't going to be easy, but here goes…
We started off by flying from Auckland to the Hawaiian island of O'ahu, where we swam with sea turtles and climbed Diamond Head. We then took a second flight to Portland, Oregon, where we dived headfirst into the street food and craft beer scene.
We then began our coast-to-coast adventure by hiking Mount Walker on the Olympic Peninsula and touring Seattle's Museum of Flight with two renowned aviation experts (Helen and Mick 😉). Our first overnight Amtrak took us to Glacier National Park where we Drove to the Sun, and our second sleeper train brought us to Minneapolis where we explored Mill Ruins Park. We completed our journey on the Empire Builder railroad by celebrating Summerfest in Milwaukee and road tripping around Lake Michigan. This took us through the Indiana Dunes National Park just in time to catch the 4th of July fireworks in Chicago. Next, we popped our heads into the rust-belt cities of Cleveland and Pittsburgh along with an unexpectedly homely stop in Amish Country. Our two final stops included a search for the perfect Philadelphia cheesesteak and as many bites at the Big Apple as we could stomach in 4 days. Looking back on the route reminds me just how big the USA is and what an epic adventure this was!
Carbon 🚆
Our travel to and across the USA produced nearly 4 tonnes of carbon dioxide – our highest total of any country to date. Having said this, we did travel much further in the USA than any other country.
Our flights across the Pacific Ocean were responsible for the bulk of our carbon emissions. I find I often underestimate quite how large this body of water is especially given its underrepresentation on the Mercator map projection – the Pacific Ocean actually covers over 30% of the globe's surface! Obviously we would have preferred to avoid flying such a large distance, but there's simply no lower carbon alternative to economy class flights for this route.
Despite making almost all of our long-distance connections via train and bus, we also covered a fair distance in the USA by car. The USA is a famously car-centric country, and visiting national parks without one is nigh on impossible. In most cases we were travelling with four people per vehicle, which at least means that the carbon emissions were shared between four people rather than two.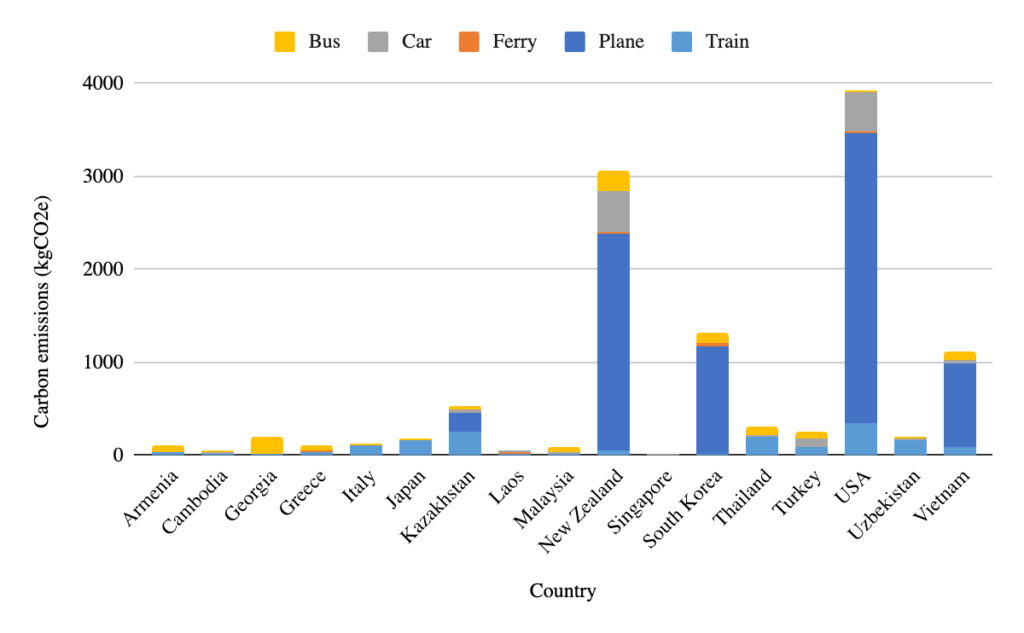 We've taken responsibility for the carbon emitted by our USA adventure by offsetting 4 tonnes of CO2 through Gold Standard's Climate+ portfolio. In this instance, our offsets helped fund the construction of a hydro-electric power station in Turkey, which will provide carbon-neutral power along with land irrigation benefits to the people of the Bugra village in the Ankara province of Turkey.
Cost 💰
We also spent more money per day in the USA than any other country. Our high transport costs were partly due to our flights across the Pacific, although they would have been even higher had Helen & Mick not generously covered the costs of the hire cars we shared while they were travelling with us.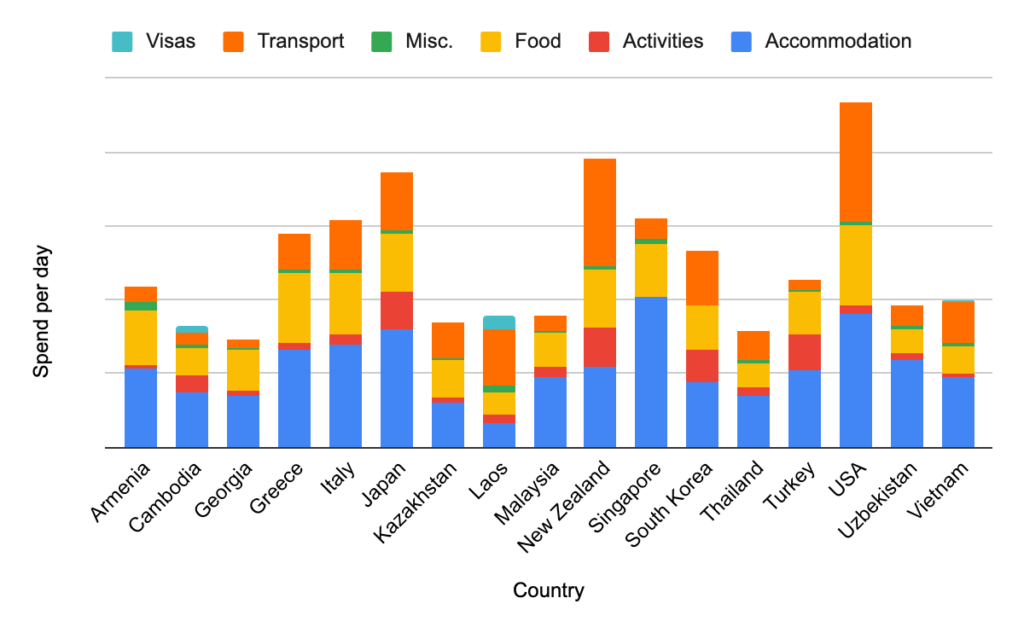 We also noticed that we spent about as much on accommodation per day in the USA as we did in total each day in some other countries (such as Georgia, Kazakhstan, Laos, Malaysia and Thailand). While this isn't a total surprise, it really does illustrate the difference in how far your money goes in different parts of the world. While everything seems to have become more expensive since the pandemic, this was more apparent to us in the USA than other countries we visited.
Cats 🐈
Cats were pretty thin on the ground (not literally!) in the USA. We suspect that, much like in New Zealand, most cats are kept inside, although presumably more for the cats' safety (because of predators like coyotes) than for the benefit of the local bird population. This meant that Sara spent a lot of time peering into windows – an art that she's perfected over the past few months!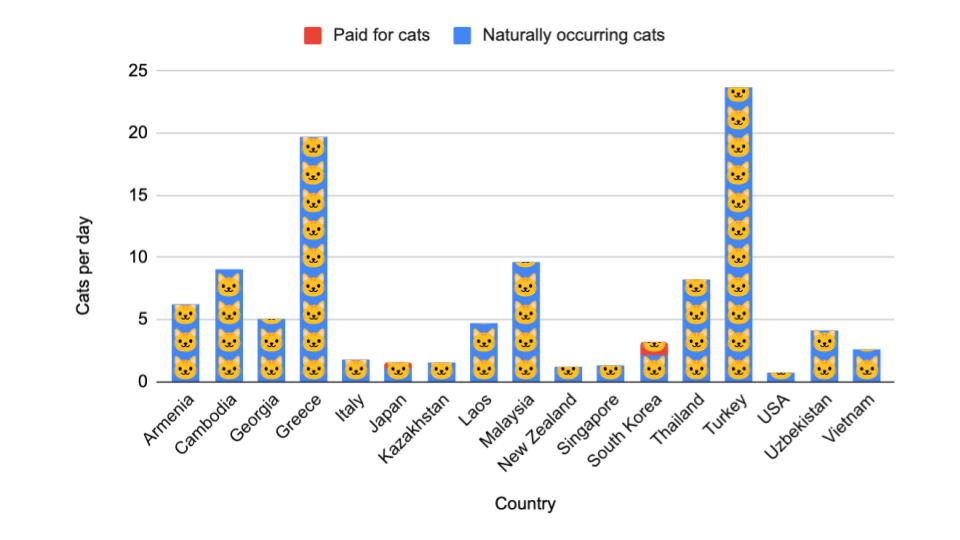 🏅Most pampered stray felines
The "stray" cats in Port Angeles were both beautiful animals and responsible for a sizeable chunk of the USA's cat count. I could hardly believe it when the old chap who was feeding them told us that each of the cats were registered at the local vet!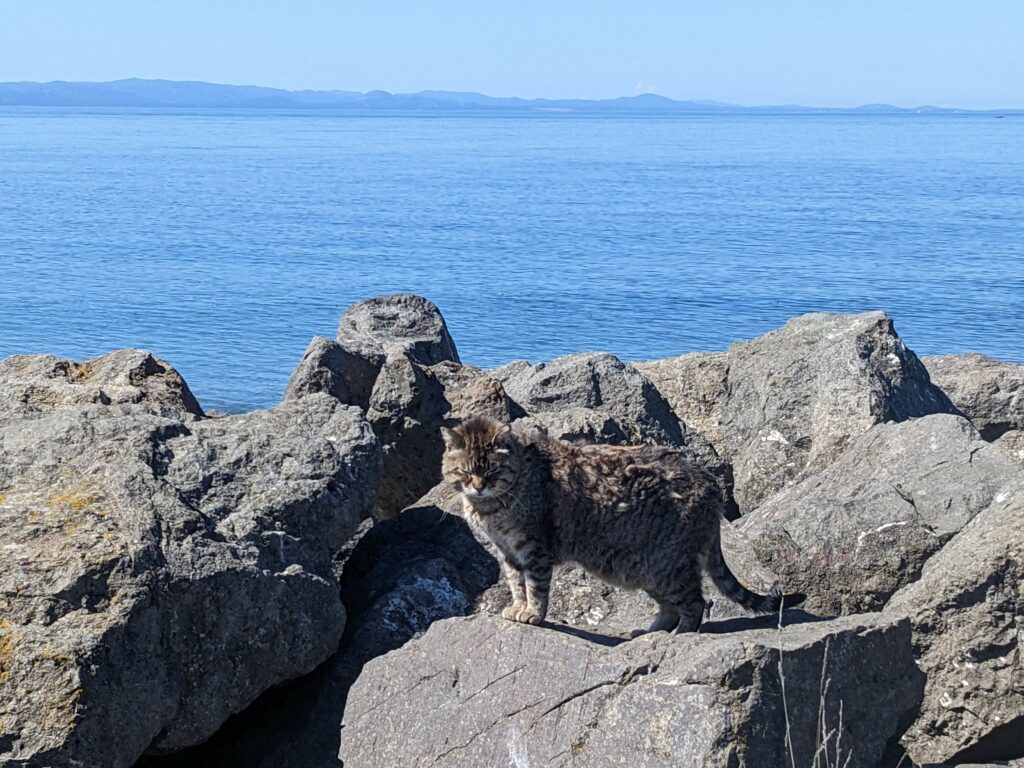 🏅Snappiest dresser
We met Chip while he was visiting the far northwestern point of the United States, and he had dressed up for the occasion. I don't think he was at all prepared for how much attention he might get!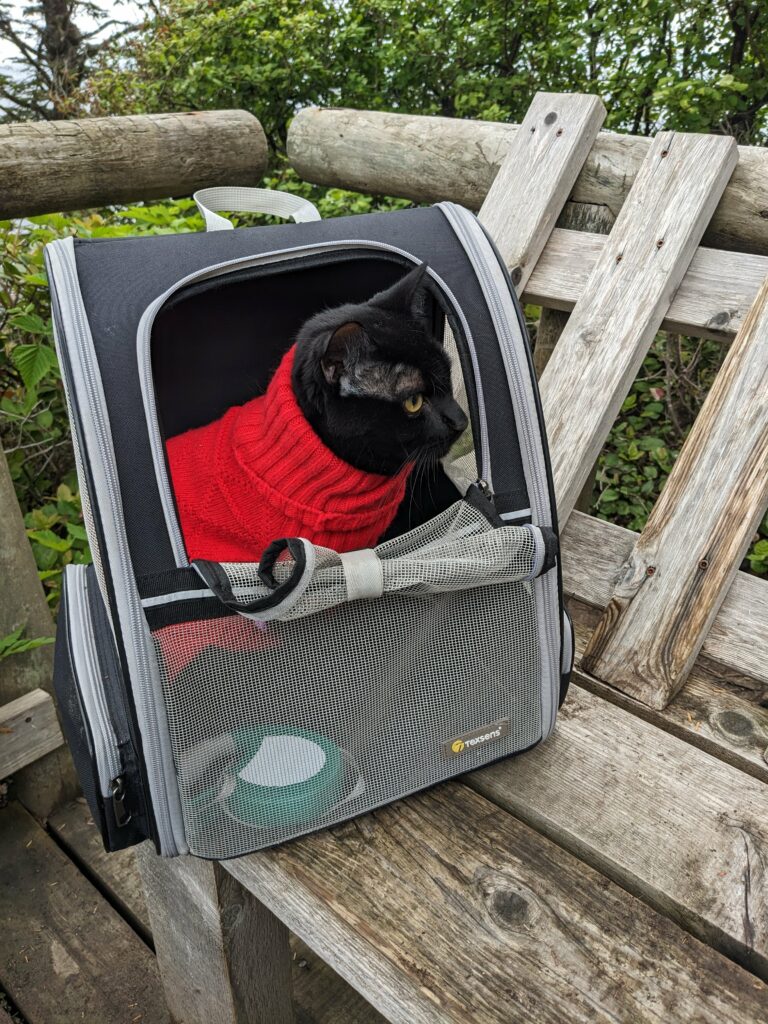 🏅Least intimidating biker gang
The USA is definitely a country of dog-lovers, and this duo really made us chuckle. They were both clearly enjoying the attention, as they revved their engine outside one of Milwaukee's busiest bars.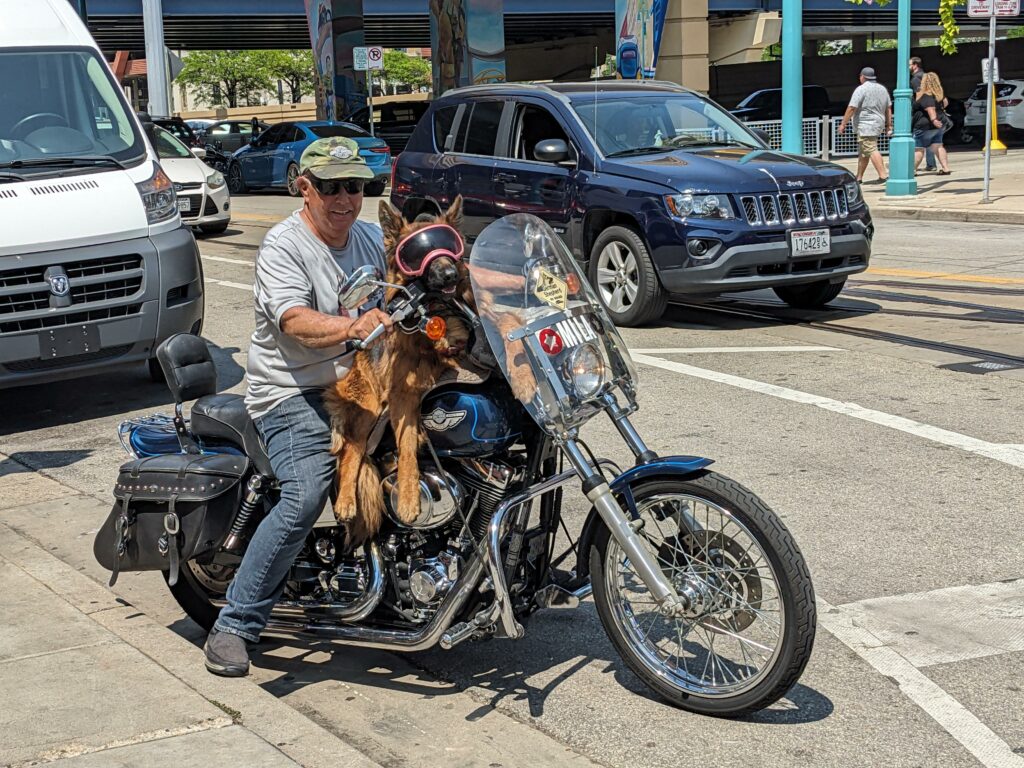 🏅Chubbiest squirrel
Okay, this is obviously not a squirrel, but I did think that the groundhogs looked a little like squirrels whose tales had been deflated and bodies had been inflated. We first spotted them in Michigan, but then continued to see them all over the place on our route through Ohio and Pennsylvania. Sara absolutely loved them, and could often be found at the window of our apartments chanting "HOGS, HOGS, HOGS!"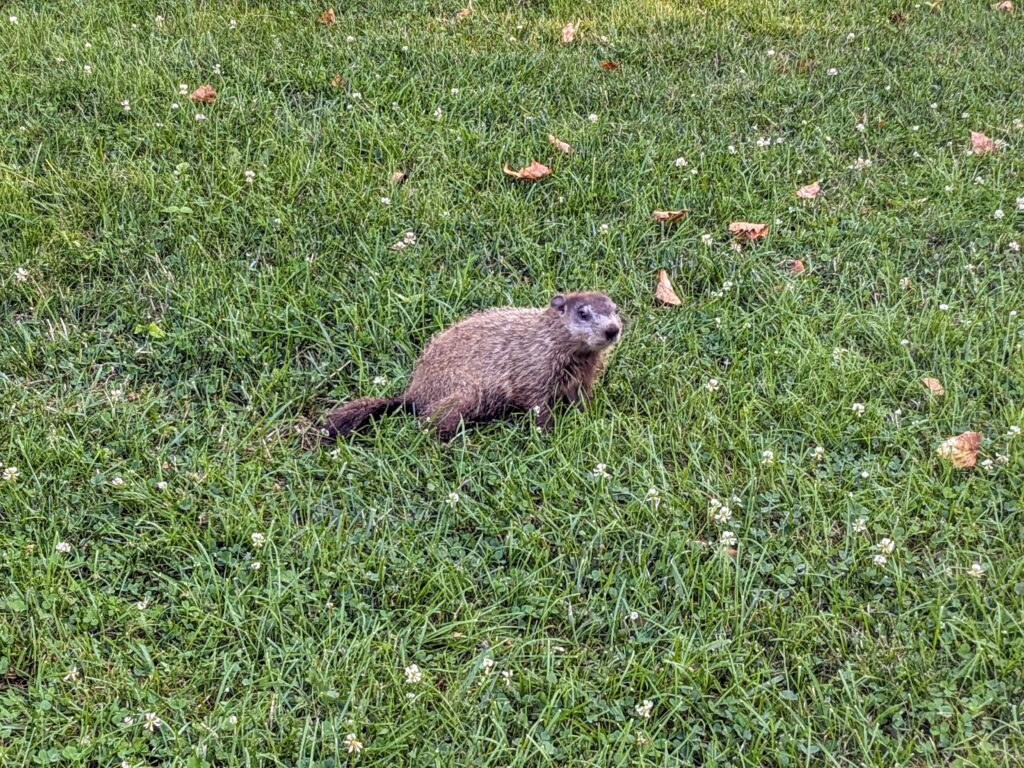 Culture 👨‍👩‍👧
Normally, we're overflowing with ideas of what to discuss in this section of our round up, but we'd both visited the United States many times before this trip and this made it incredibly difficult to look at it with fresh eyes!
Eagerness to display affiliation 🪧
We probably spent more time in suburban areas on this trip than we would do normally, since we mostly rented apartments for the four of us rather than staying in hotels. One thing that did really stick out was the proportion of houses that had some kind of sign outside, like "Proud Army Mom," or as below, "Don't blame me, I voted for Trump." I don't think we tend to have the same willingness to publicise our affiliations in the UK so we found this pretty interesting.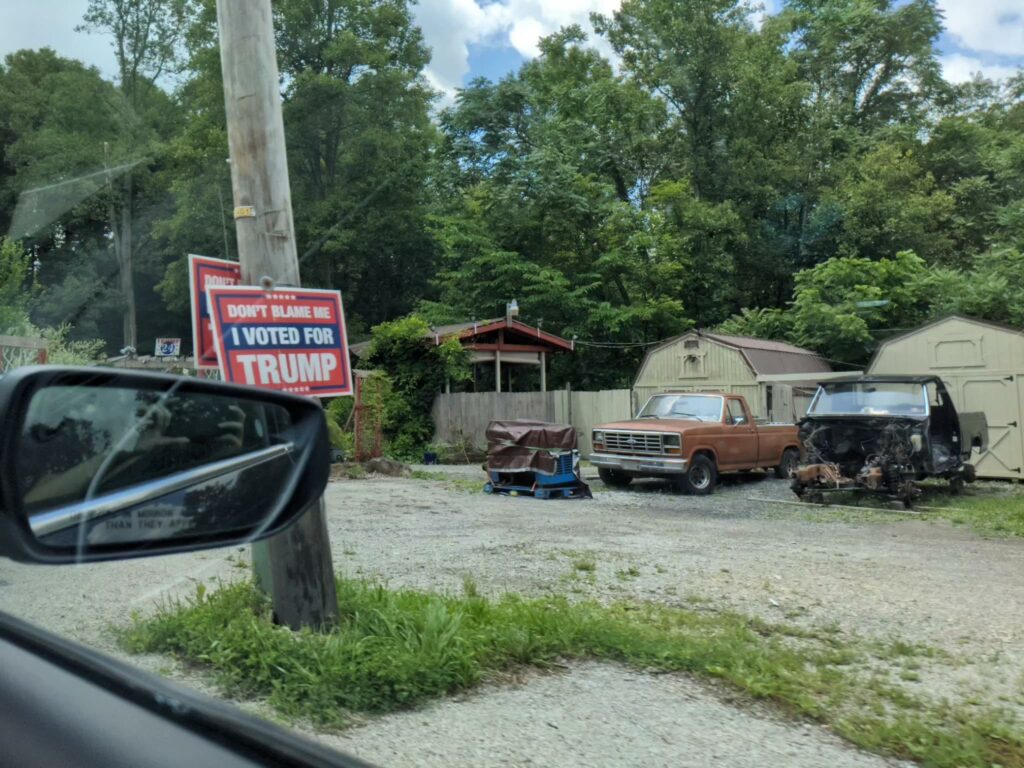 Walking as transport 🚶
The lifestyle in the United States was quite at odds with how we wanted to travel, and this sometimes caused us one or two problems. We're happiest on our own two legs, which meant we spent a lot of our time Brysoning around the country, like when we discovered that Cleveland Station had neither any public transport links nor pedestrian access (but that didn't stop us!). At best, this meant we got strange and sometimes fearful looks when walking with our backpacks ("Oh, we're hiking to work today, are we?" one man laughed, while we were literally outside a station that was served by long-distance trains) and at worst, we had multiple cars shout and throw things at us when heading to dinner on foot in a small Wisconsin town. I won't pretend to understand the cultural context fully, but I think this is because, outside of cities like New York, the only people who walk as transport are those who have no other choice, and they are often already marginalised. We started to realise that in every residential area, people were only pounding the pavements if they were specifically exercising or out walking their dogs. In general, we found this pretty annoying, but it sometimes gave us a good laugh, like when we overheard two (young, fit-looking) women exclaiming, "Can you believe we just did that?" after having completed the relatively tame Diamond Head hike in Hawaii. This became our catchphrase for the rest of the trip.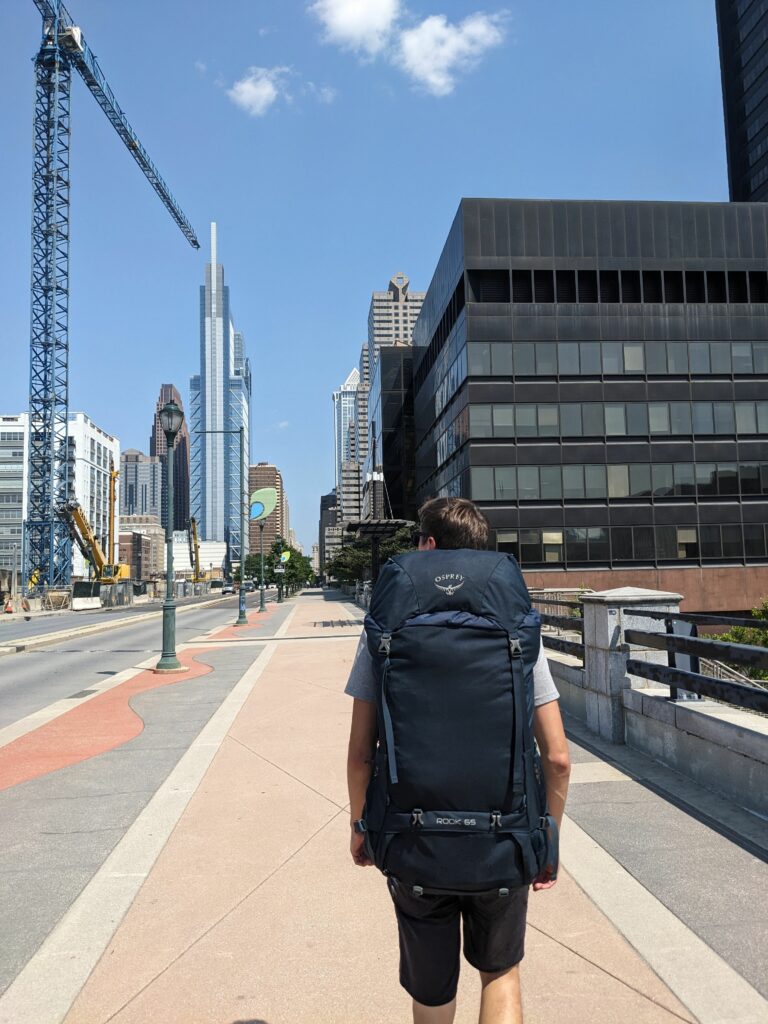 Breweries and craft beer 🍻
We were generally blown away by the quality and variety of beer at most bars, restaurants and brewery tap rooms. It seemed normal for restaurants to offer five or so craft beers in addition to the better-known American lager brands, while every brewery seemed to produce an overwhelming array of stouts, porters, IPAs, lagers and wheat beers. On top of this, breweries generally had excellent restaurants whose food was taken at least as seriously as the beers themselves. Our favourite was Copper Plate Brewery in Green Bay, who had converted a portion of their car park into an alfresco dining area / beer garden. Their peanut butter nitro-porter even managed to lure Mick's heart away from English ales!
---
With one leg of our trip coming to an end, another is just beginning, as we take one of the shortest trans-Atlantic flights possible from New York to Lisbon.