From Indiana Dunes, we drove the remaining 62 km of lake shore to reach Chicago, which completed our mini-road trip around Lake Michigan.
However, less than an hour into the drive, each of our phones sounded an alarm as they received an emergency alert, warning of flash flooding across the greater Chicago area. The rain arrived almost immediately afterwards, and before long it was torrential. There was so much standing water and spray on the interstate that we had to pull off to wait for conditions to improve. Sitting in a Wendy's restaurant car park, we passed the time by playing many, many rounds of the yes/no game: "I am a country, where am I?"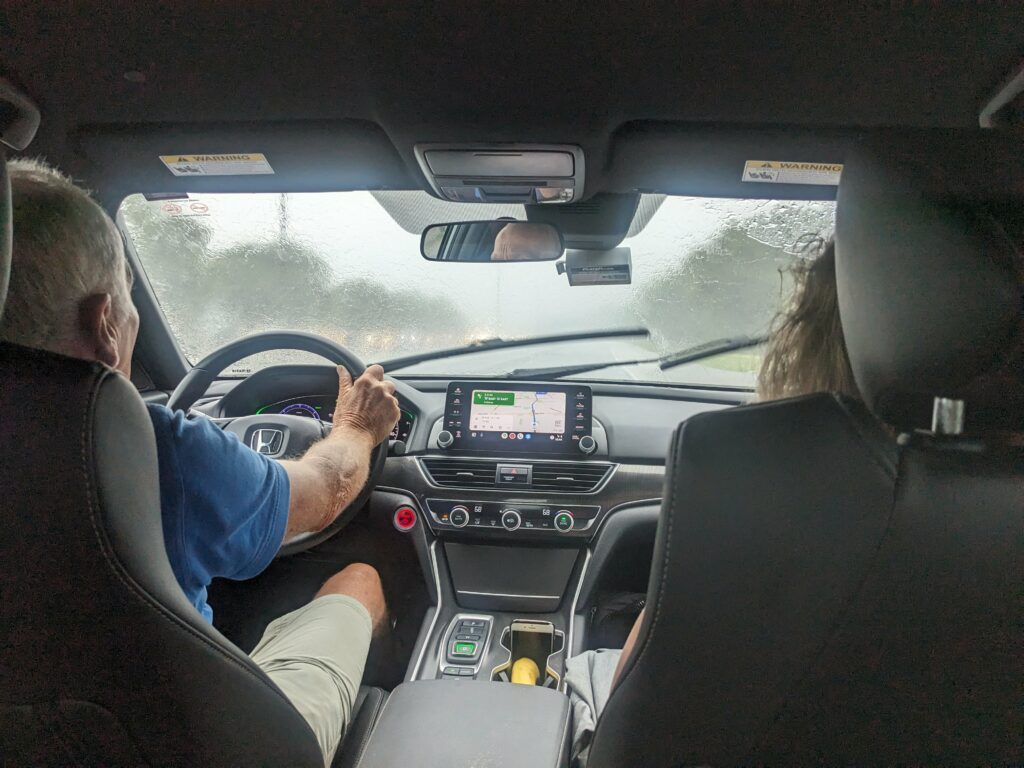 When the rain finally eased, we continued our journey over local roads to Chicago's Oak Park – an immaculate neighbourhood packed full of Frank Lloyd Wright-designed houses. The rain was so heavy that we abandoned our initial plan of a walking tour, and instead parked beside each house, read the description from our guide book, and peered out at the houses through the rain.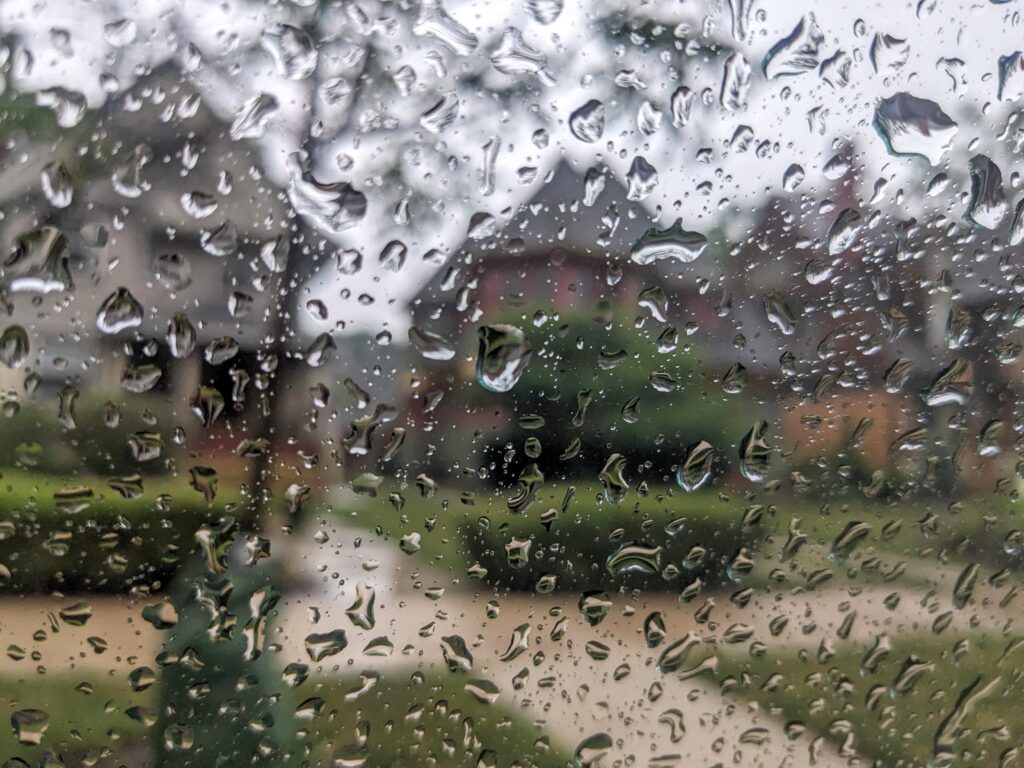 By mid-afternoon, the flash-flood warnings had turned into genuine floods. Many roads had been closed and we saw so many stranded vehicles that had attempted to ford some of the newly-created urban lakes. We ended up stuck on the wrong side of a series of underpasses, all of which were impassable due to the flood water. With no alternative, we backtracked to the interstate to take the long way around, arriving hours later at our accommodation exhausted and with our nerves wrecked.
What a difference a day makes
The storm had completely blown over by the next day and we were greeted with blazing sunshine and 30 degree temperatures – the city was almost unrecognisable compared to what we had experienced the previous day. In addition to the improvement in weather, the storm had completely cleared the Canadian wildfire smoke that had been plaguing the region in recent days.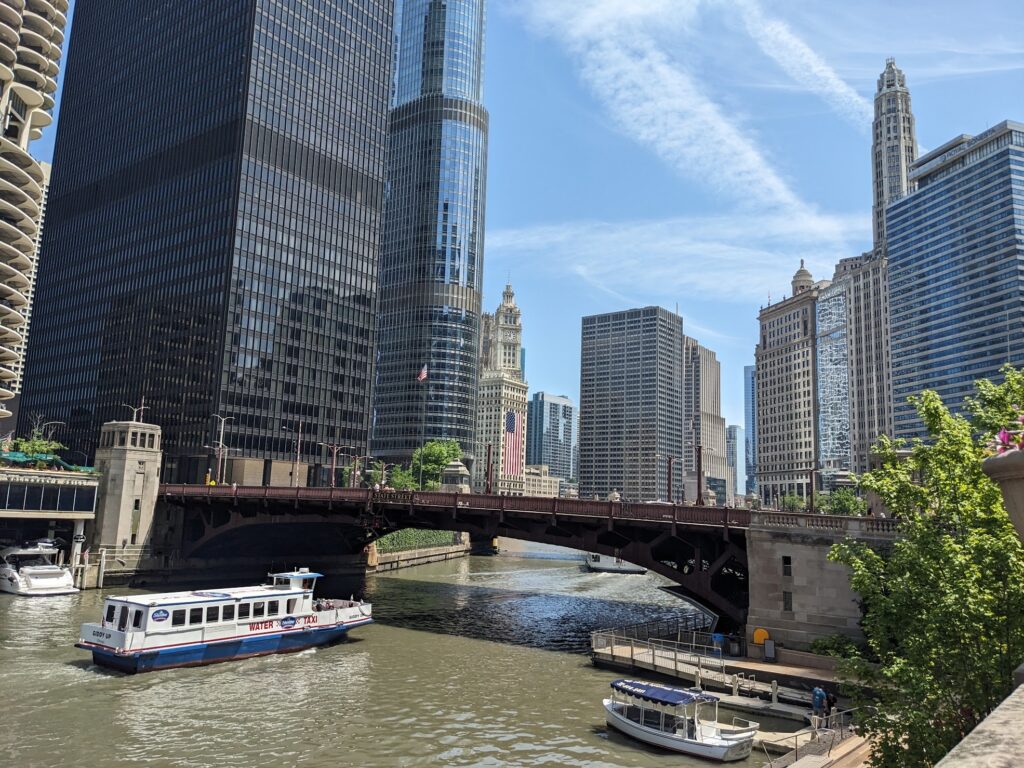 We spent the best part of the day following a self-guided walking tour along Chicago's riverfront and gawking at the seriously impressive skyscrapers from the riverside path. We also learned about two seriously impressive feats of civil engineering…
In the 1850s and 60s, many buildings in central Chicago were raised by nearly 2 metres. This enabled a new sewer system to be constructed beneath the raised street level to combat the low-lying swampy ground that had been responsible for causing multiple deadly epidemics. Despite the project's almost unbelievable ambitions, the result was a huge success, with most of the buildings receiving little or no damage in the process.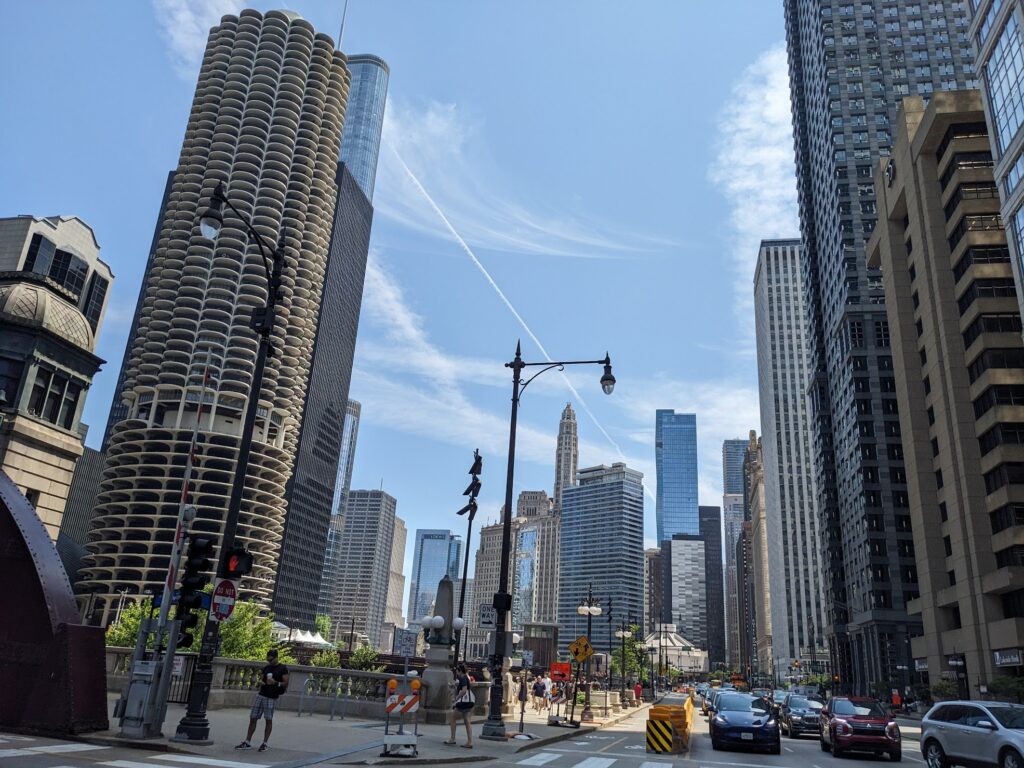 We also learned that the Chicago River had its flow intentionally reversed in the late 1800s due to concerns around Chicago's clean water supply. This was achieved through the creation of a new canal and a number of locks, into which the river now drains instead of Lake Michigan. At least, it does unless Chicago is experiencing rare and serious flooding, when the flow can be switch-reversed to drain back into Lake Michigan. The last time that happened was 2020…until yesterday – it really was a lot of rain!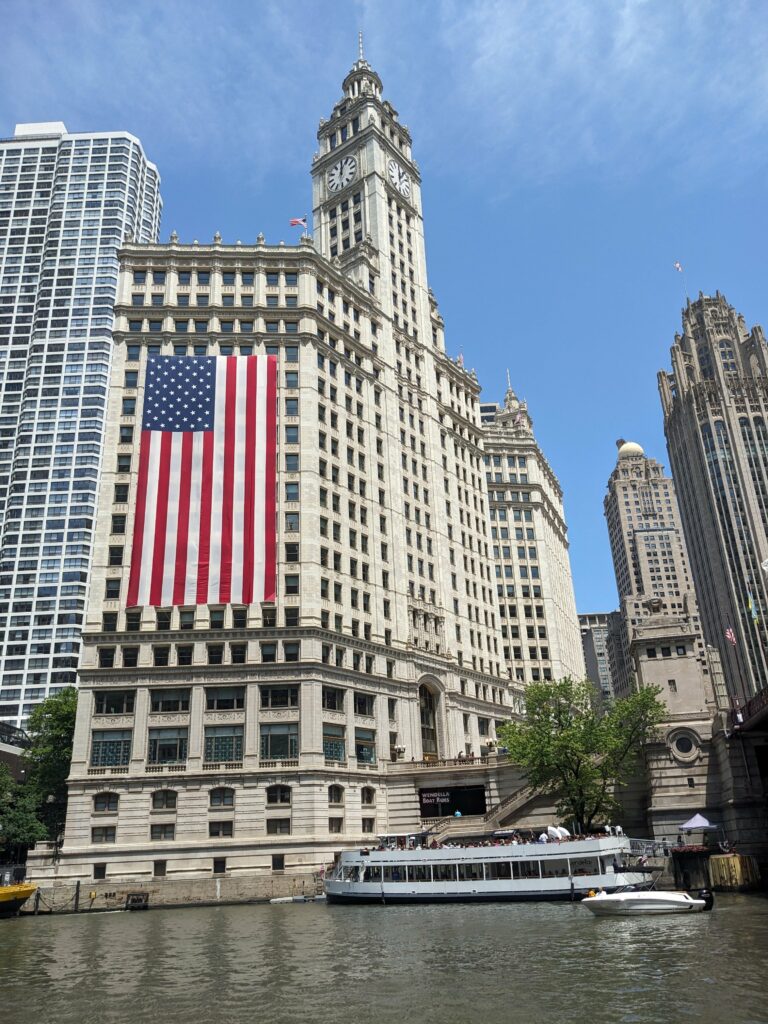 Just down the road from the river is Millennium Park, home to the Cloud Gate sculpture, aka "The Bean." This sculpture consists of a smooth and shiny orb-like structure, which appears almost spherical from some angles and an upside-down U-shape from others. Distortions aside, its reflections of Chicago's skyscrapers played some strange tricks on our eyes as we walked around it.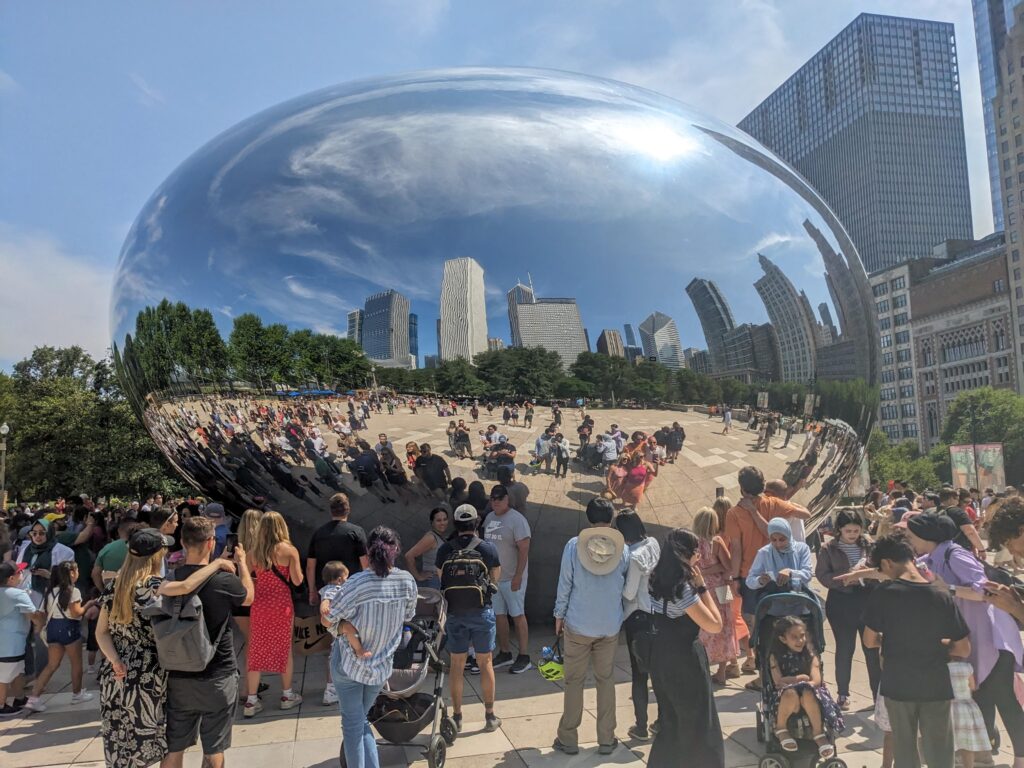 ⚠️ WARNING: Italians might want to skip this section ⚠️
Having never eaten proper Chicago-style pizza before, this was a bit of an education. We picked up a pizza from Giodano's – a local institution that has been serving up this speciality for nearly 50 years. Chicago-style pizzas are also known as "deep dish" pizzas, owing to their steep sides that allow the cheese, tomato and other ingredients to be stacked to otherwise impractical heights.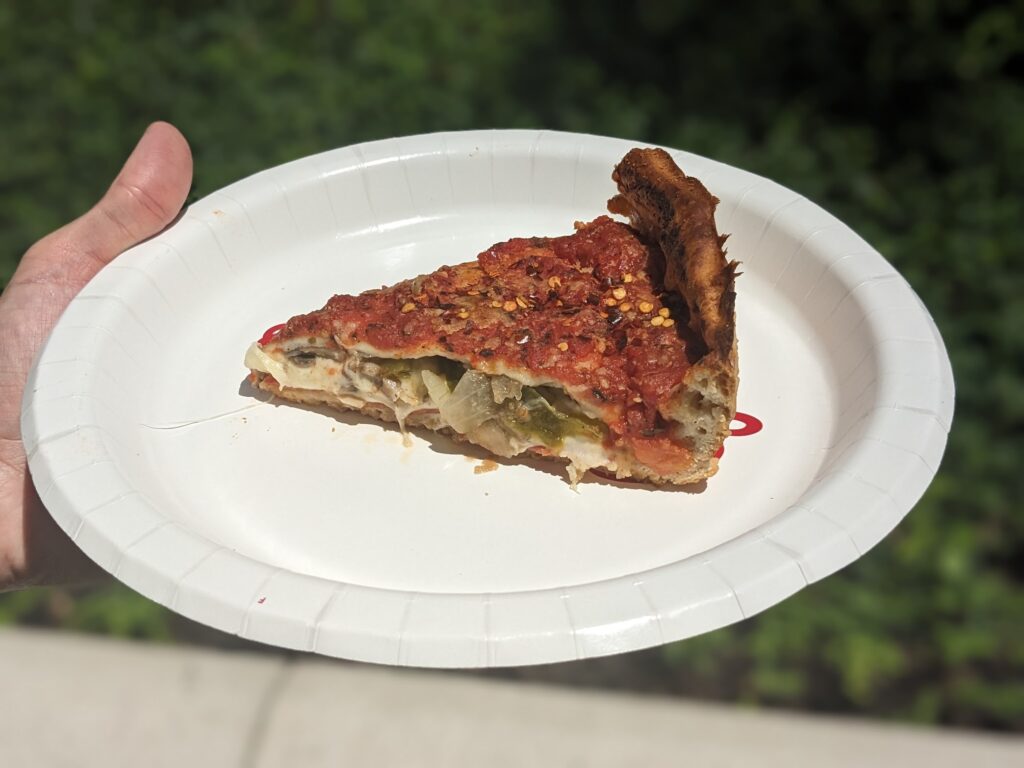 We ordered a "Chicago Classic", whose layers are ordered as follows (from bottom to top):
Dough (pizza base)
Pepperoni
Mozzarella
Mushroom, onions and green peppers
Another thin layer of dough
Tomato sauce
Parmesan
Interestingly, none of us even noticed the secondary super-thin layer of dough which separates the "toppings" from the tomato sauce. I think this was because its texture was soft and stretchy – nothing like the tough (and slightly dry) crust that surrounded the pizza.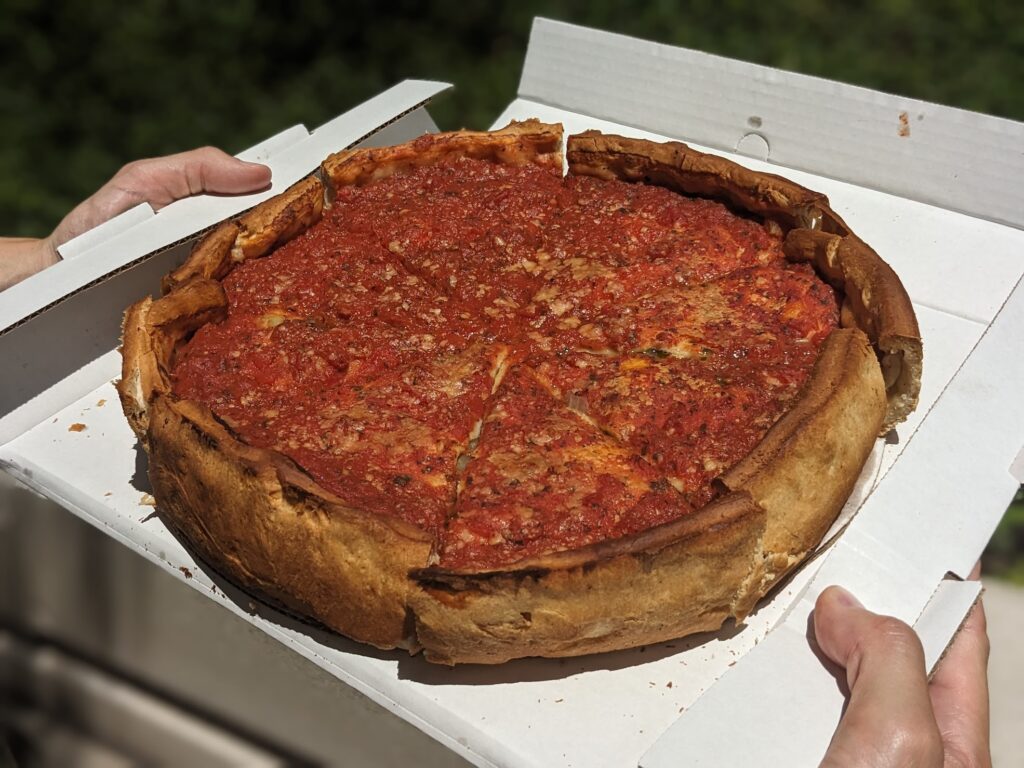 Our "medium size" pizza more than fed the four of us for lunch. And despite our relatively restrained topping selection, it was far and away the most indulgent pizza I've ever eaten. The pie itself wasn't much of a looker, but I did love that you can feed a whole family with a single pizza.
And to any Italians that made it this far: don't worry, our hearts are still with Neapolitan-style pizza!
Independence day (aka the Fourth of July)
We'd read that the quintessential Independence Day experience should involve a parade, a baseball game, and a firework display, so that's exactly what we set out to do.
We started off by heading out to the residential neighbourhood of Hyde Park, which hosts Chicago's largest Independence Day parade. Such parades consist of a wide range of local organisations and businesses passing along a closed street with the aid of floats, often separated by marching bands and performing arts groups. One minute, the local high school brass band would be passing us, the next minute we'd find ourselves waving to an insurance company's float, who would be shortly followed by the county forestry organisation. All in all, it was an incredibly wholesome experience and a great way to immerse ourselves in the party atmosphere.
Following the parade, we enjoyed a free hot dog (courtesy of Trader Joe's, the local supermarket) while watching some adorable kids performing martial arts and dance demonstrations. It was then time to say goodbye to Helen & Mick, who were flying back to London after spending nearly a month with us on our route from Portland to Chicago. Thank you so much for coming all this way and keeping us company!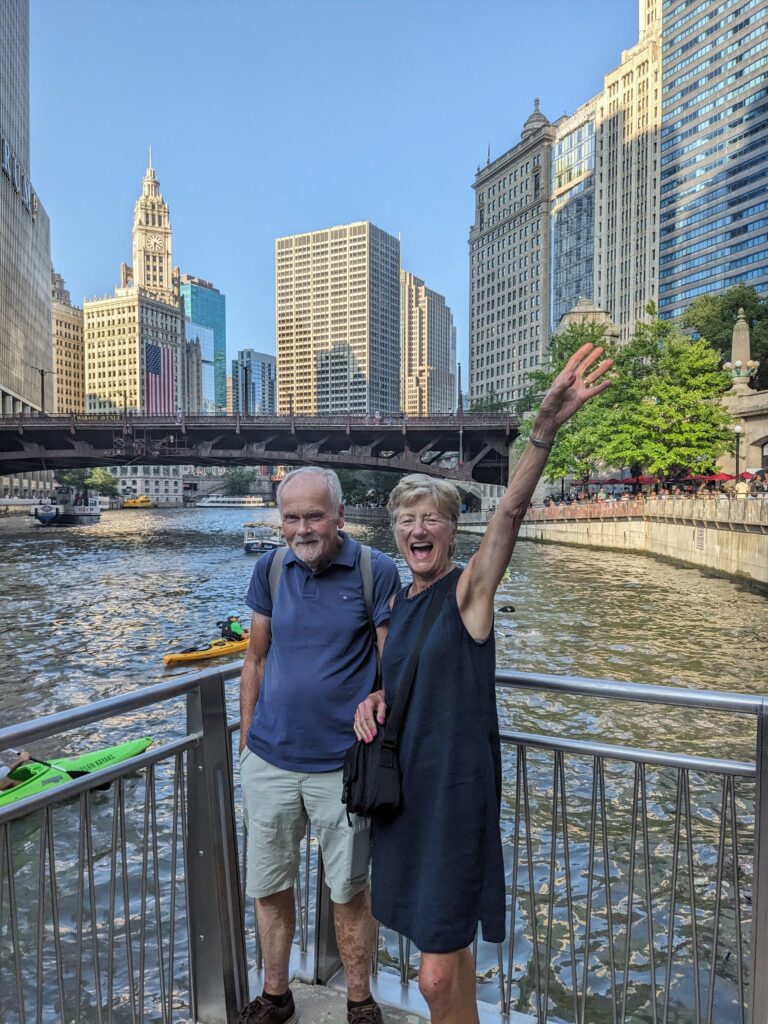 That evening, we took the metro to the Guaranteed Rate Field (lol) to watch the Chicago White Sox host the Toronto Blue Jays. This is the second baseball game we've attended, and on both occasions we were surprised by how little attention most fans seem to be paying to the action on field. Eating and drinking seemed to be the primary activity, with socialising coming in a close second, leaving little attention left to follow the game. Meanwhile, we were desperately trying to keep up with the action – despite having been previously, our understanding of the rules doesn't really go much further than, "It's a bit like rounders, isn't it?"
The game was followed immediately by an absolutely spectacular firework display. We'd already watched a few displays erupt around the city during the baseball game, but this one blew the others out of the water.
---
After a slightly disastrous journey to get there, we ended up having an awesome time in Chicago, and it felt like the perfect place to celebrate a national holiday. From here, we boarded the Lake Shore Limited Amtrak service heading east once more to reach Cleveland, Ohio.