From Portland, we set off on a road trip with Mick and Helen north to Olympic National Park, which occupies almost the whole peninsula surrounding the Olympic Mountains. We were visiting the national park at a slightly unfortunate moment, with one access road being closed due to the visitor centre burning down, and two other roads being closed due to landslides. As a result, we spent about as much time exploring the rest of the peninsula as we did inside the park itself.
On the way north from Portland, we stopped in Astoria, a cute Art Deco city perched on the Pacific coast. Apparently, the town is well known as a filming location for the 1985 film The Goonies, though this reference largely flew over our heads. Instead, top of our priority list was of course lunch, so we headed for a fish and chip shack named Bowpicker. Housed in an old fishing boat, this place offered two menu items; beer-battered nuggets of albacore tuna and thick-cut chips. I don't think any of us had eaten tuna cooked like this before – it had a satisfyingly meaty texture and was coated in delightfully crispy batter. We rounded off the meal with some frozen custard from Custard King; a 65 year old Astoria institution with a view of the historic waterfront trolley.
Further up the road on the way to the national park, we just couldn't drive past a sign pointing towards what is apparently the world's largest Sitka Spruce tree. But when I say largest, I don't mean the tallest, heaviest, or even the girthiest. Instead, "size" is measured using points awarded by the American Forestry Association, who take into account a tree's height, trunk circumference and branch spread to produce a single score. The sign proudly claimed that tree had 922 such points, and a casual footnote pointed out that this was more than its bitter rival just over the state border in Oregon. The tree was indeed pretty big and an impressive 1,000 years old!
Upon arriving at the national park, we headed to our accommodation, an apartment in a big rural house on Deer Park Road. True to its name, we had a few furry visitors roam past our window while we unpacked our luggage!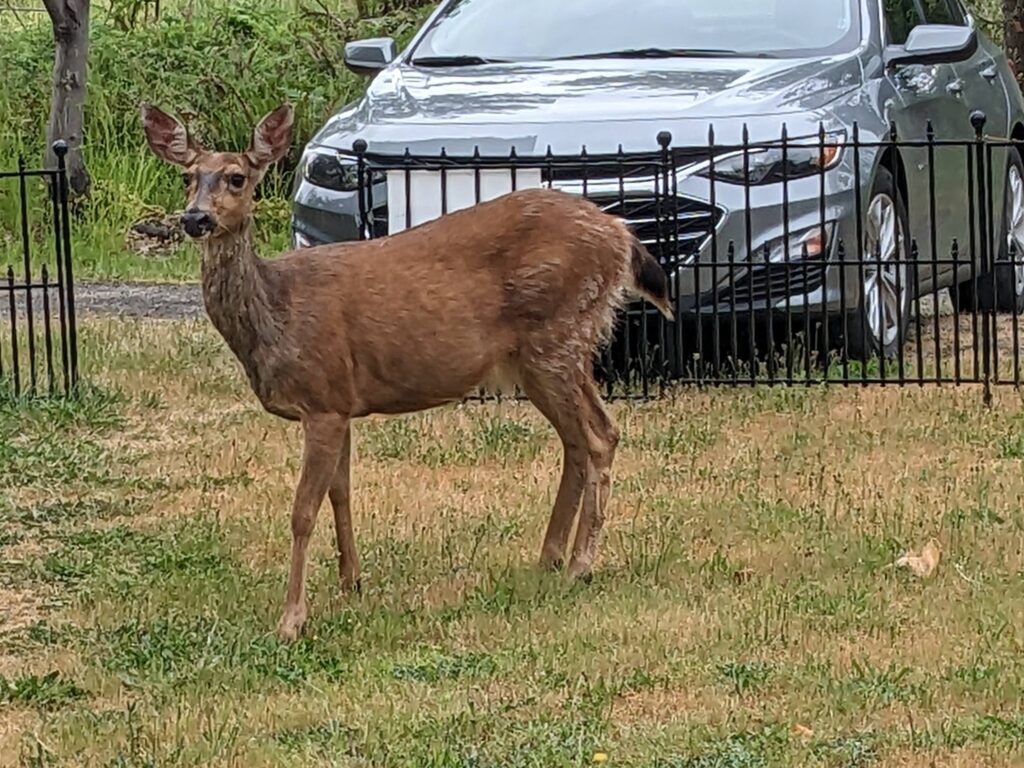 Our prayers to the weather gods hadn't been answered and it was still raining the following morning, so we went out for brunch at Chestnut Cottage, which seemed like an excellent use of the weather. I ordered a classic American breakfast of bacon, eggs, hash brown, pancakes and maple syrup, and as feared, the amount of food that arrived seemed like enough to feed a small family. And yes, both plates in the photo below were mine!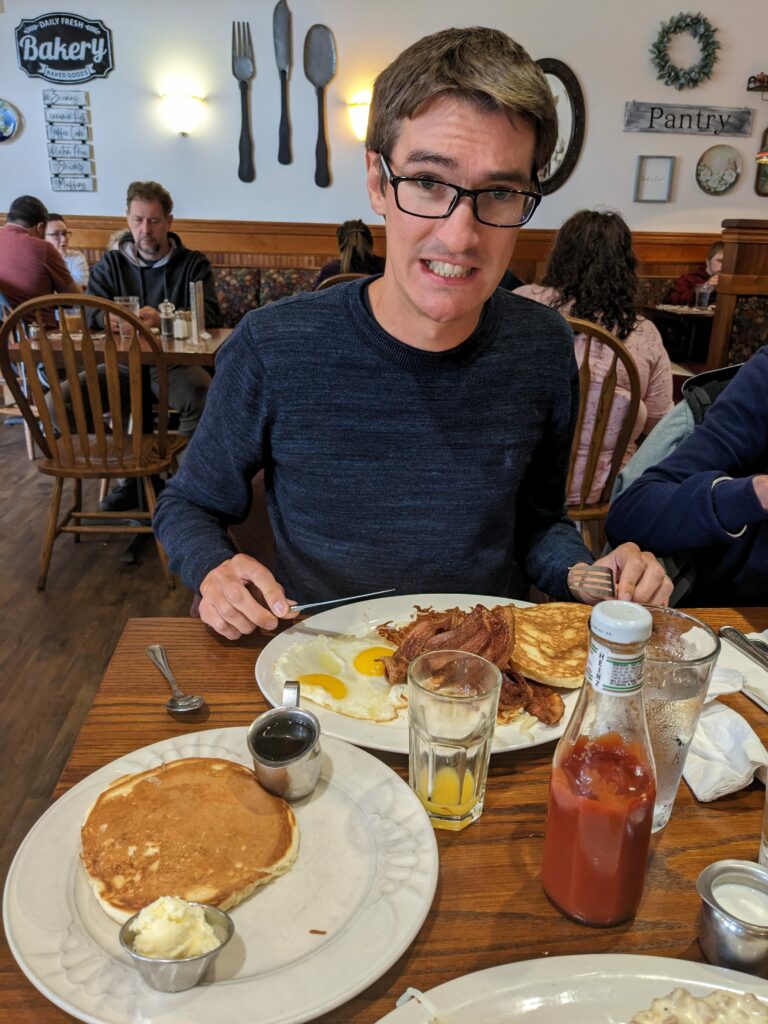 When the weather finally cleared, we set off on a road trip towards Cape Flattery; the most northwesterly point on the contiguous United States. Despite being yet another slightly tenuous record (being neither the most northerly nor the most westerly), the peninsula boasted some spectacular rock formations (e.g. sea caves, arches, stacks and stumps), as if they were lifted straight out of a geography text book. We took hundreds of photos of the scenery, and then we met Chip, the red-jumpered cat in a carry case, and took a hundred more photos.
That evening, Helen dashed back into the supermarket to pick up some wine which had somehow nearly been forgotten after we'd shopped for dinner. However, she emerged from the supermarket empty handed, having had her purchase refused when she wasn't able to show ID when requested – she thought they were joking! I then returned to the supermarket, found the cashier and said with a smile: "I hear you've been flattering my mother-in-law!" The cashier just looked confused and asked for my ID, so I handed over my passport and made the purchase as quickly as possible. When we got back to the apartment, we came across a book that summed up the cashier's dilemma perfectly!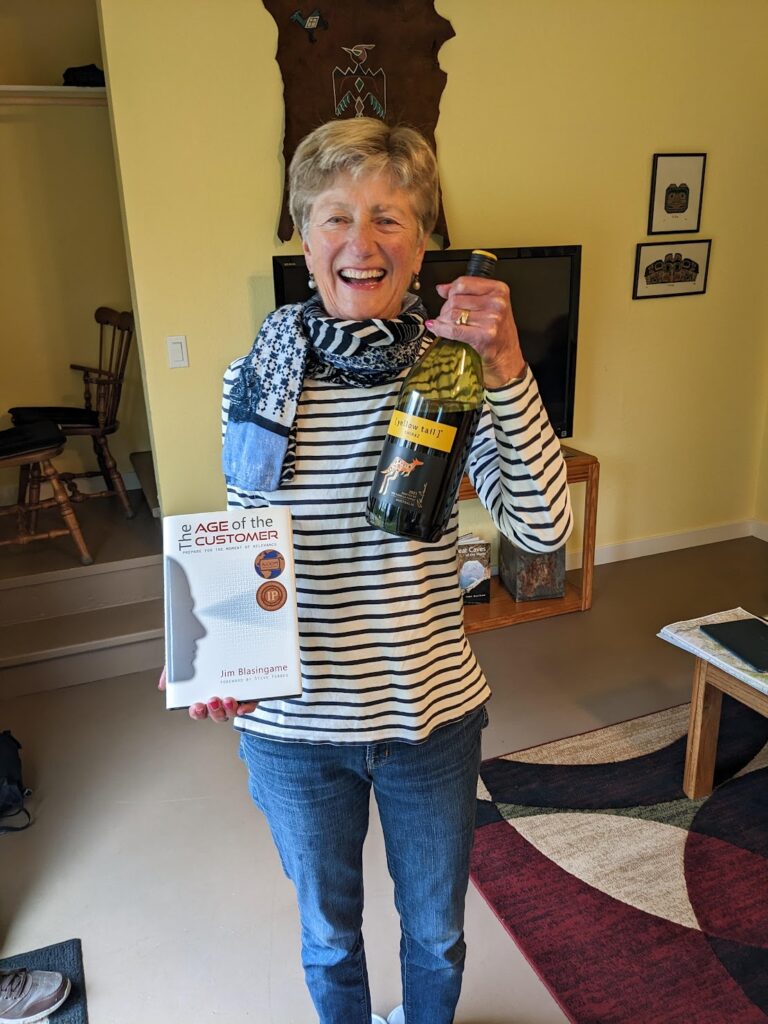 The following day, we went for a short hike to Marymere Falls, a beautiful glacial cascade located about 1.5 km along a dirt path through dense forest. We also managed to bend our return journey via Lake Crescent's shore, which made the perfect sunny spot for our lunchtime picnic.
After a handful of wholesome activities, it was time to turn our attention to the USA's cat count, which was already languishing near the bottom of the league table. I'd read that there was a colony of cats living on out Ediz Hook, a 5 km spit of land protruding from Port Angeles' harbour. After tracking the cats' paw prints on the beach, we came across the colony basking in the sun on the rocks. We also met a gentleman who told us that he came to feed the cats every afternoon, and that they're all neutered, chipped and registered at the local vet. They must be the healthiest and most loved stray cats in the world! It was so nice to meet him and hear stories about each of the cats' distinct personalities – and what a commitment to visit them every day, rain or shine.
The weather was absolutely stunning on the day we were due to leave the peninsula, so we planned a hike up Mount Walker on our way to Seattle. This turned out to be be a short but genuinely strenuous hike, covering 612 m of vertical elevation gain. The route was lined with wild rhododendrons and passed through dense pine forest, which provided some essential shade, even if it did restrict the views until we reached the summit. But more importantly, we managed to dodge the resident cougars, about whom we'd been warned on numerous information boards!
We were absolutely exhausted by the time we'd made it back to the bottom of the mountain, but glad to have made the most of our time in the area. Our next destination was Seattle, where we spent a few days before boarding the Empire Builder Amtrak train to head east overland once again.