From Whitefish, we hopped back on the Amtrak Empire Builder to cross the states of Montana, North Dakota and Minnesota, before reaching the Twin Cities of St Paul and Minneapolis.
Our train was running way ahead of schedule as we steamed across North Dakota, which meant that we ended up with a one-and-a-half-hour "fresh air" break in the city of Minot. As we stepped down from the train, the conductor informed us that the only thing to do in Minot was visit a coffee stand, but that it was already closed. He wasn't kidding either, and we soon confirmed that indeed, every other business in the city was also closed for this evening. It was quite the contrast to some of the rail journeys we took across Central and Southeast Asia, where arrivals were big business and enterprising food/drink vendors set up to meet the train. Still, we enjoyed stretching our legs along Minot's Main Street as the sun set, with many of the intersections revealing quaint painted advertisements on the sides of big brick buildings.
We finally arrived into St Paul's Union Depot Station the following morning – 24 hours and nearly 2,000 km after departing Whitefish and Glacier National Park. St Paul is one half of the St Paul / Minneapolis Twin Cities – two cities that grew up separately on the banks of the Mississippi river before merging into a single metropolis in recent years.
Although we'd left our train in St Paul, we were actually staying in Minneapolis. Having read that St Paul was worth a day's visit, we left our luggage with the nice chap at the station's Amtrak desk before heading out to explore St Paul for the day.
St Paul, Minnesota
The temperature was already approaching 30 degrees as we left the station and set off for a stroll along the Mississippi's riverfront. In search of some respite from the blazing sun, we meandered into the leafy and very well-heeled neighbourhood of Irvine Park. Here, the houses ranged from cute and tasteful to full Fresh Prince of Bel-Air mansions. We also got our first taste of "Minnesota nice", whereby almost every passer-by greeted us with some incredibly wholesome smalltalk.
Our improvised walking tour continued up a steep incline to reach Summit Avenue, where the mansions turned into super-mansions. Here, houses seemed to fill whole city blocks, and we were starting to tire in the heat after passing only a handful of properties!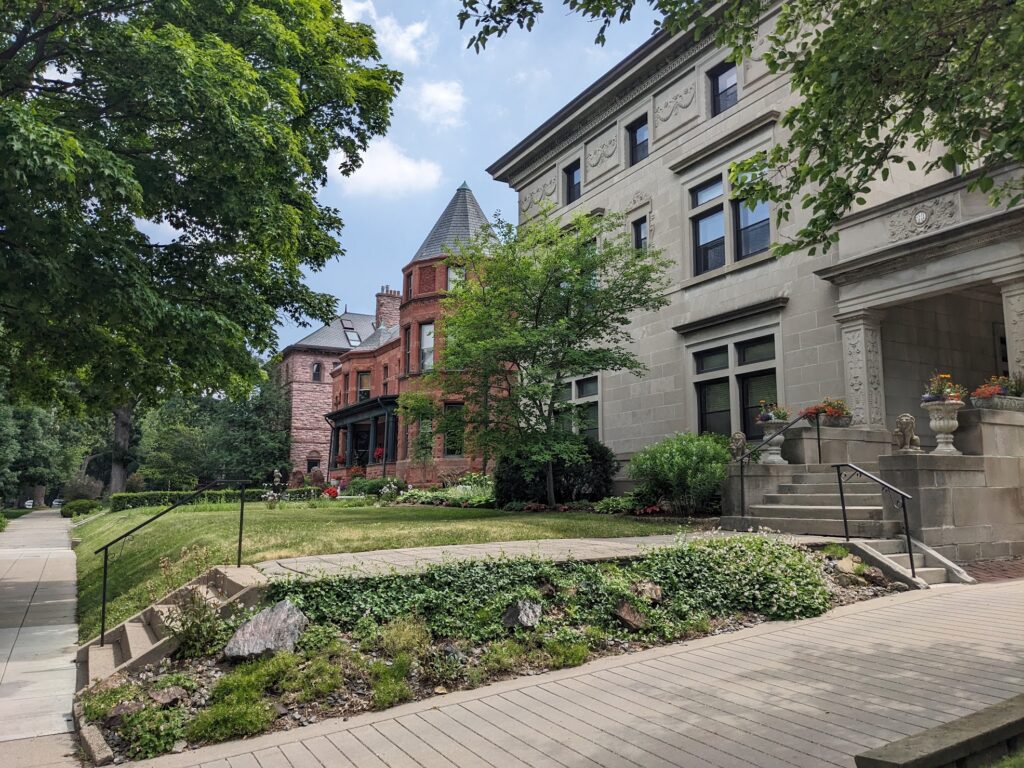 Last on our St Paul itinerary was a visit to the State Capitol building – the seat of Minnesota's government. The building was huge, immaculately maintained, and almost entirely empty on the day of our visit. The ground floor consisted of a central rotunda, topped by a beautiful dome and surrounded by a series of restored battle flags. The upper floor contained the House of Representatives, the Senate and the Supreme Court. Just before leaving, we took a quick peek into the basement and came across a Ratskeller – a German-style restaurant where politicians ate and became merry. We were really tickled by the drinking-related mottoes that were re-written during prohibition (last photo below), although some seemed to lose their charm during the translation!
Despite the building being free to enter, I was half expecting it to cost us our trusty penknife, but bizarrely, there were no security checks at the entrance at all. I'm starting to wonder whether we might even still be in possession of it when we make it back to London!
Minneapolis, Minnesota
Minneapolis sits in a convenient spot beside the fast-flowing Mississippi, where sawmills and flour mills once made use of the abundant hydro power. However, these industries all but moved away from Minneapolis in the mid-1900s, leaving the huge riverfront factories to fall into disrepair. More recently, the abandoned buildings (that are still standing) have been redeveloped into housing, offices, artist spaces and a city park. We spent a lovely morning diligently following a self-guided Heritage Trial along the regenerated riverbanks and learning about the city's past.
Our heritage trail ended at the Guthrie Theatre, where we watched literally bus-loads of older folks trickle out of an afternoon matinee performance of Murder on the Orient Express. We weren't here for a show though, but instead were keen to gain a new perspective across the Mississippi River from the theatre's "infinite bridge" – a walkway extending straight out of the building's fourth floor. As we emerged into the blazing sunlight, I had a sudden flashback to a conference I'd attended almost exactly 10 years earlier in St Paul. Somehow, I'd completely forgotten about visiting this very same viewing platform, although to be fair my last visit came immediately after a clearly harsh winter. The weather couldn't have been much more different this time!
The Lonely Planet described Minneapolis as being "all in on the local brewing trend", and it would have been remiss of us to skip this clearly important cultural experience. Our venue for the evening was the worryingly-named Dangerous Man Brewing Company, whose taproom sat right next door to a pizzeria. Slightly embarrassingly, we arrived minutes after the brewery was due to open but before they'd even unlocked the front door, so we found ourselves rattling the door handle a bit too eagerly. Still, the extensive beer menu was well worth our blushes, with hoppy IPAs and super-sweet stouts coming out as favourites. Our dinner from the neighbouring Young Joni pizzeria was similarly well executed, and served us a trio of Neapolitan pizzas to help soak up the incredibly strong beer – Sara's peanut butter stout was 10.5%! 😬
---
St Paul and Minneapolis far exceeded our expectations. They largely made it on to our itinerary as a convenient place to break our 3,412 km trans-continental journey, but made for a very enjoyable few days. Having said that, Sara and Mick were a little disappointed that they didn't get to see the famous Gateway Arch, which after much confusion, turned out to be located 543 miles away, in St Louis, Missouri. 🤷‍♂️
From the Twin Cities, we hopped back on the Amtrak Empire Builder for a third and final time to make a daytime journey to Milwaukee, also encouragingly known as "Brew City" 😋