After our unexpectedly luxurious overnight ferry back from the island of Jeju, we had a couple of days to explore Busan, South Korea's second largest city.
The top item on my Korea list was to visit a Jjimjilbang (public bath), and this was only partly because they are so delightfully named! After a successful visit to the communal bathhouse in Almaty (and being cross with myself for not having tried one sooner), I'm now on a bit of a mission to try them in as many countries as possible. Korean bathhouses are a bit different for a couple of reasons, principally that they are generally open all night (it's not unusual to sleep at them after a night out!), that they contain all manner of other entertainment such as video games rooms, and that you are given pyjamas to wear around the mixed-sex sauna areas.
I'd read that SpaLand was a great modern example, and given that a standard entry ticket is for four hours, it was the perfect place to spend some time between disembarking our ferry at 6.00am and checking into our apartment. Honestly, this place is a bit difficult to describe – it is apparently Asia's largest bathhouse and it was so huge that even with a concerted effort, I don't think we managed to see it all in our allotted time.
After showering and popping on our pyjamas, we met in the relaxation room, a large room filled with rows of comfortable reclining seats. People were sprawled on their chairs, scrolling their phones or watching films on their individual TV screens. It was cool but not quite what we were here for, so we moved on to the main spa area downstairs. This was a huge, light-filled space over two floors, with several ornamental ponds, a cafe, and loungers, cushions and mats for relaxing.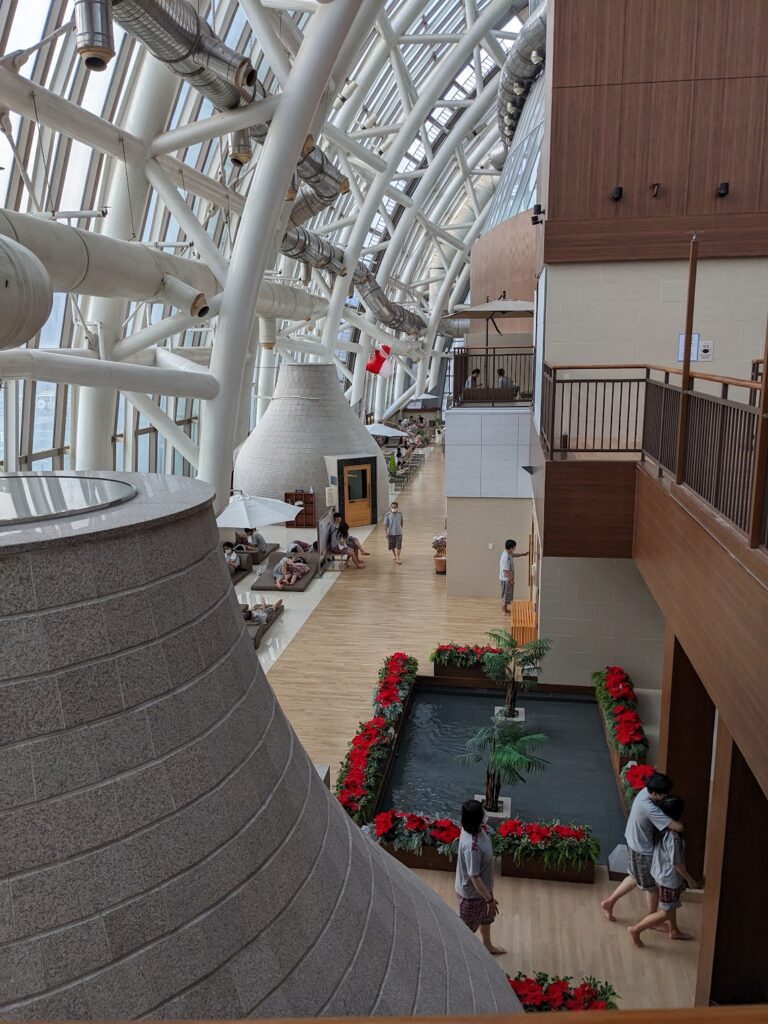 First, we practised making our traditional towel hats and then visited the outdoor foot bath area to show off our handiwork, picking up some quilted jackets on our way outside. We realised later that our hats looked totally different to everyone else's, but at this point we were still very proud of our creations!
Back inside and leading off the main space were the saunas, at least ten of them. Each had a different theme and purported benefits, like the Pyramid room (51.9°c)…
"Designed at a tilt angle of 52 degrees to absorb universal energy at maximum, it is designed for you to experience a mysterious atmosphere in a pyramid space"

SpaLand
…(erm, ok!) and the ice room (6.5°c), in which Oli is shivering below right.
All this sauna hopping was making us hungry, so we picked up some sauna eggs and sikhye (a sweet, iced drink made from rice) as a snack.
Finally, we couldn't leave without experiencing the communal bathhouse section, so we parted ways, whipped off our pyjamas and spent some time bathing in the sex-segregated hot and cold pools.
Continuing our theme of visiting the 'country's largest…', next on our list was the Jagalchi Fish Market. We started off gently by taking the lift to the viewing gallery on the seventh floor, which didn't allow us to see the market as anticipated, but did give us a great view of the harbour.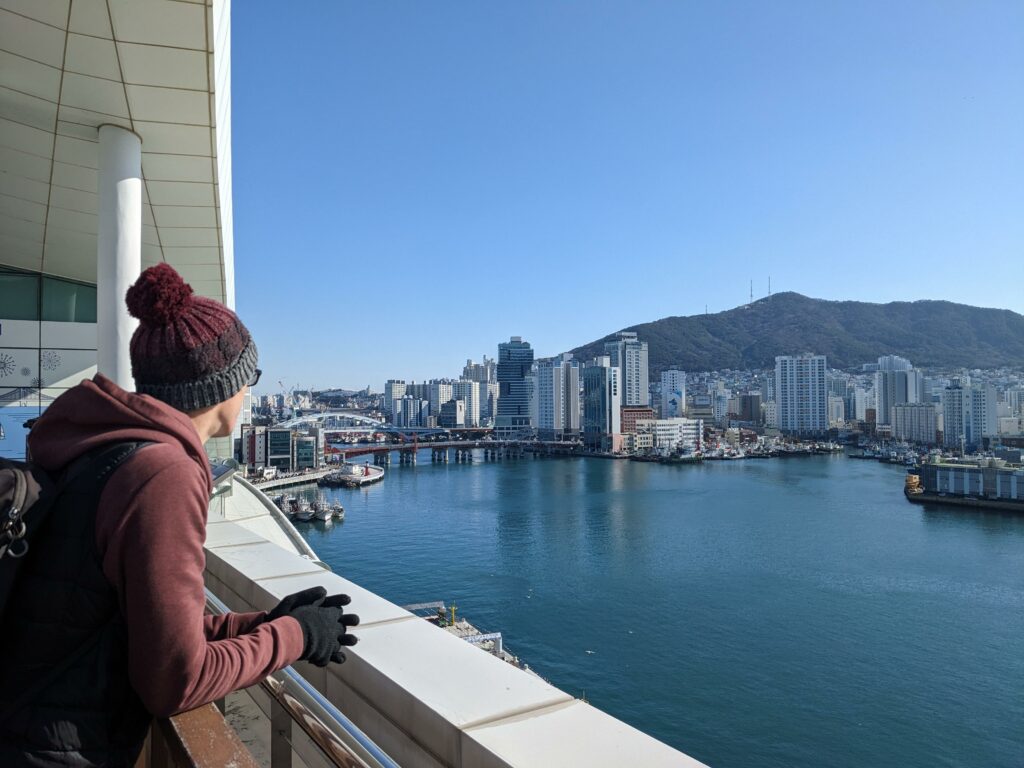 Then, we got into the thick of it by walking through the market itself. We've been to plenty of fish markets, but this one really was on an industrial scale.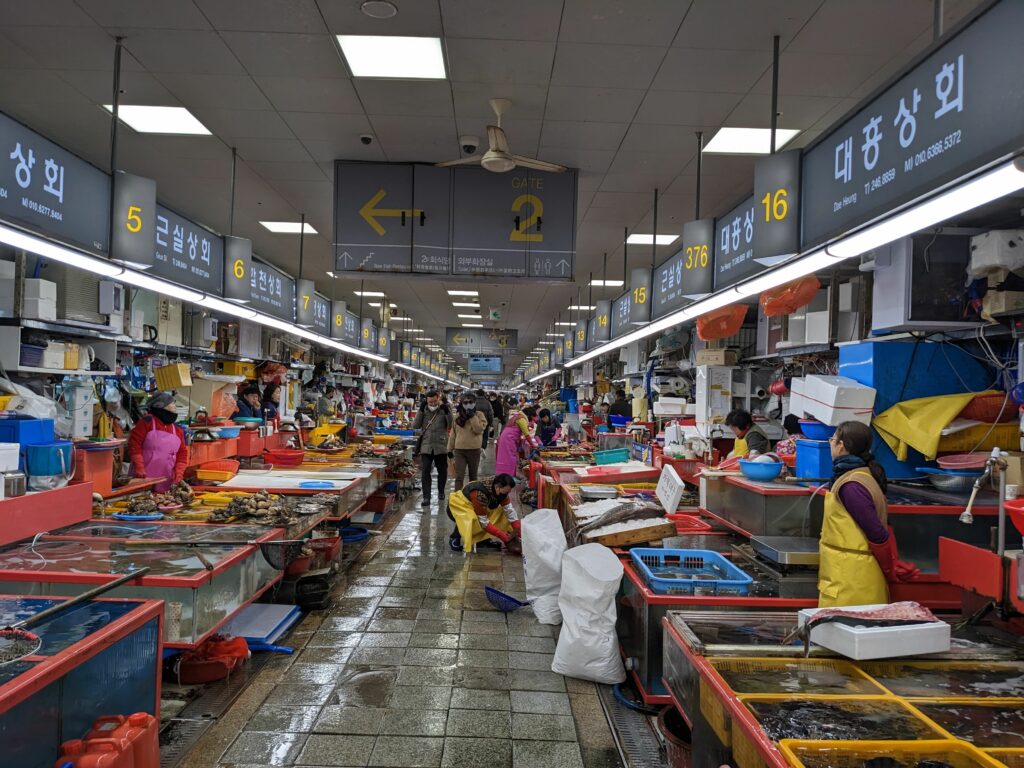 Thanks only to our sheer laziness in not unpacking our trainers after our walks on Jeju, we were both wearing our walking boots, but this turned out to be a real blessing! The floor was very wet and there was evidence of some…struggles, shall we say, between the determined traders and the poor fish.
We observed a woman wrestling a huge fish in the aisle, saw trays of the unnervingly wiggly penis fish, and stood for a while watching a very determined crab attempt to escape his tank.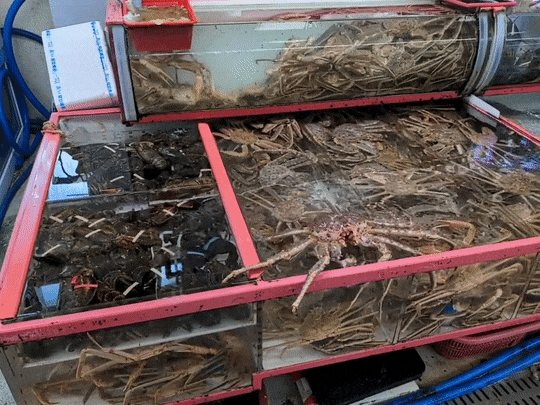 On the second floor were the raw fish restaurants, which will prepare your purchases and serve them to you, no cooking needed. Not being particular fish fans, we weren't quite brave enough to try this – maybe next time…
Our final stop in Busan was the mountainside Gamcheon Culture Village. Having been built as low quality housing to relocate Busan's poorest residents away from the city centre in the 1920s and 1930s, its population really grew in the aftermath of the Korean War. Over time, residents gradually moved away and the buildings fell into disrepair. Since 2009, when the government invited residents and artists to participate in projects to improve living conditions, decorate the village and bring it back to life, it has become a case study for urban regeneration and a real tourism success story.
We did wonder how long-time residents must feel about the changes, though – while it sounded like living standards had improved, the village must also be unrecognisable and much busier. In that sense, it made us think back to Matera, which had a similar story to tell.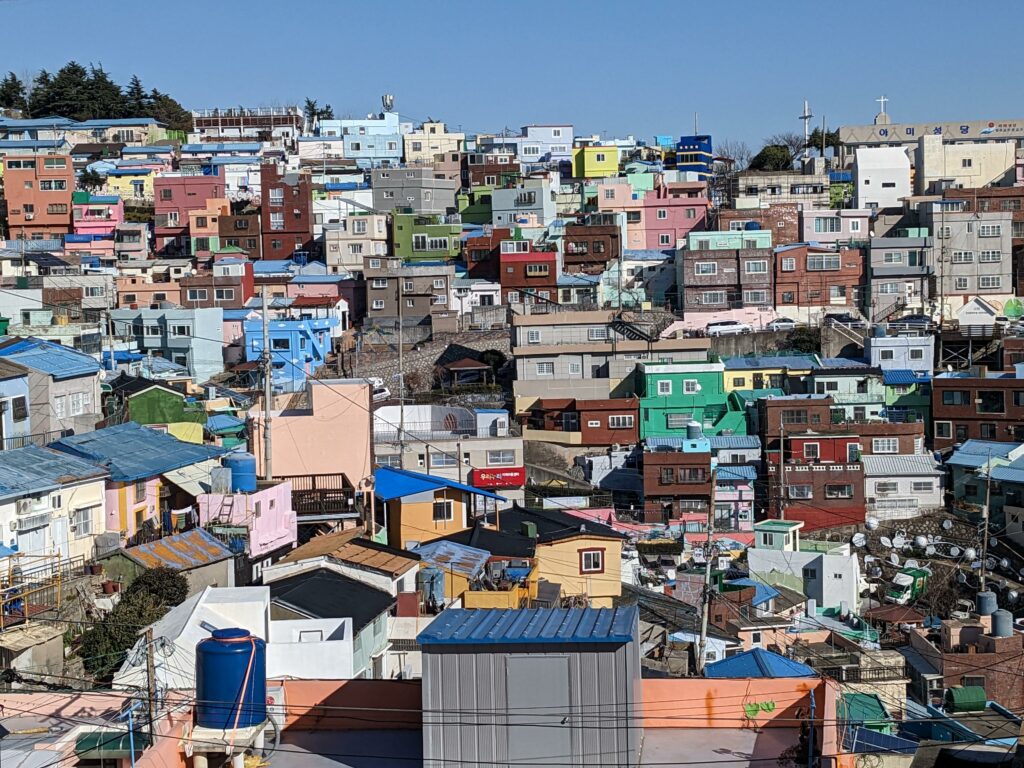 We read that it was nicknamed the Machu Picchu of Busan or Korea's Santorini, presumably by the tourist authorities, as frankly both seemed a bit of a stretch! However, it did remind us very much of Rio de Janeiro's Santa Teresa neighbourhood, still not exactly an unflattering comparison.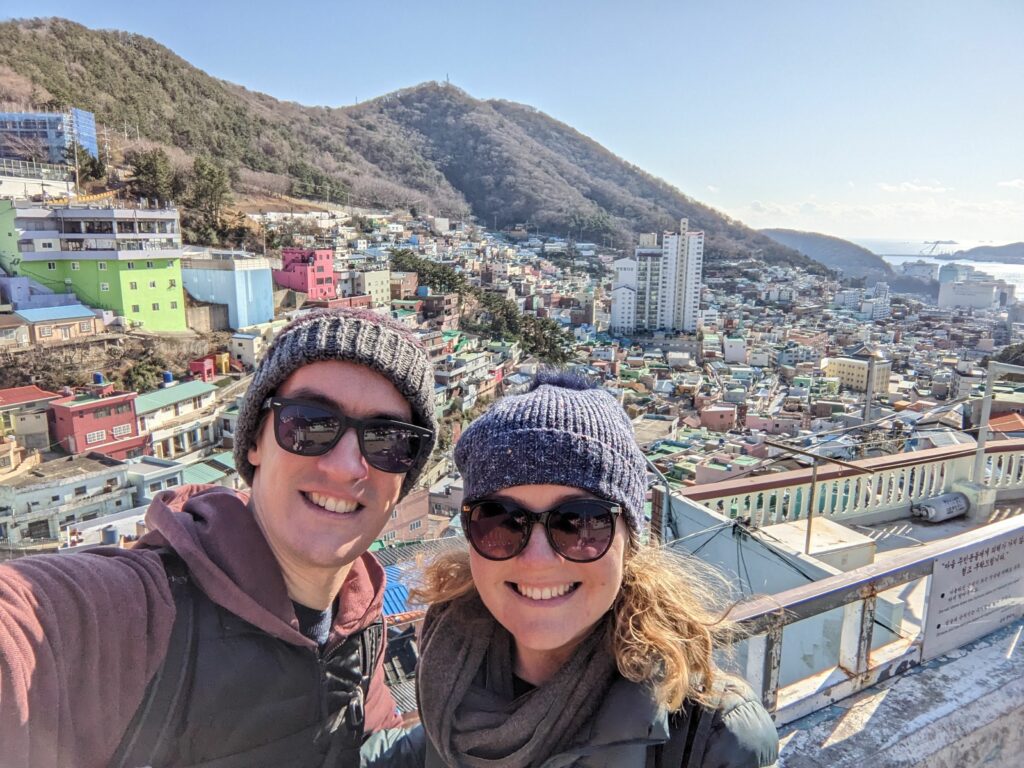 We enjoyed a wander through the steep alleyways, with views down to the sea, and embraced the area's apparent obsession with cats – they appeared in murals, signs, and scultures everywhere we turned.
After this, it was time for us to hot-foot it to the ferry terminal, picking up our bags from the metro station lockers on the way (thankfully it went a bit more smoothly than in Seoul). We totally fell in love with Korea and couldn't believe our time was almost up! Next we'll head to Japan, but not without some further ferry drama along the way.