We made it to Seoul! As it's my first time here, I thought I'd write about what has struck me since we arrived. Oli has visited before, but the only things I really heard from him were that he visited a poo-themed cafe 🤷🏼‍♀️ and that he too-enthusiastically embraced the cultural norm of post-work beers and then left his laptop in a bar…
All in all, I was keen to see it for myself!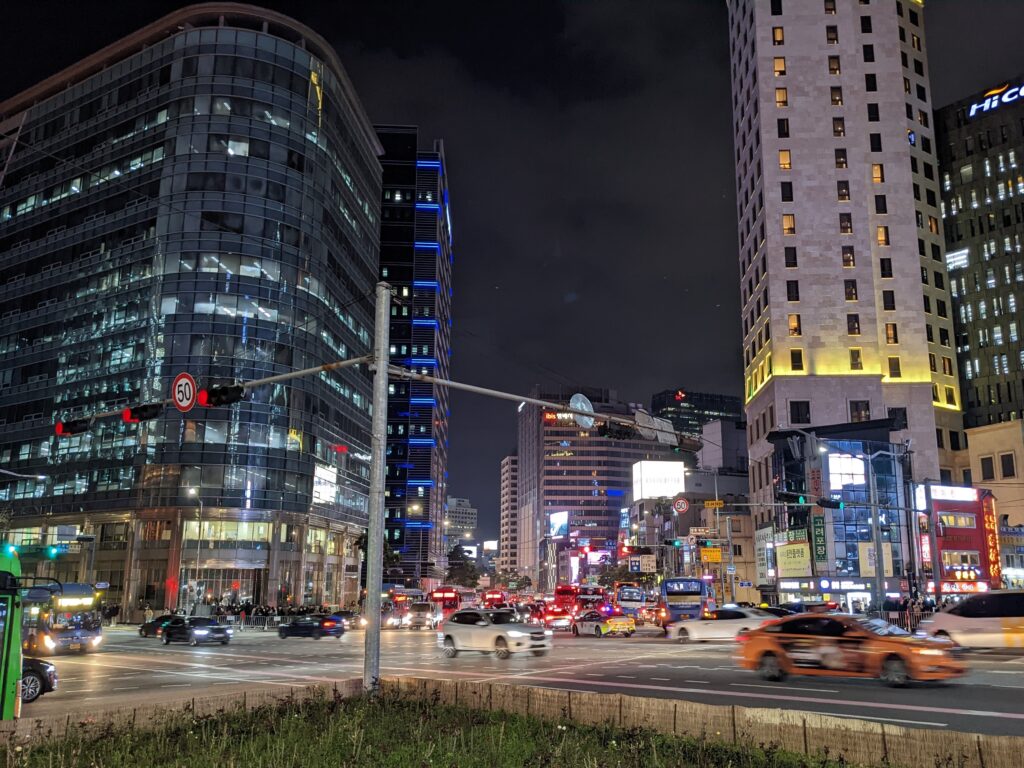 It's big. Like, really big
By some measures, Seoul is one of the largest cities in the world. Sure enough, when we climbed Namsan Mountain, we could see high-rise buildings spreading as far as the eye could see – and it was a clear day, so we could see a very long way. In itself, this isn't that impressive – this is the case in many cities. However, as we explored the summit as night fell, we could see that the high-rise extended like this in every direction, weaving around and beyond the mountains that used to encircle the city. It was pretty mind-boggling.
…But the towels are tiny
Seriously, I mean really tiny! Don't expect anything larger than a tea towel to use for drying off after a shower. We haven't quite got to the bottom of this one yet, but apparently it's a South Korean thing. We stayed our first night in a nice hotel and we had what we would consider normal bath towels there, so I guess they knew that the small towel peculiarity wasn't popular with visitors! For obvious reasons, I won't enclose a photo with this, but just know that I've tried various toga methods with the towels we've since received in other accommodations and none achieve acceptable coverage…
the toilets are as good as they say
Small towels aside, the bathrooms here absolutely redeem themselves with their spectacular toilets. I'm not even sure we've seen the best of them yet, but let me tell you, it's pretty disconcerting to hear the toilet power up as you approach it! I'm still chuckling about the tale of one of Oli's colleagues who got in a pickle with his toilet controls and managed to squirt water out of his bathroom and into the wardrobe.
Public toilets are also plentiful, well signposted and immaculately clean. What a dream!
There's a warning sign for everything
Everywhere we turn, we see another instructional or warning sign. We started by translating some of them (because surely, if it's important enough to have a sign then it must be something we needed to know!) until we realised this simply wasn't going to be necessary. Our favourites are the pictoral signs that demonstrate the potentially dramatic consequences of everyday activities.
To be fair, we first noticed quite how many signs were around on our first full day, when we hired a tandem and cycled around Yeouido Island and on some very narrow cycle lanes across bridges. We probably deserved some warnings then!
everything has a face
'Cute' is big here. If there's advert or illustration of a foodstuff, a mode of transport, a piece of electronics, a natural landscape… you can pretty much bet that it will be drawn with eyes and a cute expression. I really wish I'd taken more photos – they are everywhere!
It's modern, efficient and extremely orderly
In huge contrast to Central Asia, Seoul feels incredibly modern. There's well-designed automation everywhere, from the ordering systems in coffee shops to Myeongdong Kyoja, a restaurant that is somewhat of an institution, trying out robot delivery to tables. We very much enjoyed watching the only other tourists in the restaurant hesitate for a long time about whether to take the food from the robot that was loitering near their table. We could feel their mortification from the other side of the restaurant when the waitress had to come over and take it back from them!
We also went to watch South Korea play Uruguay in the group stages of the World Cup one evening on big screens in Gwanghwamun Square. I think there was naturally some caution after the Halloween crowd crush in Itaewon in October (the originally planned fan festival had been cancelled in response) but we were still staggered to see that all of the fans were calmly seated cross-legged on the ground! This pretty much summed up our experience in this very well-organised city.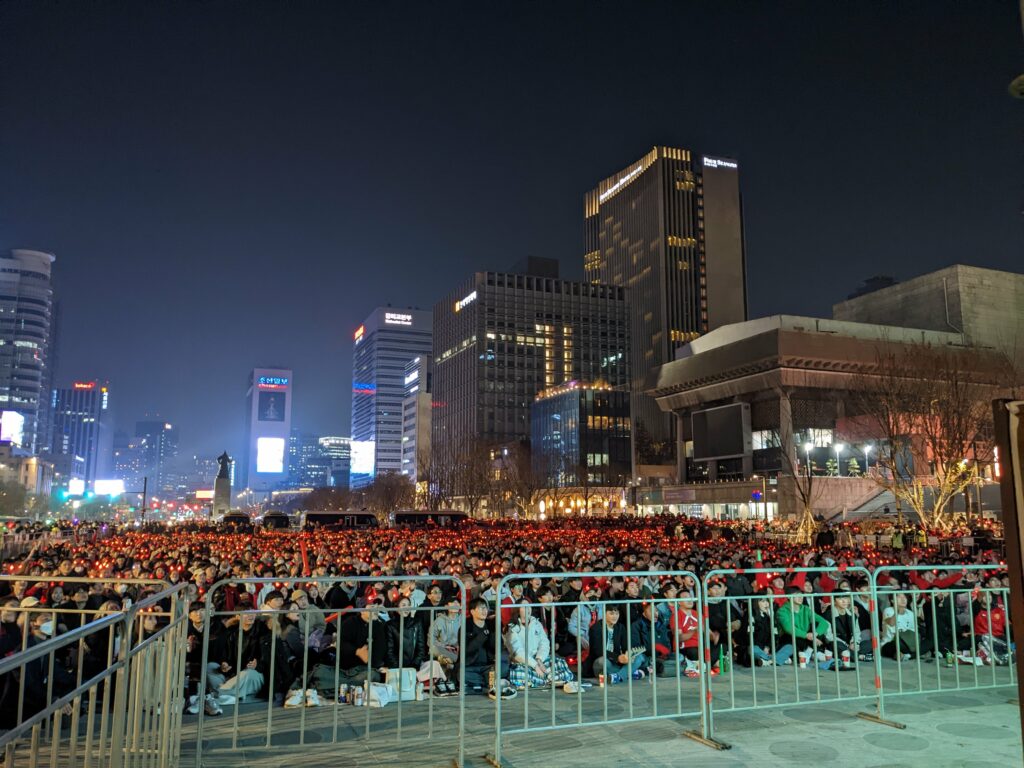 …but it hasn't forgotten its past
Wandering away from the main streets, it is easy to find a version of Seoul that is still rooted in tradition. Just next to our accommodation was a low-rise area filled with tiny shops operating noisy old printing presses, which are still very much in demand. In other areas, we saw rows of traditional shops for mending electronics and repairing sewing machines, and the markets are fantastic – my favourite was Gwangjang, which combined food and fabric (dreamy!)
South Korea's military history was on display at the War Memorial of Korea. Outside was a fascinating collection of aeroplanes, helicopters, tanks, missiles and ships. Even fresh off an uncomfortable overnight flight, exploring this collection kept us occupied (and awake) for quite some time.

Inside the museum were comprehensive exhibits explaining the context of the Korean War (officially 1950-1953 but in reality, still largely unresolved). I was fascinated by the two cars on display (below centre) – the near one was a gift from the USSR to North Korea's Kim Il Sung, and the far one was a gift from President Eisenhower to South Korea's Syngman Rhee, who was the Republic's first President. It really highlighted North Korea's relationship with Russia, and South Korea's relationship with the United States (and elsewhere in the west). In a poignant moment, a man who had approached us for a chat thanked us earnestly for the United Kingdom's support as part of the UN's response to the war. It was difficult to know what to say, but it really brought home how this is very raw and recent history for many Koreans.
It's easy to navigate
It might not feel like an obvious tourist destination, but we found Seoul incredibly easy to navigate. There is English signage almost everywhere and, in some areas, there are even roaming tourist information officials to point people in the right direction. We still managed to jam the lock of a metro station locker with our backpacks inside and then go to the wrong bus terminal to leave Seoul, but some people just can't be helped…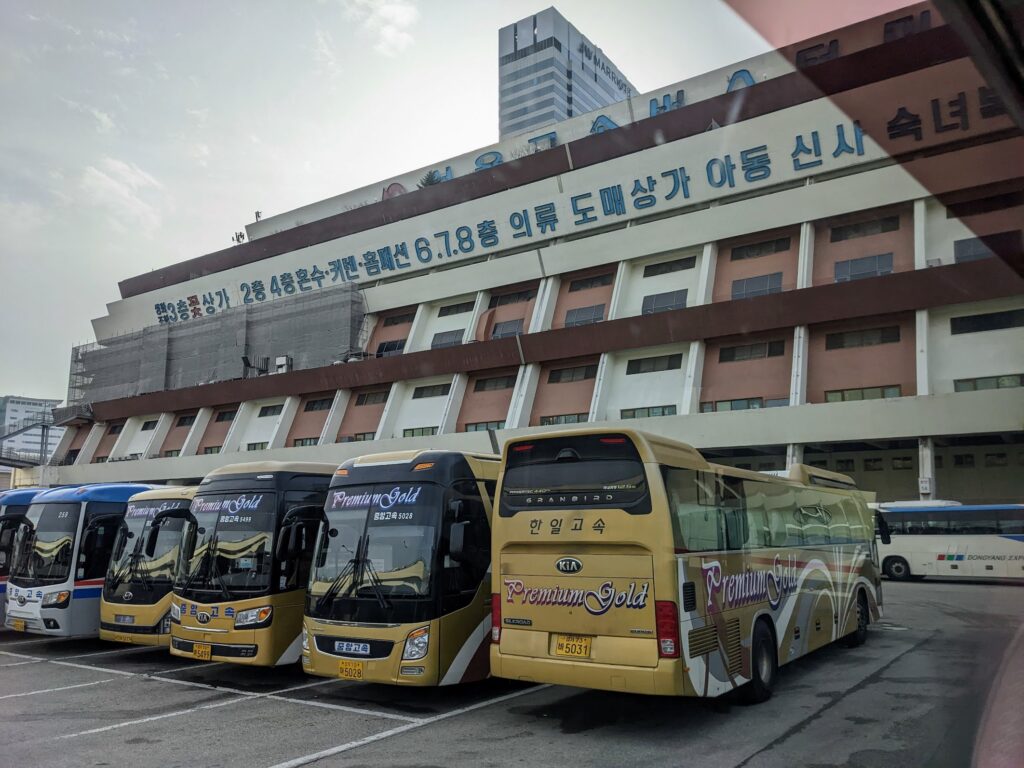 people are super friendly and helpful
Of course, we've met nice people everywhere on our trip, but we were really struck by how many people went out of their way to help us while we were in Seoul – this isn't exactly typical big city behaviour. When we hesitated over a Korean-language ordering system in a restaurant, a friendly woman hopped up from her table to help us enter our order (I'm working on learning the Korean alphabet, but I've still got a little way to go!) And when Oli and I were in the midst of a debate about where to go next while standing in a park, an enthusiastic man produced a map and gave it to us. We weren't actually lost, but it was very kind of him! We got the impression he'd been keeping it in his bag ready for just this moment. And finally, when we were in a right pickle with all our worldly possessions jammed in a locker that wouldn't open, a women stopped to check we were ok and called the support number to get it sorted for us.
All of these just made us feel so welcome. We love it here!
the food is incredible
Finally, I couldn't really write a post raving about somewhere without mentioning the food. We haven't eaten a single bad meal since we arrived in South Korea, despite our sometimes haphazard planning. I've already developed a real appreciation for kimchi (having always been a bit suspicious of it previously). Even better, many meals come with multiple free sides with unlimited refills (below was a particularly good haul)! The cuisine is just so delicious – spicy, sour, rich and complex – that we think it deserves a post of its own, coming soon(ish)…