As Sara mentioned, the food in Korea is incredible, and you don't even have to look very hard to find it. On top of that, Seoul feels so big that even if you had a few years to eat your way around the city, I bet the food scene would have moved on and there would be a whole new set of dishes to try. Still, we did our best to do Seoul's food culture justice during our six-night stay. This post recounts our favourite meals and snacks, half of which unsurprisingly came from market stalls.
Myeongdong market
On our first night in Myeongdong we couldn't help but end the day at its famous night market. While the pandemic has clearly had an effect on the number of stalls, the market is starting to grow back as tourists return to the city. We happily grazed our way along the two busy streets, stopping to try whatever took our fancy amid the sensory overload of light and sound from the surrounding shops.
The foods that surprised us the most were also the simplest. The tornado potato was not just impressive to the eye, but it was also beautifully crispy and rolled in a salty barbecue rub. I also enjoyed the Dalgona (a patterned cookie made from only baking soda and sugar) way more than I had expected – it was essentially a thin piece of honeycomb, and I'm glad it was the last thing we tried as it took about 20 minutes to detach the sugary glue from my teeth.
Myeongdong Kyoja
The following morning we stumbled out of our Airbnb for lunch after watching a late-night World Cup game. We'd heard that the dumplings at Myeongdong Kyoja were good enough to justify the queue, and sure enough a line had formed down the stairs by the time we arrived. Still, it moved quickly, and it wasn't long before we were sitting in front of a steaming bowl of kalguksu (noodles in a meat and dumpling broth) and a basket of mandu (meat dumplings), accompanied by the obligatory kimchi (fermented cabbage). I think this meal epitomised Seoul in that it was both on our doorstep, and according to Sara was "everything I'd dreamed of" when we were planning this trip.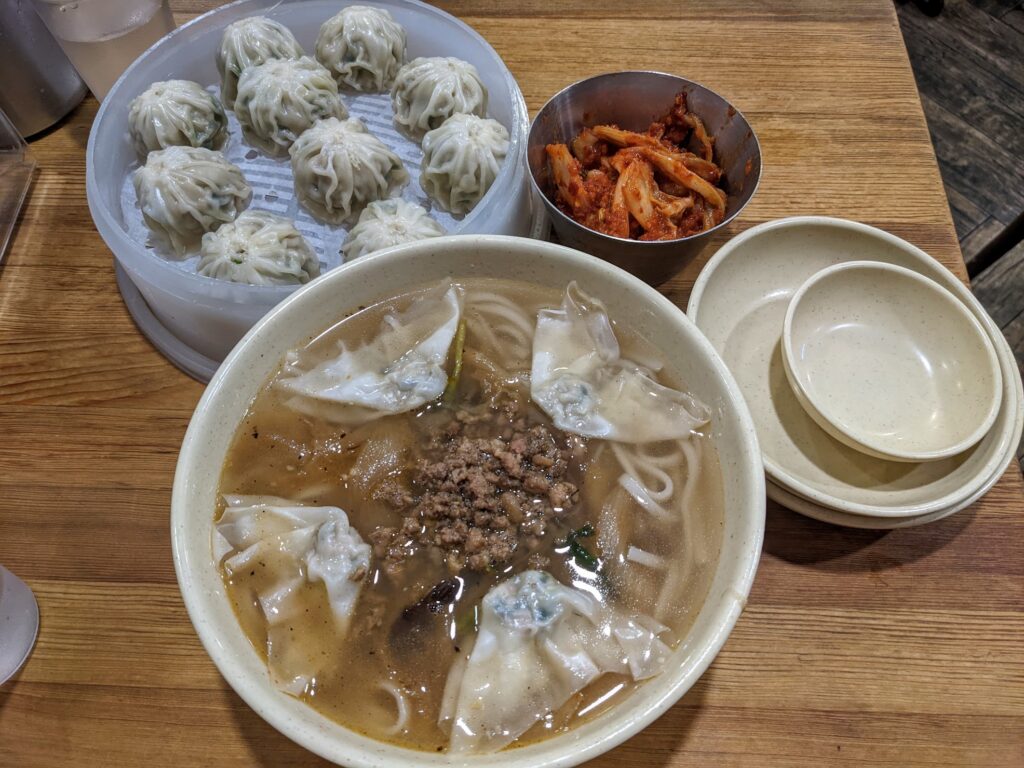 Chimaek (fried chicken and beer)
Fried chicken and beer has skyrocketed in popularity since South Korea jointly hosted the World Cup in 2002, to the point where the combo now has its own Wikipedia page. I'd raved to Sara about the raucous crowds I'd seen enjoying Friday-night Chimaek on a previous visit to Seoul, but the restaurant we ended up at was somewhat lacking in atmosphere. Still, the chicken was delish, and indeed went down very well with a crisp draft lager.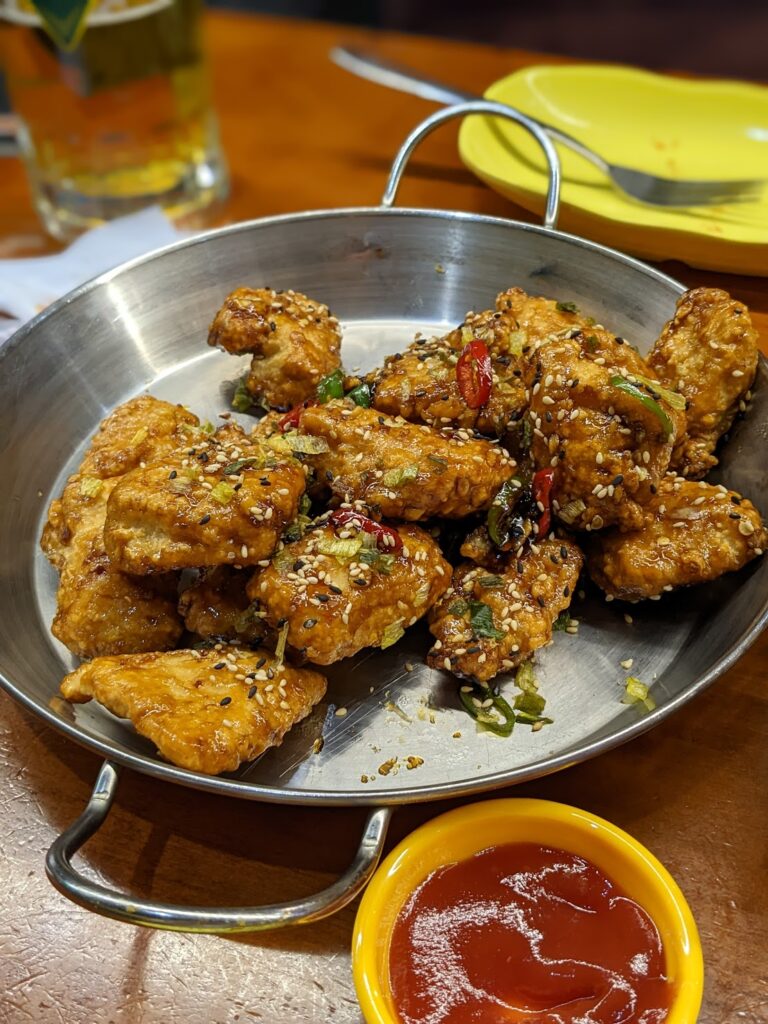 Determined to do our Friday night justice, I led Sara down what appeared to be a dark and deserted alley towards the Euljiro district, but we didn't have to go far before the alley was lit by the many neon signs hanging from each venue.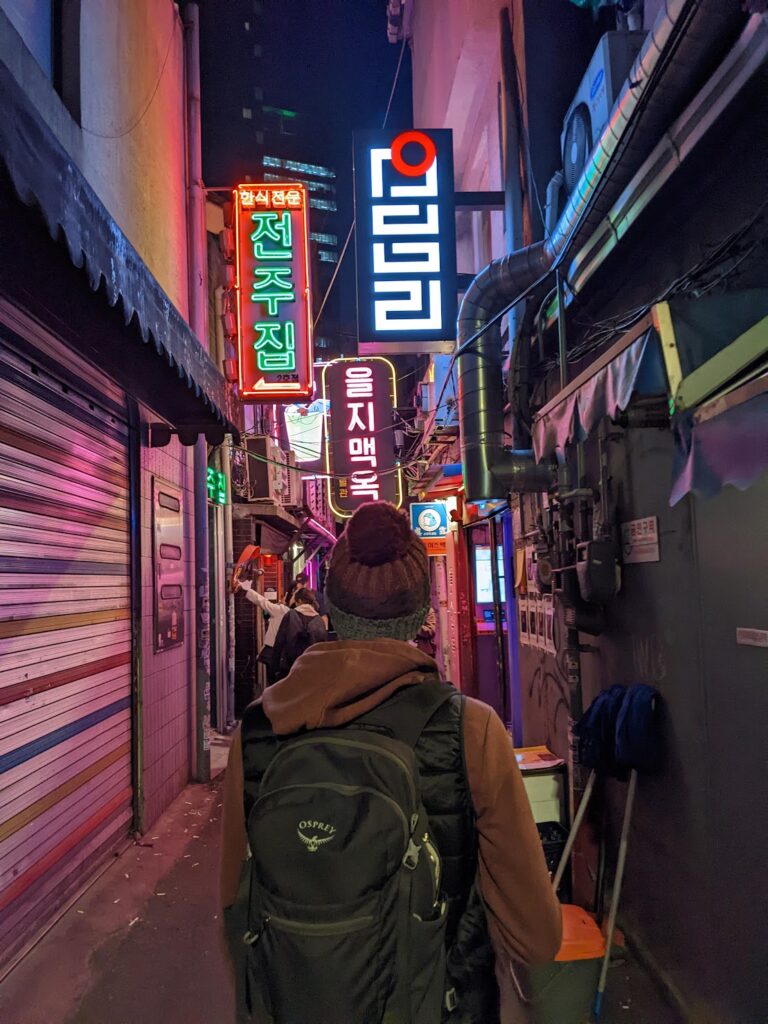 The stumbling of our fellow punters suggested that we'd come to the right area, and then the artwork outside of Euljiro Brewing confirmed this. The craft beer on offer was excellent, and they even had an imperial stout for Sara.
Gwangjang Market
Just northeast of the Euljiro district lies Gwangjang Market, a huge, covered market containing many fabric shops and restaurants. Despite its size, the market stalls that lined the centre of each thoroughfare squeezed the crowds down tiny alleys between fryers and restaurant benches.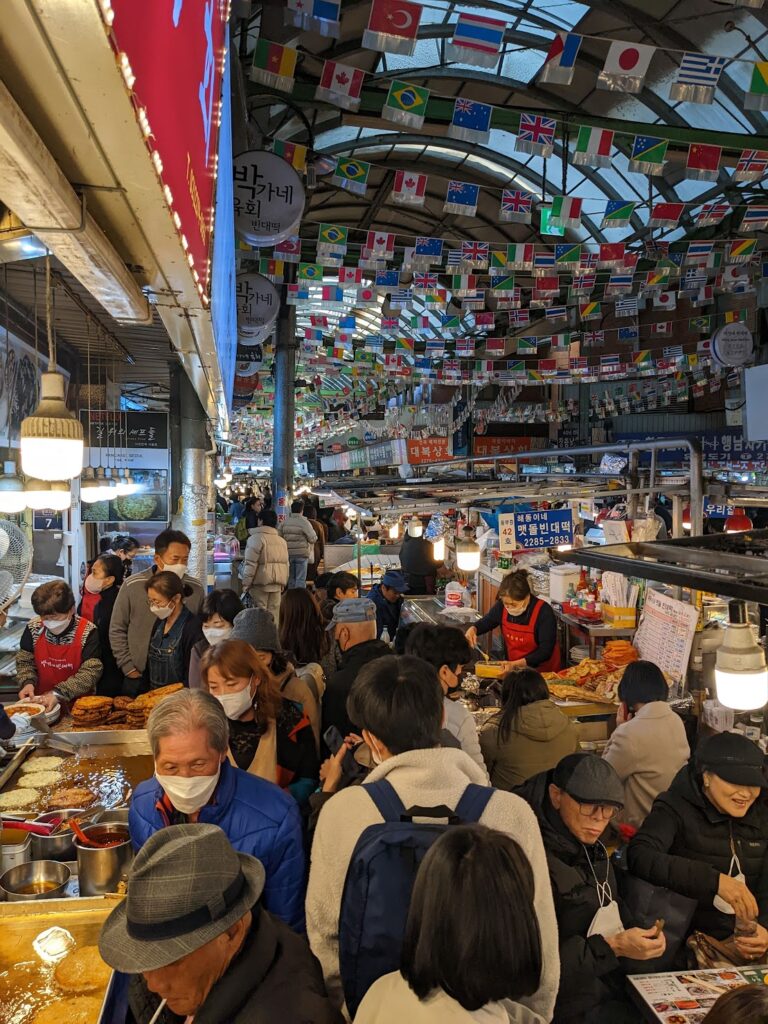 The sheer number of options was a little overwhelming, and in lieu of any further research, we joined a queue that had formed outside Park's Mung Bean Pancake restaurant. Unbeknownst to us, this restaurant had been featured on Netflix's Street Food: Asia series, which somewhat explains its popularity. Our menu selection consisted of the namesake's Bindaetteok (Mung Bean Pancake), Tteokbokki (chewy, cylinder-shaped rice cakes in a sweet and spicy sauce) and Gimbap (rice and vegetables wrapped in seaweed and drizzled with sesame oil). I absolutely loved alternating bites of the crispy Bindaetteok with the heat from the Tteokbokki, while Gimbap was Sara's surprise favourite of the meal. Looking around at other tables, we realised such a meal should be accompanied by a bottle of Makgeolli (rice wine), which we drank out of the small metal bowls in the corners of the picture below. For once, I felt like we got our order spot on, and this turned out to be my favourite meal we'd eat in Seoul.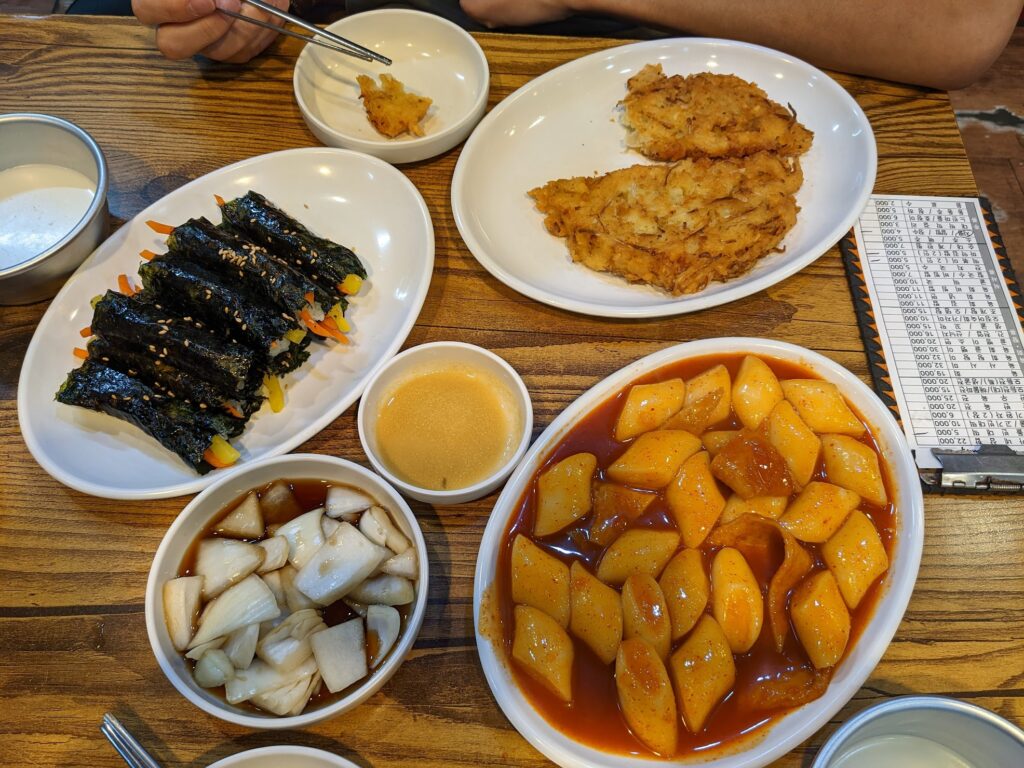 Korean BBQ
No trip to Seoul would be complete without a trip to a Korean BBQ restaurant. While normally you'd cook your own meat over a grill in the centre of your table, Suwolga offered a bespoke experience whereby the chef would grill the pork in front of you, with the help of a blowtorch for additional charring. The grilled pork was accompanied by a couple of tiny dishes containing salt and wasabi for dipping, along with a handful of vegetable sides as well. While this meal wasn't the DIY BBQ experience we'd read about, it was way more relaxing knowing that our food was being cooked to perfection by a professional. We even made it on the restaurant's Instagram page – please don't judge my BBQ hamster cheeks though, I was mid-mouthful!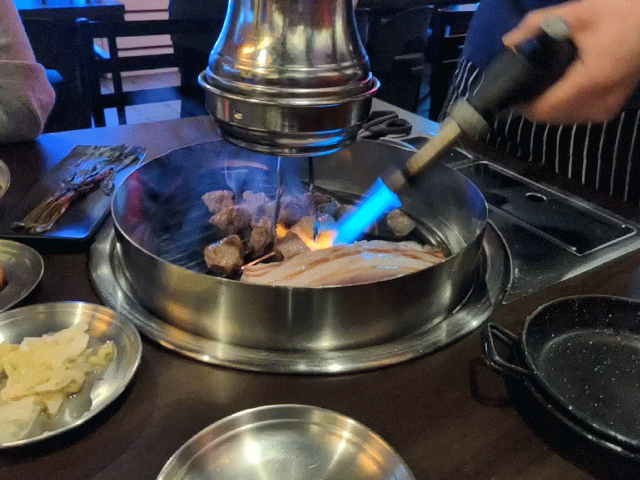 Gamekol Son Wangmandu
Following our hike around Namsan Mountain Park, we went looking for some sustenance at Namdaemun Market. While many of the clothes shops were closed on the evening of our visit, the restaurants and food stalls were fortunately still going strong. We joined a queue that had formed outside Gamekol Son Wangmandu, although it quickly became clear that the queue wasn't moving and the staff weren't working either. That was until a timer went off, and the whole kitchen sprang into action. Trays of steaming hot dumplings were passed out from the ovens, which were subsequently packaged up and handed over to our fellow customers. While most people seemed to be taking the dumplings home, ours didn't make it more than a few metres from the kitchen before they were devoured. The dumplings themselves consisted of puffy dough surrounding a minced pork, onion and kimchi filling, which perfectly satisfied our stomach rumblings.
---
There was so much more good food in Seoul that we just couldn't fit into this blog post. Still, we needed to burn off the calories somehow, and for that, we headed to Seoraksan National Park in the north-east of (South) Korea to hike up Ulsanbawi Rock.