After a week in Seoul, it was time to get out of the city and explore a different side of South Korea. The doors of our express bus to Sokcho closed with military precision one minute before our scheduled departure and then we pulled away just as the clock ticked over – we still can't get over how precise and efficient this country is! We had so much legroom that I could barely reach to kick the divider between us and the driver (probably for the best…) so it was a very comfortable journey. Oli was fast asleep before we'd even left the bus station and then later enquired whether I'd had a nice nap as he noticed I "fell asleep quite quickly". Huh!
When we reached Sokcho, we transferred onto a local bus (after missing one because we were faffing, obviously) and made our way to Seorak-dong, the small town near the entrance to Seoraksan National Park.
We'd read that in season, this was a lively small town complete with a selection of karaoke bars (I'm determined to get Oli into one by the end of our month here). However, we were prepared for it to be a bit of a ghost town in late November, which was lucky because it really was dead – we saw no one else out on foot at all. Our hotel was eerily quiet – we're still not sure if anyone else was staying there – and there were no open restaurants nearby. Thankfully, Korean convenience stores are totally amazing and we completed a supermarket sweep at the neighbouring 7-11, which did us very nicely for dinner.
The next morning was bright, clear and very cold, with a forecast daily high of -1°c. The views were already pretty spectacular as we walked along the road towards the entrance of the national park and we were excited about the day ahead.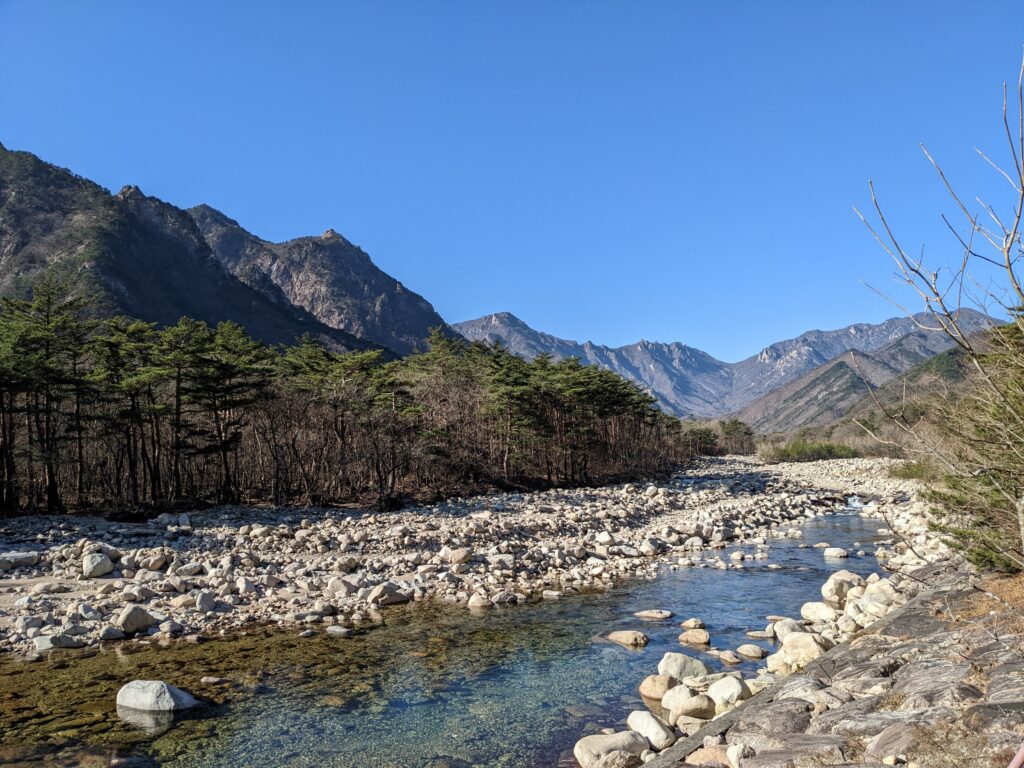 On our way into the park, we passed through an ornate entrance gate with a banner that paid tribute to the victims of the Halloween crush in Itaewon. We also saw a bronze statue of Buddha that formed part of the Sinheungsa Temple and a bear statue. This seemed to be a popular point for photos, so we joined in briefly, before getting down to the more important business of shopping for makgeolli (milky-coloured rice wine), which we'd read was an essential component of Korean hiking.
As we started our hike, we passed by the main Sinheungsa Temple complex and very nearly didn't go in, as we were keen to get going (in typical style, it wasn't exactly an early start). I'm so glad we did as it was stunning – while the decoration was similar to some of the palaces and temples we visited in Seoul, the dramatic setting was something else.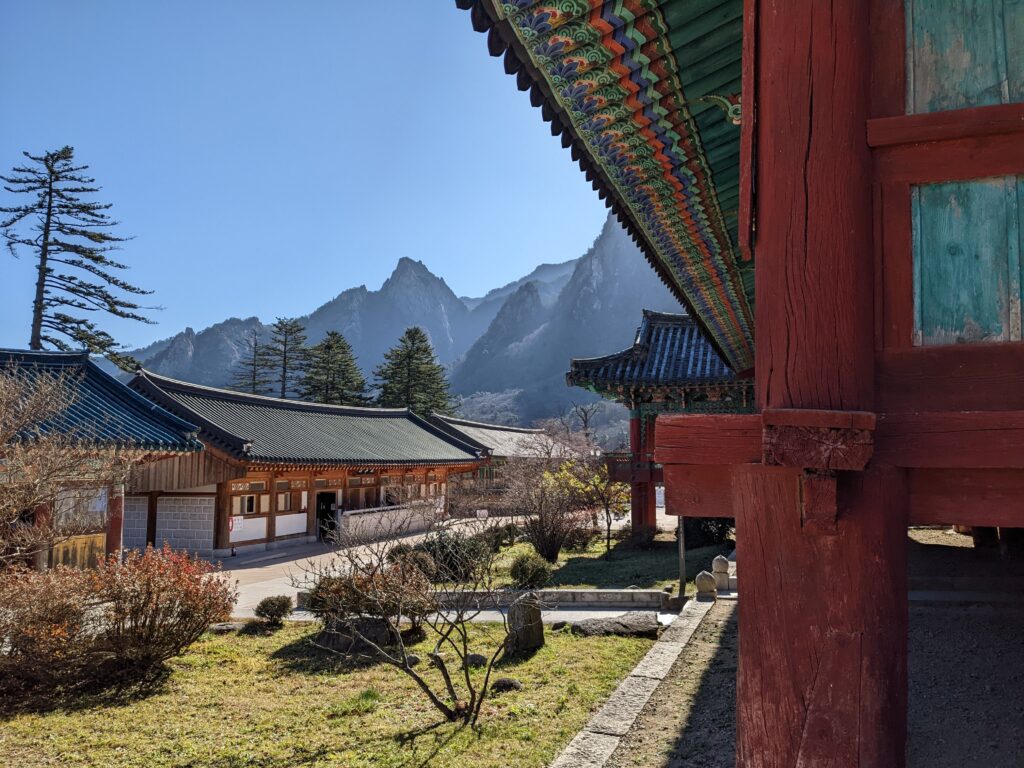 We wandered amongst the buildings and peeked into the interiors, marvelling at the ornate decoration and enjoying the tranquil atmosphere. It wasn't until we were on our way out that we noticed the Four Heavenly Kings holding a lute, sword, dragon and pagoda (photos 4 & 5), who had been watching over us from inside the entrance gate. I have no idea how we missed them on the way in, as they were enormous and very brightly coloured.
Finally, it was time to begin what had been described as a short but strenuous hike up to Ulsanbawi (873 m), a series of six rocky outcrops at the summit of Seoraksan Mountain.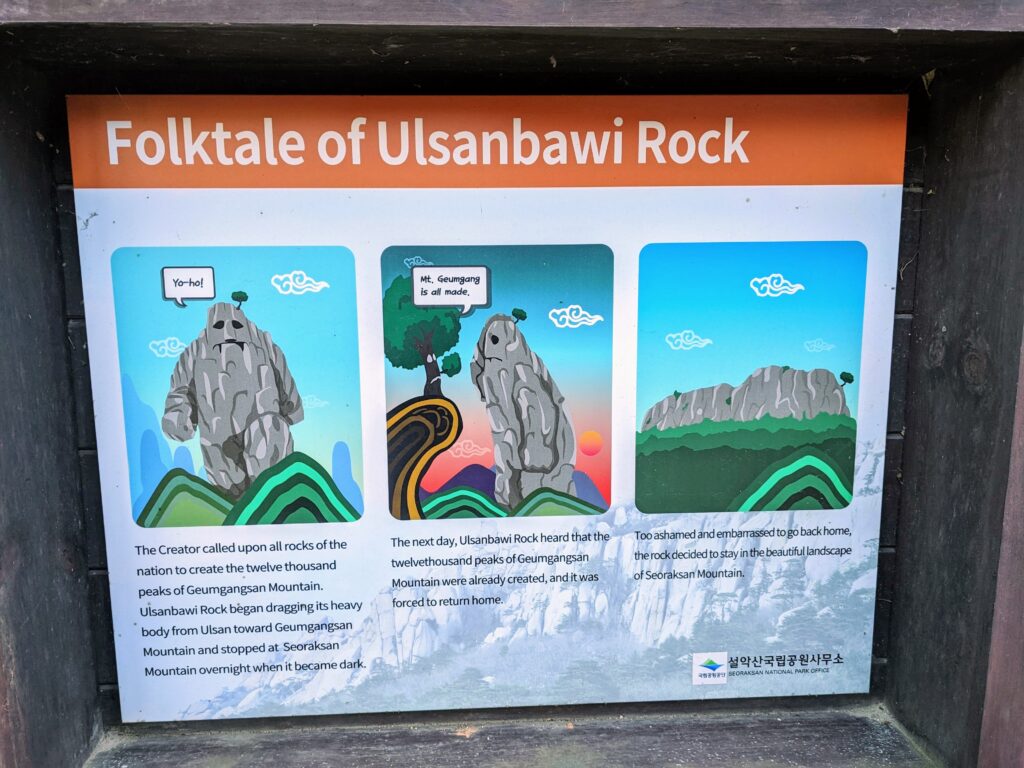 Actually, it was a pretty gentle uphill stroll alongside the river for the first half-hour or so, before abruptly transforming into rough rocky steps that led steeply upwards through trees and only got steeper the further we went. It was pretty hard work! In the final stretch, when we were climbing the granite cliff itself, we followed a metal staircase that was bolted into the rocks and I just tried not to look down (having developed a recent fear of heights that I'm doing my best to ignore).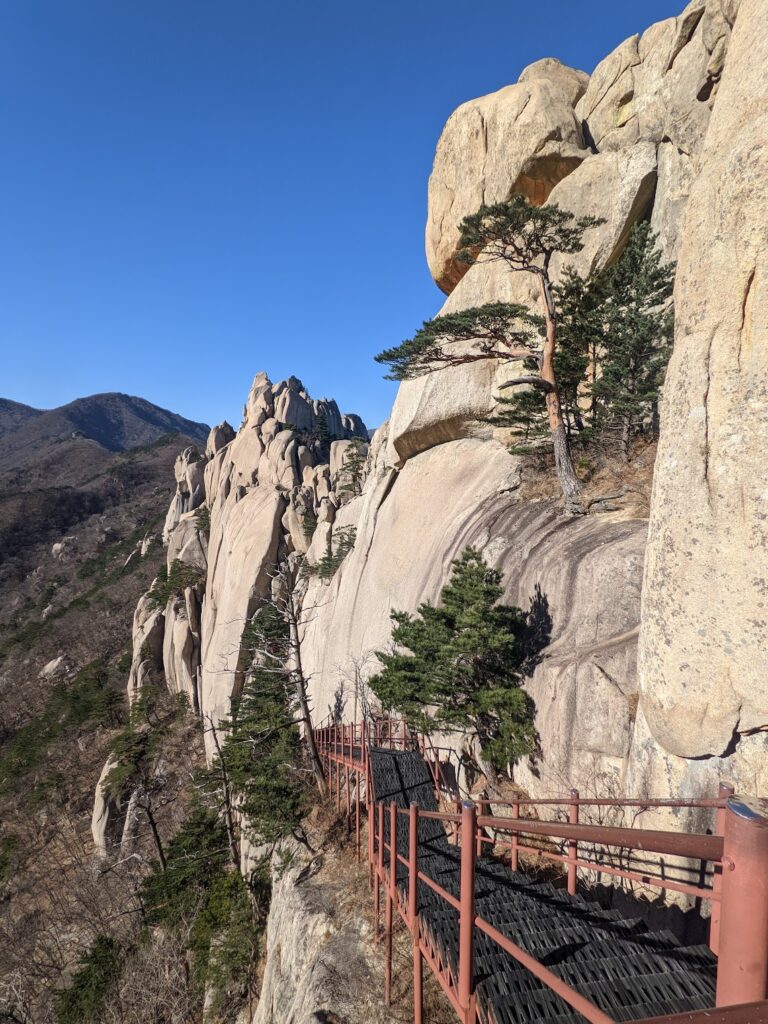 When we reached the summit, the views of the national park and all the way down to Sokcho and the East Sea were absolutely spectacular – we'd certainly chosen a good day to come. It was also incredibly cold, with an utterly freezing wind lashing the rocks (and us). We suddenly understood why no one else had stayed at the top very long – we'd seen lots of people descending already and had been wondering why.
Apparently on old maps, the area was marked as Cheonhusan (wailing sky mountain) because of the sound the wind makes when whistling around the peaks. It certainly did make a racket! We heard sounds like the noise you can make blowing on the top of a bottle, interspersed with booming thunder-like roars. Ice sat in deep, round pools that had been formed by erosion of the rock.
In what felt like a very British moment, we determinedly ate our lunch of gimbap at the peak while cowering behind a rock that provided very little shelter from the freezing wind. We had decided to have our picnic at the top, so we weren't giving up even though it was far too cold to enjoy it properly!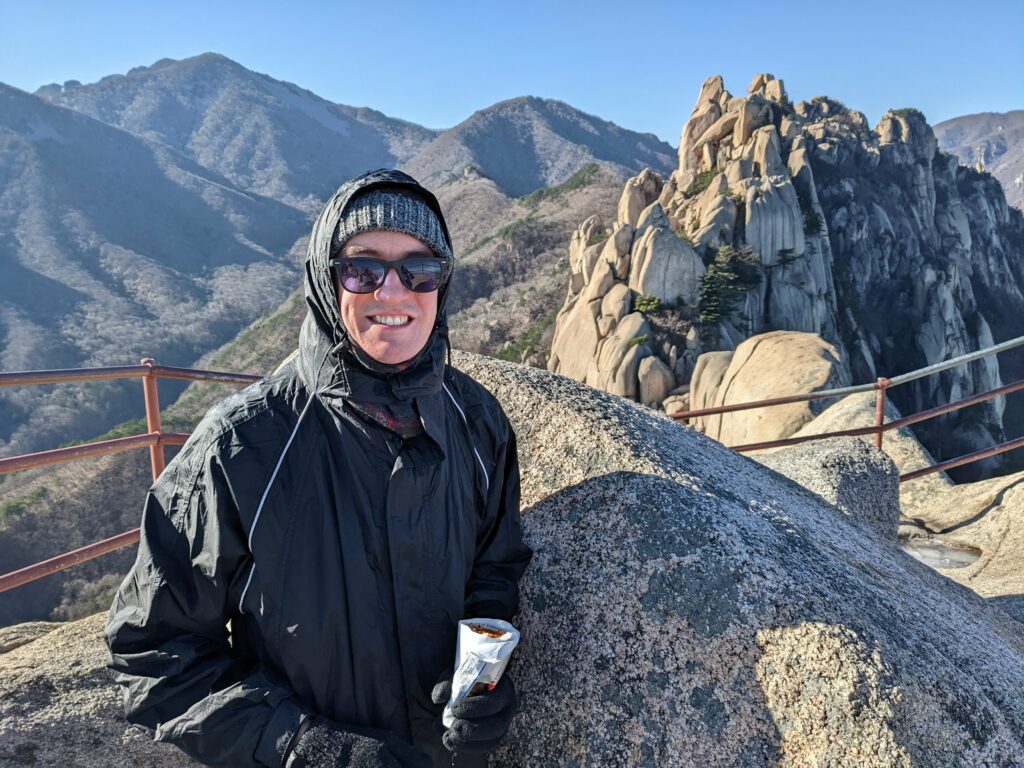 Next, in what felt like a very Korean moment, we drank some of our corn-flavoured makgeolli, since we'd read this was the thing to do while hiking. The strong smell of yeast emanating from my backpack reminded us that it was there, at which point we realised it had been leaking. Whoops! It was sweet, tangy, chalky and slightly carbonated, and went down very well. We were too cold to stay for more than one hurried cup at the peak, but we stopped for two more on the way down and it helped us warm up considerably! The steep stairs and rocks got mysteriously more difficult to negotiate, though.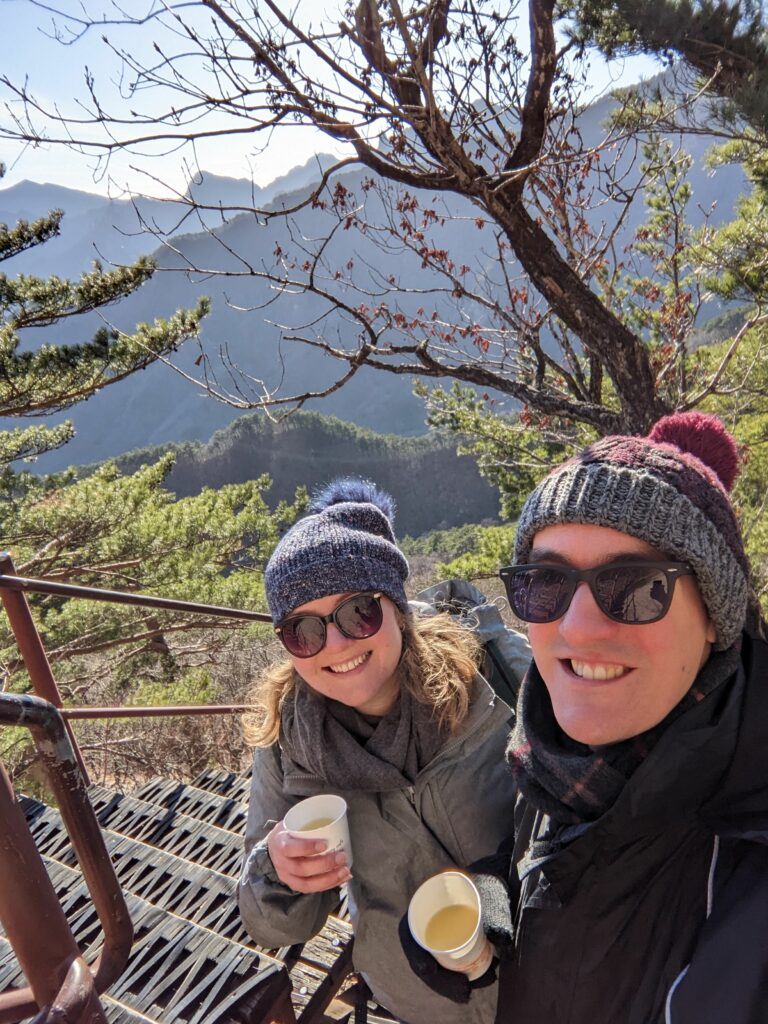 On our way down, we took a pit stop at Heundeul Bawi to check out the huge boulder perched on the edge of a ledge – apparently it's possible for a small group of people to rock it back and forth. Between the two of us, we couldn't make it move at all, which was probably for the best. We were irrationally nervous about being the people who finally sent it tumbling down the mountainside!
Nearby was Gyejoam Temple, which was partly set into a cave in the rock. Every available rocky surface around the temple was covered in small statues of Buddha, and people had perched coins on tiny crevices in the rock. Buddhist chanting echoed around the whole area, which was so atmospheric. Next to Heundel Bawi (the boulder) was a flat expanse of rock covered in engraved characters. We assumed these were religious messages, but sadly our Google Translate wouldn't work on the engravings so we don't know for sure.
Our final stop of the day was at one of the cafes near the park gate, where we had a hot chocolate to warm up after our chilly day outside. This concluded our time in Seoraksan, and the next day we headed south to the city of Gangneung.