Our route to Almaty took us back south towards the Kyrgyzstan border, retracing much of our route from Shymkent to Astana.
For the first time on our trip, we treated ourselves to a first class (2-berth) compartment on the overnight train. This was super-cosy, and allowed us to accompany our instant noodles with a few beers while we debated our favourite cities of our trip so far via a "world cup" style knock-out tournament.
Once again, the overnight journey ate up the vast distance and we were back in southern Kazakhstan in no time, where Astana's pervasive snow drifts and sub-zero temperatures were replaced with slushy pavements and the re-appearance of autumn.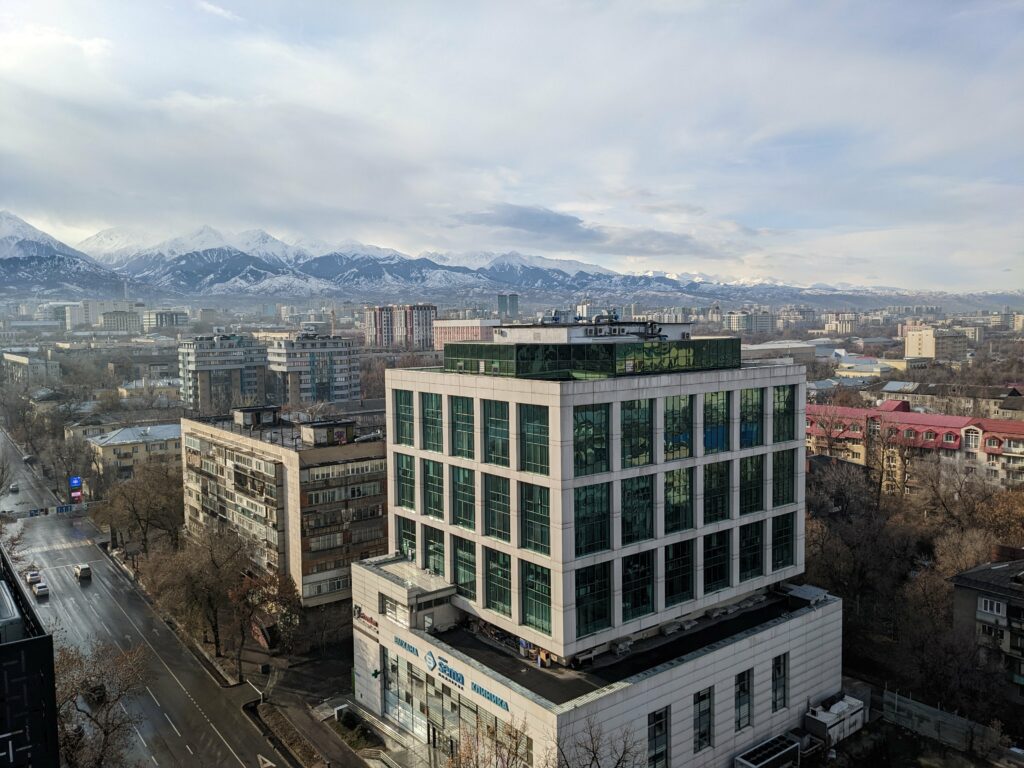 ---
Almaty is the largest city in Kazakhstan by some margin, and was the nation's capital for 55 years before it moved to Astana. Almaty's milder temperatures put outside activities back on the agenda, and we headed straight to Medeu – the highest ice rink in the world, at 1,691 metres above sea level. We'd seen the rink described as a host of "mass skating" which didn't sound too appealing until we witnessed its size – it's essentially a speed-skating stadium with space in the middle for a cafe and ad-hoc skating.
While the setting was stunning, as always it was the general carnage on the ice that provided the most entertainment.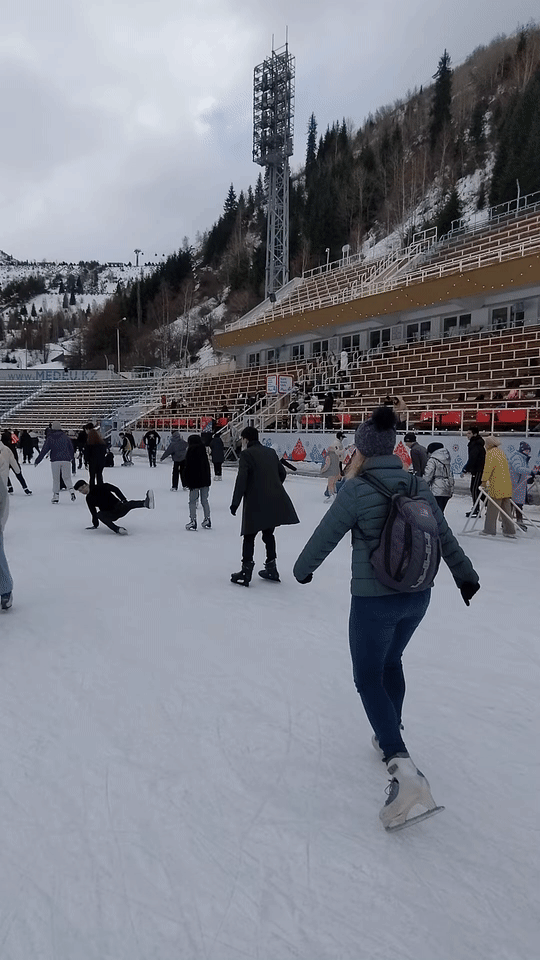 The following day, we spent some time acquainting ourselves with Almaty via a walking tour. Our route started in Panfilov Park, which contained a typical memorial statue, along with a brightly coloured cathedral built entirely from wood – even down to every nail! We were also taken by some of the park's resident red squirrels, who had ridiculously long fur on their ears. The route continued through the city past the Opera and Ballet Theatre, backed by the beautiful Trans-Ili Alatau mountain range. We also paused to admire the mosaics representing traditional Kazakh life and myths on the walls of the Hotel Almaty.
Our walking tour ended with a cable car ride up to Kók Tóbe Park – a small amusement park perched on the side of a mountain above Almaty.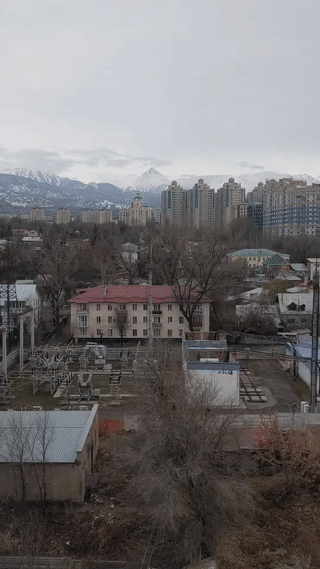 While the amusements themselves looked passable, the views over the city were the real reason for visiting. Although there wasn't much of a sunset to speak of, we did enjoy watching the lights of Almaty come on as dusk fell.
As the evening arrived, we rushed back down the mountain to catch England's first World Cup game against Iran. Rather than watch the game from our apartment, we found an English pub called The Shakespeare, and happily watched England trounce Iran over a British-Indian curry, surrounded by a fairly well-behaved crowd of England fans.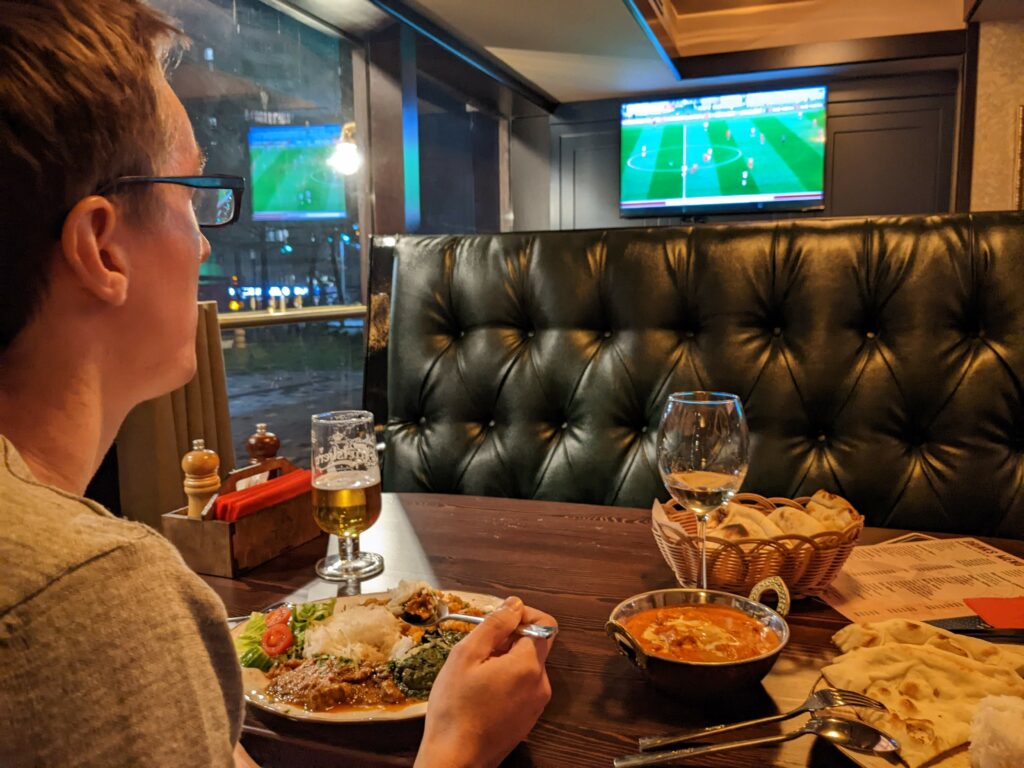 It was pouring with rain on our last day in Kazakhstan, but this didn't matter too much as we had grand indoor plans to visit the Green Market and the Arasan baths.
The market was a collection of huge halls of fresh produce connected by a labyrinth of tunnels, some of which went underground through what felt like a military bunker! Despite a snack of deep-friend dough strings, our stomachs were still rumbling as we toured the stalls. We settled on a tiny restaurant overlooking the dairy and meat stalls, at which we devoured two huge bowls of Laghman (meat, vegetables and noodle soup).
Our next stop was the Soviet-era Arasan baths. These were built in the 1980s, taking inspiration from bathhouses as far away as Baku, Yerevan, Leningrad, Moscow and Budapest. The result is a vast complex of domed plunge pools, scorching saunas and communal treatment rooms. We'd read that a popular treatment included being whipped by a professional with birch branches, which we saw for sale outside. To be honest, this felt like something I'd need to be paid for rather than the other way around.
One Google review had rather concerningly summarised the bathhouse as "very authentic, very clean and very naked", though Sara assured me that everyone would be naked and I'd get used to it in no time, so we parted ways in the bathhouse's grand atrium into the separate male and female areas. However, after removing my clothes and storing them in a locker, I realised that everyone else around me had changed into swimming shorts, and was not naked at all. I started to panic and concluded Sara had (unintentionally?) set me up. It was only as a very naked old dude walked past that I realised that there seemed to be an idealogical divide – the men older than me were naked while the men younger than me were in swimming shorts. I relaxed a little and proceeded into the baths.
Sara and I met up again two hours later to exchange experiences. It turned out that the nudity was absolute in the women's area, so she hadn't thought anything of sending me in au-naturel. I told her about the friend I'd made in the bathhouse who actually complimented the bath sheet I'd rented to cover my modesty. Apparently, covering yourself to below the knee (when not swimming) was the proper way of dressing in a Kazakh bathhouse, as opposed to modern swimming shorts. This seemed a surprising detail given the general nudity, but I was relieved to have got something right.
---
With the Central Asian section of our trip coming to an end, the far-eastern leg was about to begin. We were sad not to be able to continue overland, but with China still largely closed to foreign tourists since the pandemic, we opted to fly from Almaty to Seoul. The abundance of Korean food throughout Astana and Almaty had already whet our appetite, and little makes Sara as excited as endless rice and noodle options. South Korea here we come! 🇰🇷