Even though we had less than a week until our ferry to Japan, we were keen to squeeze in a visit to the sub-tropical island of Jeju. Jeju sits in the East China Sea about 100 km south of the Korean peninsula, and is a favourite year-round holiday destination for Koreans owing to its mild climate and stunning landscape.
To make the most of our time before leaving Korea, we opted to take overnight ferries both to and from Jeju, which seemed like a great idea when we booked our tickets. Our outbound ferry departed at a very sociable time (around 7pm), and we treated ourselves to two rather comfortable beds in a four-berth cabin with the hope of waking up fresh to enjoy the next day.
You can imagine how smug we were when the two other berths in our cabin remained empty as the ferry chugged out of the port of Busan. However, the one downside to these ferries was the 6am arrival time, which meant that the in-room announcements began at 5am. And my goodness, there were a lot of announcements. With the help of Google Translate, we sometimes managed to glean a few details from each update, though other translations were complete garbage. Memorable announcements encouraged us to "wait a bit, but not too much," and to "mind the 13 garlics". These were funny at first, but I was ready to rip the speaker from the wall by the time we arrived at Jeju!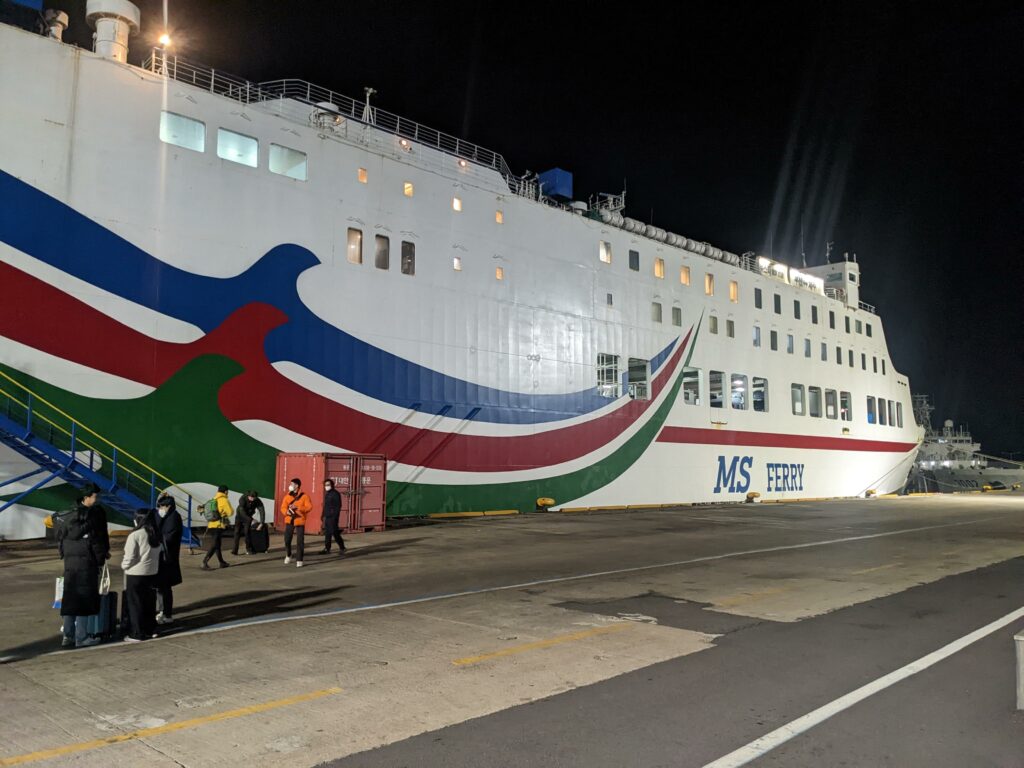 We disembarked the ferry in the dark and hopped on a couple of buses across the island to Seogwipo, a cute little town on Jeju's south coast. After dumping our luggage at our hostel and taking a regenerative shower, we stumbled out bleary eyed into the sunshine ready to explore our surroundings. Seogwipo's Chilsipnisi Park was right on our doorstep, and afforded stunning views out to Munseom Island. Jeju's mild climate also meant that the autumn colours were still going strong even this late in December.
The park drops off dramatically into a gorge created by the Yeonhee-chun stream. At the centre of the gorge is a 22 m high waterfall, which we reached via a couple of bridges past more stunning foliage and a handful of rather unusual stone statues.
After a short walk along the coast west of the gorge, we came across a 20 m high sea stack famous for its appearance in many TV K-drama series. While the significance of this was somewhat lost on us, we could see why it was such a popular filming location.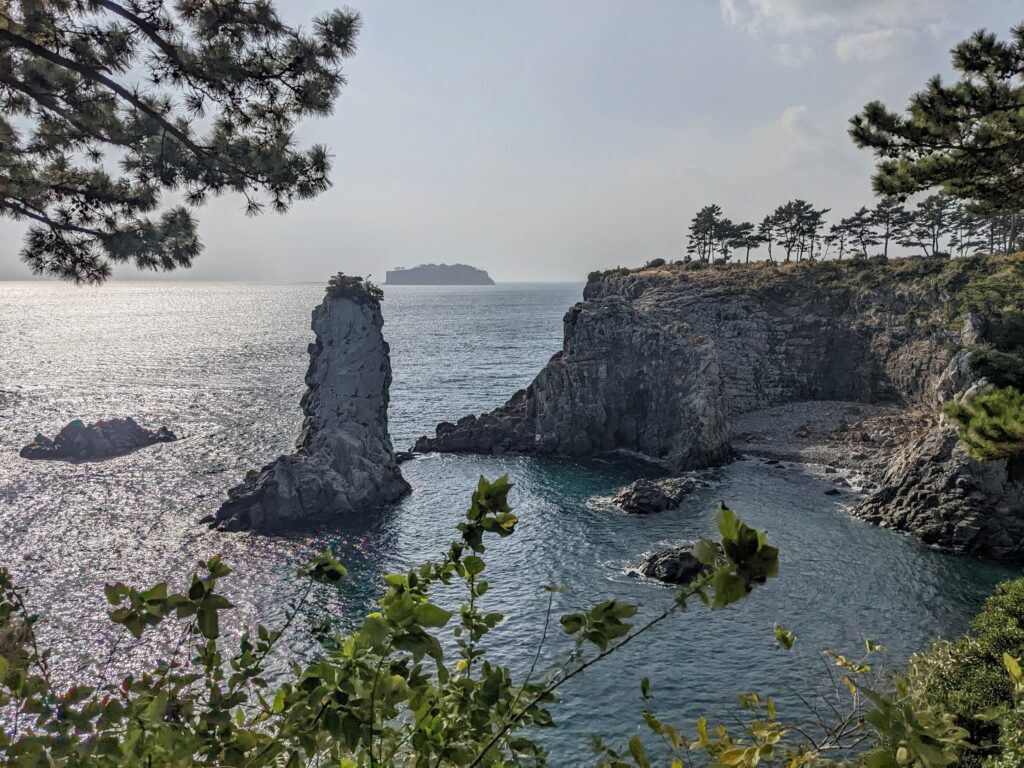 Jeju is well-known in South Korea for its mandarins, and our visit just so happened to coincide with the mandarin harvest. Mandarins were pretty much everywhere – in every convenience store, market stall, cafe, and even honesty boxes at the side of the road. We couldn't help trying them, and they were genuinely some of the best fruit I've ever eaten. We later learned that the mandarin harvest is more than business or sustenance – it's actually celebrated by visitors, and we even noticed fellow tourists sporting orange knitted top hats and anything else that could be vaguely connected to this citrus fruit.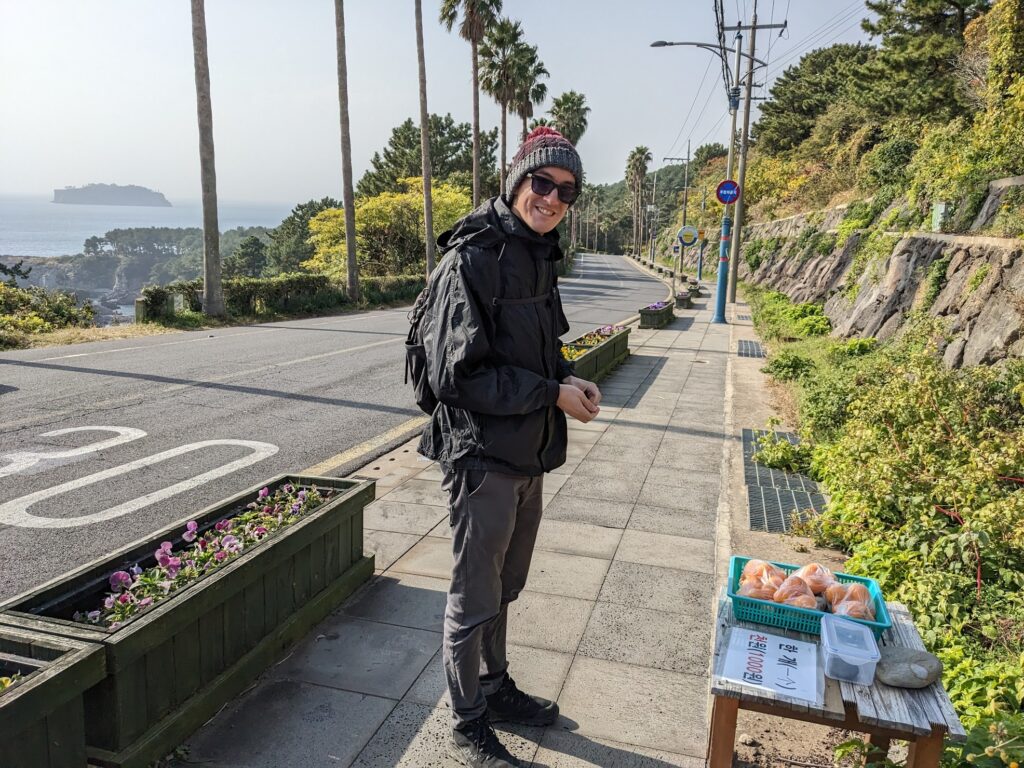 Just south of Seogwipo lies the tiny uninhabited island of Saeseom, connected to Jeju via a footbridge, and skirted with a lovely coastal path. As always, the pedestrian infrastructure was nothing if not impressive!
We also passed through a small harbour lined with fishing boats, each of which had a row of lights between their two masts. These powerful bulbs apparently attract squid when they're most active – after sunset and during the early morning.
While we thoroughly enjoyed exploring the area immediately around Seogwipo, the main reason we'd come to Jeju was actually for the Olle Trail – a 430 km series of coastal footpaths that encircle the island. The name "Olle" derives from the Korean word for the garden path that connects a house to the street, and conjures up images of the slow-paced amble at which these footpaths are best enjoyed. And what better place to start than Olle Trail 1; a 15 km route around Jeju's easternmost tip. This trail is one of the most popular for a reason – it summits two extinct volcanoes, and bypasses a third (dormant) volcano.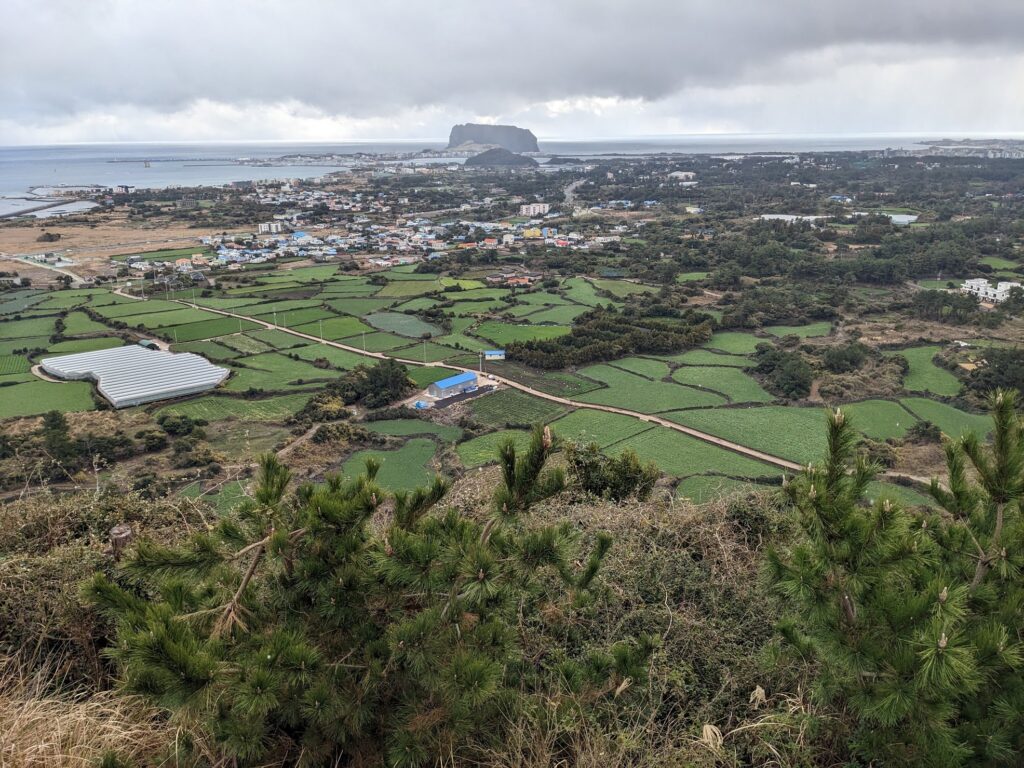 Despite Jeju's mild climate, it's still an island, and its weather changes fast. In fact, within 5 minutes of alighting the bus we'd been hit with wind, snow, sunshine and hailstones, in that order. Still, we were well-prepared for snow after our trip to Astana, and ploughed on regardless. After admiring the views from the two extinct volcanoes, our walk passed through a patchwork of fields edged with stone walls made from black volcanic rock, and then headed along the coastline towards the largest (and still active) volcano of the three. We loved the brightly coloured houses in the village we passed through…
…but we were less keen on the squid lining the seafront promenade. I guess they were there to dry? Either way, Sara came face-to-face with one that was blowing in the wind and it made her jump!
When the snow turned to steady rain, we needed a little more than just warm clothes to lift our spirits. Fortunately, it wasn't our first hike in Korea, so we knew to do the sensible thing and picked up a bottle of mandarin makgeolli from the next shop.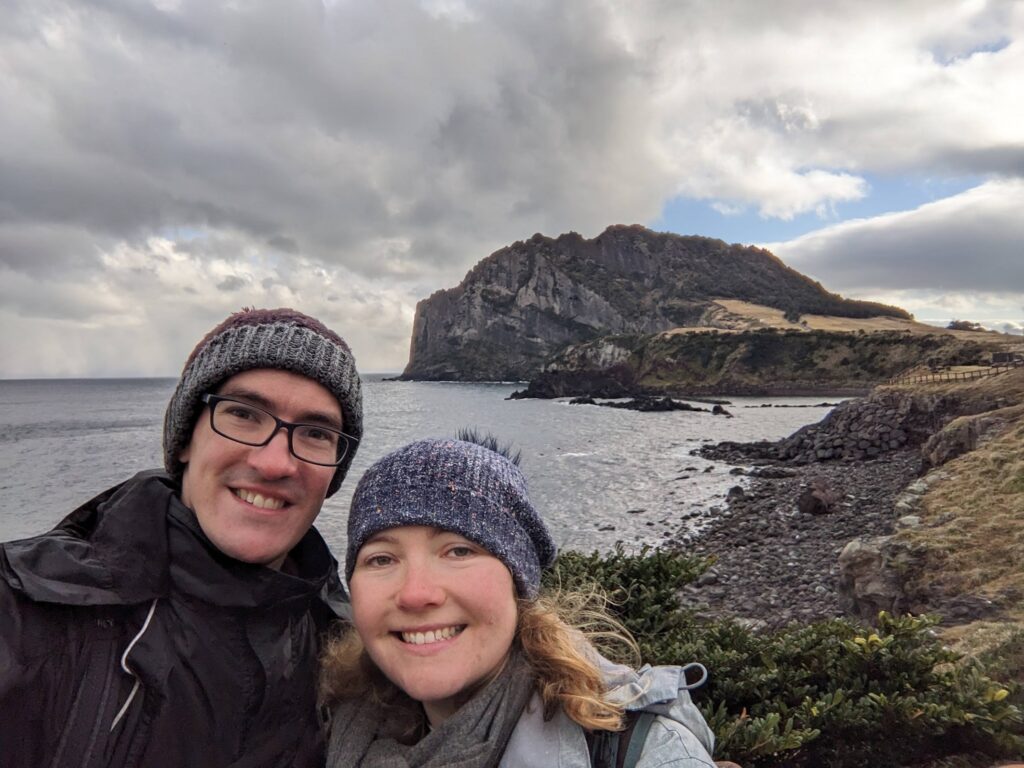 The makgeolli lifted our spirits so high, in fact, that we decided to climb Seongsan Ilchulbong, the third volcano of our walk, not least because we didn't want to disappoint our hostel's owner who had recommended it so highly. The path was actually very well paved and not too strenuous, and the views from the summit were stunning. That is, so long as you could see beyond the OTT decking and warning signage that littered the volcano's highest ridge.
That evening, we braved an almighty queue to try out Jeju's famous black pork at Ppolsaljib. While we were waiting, our neighbours in the queue offered us some Yakgwa, a deep-fried, wheat-based sweet made with honey, rice wine, sesame oil, and ginger juice. It was absolutely delicious and just about kept our hunger at bay until the main event – a selection of tender cuts of pork (inexpertly barbequed by us), alongside a baffling array of side dishes and washed down with a couple of victory beers.
Our journey back to Busan was a little less straightforward, when the ticket counter clerk couldn't find any evidence of our booking. We ended up having to purchase two brand new tickets, but thanked our lucky stars that at least the ferry hadn't been fully booked. Feeling sorry for us, the clerk very kindly upgraded us to a 'special class' two-berth cabin. We're still chasing a refund for the mystery unbooked ticket, though! 😬