Our next stop on our journey through the wild east of Turkey was the city of Erzurum. We'd read that it was one of the most conservative cities in Turkey, and it certainly had a quieter, more serious atmosphere than anywhere else we'd visited on this leg of the journey. Slightly incongruously (to us at least – we found it quite hard to imagine), it's also a skiing destination, and we spotted the huge ski jumps that sit on the mountains just outside the city while we were exploring.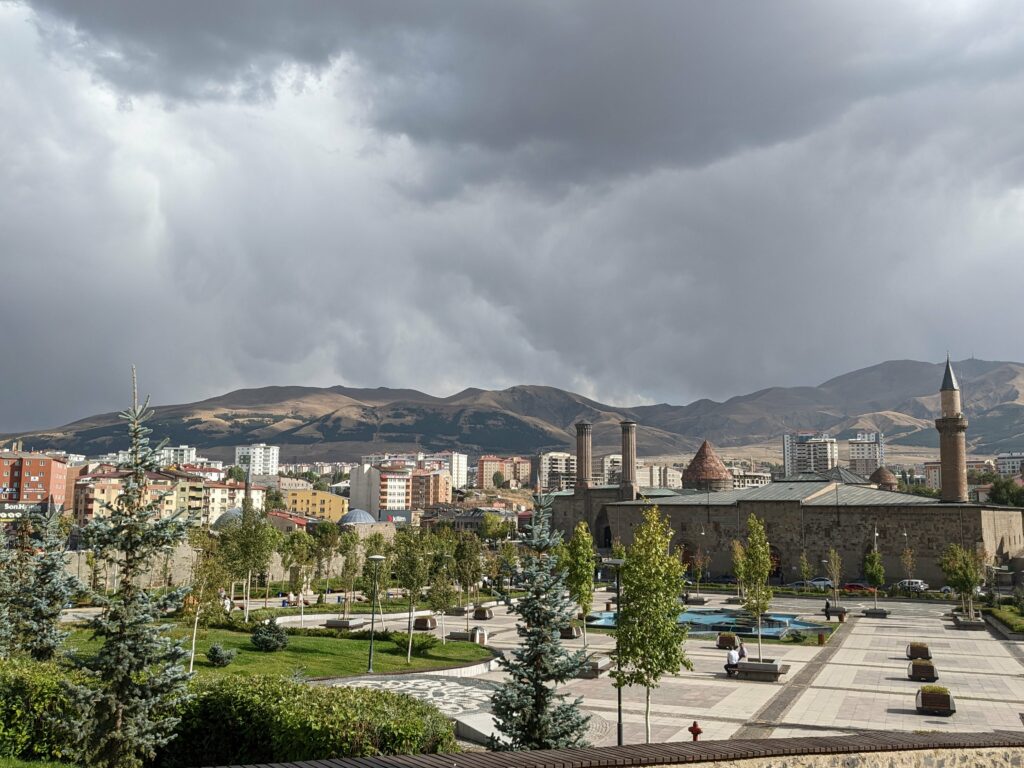 ---
After spending a long day on the Doğu Ekspresi with an improvised breakfast and lunch (but snacks galore – no need to feel too sorry for us!), we were in the mood for a proper sit-down meal. So, we decided to pay a visit to Güzelyurt Restaurant, which was supposedly one of the best restaurants in the city but also happened to be the only restaurant in Erzurum that served alcohol. While it didn't quite deliver on the food, it was worth it for the speakeasy-vibe experience. We entered into a dark corridor, rather than directly into the restaurant (presumably a way of being discreet about who was sitting inside). We'd read that 'family groups' (i.e. women) were normally seated on the upper level, so in the absence of anyone to greet us, we headed straight upstairs. This was met with some consternation so we definitely got that wrong – we're not quite sure what we were walking into! Anyway, once we were seated downstairs we got to peek at who else was in there – a mix of foreign visitors (well, one other table – we bumped into them again elsewhere and we suspect they were the only other anglophones in town) and affluent local people. There were curtains across the windows and it probably sums up the muted atmosphere pretty well if I say that it didn't feel at all appropriate to take a photograph. After all that, they didn't even have wine on the menu so I drank water. Even so, the whole visit felt pretty illicit and we enjoyed it thoroughly!
We had a much more lively restaurant experience the next day when I started a small fire. We'd ordered a pot of tea and, continuing a recent trend of things being delivered to our table on fire, we received pots of hot water and strong tea (this is normal in Turkey, you mix the two to achieve your preferred strength), along with a small stove burning solid fuel and producing a very healthy flame. This was supposed to be used to keep the pots warm, but we looked away for a moment and then very quickly realised we were out of our depth. One of the pots was violently boiling over and the flames were a bit wild. I grabbed a tissue so that I could hold the hot handle to move the pot, but instead set the tissue (and very nearly the tablecloth) on fire just as Oli called a waiter over for help. He took in the whole scene and calmly moved the pot off the flame as if we were absolute idiots. Later in the meal, a sudden gust of wind picked up a piece of flat bread and it slapped Oli right round the face, so all in all it was a successful meal and we left the restaurant staff in no doubt about how well we were coping with life.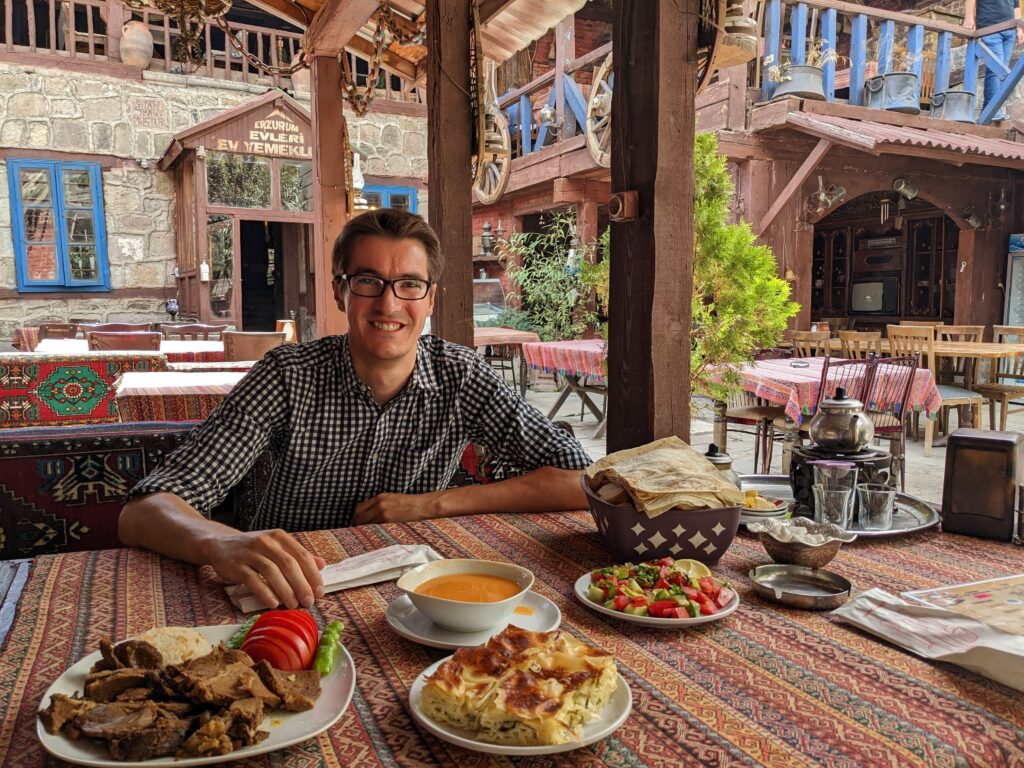 We also saw some great architecture in Erzurum, including more medrese, a citadel and three ancient tombs.
Oli's favourite part (just because it sounded like something from Indiana Jones) was at Çifte Minareli Medrese, where we thought we understood that through a series of mirrors and light wells, the tomb of Ismail Fakirullah is illuminated in a beam of bright sunlight as it rises over a precise spot on the nearby mountainside twice a year. [Unfortunately, while checking some details in order to write this post, I realised that the below is actually a model of a mausoleum somewhere totally different in eastern Turkey – it seems we did an impressive job on the day of making this model fit the building we were in! Apparently our Turkish comprehension has a little way to go yet.]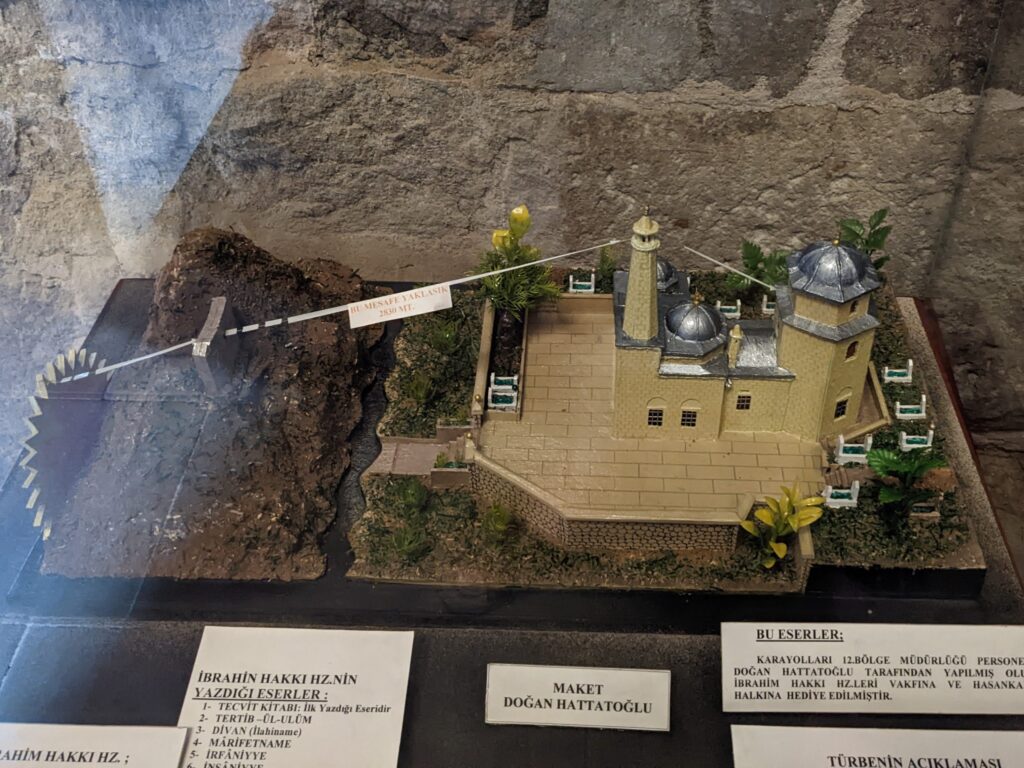 Oli spent a good portion of our time in Erzurum trying to decode a mysterious bus timetable that had six weekdays and four weekend days. Determined to make it fit, at one point I saw him googling whether Turkey had a 10-day week. I'm not sure how we'd have got this far through Turkey without noticing this, but stranger things have happened! This was all proved to be a total waste of time when, on the morning we were due to leave and wanted to catch said bus to the intercity bus terminal, the bus arrived at a totally different time that didn't correspond with any of the days. After a long wait at the intercity bus terminal, our 'long-distance' bus came back into the city and terminated, and we had to wait for our actual long distance bus to depart from a stop within spitting distance of our hotel! Several hours after setting out from our hotel, we were finally on our way.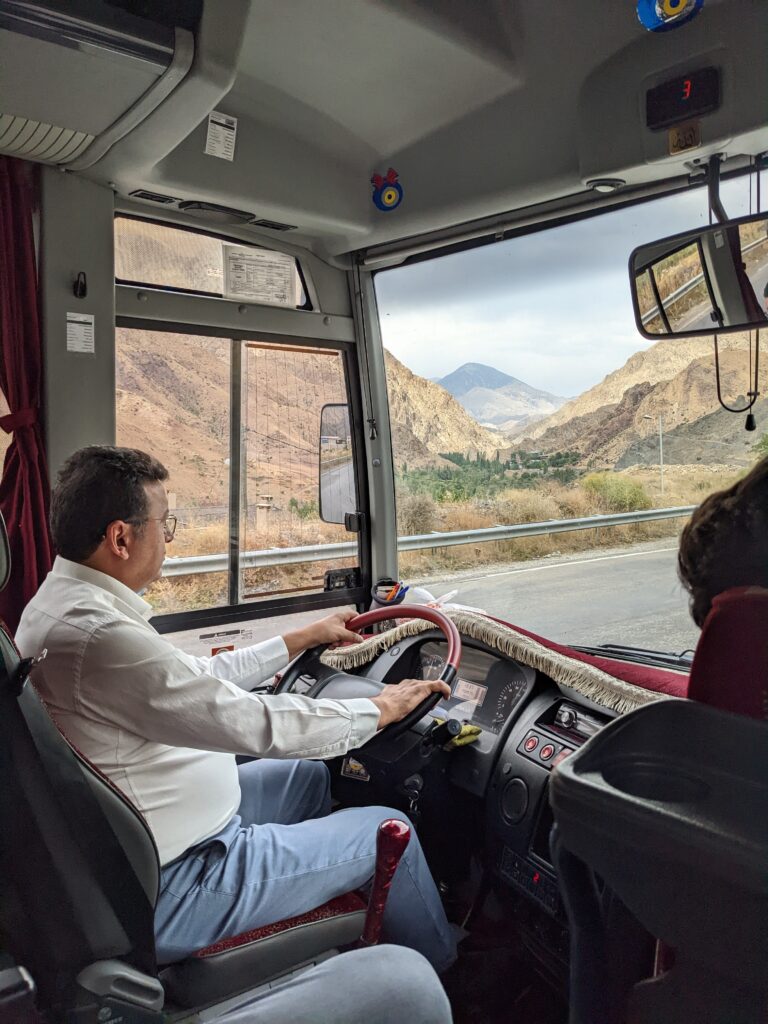 What followed was a truly spectacular and varied journey north towards the Black Sea. First, we passed through the Kaçkar Mountains, where the rocky gorges got steeper and steeper until it really did look like we were driving through the base of the Grand Canyon. Then all of a sudden after we passed the provincial capital of Artvin, the dry landscape gave way to lush hillsides running down to a broad, jade green river. It was stunning and reminded me of the Bay of Kotor in Montenegro. Finally, as we reached the Black Sea at Hopa, we unexpectedly came across tea plantations – I never knew Turkey grew tea! The tea terraces were beautiful even in the torrential rain that had arrived by this point. Sadly, the same couldn't be said about Hopa itself, which was a classic, slightly seedy border town.
Nevermind, we were on our way to Georgia! 🇬🇪