We ate so much in George Town that we couldn't resist a food post, so we present to you the hotly-anticipated sequel to our Georgian Gorging post!
Shortly after arriving in George Town, we paid a visit to its Wonder Food Museum. In addition to being both fun and educational, it also emphasised the importance of food within the region's identity. I mean, how many other cities have entire museums dedicated to their cuisine? The museum was filled with life-size models of food with accompanying descriptions, which served as great introduction to what we were about to eat over the next few days.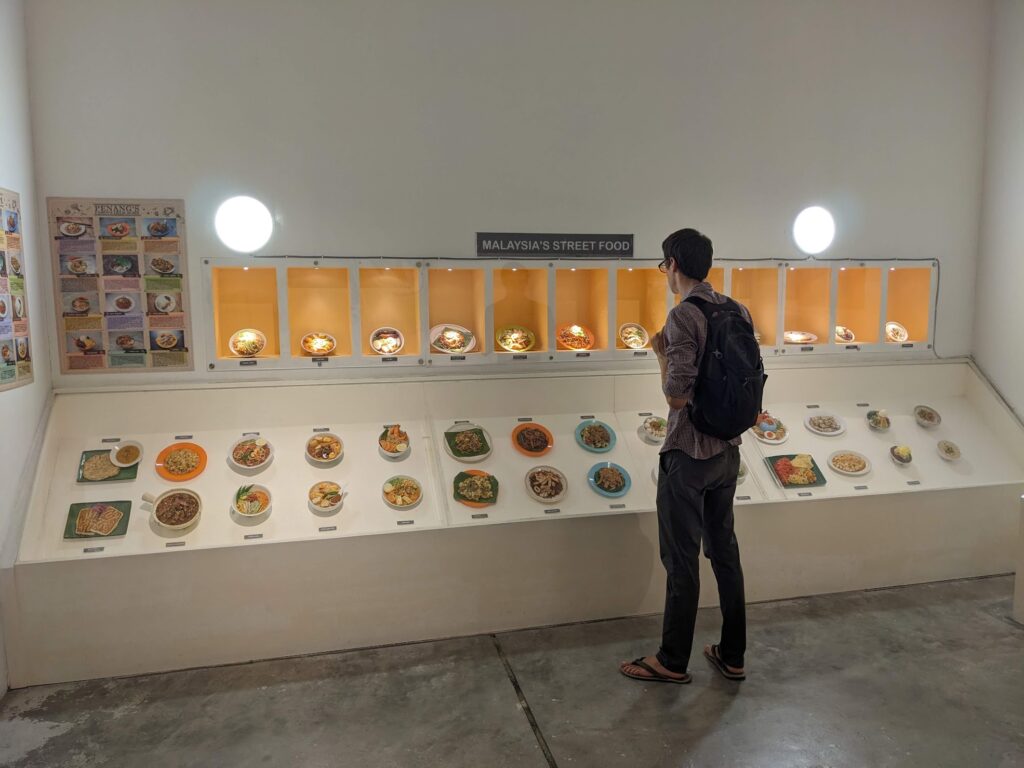 We loved the miniature models depicting both modern and traditional styles of restaurant found across Penang.
One of our favourite displays consisted of a series of celebratory feasts from each of the region's three distinct food traditions; Malay, Chinese and Indian. Each feast came with an annotated diagram, which allowed us to test our food recognition skills (apparently not very good).
Following our crash course, it was time to put the theory into practice. Below is an overview of our top food discoveries across George Town. Spoiler alert: we didn't love them all, but we still regret nothing!
Nasi Kandar
The name Nasi Kandar comes from the Malay word for rice (nasi) and the Urdu word for shoulder (kandha) in a reference to the pole that was traditionally used to carry around tiny portable restaurants by Tamil Muslim traders from India. Today, large restaurants sell a huge array of ready-made rice and sauce-based dishes from a counter that you can pick from deli-style. Here, we got our first experience of "Kuah Campur" (literally "mixed gravy"), whereby your rice receives a small dollop of any of the other dishes' sauce that the server deems will complement the main that you've ordered.
I was also delighted to find they served a style of rendang, in which the typically dry and spicy Indonesian beef dish has been adapted to include a generous helping of sauce. We ate at both Hameediyah Restaurant and Sri Ananda Bahwan, and inevitably over-ordered every time. All in all, Nasi Kandar was our favourite cuisine that we came across in George Town. It's such a beautiful blend of Malay and Indian cuisines that I'm already regretting my comment about Vietnam's Bánh mì being the world's finest fusion.
Overall score: 10/10 (worth the trip to George Town alone)
Char Keow Tao
This fried noodle dish of prawns, shelled blood cockles, chopped Chinese chives, slices of Chinese sausage, and bean sprouts is probably George Town's most famous dish. We were introduced to it by our hotel staff who offered it during breakfast, only for a plate of steaming fresh noodles filled with smoky wok hei aroma to be delivered direct to our table from the street kitchen across the road. I loved the variety of flavours that came from the goodies hidden within the noodles, although I must admit the cockles were a bit of a test first thing in the morning!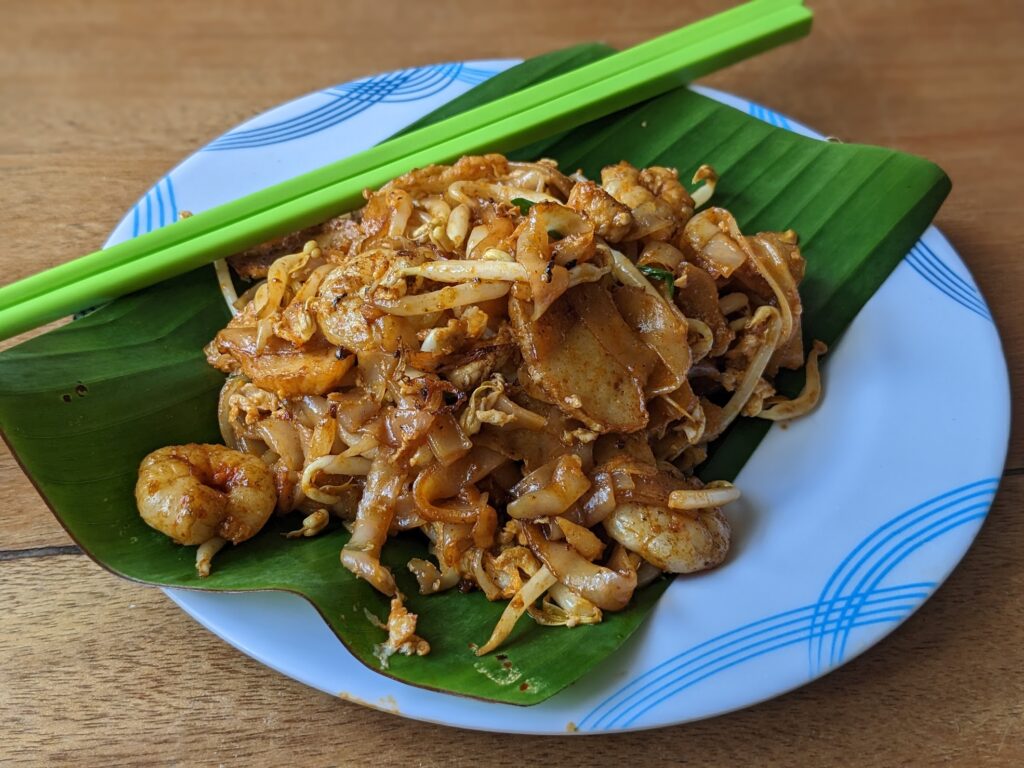 Overall score: 9/10 (great breakfast dish)
Popiah
This dish consists of a spring roll-type wrapper filled with grated and steamed turnip and bean-shoots. We'd read that it sometimes also contained prawn or pork (which I think is what encouraged us to try it) but alas ours mostly seemed to contain stewed vegetables with just a smidge of dark bean paste. We dutifully struggled our way through one roll each, though I'm not sure we'll be rushing back to eat this again. It was so much worse than the sum of its parts!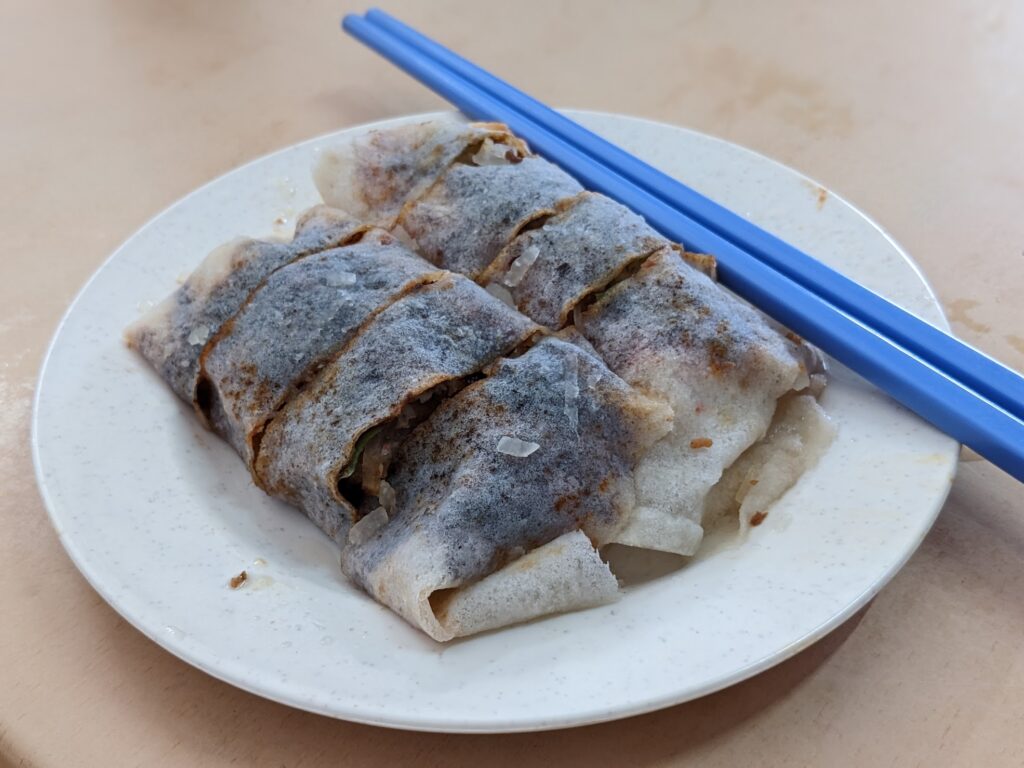 Overall rating: 2/10 (not quite our cup of tea)
Char Siew
How can you go wrong with Cantonese-style barbecue pork? Thinly sliced and served over rice with a sweet gravy and chilli dipping sauce, this tasted almost exactly as I had hoped. We managed to squeeze in a lunch of Char Siew at the Wai Kei Cafe in the narrow window between our breakfast going down and the restaurant running out of pork (which occurs early in the afternoon). Already, we were struggling to fit enough meals into the day in order to try everything that we wanted!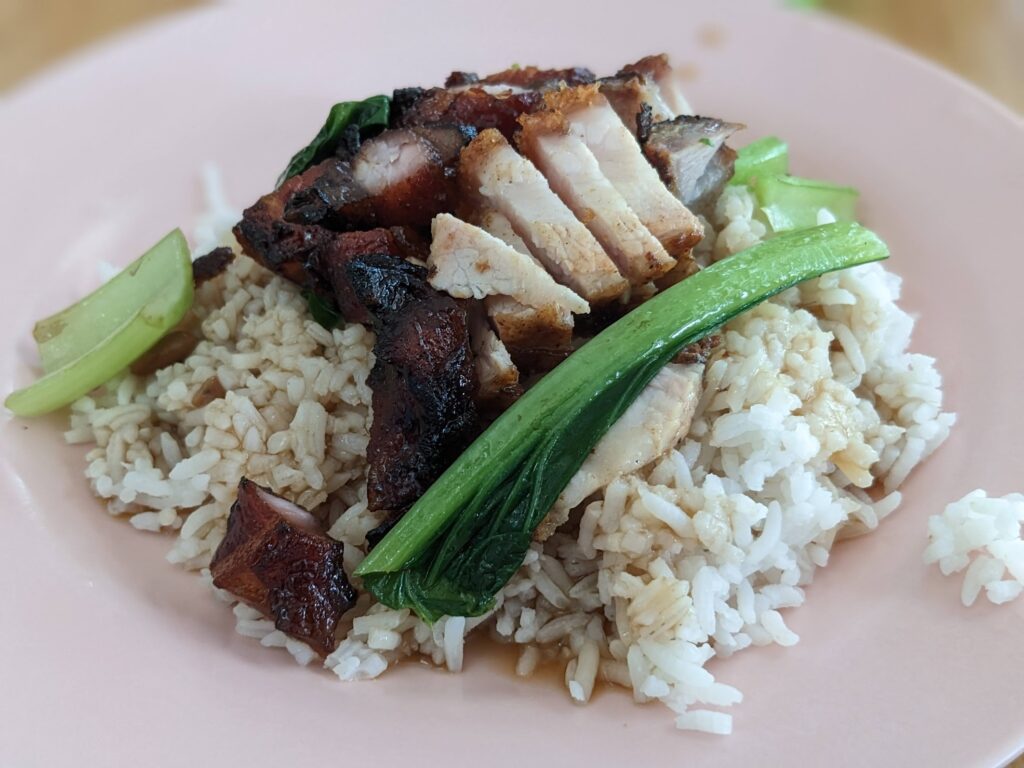 Overall score: 8/10 (simple and delicious)
Rojak
This was one of the weirdest things I've ever eaten. It consisted of deep-fried tofu and sliced crunchy fruit (pineapple, unripe mango, ambra and cucumber), covered in a very treacly sweet and salty sauce and topped with ground peanuts. To begin with, I struggled to decide whether I liked it or not, but by the end, I'd sided firmly with not. Sara enjoyed it more than me and managed to finish our plate, although this might have had more to do with making sure she had her five-a-day than anything else. I'm sure this is the sort of desert which is delicious if you've grown up with it, but might be something of an acquired taste for plebs like me. At least our version didn't include squid fritters, which are apparently often part of the recipe 😬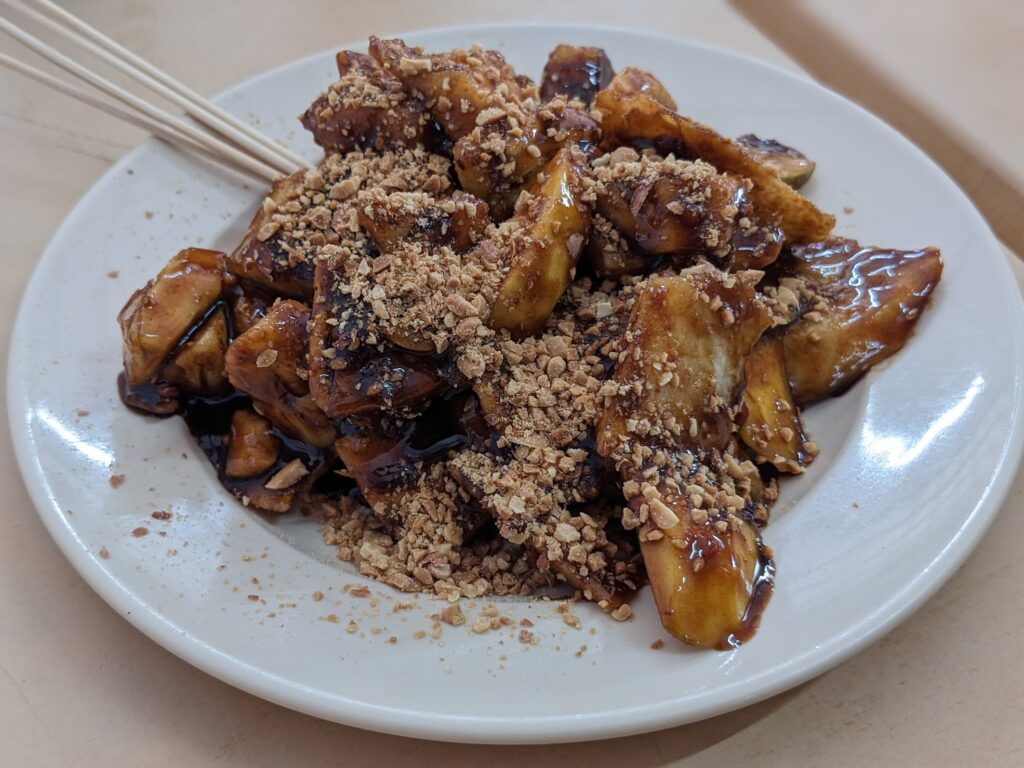 Overall rating: 4/10 (we could probably get into it, but it wasn't love at first taste)
Curry Mee and Hokkien Mee
Malaysia is well known for its Laksa (coconut-based soup), so we just had to try two local favourites. These were right up our street: the Curry Mee (left, below) was mild and creamy, but the Hokkien Mee (right, below) was more tangy, spicy and seafood-y and was definitely the winner of the two. I can see why it's a staple of Penang cuisine.
Overall rating: 7/10 (tasty and messy in equal measures)
Cendol
We'd heard a lot about this desert, which consists of shaved ice, condensed milk, palm sugar syrup, red beans and sticky noodles. In a side street just off Penang Road, there's a bit of showdown between two long-running, competing vendors whose stalls directly face each other. This confronted us with a dilemma, but not wanting to miss out, we applied the same logic as at the pubs beside the Batumi brewery and tried them both.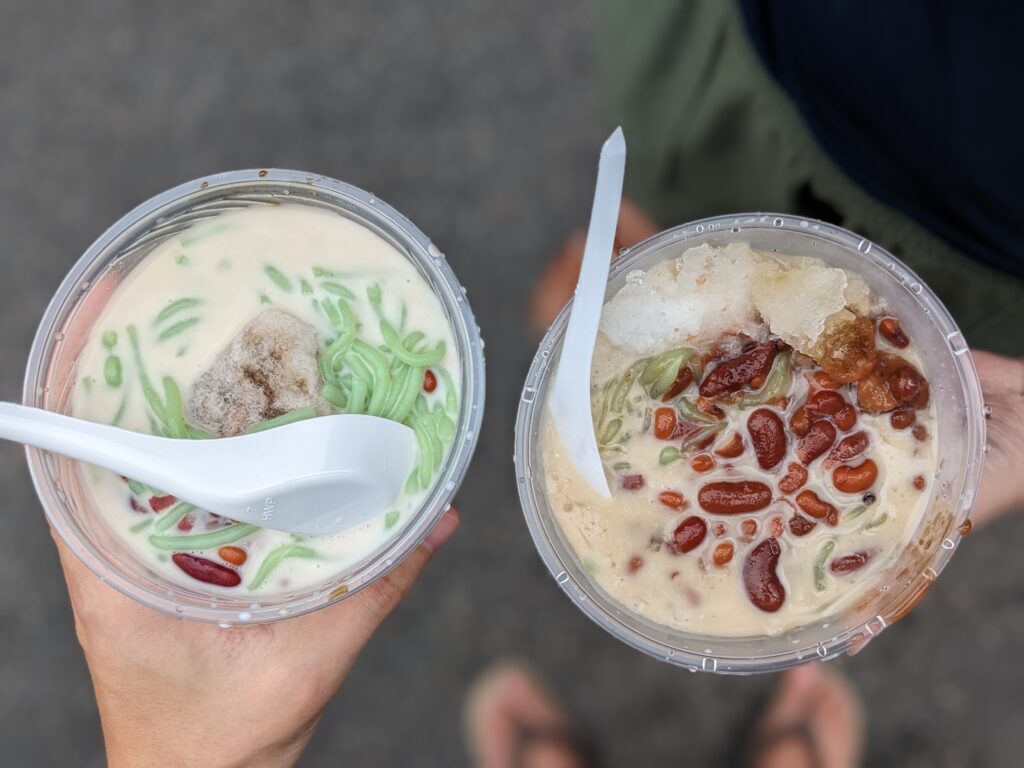 Both started strong, with the one from Joo Hooi Cafe bringing a sweeter sauce while the one from Nyonya Cendol brought noodles with a more satisfying bite. Having said that, both became pretty sickly and hard to stomach by the end, and neither of our teeth got on very well with so much shaved ice. I'm glad we got to try both, but if I'm honest, one would have more than sufficed.
Overall score: 6/10 (would share one on a hot day)
---
With a limited amount of time in George Town, we did our best to do justice to the breadth of the cuisine, rather than just aiming for the dishes that sounded like they'd suit our tastes. Although not every dish was up our street, the highs not only outweighed the lows, but blew out of the water many cuisines we've eaten since leaving London. We've only just left and already I want to go back!