It turns out that we can't get enough of New Year festivities, so we arrived in Hanoi just in time for Tết – not exactly our best move. It's a big deal in Vietnam, roughly equivalent to how we treat Christmas in the UK, but celebrations continue for SIX DAYS! During this time, most businesses close and transport is either fully booked or not running at all. By the time that we noticed (okay full disclosure – Dad noticed, as he and Mum were joining us for another couple of weeks of travel), it was too late to change our plans, so we found ourselves a comfortable apartment in the Old Quarter and prepared for a few days of hibernation.
Oli and I landed from Tokyo on the eve of the Lunar New Year and met up with Mum and Dad who had arrived from London earlier in the day. We were busy catching up when all hell broke loose – in what was to be one of many massive contrasts to Japan, it turns out that Vietnamese New Year celebrations involve a phenomenal number of EXTREMELY loud fireworks! We headed out to our terrace to watch and tried not to dive for cover as the whole city seemed to erupt with explosions. What a welcome!
The next day, we headed out for a walk and expected to find the streets pretty deserted, as we had read. While they were certainly quieter than usual (crossing the road wasn't quite such a near-death experience as we've experienced previously), there were still plenty of people out and about. In much of the old town, it seemed that Western tourists like us far outnumbered locals. However, at the Ngoc Son temple, which sits on an island in Hoàn Kiếm lake, it was a different story – the whole area was buzzing with local families who were dressed up in beautiful clothes and taking group photographs. There was a real carnival atmosphere and it was lovely to just wander and observe.
We might not have had a near-death experience crossing any roads, but we certainly did have one trying to cross a square near the lake, where all of the children of Hanoi were out in force driving tiny cars with reckless abandon. Some of them were driven by their parents (using remote controls), but this didn't much seem to help matters! It was properly happy chaos, though, and thankfully none of us were seriously run over.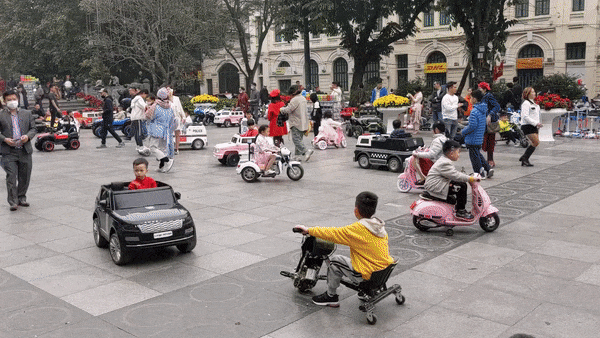 The next few days were spent watching Hanoi come back to life. Many of the best restaurants and street food stalls were closed at first, but we always managed to find something to eat. As things started to reopen, we finally sat down (on tiny plastic stools, of course) to a bowl of steaming phở at an incredibly popular stall near our apartment – some proper street food at last! Phở is Vietnam's national dish and probably its best known food export, a light beef noodle soup topped with fresh spring onions, coriander, lime and chilli. The northern Vietnamese version is for purists, as it keeps the focus on the broth and doesn't contain any additional hoi sin sauce, shellfish or beansprouts (all of which can sometimes be found in southern versions). Delicious!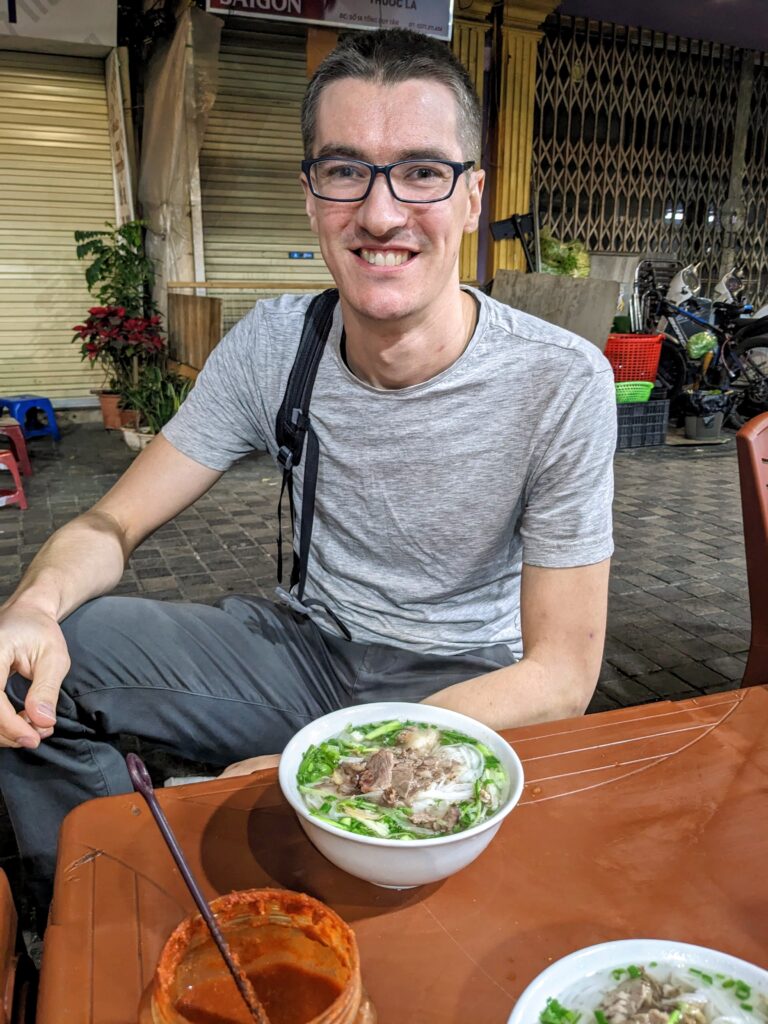 Mum and Dad didn't join us for that meal, partly because Dad was determined that there was no way we were getting him to sit down on one of the tiny stools (or that there was no way we were getting him up if he did sit down)! But he soon succumbed in order to try a Bánh mì, which is essentially a baguette (hinting at Vietnam's history with the French) filled with meat and salad and some added Vietnamese flair, such as pickled vegetables, coriander, chilli and fish sauce. Oli describes it as probably the world's best fusion food, and I think he might just be right.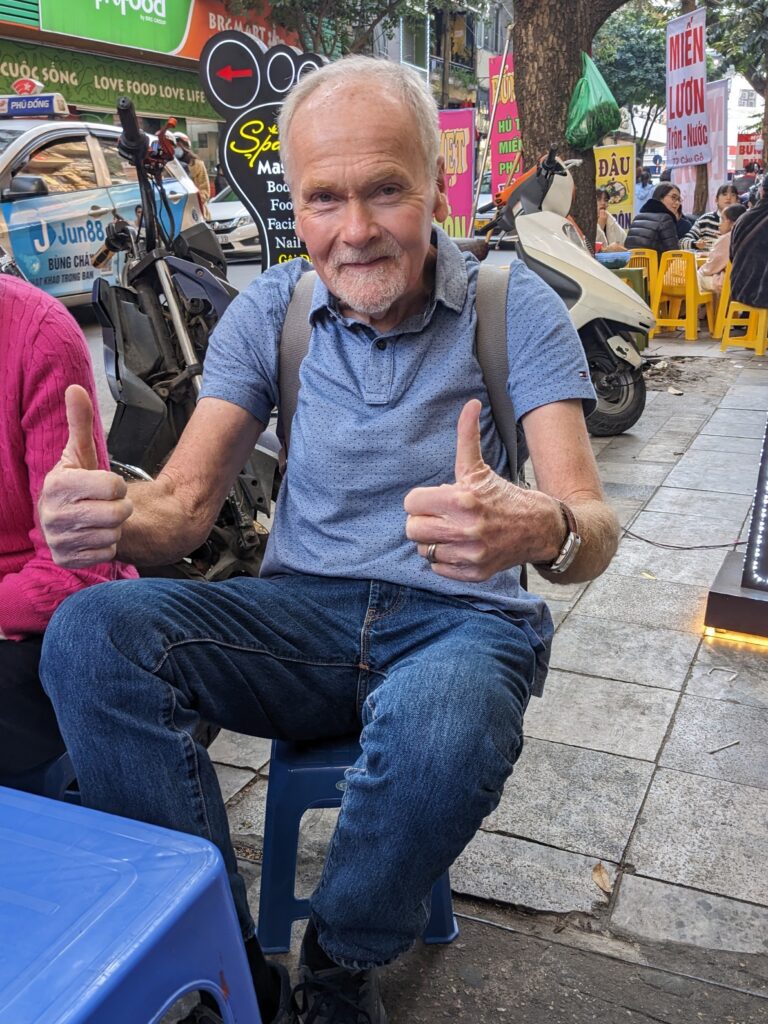 Another culinary highlight in Hanoi was at Bún Bò Nam Bộ Bách Phương, where you place an order using my favourite method: holding up the number of fingers to represent how many portions you'd like. I've said it before and I'll say it again: I do love it when a restaurant does one thing and does it well! Even if it didn't taste so delicious, Bún bò Nam Bộ is still one of our favourites because it has the greatest name ever and just rolls off the tongue. It literally translates as 'beef noodles of the south', but slightly confusingly is most associated with Hanoi (which is in the north). Anyway, it's a classic Vietnamese combo of cool (but not fridge-cold) vermicelli noodles, seasoned stir-fried beef, plenty of salad leaves, fresh herbs and pickled carrot, and topped with peanuts and crispy fried shallots. It arrives with a separate pot of fish sauce, which you pour over your bowl and mix everything up together. The result is so much more than the sum of its parts – and the taste definitely belies its simple appearance.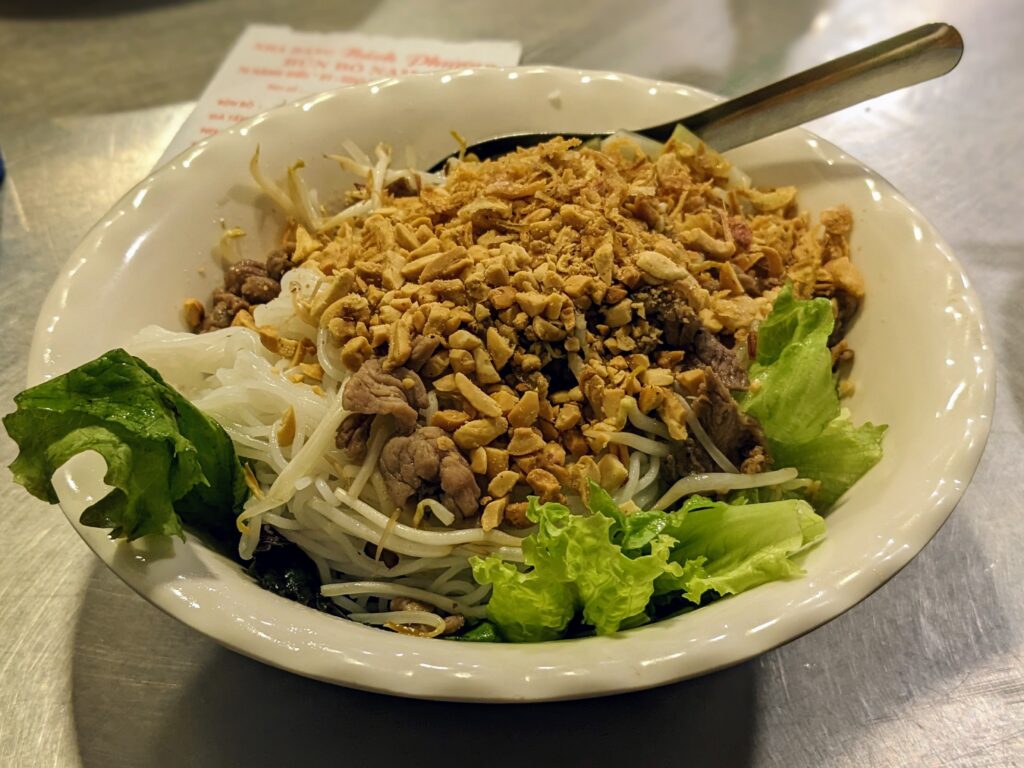 I'm still totally convinced that Vietnamese food has the best balance of healthiness and deliciousness of anywhere in the world. Even so, we'd been eating rather a lot of it, so it was time for some exercise. The number one activity on Dad's list for their trip was to do some cycling, although I rather think he had in mind cycling through the peaceful paddy fields of Central Vietnam, rather than what we had planned – a lively cycle around the West Lake. We'd read that this 18km route was a pretty peaceful cycle, for Hanoi. And indeed, the roads were probably pretty quiet for Hanoi, but it was still total chaos! Our bikes probably didn't help matters – with some creativity, I think we might just about have been able to build one roadworthy bike from the four we hired! Still, it was a great way to see an area of the city we'd not previously visited and thankfully we all lived to tell the tale.
We didn't visit many of the classic Hanoi sights this time, partly because of Tết closures. However, we were all keen to visit 'Train Street', as it is known. Although we saw the railway tracks running through impossibly narrow gaps between houses on our last visit, I don't think Train Street as it is now (a row of bars and cafes run by residents so that mad tourists like us can watch trains pass within arm's length) really existed in 2014. I would normally consider wandering around on train tracks a terrible idea – and of course it is, but somehow it seems okay when the local children and dogs are outside their houses playing around the tracks. There are actually several 'Train Streets', each with a distinct character. We really enjoyed walking up and down the one south of the station, which has more local life (and more passing trains)…
..but it was the one north of the station where we watched two trains steam through en route to Sapa, a nervewracking but exhilerating experience. Although the whole area has become quite commercialised (something we normally try to avoid, with varying levels of success), I actually quite liked the idea that local residents had been able to transform their fortunes from living in what must have been quite a noisy and inconvenient location into a lucrative business opportunity.
We really enjoyed our extended stay in Hanoi during Tết. Next up, we'll finally visit Halong Bay, after a pesky typhoon in 2014 thwarted our plans.