As we might have mentioned once or twice, we really enjoyed Turkey, but the one place where it fell slightly short for us was on food. Make no mistake, nearly all the individual meals were delicious, but for us, the variety just wasn't there – particularly in the east. Most towns had a speciality kebab, but to our untrained palates they were remarkably similar to each other! If anything, this made arriving in Georgia an even bigger treat. The food is just SO good, with a focus on fresh, seasonal and regional fare.
For the last couple of weeks, we've been truly feasting on good food and wine, and this post is a bit of an ode to some of our favourites. I'm not usually much of a food photographer (I'm much, much more interested in the eating), so I was cringing taking all of the photos that follow! Hopefully they capture some of the deliciousness, though.
Khachapuri
Boat-shaped Adjaruli khachapuri is probably what most people imagine when they think of Georgian food (if they think of anything at all – I truly believe that Georgia has one of the world's great unknown cuisines), but there are actually lots of regional varieties of khachapuri. All involve some element of breadiness and plenty of cheese, and some add further cheese, butter or eggs. Having khachapuri'd a little too hard last time we were in Georgia, we were a bit more measured this time, but we still ate a horrifying amount of cheese and regretted none of it!
My favourite version is Imeruli khachapuri (I'm looking very happy holding one in the photo below) – it's easy to eat on the go because the cheese is stuffed inside the bread, and it doesn't go quite so big on the cheese as some other versions. By the way – you might be thinking along the lines of pizza, but it doesn't really taste like that at all. The cheese is much saltier and tangier than mozzarella and you can't eat nearly as much in one go (trust me, I've tried).
Khinkali
We've already raved about khinkali, but these filled dumplings are probably our favourite Georgian food – although it's a very close contest. When we arrived in Tbilisi and realised that our days in Georgia were numbered, we ordered some as part of nearly every meal! We tried some different varieties, including 'branded' khinkali (below left – a speciality of Zodiaqo) and mushroom khinkali, which came with a butter sauce (below right), but kalakuri remain our top pick. We met an Armenian-Russian couple on the Tbilisi – Yerevan sleeper train who are convinced that khinkali taste even better in Yerevan (although they admitted they hadn't tried our faves from Khinkali Ludi in Batumi), so we're very excited to follow their restaurant recommendation when we get there next week!
Ojakhuri
The name translates to 'family meal', and it's a simple dish that's definitely more than the sum of its parts. I think it can be made with other meats, but we had the pork version a few times, oven baked with potatoes, onion, garlic, white wine and topped with pomegranite seeds. Oli already wrote a love letter to the version we had at Cafe Laila in Mestia (left pic), and I think this wins the award for us – they were all good, though. My mouth is watering just thinking about it!
Ostri
Ostri is a thick, rich and fragrant beef stew that tastes SO much better than it looks. We ate this a couple of times when the weather felt particularly autumnal (i.e. chilly) and it was a total delight. Our winner (below left) was from the tiny (and oddly-named) Cafe Tourist in Borjomi, which was super herby and had a surprise addition of sour cream that was so delicious in combination with the rich flavours of the stew.
Chicken with tkemali sauce
I think this takes the award for the most beautiful meal we ate in Georgia.
We met an American chap called Ted on a marshrutka who told us about a sensational meal he'd had at Asi Khinkali in Tbilisi. I was dying to try fried chicken with tkemali, a sour plum sauce, but his description convinced me to wait until we reached Tbilisi and could eat the same version. We made it there on our final evening and it was worth the wait. The chicken was succulent with a salty, crispy skin, and the sauce was the perfect contrast – cold (which surprised us!) very sour and almost citrussy.
Walnut everything
Georgian cuisine goes big on walnuts. One of our favourite ways to eat them is in nigvziani badrijani (aubergine rolls filled and topped with walnut paste). These are light, garlicky and really delicious as a starter, and we ordered them almost everywhere. They were consistently good – we couldn't pick a favourite.
A variation on this is pkhali (top right pic), which adds vegetables such as spinach, beetroot or cabbage to the walnut paste mix. The best pkhali we had were at Heart of Batumi, but we hadn't decided to write this post at that point so there's no photo of these!
Also, they're not walnut, but an honourable mention for the pickled bladdernut buds (top of the main photo below), which we only ordered because they sounded like something from Harry Potter. They tasted a bit like it, too.
Pine cone honey
This is a speciality of Borjomi that I just had to try. It's also known as pine cone jam, which better captures how it is prepared (boiling green pine cones in sugar syrup). Despite the name(s), it was nothing like any honey or jam I've ever tasted – it was the colour of blood oranges with a sweet, tangy, fruity taste and then a fresh, resinous aftertaste. I could only really compare it to how I would imagine eating a Christmas tree might taste! We ate it on bread so fresh that it was still warm, sold to Oli directly from the bakery by a lady with floury hands.
On that note, it's probably worth mentioning the phenomenal bread in Georgia. Baked fresh in flat loaves throughout the day, it's somehow soft, chewy and stretchy all at the same time.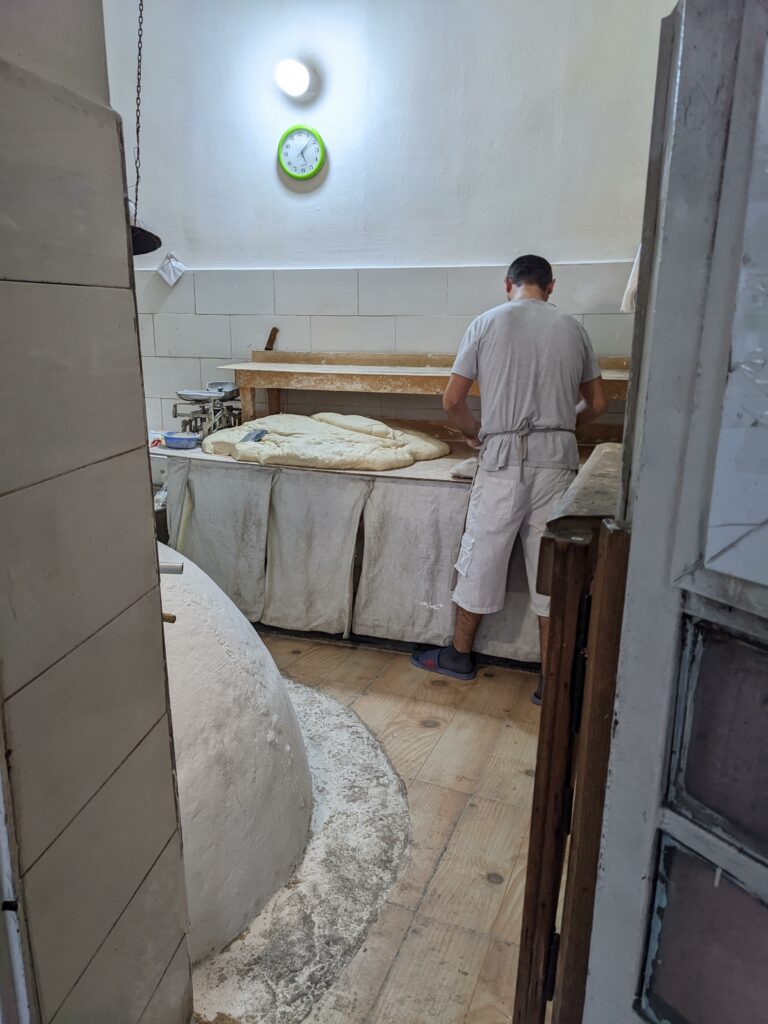 Borano
Finally, I had to mention Borano for being the most aggressively unhealthy dish we ate in our 19 days in Georgia. Made of melted sulguni cheese, it was like fondue but without the dipping (unless we were doing something very wrong!) The guide that we'd read suggested that there was a version that included potato, if you fancied something lighter. Any dish that is made lighter by the addition of potato is sure to be quite something! And yes, that is butter on top. Don't worry, we didn't finish this. Our arteries wouldn't let us.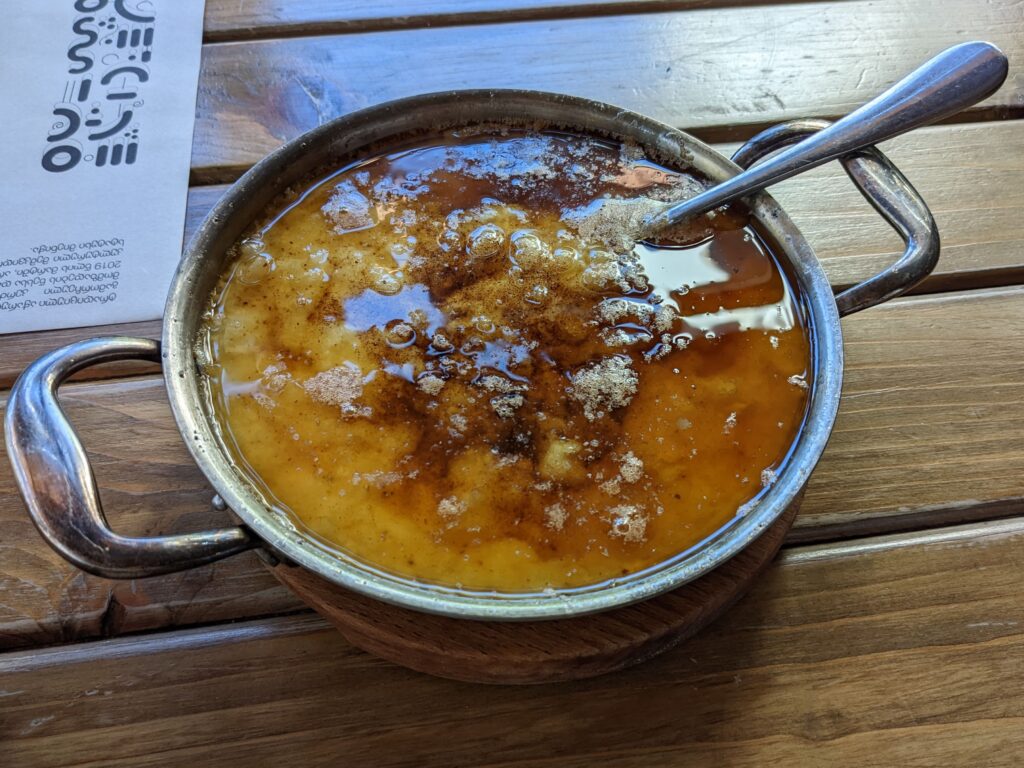 I'm sorry if this post made you hungry – my stomach is now rumbling after proof reading the above! Georgia is a delicious country 😋🇬🇪