Our initial plan had been to pass though Georgia in two or three days on the way to Armenia, but nearly three weeks later, we're still here! I thought that we'd seen all we wanted to see on our last visit in 2019 (when we spent time in Tbilisi and the wine region, Kakheti) but that was definitely not the case. In fact, we found so many new things that we wanted to do that Tbilisi was the first place on our Georgian itinerary that we revisited. We were very happy to be back.
Because we'd seen many of the main sights previously, this freed us up to do what we like doing best anyway – wandering, admiring the architecture, and eating. Tbilisi has a really distinctive look and it's a treat just to roam its streets. If, like me, you're a fan of doors, it's a great city. I'm aware that if you don't particularly like doors (or perhaps have never considered your level of liking for them), you'll probably think that sounds really strange, but I know there are other people like me! We also spent some time hanging out on our pretty (but frankly quite precarious) balcony.
We paid a visit to the Dry Bridge Market, which was absolutely full of treasures. If only we had somewhere to live, I think we would have bought quite a few bits! The thought of carrying additional things in our backpacks is a very good incentive to be disciplined, though.
At some point during our slow meandering around Tbilisi, we realised that we had made a slight miscalculation in that the every-second-day sleeper train to Yerevan (our next connection) did not, in fact, depart on even dates but on odd dates. Whoops! This left us without accommodation but with a bonus day, which we decided to spend in Gori.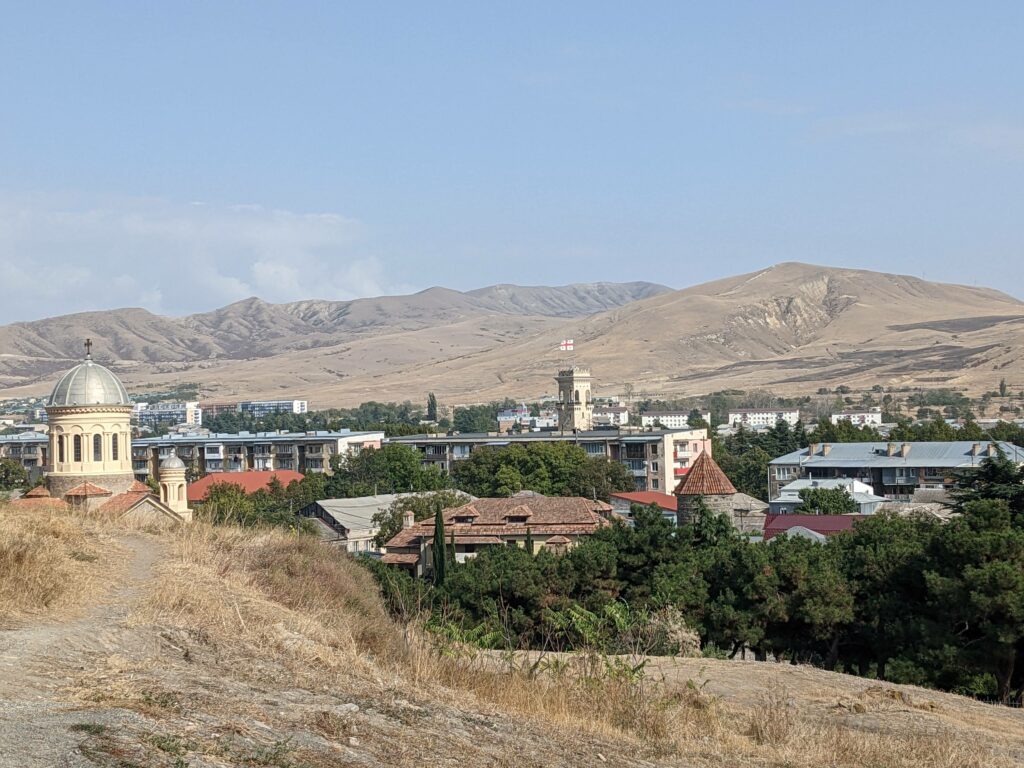 Gori is Georgia's 5th most populous city, but is much better known as Stalin's birthplace. Although I suspect it was both faster and more convenient to travel there by marshrutka, Oli convinced me that we should take the train, given it was one of the few rail routes in Georgia. This was by far the oldest train we'd travelled on and the process to obtain a ticket was suitably beaurocratic. Once we boarded the train, we became well acquainted with the conductor because every time he saw us (which, over a 90-minute journey, was quite a few times), he enthusiastically shouted, "Gori! Gori!" After an inauspicious start where we Brysoned our way out of Gori railway station through a spooky but fascinating yard of rusting train carriages, we headed to the Stalin Museum.
I think we would have got lots more out of the museum if our Georgian or Russian language skills were up to scratch, but as it was we missed much of the written information. We did enjoy examining the scale model of the secret underground printing press where Communist propaganda were printed, though.
I was also pretty impressed with this portait of Stalin meeting Mao Zedong – it's embroidery!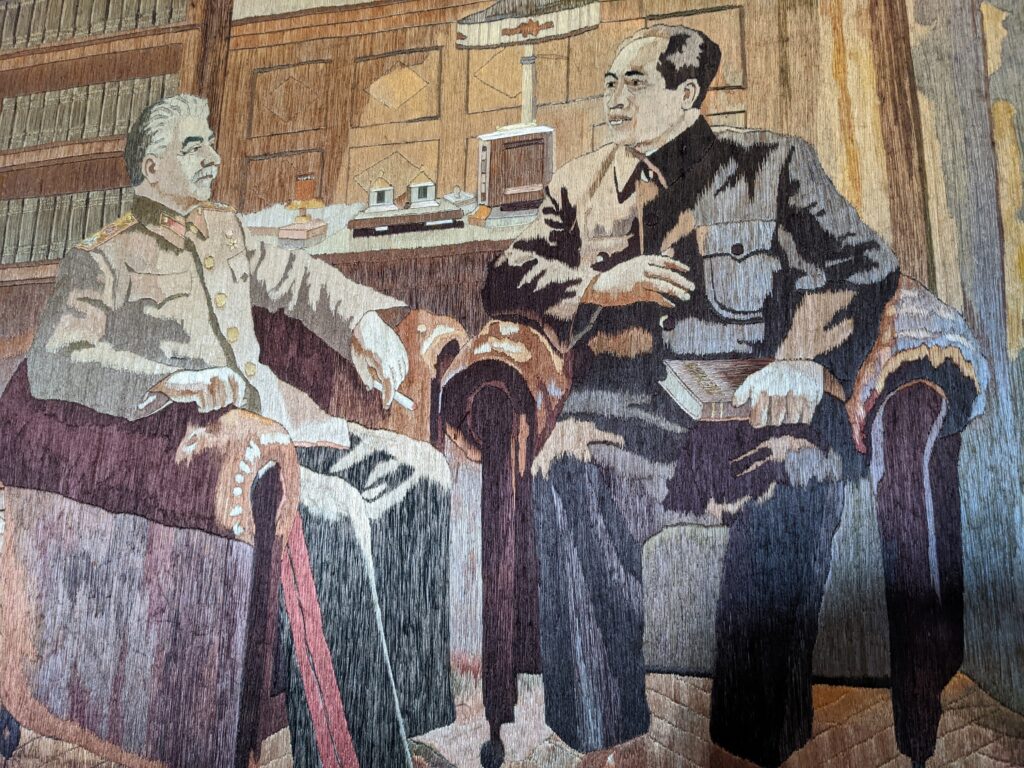 Parked (stationed?!) outside the museum was Stalin's private train carriage and this was really up our street. Unfortunately, there was a tour group there at the same time taking many photos who were slightly irritating. Oli's pose below is supposedly a cruel imitation of their poses, but actually I think he really was this excited at having so much train-related fun in one day!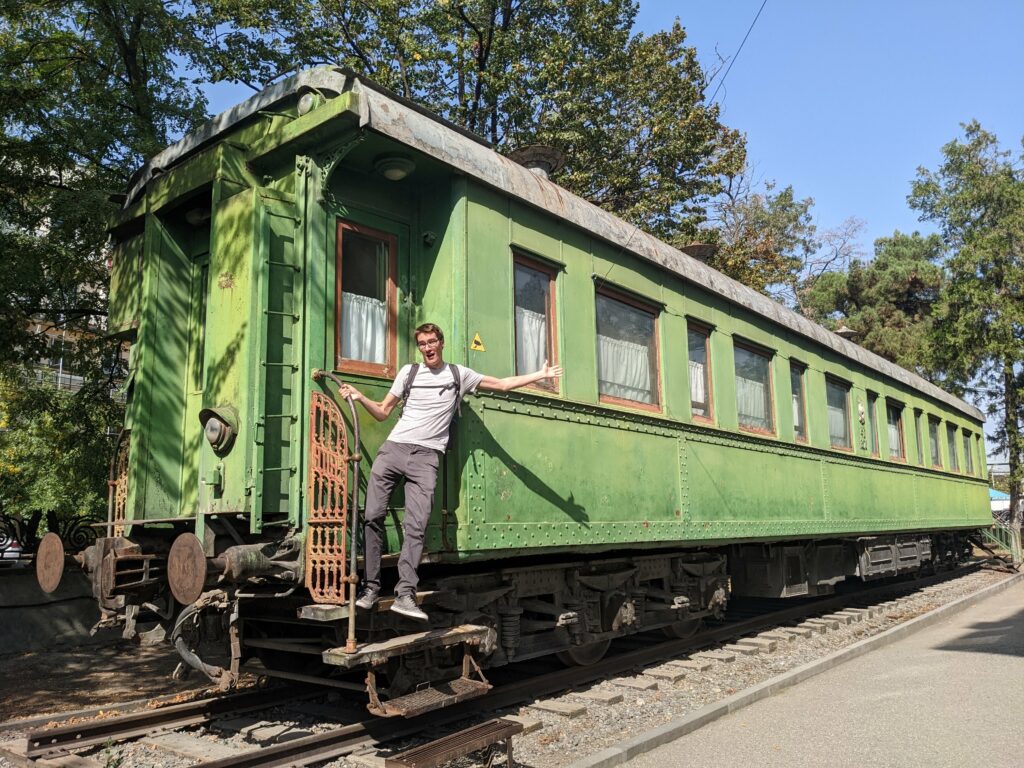 Our next stop was lunch, and we followed a recommendation to a very local workers' cafe in residential backstreet to try the local speciality: cutlet. It might not look like much but it was pretty good! Think Ikea meatballs but with delicious fried crispy edges, smooth mash and a spiced tomato sauce…
In the afternoon, we climbed up to the citadel, which gave us a great view across the city. At the base of the citadel, we stumbled across the Memorial of Georgian War Heroes. This was a circle of eight huge metal sculptures of soldiers, where each one had something missing, such as an arm, a leg or a head – symbolising what is lost in war. It was beautifully done and really moving.
While exploring the old town, we saw our 50th Georgian cat (a milestone!) He declined to pose, but our 51st and 52nd cat were only too happy to work it for the camera.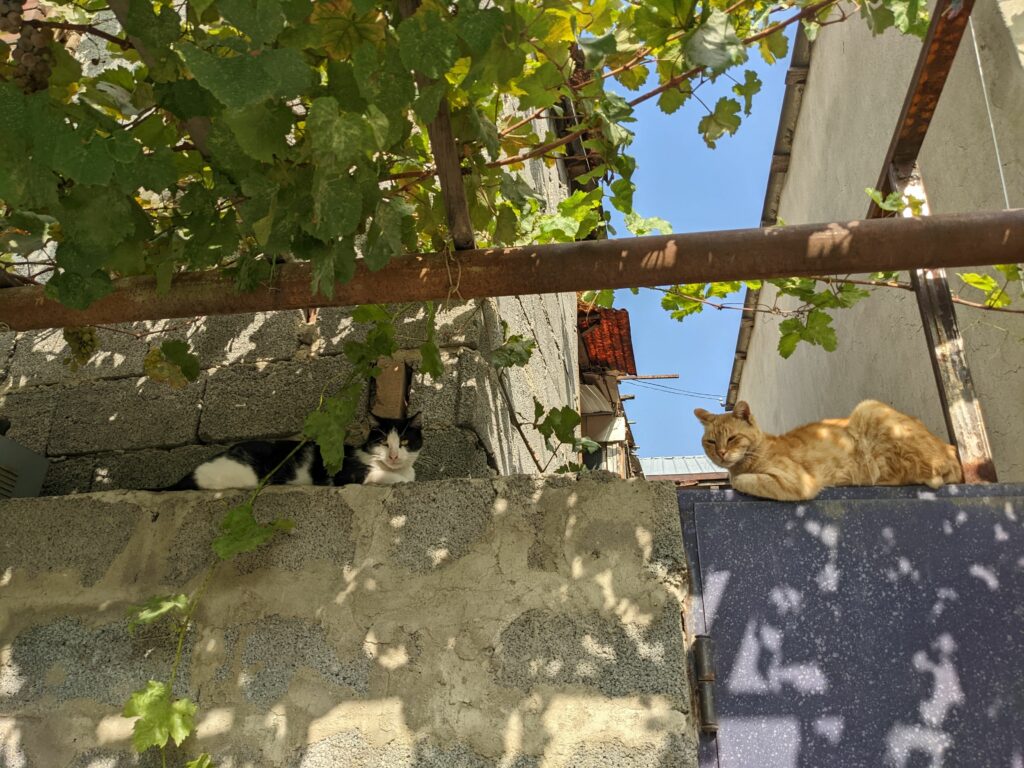 Back in Tbilisi, the other side effect of our train miscalculation was that we needed to move accommodation. We chose the extremely hipster Fabrika, a hostel housed in an old Soviet sewing factory, complete with co-working facilities, maker's spaces and a courtyard filled with small food joints.
For our bonus evening, we had drinks at Wine Merchants and a delicious dinner at Asi Khinkali, before joining in the Saturday night melee back at Fabrika. It had a really nice buzz but we might have been the oldest there…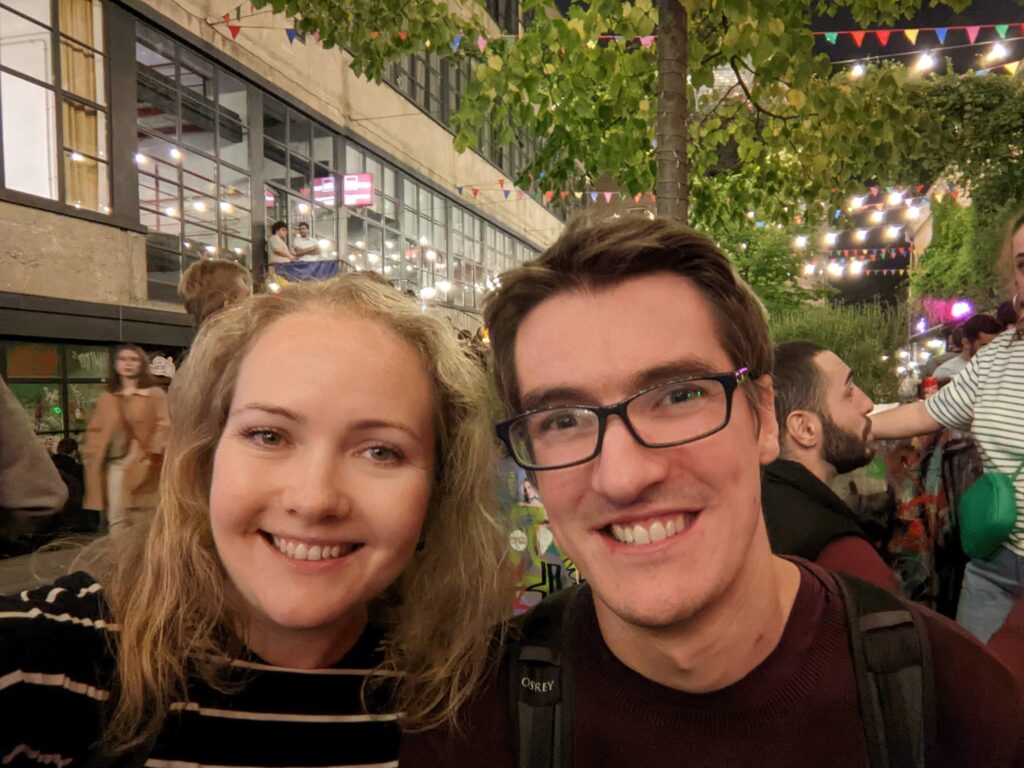 We woke up the next morning to rain and slight hangovers, which meant it was the perfect time to relax in Tbilisi's famous sulphur baths. We chose a private room at Gulo's Thermal Spa. Although there are public baths, if you're not so into public nudity or just fancy some peace and quiet, renting a private room is a good option. On our last visit, we were on less of a budget and our room was positively palatial. This time, we were a little more frugal but still ended up with a four-roomed space that was larger than our London flat! It's a bit of a rite of passage to have a kisi exfoliating scrub, but given I'd tried this last time and it was one of the least dignified experiences of my life (slithering around on a marble slab while all soaped up and then having a bucket of cold water poured over my head!), I opted out this time. I imagine it would have sorted my hangover out pretty quickly, though!
The rain continued all day but we were determined to enjoy our last few hours in this beautiful city, so we spent the afternoon walking and revisited the Bridge of Peace, one of Tbilisi's iconic pieces of modern architecture.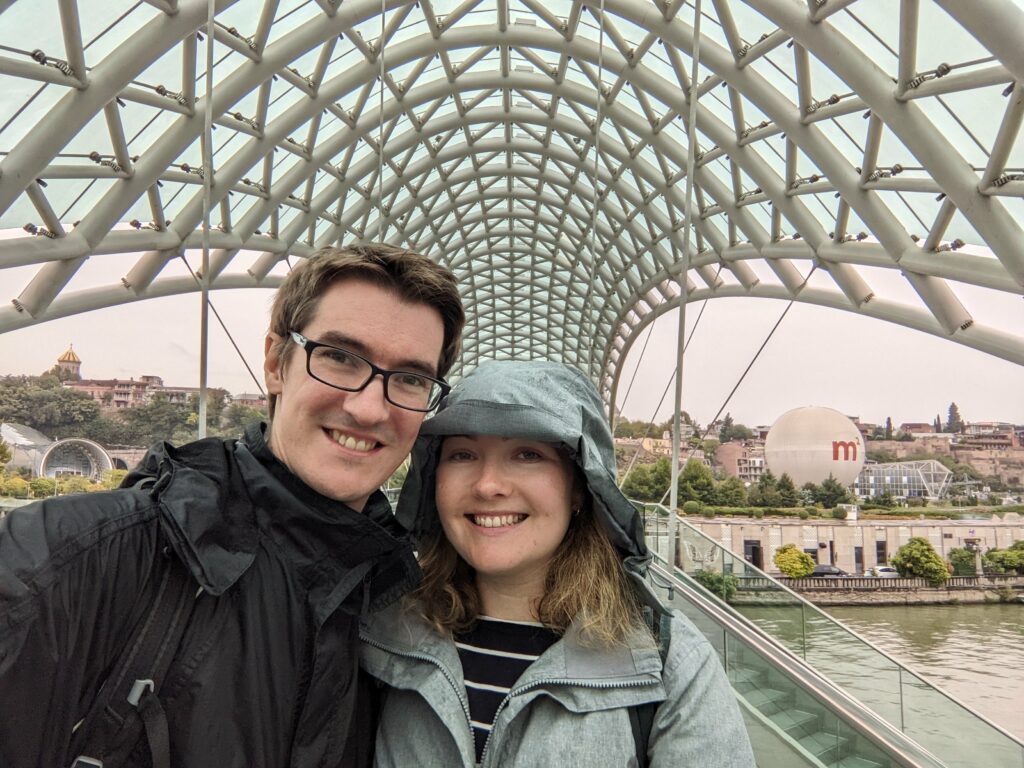 That evening, we caught our first proper sleeper train of the trip to Yerevan, Armenia, marking the end of our time in lovely Georgia.