When we returned to the relative hustle and bustle of Ko Lipe, we checked in for our international ferry and completed border formalities right next to the beach with our toes practically in the sand. It really was a gorgeous beach (and I have to admit the sand was softer and finer than on Ko Adang), although I suspect that there are only so few people on it because there was a lot of noise from arriving and departing ferries. For us, though, it wasn't a bad waiting room!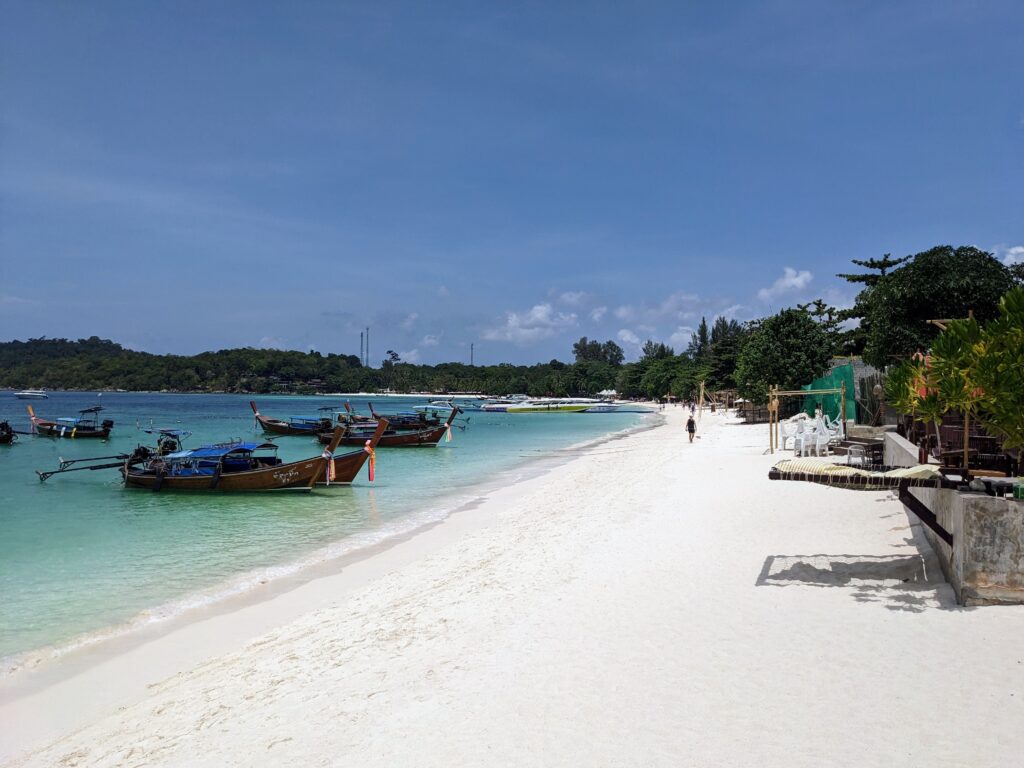 Our ferry crossing to the Malaysian island of Langkawi (full name: Langkawi, the Jewel of Kedah – catchy) took around an hour and a half and was mercifully smooth and uneventful. Border formalities on the Malaysian side were just as straightforward as on the Thai side – we could get used to stress-free border crossings like this! It must be the relaxed island life.
We were staying just outside the main resort town of Pantai Cenang in the very cheapest room (of course!) of a rather fancy hotel, which was made up of renovated traditional wooden houses that had been moved from across Malaysia. It made for a very pretty place to stay, and really reminded us of the Jim Thompson house we'd visited in Bangkok. Is moving heritage buildings around the country a normal thing to do? Apparently it is in this part of the world!
In any case, our favourite part of the hotel were their SEVEN cats! Our best friend was George (below left), who we dubbed the Head of Guest Relations, since he hung out around the reception area and circulated effortlessly amongst the guests. But we also loved this pair (below right), who lived together towards the back of the grounds and ran over to greet us every time we passed.
We didn't find loads to do on Langkawi (although to be honest, we didn't really look very hard – we had lots of admin to catch up on after going off-grid on Ko Adang) and our main expedition was to the Langkawi Sky Bridge. This is a stomach-churningly high, curved suspension bridge perched on top of a mountain, with spectacular views across the Machinchang Range and all the way down to the turquoise sea and islands a long, long way below.
To reach the Sky Bridge, we took a cable car which is apparently the steepest in the world – at least according to one of the information boards we read. I'm not sure this is quite true any more (there's one in Norway with a maximum gradient of 133% 😬), but I can attest to the fact it was still pretty steep! You can pay extra to ride in a glass-bottomed gondola, which seemed frankly ridiculous to me. I could see perfectly well how far we were from the ground in a gondola with a nice solid metal floor, thank you very much.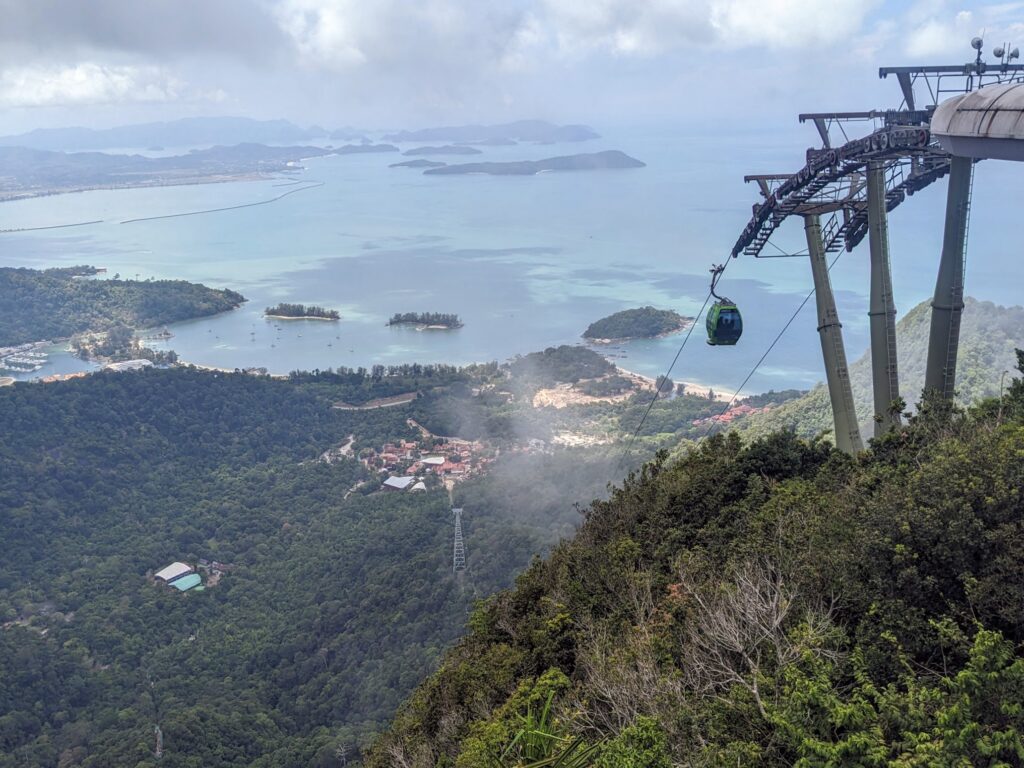 We'd been a bit apprehensive about arriving in Malaysia on the third day of Ramadan and had done lots of reading about what it might mean for our travels through the country. This was the first time we really saw its impact – we'd read that there could be huge queues for the cable car and Sky Bridge, but it was incredibly quiet. So, apart from a few wobbly knees from the height, our excursion was a great way to get a different perspective on the island.
We spent the remainder of our time on Langkawi sampling sunsets from different spots on the west of the island, which was a very nice way to pass the time.
After a couple of lazy beach stops in Southern Thailand and then these few days in Langkawi, we were more than ready to get back to some serious culture (i.e. eating) by paying a visit to Penang, Malaysia's food capital.