We returned to Bangkok via another overnight sleeper train, which rather inconveniently deposited us a couple hours late in the middle of Bangkok's morning rush hour. Still, we decided to take our chances with the metro, but had to watch one train come and go with only a few people managing to get on each carriage, before the holy grail of an empty train pulled up, much to our disbelief. Despite this, it wasn't long before the carriage was packed out again, and I really felt for Sara who wasn't feeling quite the ticket after a rough night on the train.
This time we were staying in Sukhumvit, a high-rise district famous for its international hotels, shopping malls, bars and restaurants. The main roads were wide, loud and often in the shadows of the SkyTrain overhead. On top of this, the streets were busy with people from all over the world, giving the area a very different feel to our first stay in Bangkok's Chinatown.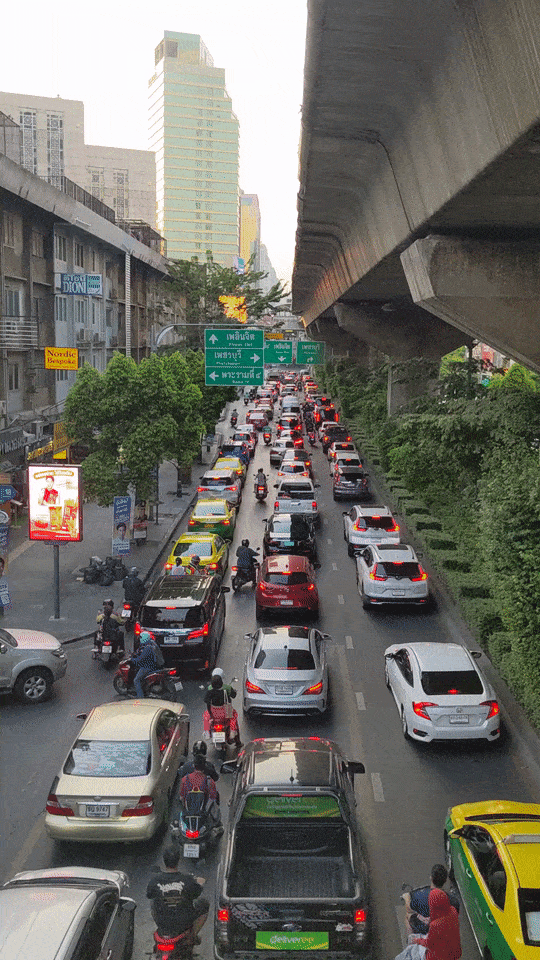 After Sara had spent a full 24 hours in bed recovering from her mystery train illness, she was ready to venture out to Benjakitti Park, a huge natural area which used to house parts of the Tobacco Authority of Thailand. As often seems to happen, we hit the park in the heat of the day, which felt borderline oppressive. In fact, we didn't get far at all before we slumped onto a shady bench for a rest and refreshment, and waited for the temperature to cool slightly. We enjoyed traversing the park via a number of raised walkways, which took us over a large area of wetlands with the high rise of the city visible at every turn.
The next day, we visited the Jim Thompson House, a museum dedicated to an American man who had emigrated to Thailand after the Second World War. Thompson seemed to have had quite the privileged upbringing, and at various points pursued careers as an architect, costume designer and Lieutenant Colonel in the Office for Strategic Services (the forerunner to the CIA) during the war. It was this last role that had brought him to Thailand, where he became enchanted by the silk weavers of Bangkok. After the war, he bought a number of traditional teak houses on stilts and had them moved to a plot of land just across the canal from the silk weavers, where he joined them together to form his own design.
He went on to found a hugely successful international silk business, which exported fabric to high-profile designers in Europe and the USA. However, it all came to an abrupt end when Thompson vanished while visiting a friend on vacation to Malaysia in 1967, at the age of 61. To this day, Thompson's disappearance remains a mystery, with theories ranging from getting lost in the forest to being kidnapped by enemies of the CIA. Seven years after his disappearance, Thompson was assumed dead, and his house preserved as a museum by a trust set up by his family. The house itself was beautiful, and we found Thomson's life fascinating, if a little sad.
We rounded off our second visit to Bangkok with a trip to the city's highest rooftop, which sits proudly atop the King Power Mahanakhon. We weren't allowed to bring food or drink up to the rooftop so we diligently placed our snacks into a locker, once again completely forgetting about our penknife and picnic cutlery set. The security team were a lot more forgiving than the surly chap at Yerevan Airport, and they promised to return the items after our visit to the rooftop. This is now the fourth time they've nearly been confiscated on this trip, but they live to fight another day!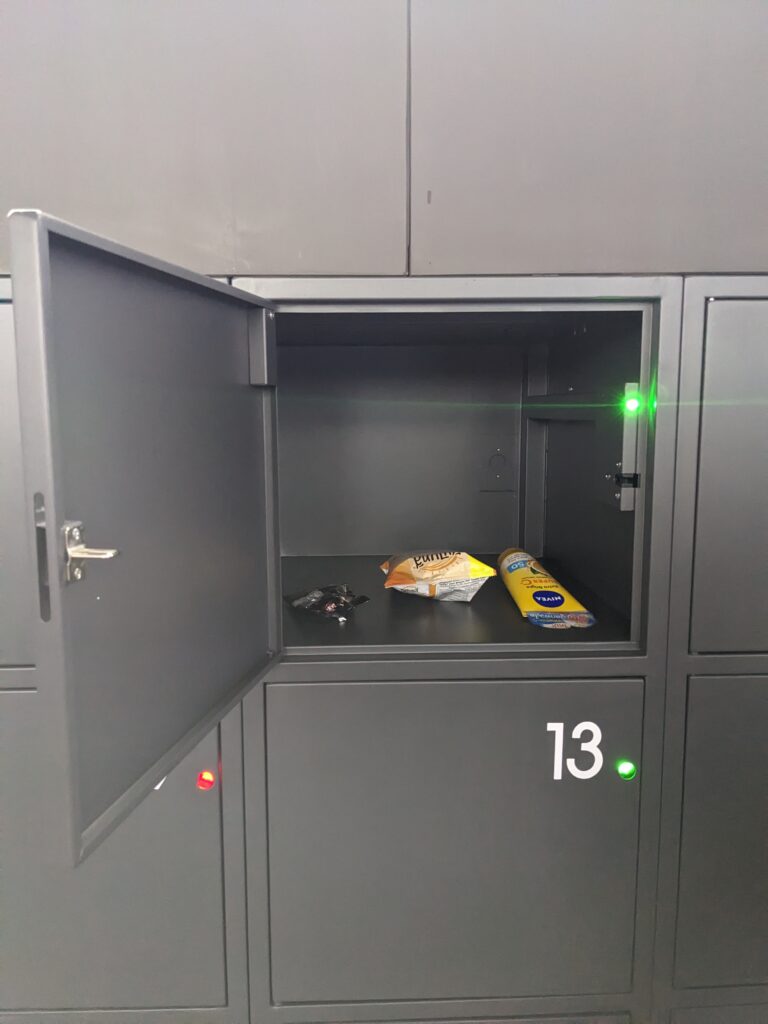 With security screening behind us, the panoramic views from the rooftop were spectacular, and it finally gave us a bit of perspective on the size of Bangkok. From here, Bangkok looked way larger than I had imagined, and I couldn't quite believe it had taken us this long to find a reason to visit. The rooftop turned out to be another popular sunset spot, but we managed to nab ourselves some space on the front row of the top floor moments before the the sun dipped below the skyscrapers.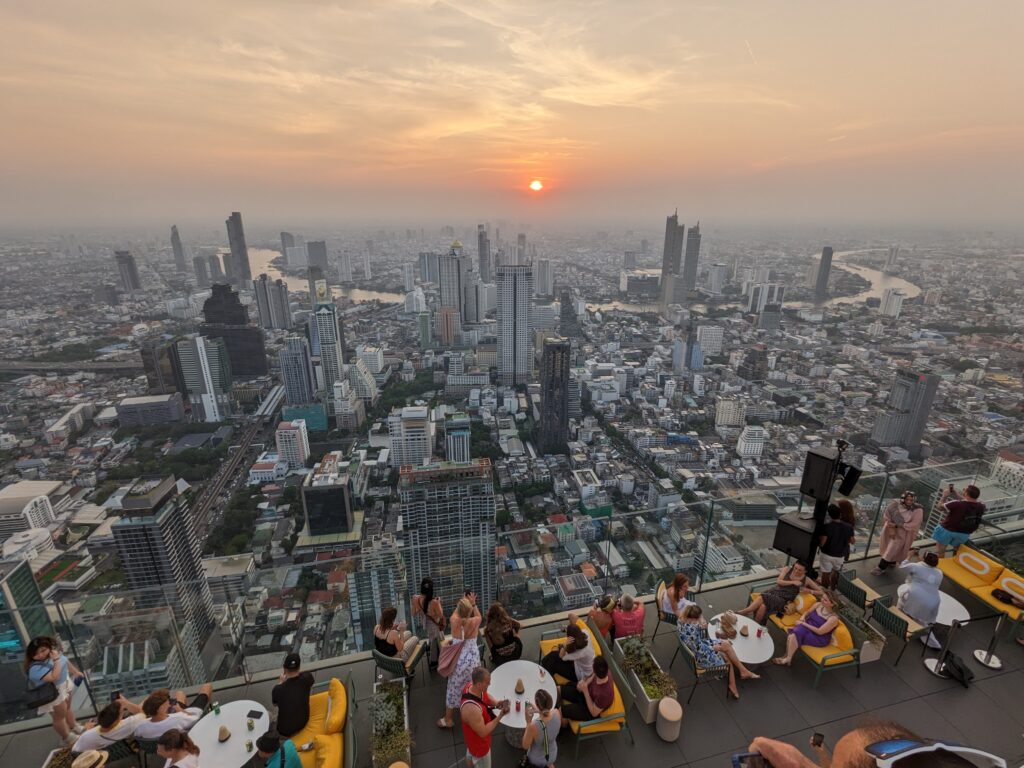 Just before taking the lift back down, we spotted the "skywalk", which allows visitors to walk over a glass floor protruding from the building. Sara was already feeling a little queasy just standing on the rooftop proper, so figured what difference was a glass floor going to make? In reality I'm not sure she looked down at all, but it did make for a great photo opportunity.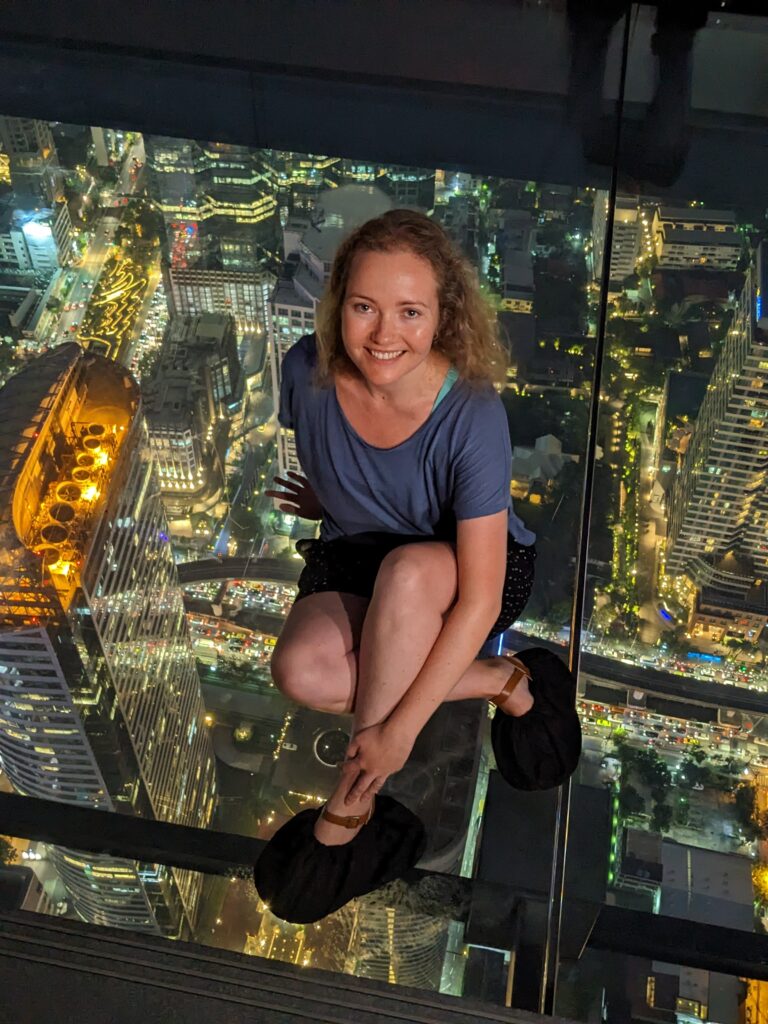 ---
Having enjoyed the comforts of city life for a few days, we decided to squeeze in a short trip to Kanchanaburi. Today, this town lies close to the end of the railway line west of Bangkok, although during the Second World War it sat on the infamous Death Railway connecting Thailand and Burma.