We'd read lots of nice things about Yerevan and it's been on my to-visit list for a while, but I was still a bit surprised to find that it turned out to be one of those rare places we've visited where we both agreed that we could happily live.
We arrived from Dilijan on our wedding anniversary without any firm plans but with a few restaurants in mind for a fancier-than-usual dinner that evening, and immediately found out that even Monday evenings in Yerevan are lively! We eventually found a table at Abovyan 12, another excellent recommendation from our Tbilisi – Yerevan train friends, and proceeded to order half the menu. I was pretty confident we could handle it all until the waiter finished writing down our order and then asked whether we were expecting anyone to join us. Whoops! Anyway, it was a really nice meal and we washed it down with a bottle of pomegranate wine, an Armenian speciality.
The next day, we set out to explore the Cascade complex, a rather unusual area of central Yerevan that combines an enormous flight of 750 steps, terraced fountains, and an underground art gallery. Dotted around the whole complex are a huge number of art installations, and from the top there is a panoramic view of Yerevan, and on a clear day, across to Mount Ararat. In typical style, we didn't make it to the top until fairly late in the day, and the afternoon haze meant we could only see a faint outline of the mountain. Still, it was an excellent view and a fun area to explore.
We spent the rest of the day walking around central Yerevan and appreciating the beautiful rose-coloured stone from which much of the city is built.
At one point, we found ourselves in the English Park. We're still not quite sure what gave it its name (confusingly, it is sandwiched between the French and Italian Embassies) but I did lose Oli for a minute…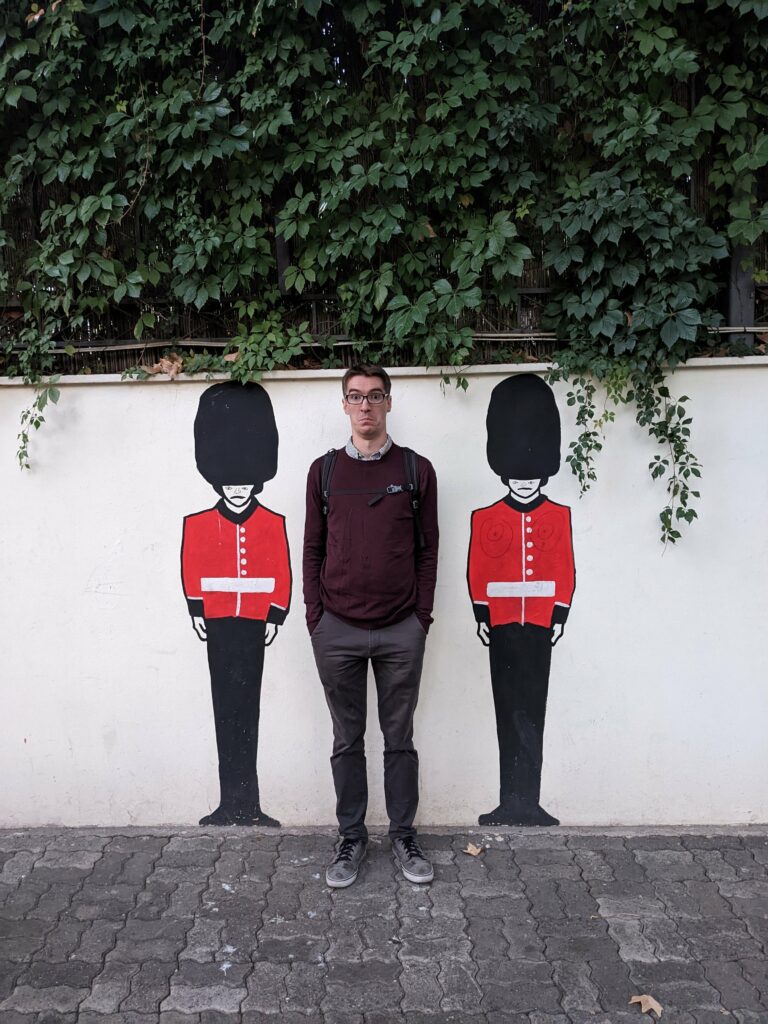 On our second full day, our main agenda item was to visit the Armenian Genocide Museum and Memorial, which sits on a hill overlooking the city. We spent a sobering few hours learning about the events of 1915, the historical context that lead up to the atrocities, and the events following. It was truly horrendous and there are many lessons that we still need to learn today. Like visiting other similar museums and memorials around the world, it didn't make for a fun morning, but it did feel like a very important part of understanding Armenia and we were glad that we had taken the time to visit.
Anticipating that we would need some mood repair, Oli had planned a very different activity for the afternoon, and so we made our way to the Yerevan Brandy Company for a tour and tasting. Planned is actually quite a strong word, since it turned out that we should have booked online, but thankfully the staff took pity on our sad little faces when they told us this and managed to squeeze us onto a tour.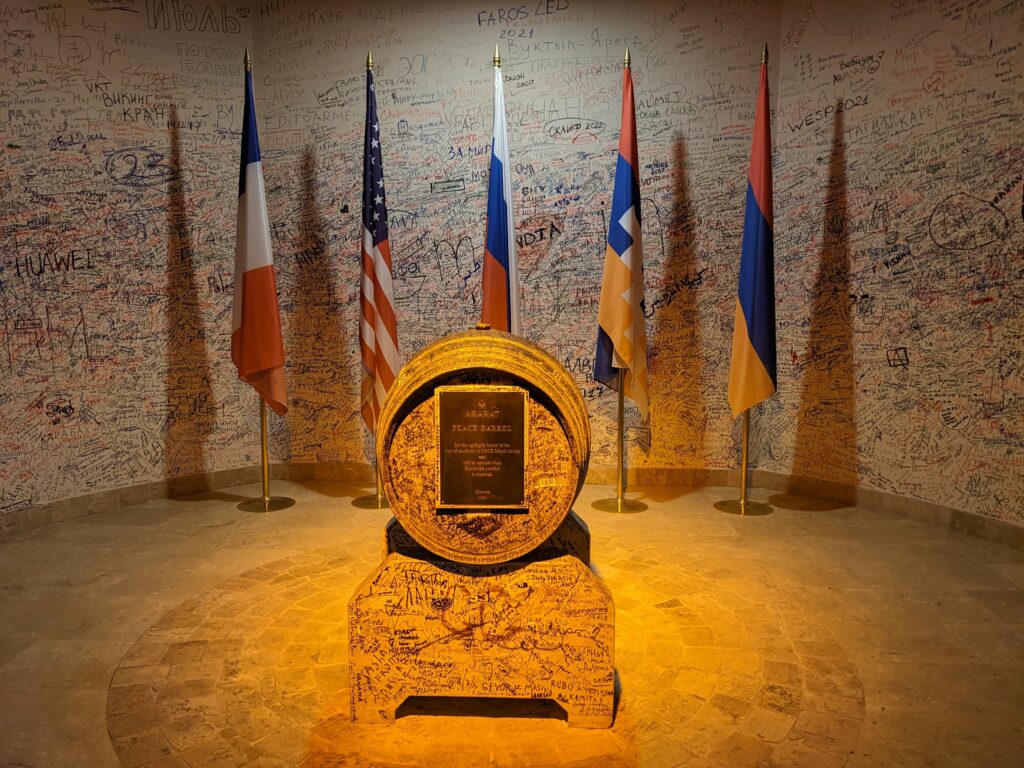 The tour itself was super slick and I really enjoyed it, but everyone knows these kinds of attractions are all about the tasting, so imagine my alarm when I discovered that I really, really don't like neat brandy! I think Oli was ashamed to be seen with me and quickly finished off my glasses as well as his own.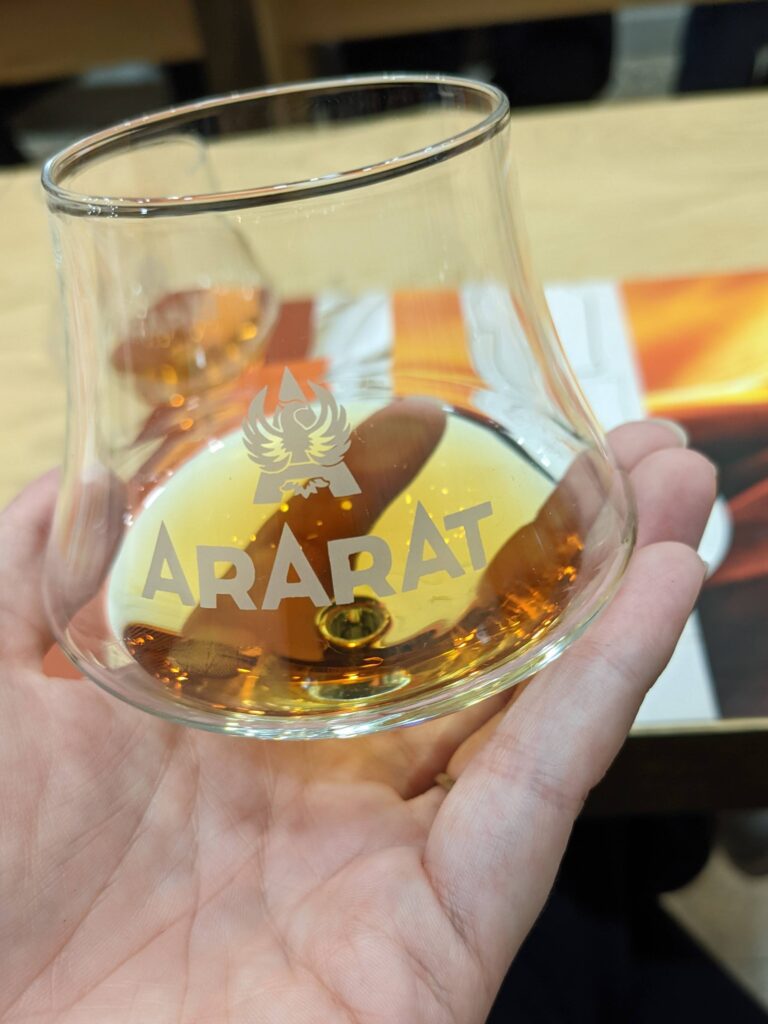 Our flight to Aktau was departing after midnight so we had lots of time to kill on our third day. We began at the Blue Mosque, Armenia's only remaining mosque. We'd read that neighbouring Iran has been given access to restore and run the mosque, and in a reciprocal arrangement, Armenia has been able to restore several churches that sit on Iranian soil. We were welcomed warmly and even met a couple of resident cats in the beautiful garden courtyard.
After a lunch of Georgian khinkali (we just can't get enough), we headed on a walk through the Kond Pedestrian Tunnel to reach the Hrazdan Gorge. Based on what we'd read, we were expecting lots of couples out for romantic strolls, but actually it was just quite dodgy! It was very dimly lit, the sides of the tunnel were bowing slightly and there were some small areas where it had actually caved in – I was very pleased to get out the other side.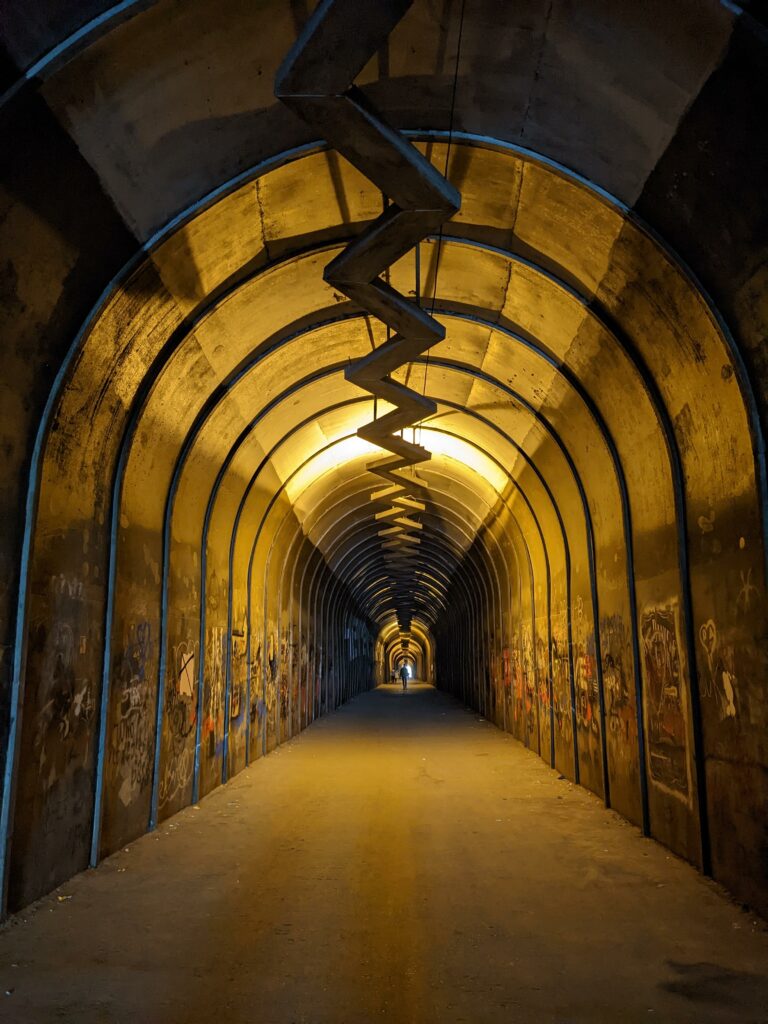 Once again, Yerevan surprised us here. As well as the rushing river and autumnal trees in the gorge, we came across the Children's Railway, a miniature station building, trains and track that were built in Soviet times to allow children to learn about engineering. Like many things in Armenia, it embodied faded grandeur (or maybe in this case, more like faded fun) and was in need of some love. But still, it was an amazingly inventive facility and apparently is still in use during the summer months, despite being a little rough round the edges. We certainly had a great time nosing around the train carriages, admiring the bird-themed stained glass windows in the station building and wandering along the track.
Finally, after some drinks and dinner at the lovely Mirzoyan Library and some time watching the dancing fountains in Republic Square, we reluctantly headed to the airport (we genuinely were not very enthusiastic about the thought of flying after a relaxed few months on ground transport).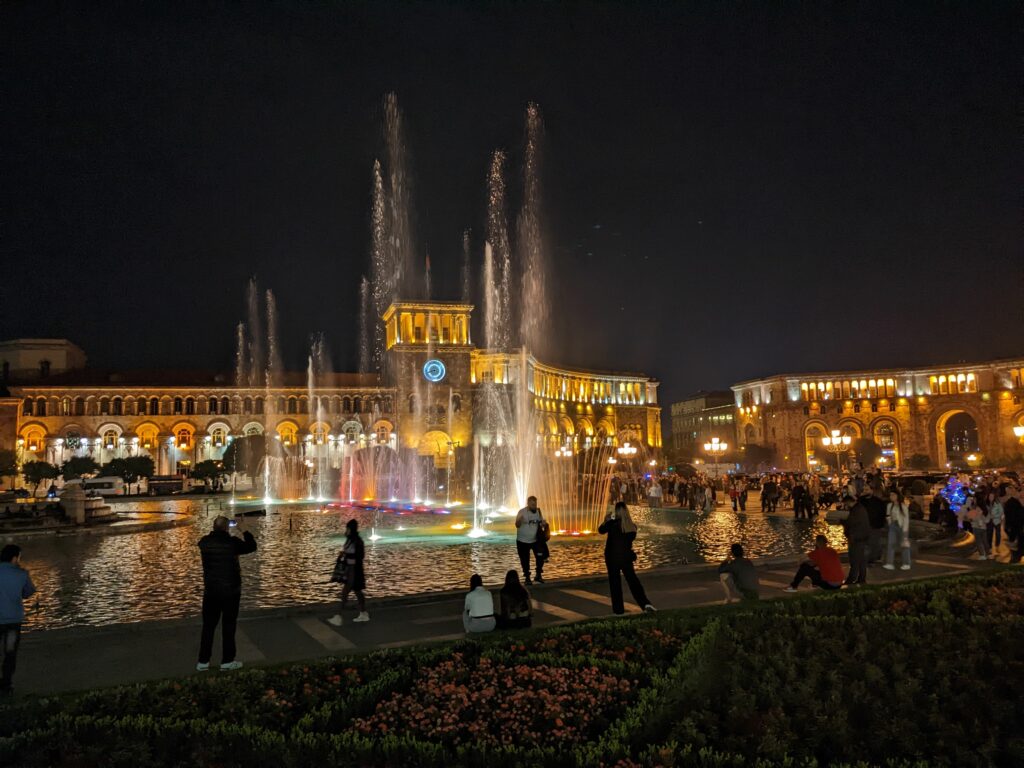 Joining the ranks of stupid things that formerly frequent flyers have done at airport security post-Covid (I've heard a few good stories from people), Oli unintentionally brought through a Swiss army knife AND a full picnic cutlery set in his hand baggage. The security staff were not impressed (unsurprisingly) but somehow in the end didn't confiscate them! I can't say this gave me much confidence for what else people might have been able to bring onto the flight…
Luckily, as you can probably guess, we lived to tell the tale and were very excited to be off to Central Asia! First stop: Aktau, Kazakhstan.