Dilijan is a town in Armenia's Lesser Caucasus mountains, most famous for its position within the eponymous 240 km2 national park. The region's alpine landscape and quaint towns have earned it the (slightly questionable) nickname of the Switzerland of Armenia. We were staying in Dilijan's old town; a small collection of wood and stone buildings, separated by cobbled streets already draped in autumn colours.
Surrounding the old town were a real mix of modern residential and commercial buildings, alongside the crumbling Soviet concrete to which we were starting to grow accustomed. Within a stone's throw from our hotel was a columned amphitheatre, an ornate stone staircase flanked by lions and a long abandoned building (all pictured below).
Dilijan also had its fair share of monuments. These included three chaps from the 1977 Soviet movie Mimino standing around a water fountain (left), and the colossal monument to the 50th anniversary of Soviet Armenia (right).
But the main reason we were here was to explore the Dilijan National Park on foot. With few circular trails available, we opted to take a taxi to Parz Lake; an understandably popular lake situated in the mountains, before walking a mountain trail back to Dilijan. This taxi ride was almost noteworthy for how straightforward it was. The driver opened fare negotiations with a price I'd read was typical online, which almost never happens. In fact, I rarely achieve the price I've read about online even after a stressful negotiation. On top of that, the vehicle was modern and largely undamaged, the driver was careful, and knew exactly where we wanted to go. It was all too easy.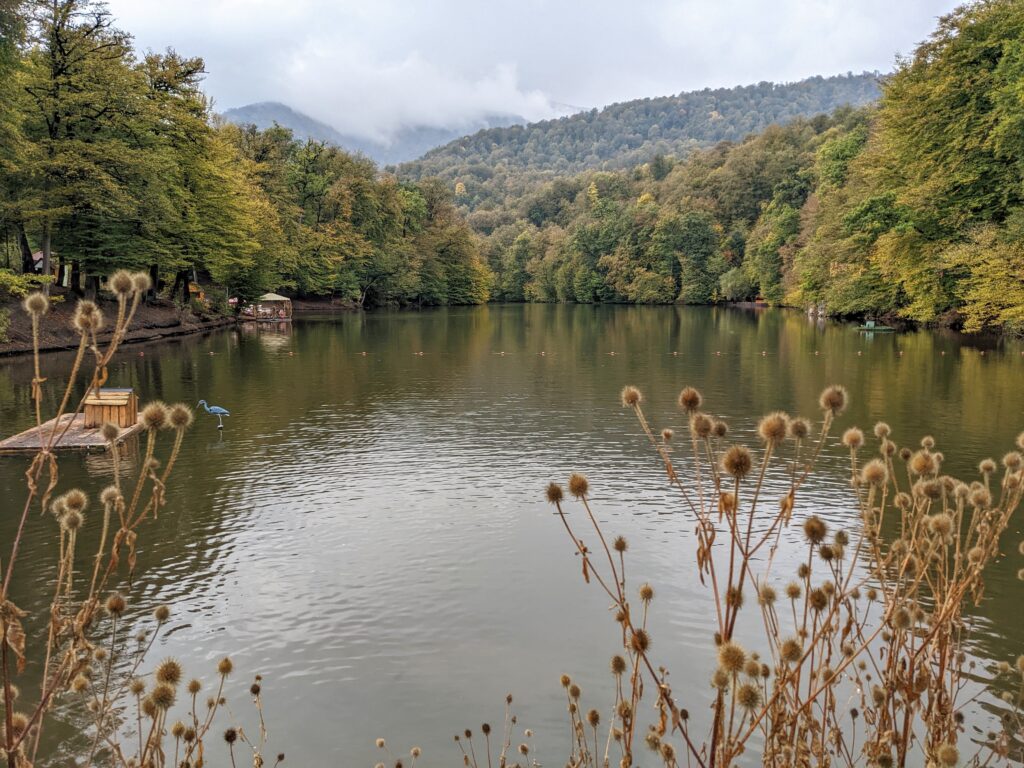 While I'd hoped the taxi ride would allow us to skip some of the elevation gain of the 12.5 km hike, a closer inspection of the elevation graph below shows that we only started 78 m above our end point, and we still had nearly half a kilometre of vertical gain before we reached the walk's highest point. This all felt vaguely familiar – I'm sure one day we'll find an easy downhill stroll!

While the lake was fairly busy, we met very few other hikers on the trail. The path itself was relatively easy to follow despite the carpet of leaves which covered most of the mountainside. We popped in and out of cloud as we went, and the damp landscape was full of vegetation, including some shiny black fungi which caught our eye.
At the highest point of the hike, the forest ended abruptly at an alpine meadow, which I'm sure would have had spectacular views if we weren't in dense cloud. To make matters worse, the GPS on my phone stopped updating, so you can imagine our relief when we managed to pick out one of the few-and-far between way-markers through the thick fog. Re-entering the forest on the opposite side of the meadow, we came across a sign warning us of wild bears, which gave us a new danger to look out for as the visibility had improved.
The route down to Dilijan was similarly autumnal, with both the trees and cloud ensuring that the town didn't emerge until the final moment.
Just as we reached Dilijan we came across a crumbling concrete "rotonda", which I believe was the predecessor to the columned amphitheatre pictured at the top of this post.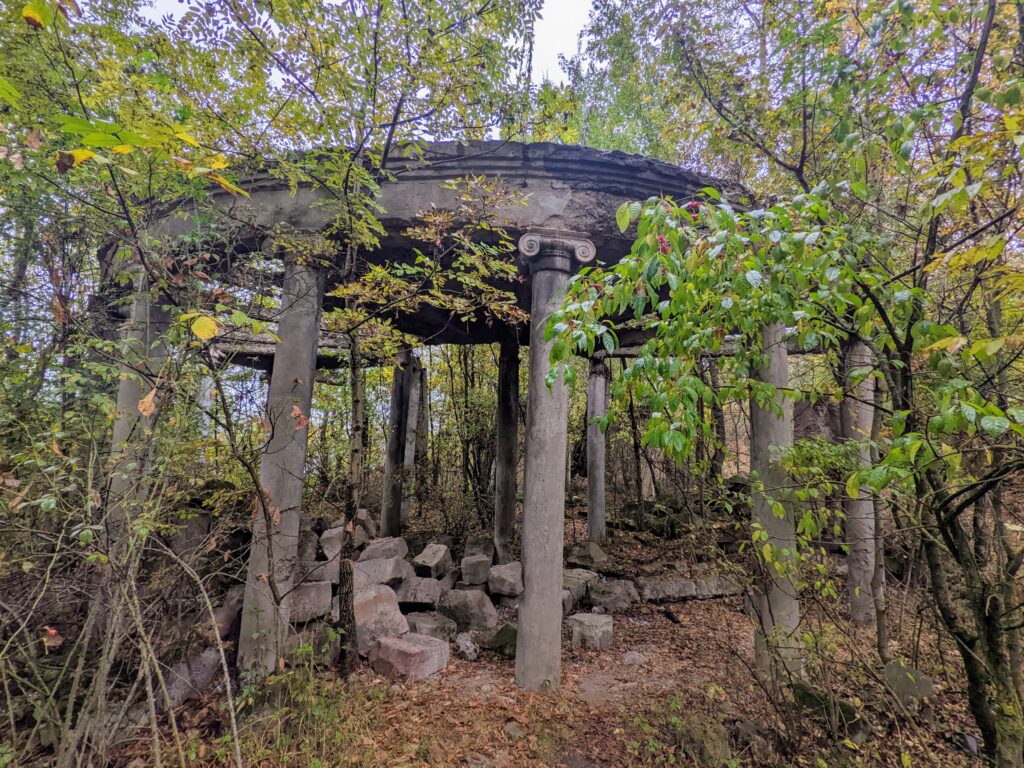 ---
With our loop of northern Armenia nearly complete, we were ready to return to Yerevan, this time for three nights instead of our previous 60 minutes. Although it was our last stop in the Caucasus, Yerevan stole our hearts immediately, and was the unexpected highlight of our time in Georgia and Armenia.