We arrived in Lisbon bleary eyed after a short overnight flight from New York City. Landing back in Europe marked the beginning of the next leg of our journey through Portugal, Spain, France and Italy in just two weeks. We'll then take an overnight ferry from the port of Ancona to Corfu to spend a few days with Sara's family.
We were so happy to be back in Europe. After nearly a year on the road, the sight of Lisbon's cobbled streets and pastel-hued buildings looked both comfortingly familiar and effortlessly beautiful. We also immediately appreciated the functioning public transport system, with the two clean, quick, comfortable and affordable metros we took from Lisbon's airport forming quite the contrast to the two subways, two air-trains and a bus that we took to JFK Airport in New York. The affordable and delicious food was also very welcome, so much so that I noticed Sara almost tear up when she spotted a custard tart and coffee combo being sold for €1.80 on the way to our hotel.
With only one (very tired) day in Lisbon, we decided to soak up the atmosphere of the Príncipe Real and Estela neighbourhoods surrounding our hotel.
We thoroughly enjoyed watching the everyday life happening around us in Jardim da Estrela, as parents collected their children from school, couples walked their dogs, and friends met for a drink at the park cafe. After a restorative nap on the grass in the shade, we decided to join in and embrace the local way of life.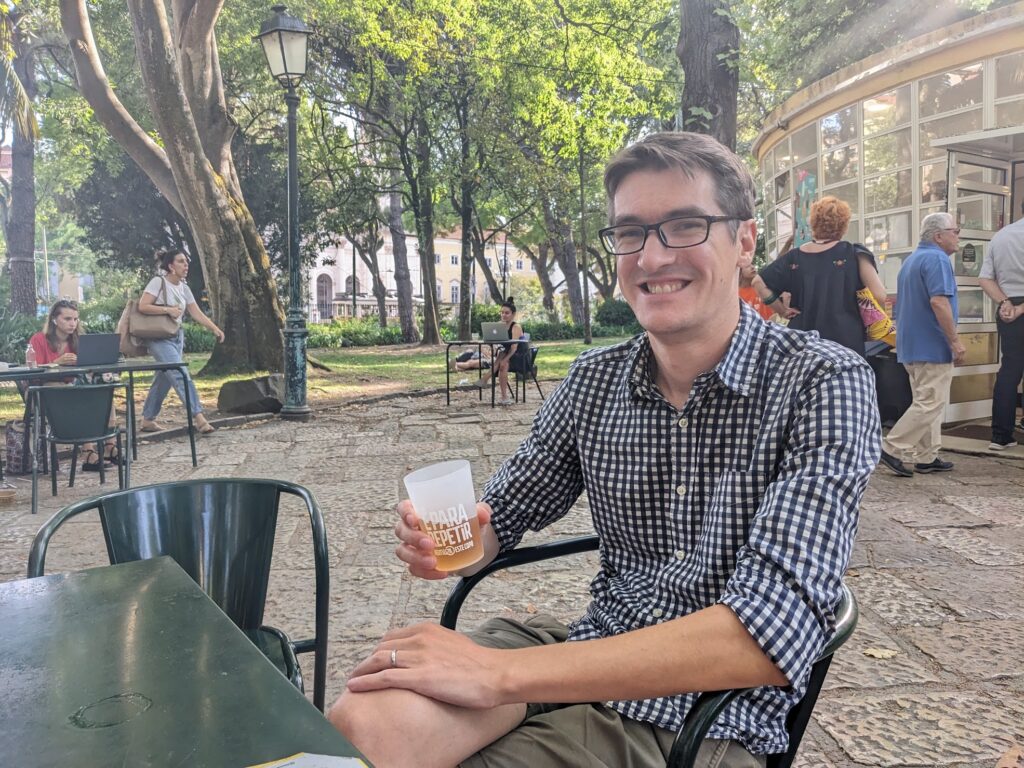 That evening we had a hankering for something traditional and healthy, so we slid down the polished-tile pavements to a local cafe called Leitaria Pomar for dinner. The owner was effortlessly juggling taking orders and working the kitchen, and yet somehow our food arrived quickly and tasted delicious. We couldn't have been happier.
---
But less than 24 hours after arriving in Lisbon, our schedule had us moving on to another new city and another new country. Bizarrely, the rail connections between Portugal and Spain are few and far between, so instead we took a couple of coaches to reach the UNESCO World Heritage-listed city of Salamanca in western Spain. We arrived in the heat of the afternoon, and even as we walked to our apartment through the old town, Salamanca's beauty captivated us immediately.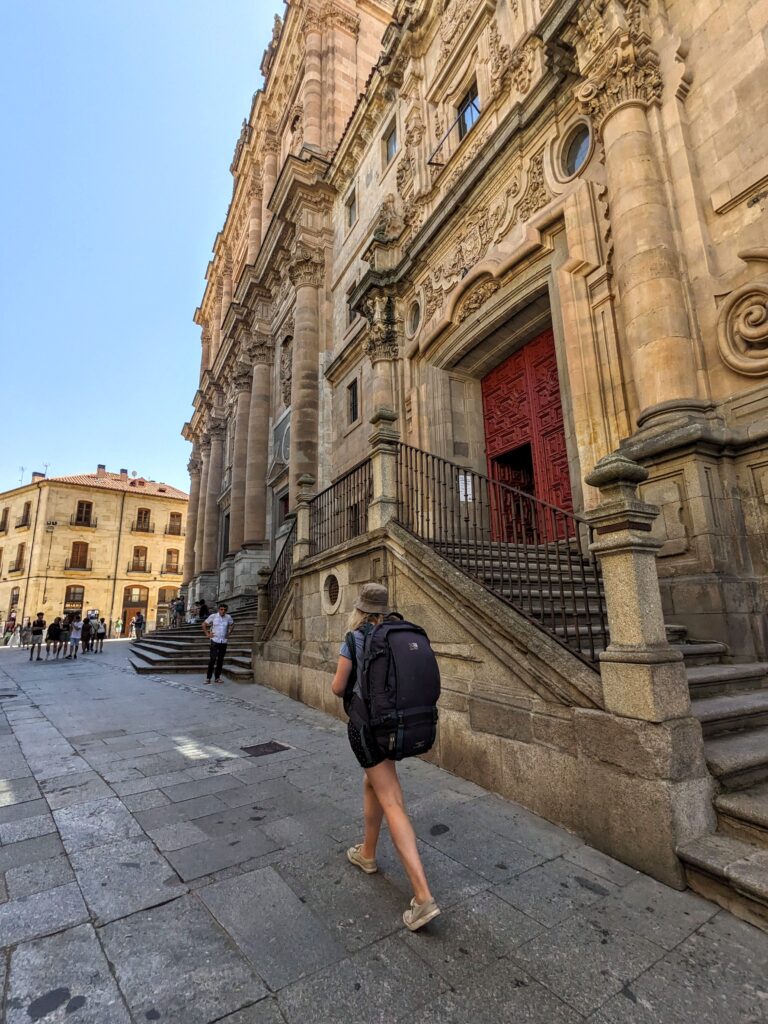 Salamanca is a pretty magical city. It's one of only six Spanish cities to feature two cathedrals (which are joined at the hip!), and its central old town is almost entirely pedestrianised. Walking through its atmospheric narrow alleys felt like stepping back in time, and was strangely reminiscent of our visit to the Uzbek silk-road city of Khiva.
We spent a morning exploring both cathedrals by means of climbing the "flat topped tower" which joins the two buildings. The tower's name is a bit of a misnomer, as it doesn't currently have a flat roof and it never has done as far as anyone can tell. Regardless, it provides great views into both cathedrals, access to the new cathedral's interior balustrade, as well as providing great views over the cathedral roofs and across the city beyond.
We climbed to the belfry at the very top of the tower, which houses ten huge bells which ring out across the city every hour. Sara was taking some photos of the tower interior when the first bell rang and, in total shock, threw her phone in the air – it honestly scared the living daylights out of the both of us. What followed was an absolute cacophony as the other bells joined in, and the resulting disorientation reminded me of the Siena church scene in Quantum of Solace, but with fewer guns.
The Spanish famously eat lunch late in the day, with most restaurants only opening around 1.30pm or 2pm. We were absolutely ravenous following our morning of exploring the hidden staircases and passages above the cathedrals, so we sat down for the Menú del día at Restaurante Mandala. I ordered Patatas Meneas for my first course, which is a local dish made from mashed potatoes seasoned with paprika, garlic and cumin, and topped with heavily-fried pork lardons and a pickled chilli. It might not have been the healthy, veg-filled cuisine we'd envisaged after departing the United States, but it was absolutely delicious, with the mashed potato alone carrying an intensely rich chorizo-esque flavour. I was already filling up when my second course arrived – Carrilleras al Pedro Ximenez – braised pork cheek in a gravy made from a dark and sweet Spanish sherry. Despite ending the meal with coffee, we were both ready for an afternoon siesta while we digested our feast.
The old town of Salamanca is centred around the 18th century Plaza Mayor. The vast square is bound by ornate and impressively consistent building frontages, which are illuminated spectacularly at night.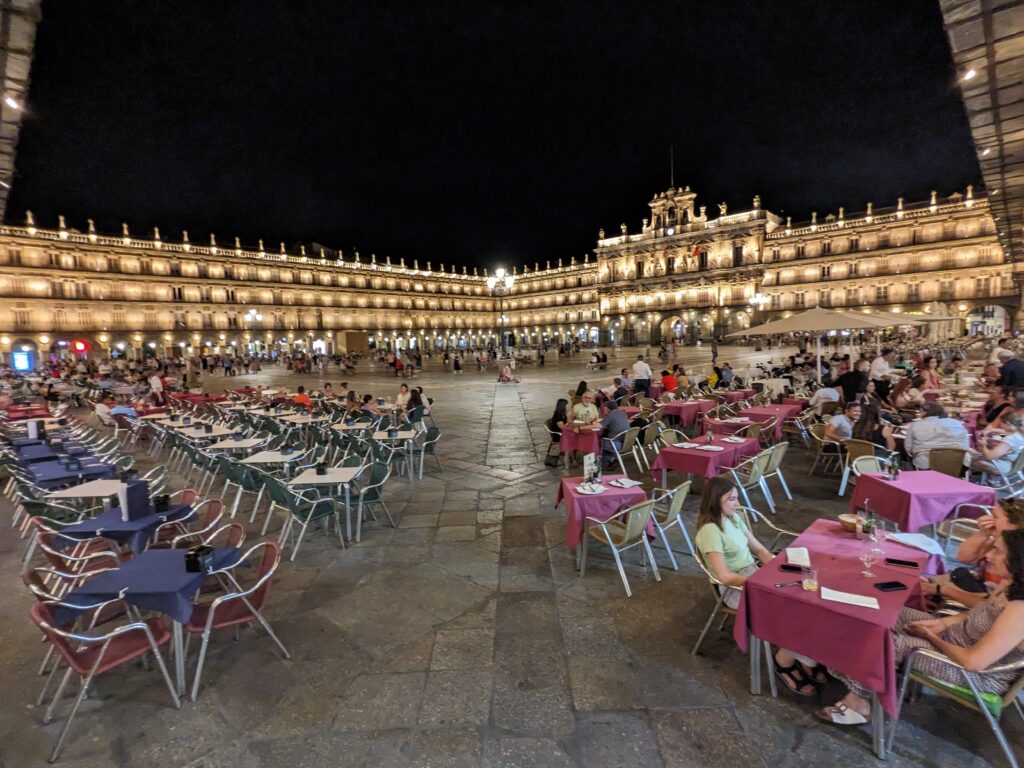 We topped off our stay in Salamanca with an ice cream and a late evening stroll around the square, which was full of friends and families (including children!) socialising even at 11pm.
I'm so glad we made the detour north to Salamanca on our route across Spain – it seemed like the perfect combination of historic charm, great food, and just popular enough to give it a buzz without ever feeling crowded.
Beyond Salamanca, our next stop will be the regional capital of Zaragoza in eastern Spain.