We made it out of central Nukus on a packed marshrutka and found our way to a dirt car park near the bus station where negotiations for shared taxis take place. We didn't have to wait too long to find and fill a shared taxi to Urgench (obviously, it filled up the moment I disappeared to go for a wee, leaving the driver frantically gesturing at Oli). Traffic drives on the right in Uzbekistan, but this was of no consequence to our driver, who had a strong preference for the left side of the road and made this known to many other drivers on the two-hour journey! When we reached Urgench, we changed taxis and had another wild ride. This time, our driver was largely happy to stay on the correct side of the road, but was instead a big fan of watching videos on his phone while he weaved through traffic. Thankfully, we made it there in one piece…
We entered the Ichon-Qala (walled city) of Khiva on foot through the West Gate, and it was a brilliant way to get a first look at where we would be spending the next few days learning more about this important trading city. While we've already visited other cities on the Silk Route (because, despite its usual moniker, it isn't actually a single road but a network of trade routes) – including Xanthi, Istanbul, Sivas, Erzurum and Yerevan), this one was a biggie.
After checking into our lovely B&B and completing a good amount of faffing, we headed out to spend golden hour walking along a 2.5 kilometre section of the city walls. It was a lovely stroll until we nearly fell off one end! Thankfully we realised just in time that there were not, in fact, steps back down to street level but actually just a sheer drop. The walls were very cool but it did slightly take the shine off when we realised how recently they had been rebuilt (during the 18th century) – this was to become a running theme. But still, the walk gave a great perspective on the walled city and our first view on the medressas, caravanserai, mosques and palaces we had come to see.
The next morning, we took a chilly pre-breakfast walk to explore while the weather was clear and the town was quiet.
We returned to our B&B feeling very accomplished and had a delicious breakfast under a traditional painted ceiling – these are everywhere and are so beautifully elaborate.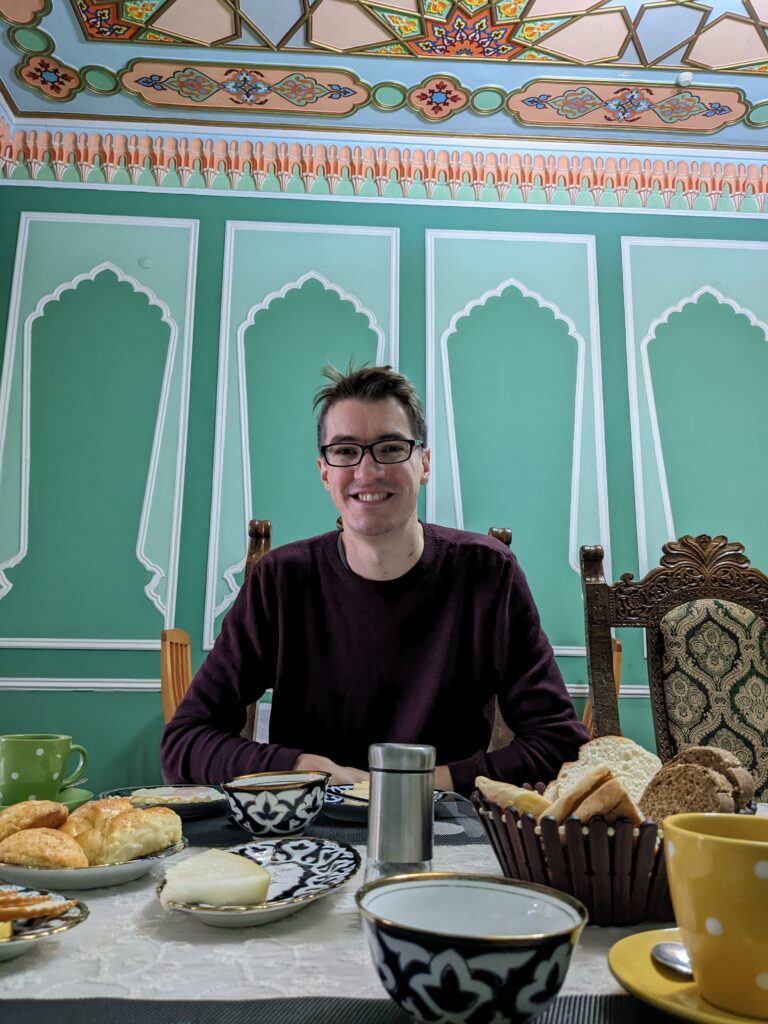 Khiva offers a two-day ticket that gains access to a long list of attractions in the walled city. Somewhat ridiculously, getting a comprehensive list of which buildings are included in the ticket was an added extra, so we stubbornly declined and spent the next few days trying our luck with our ticket whenever we saw an entrance gate!
Inside each of the medressas and palaces, there were exhibits showing room settings, manuscripts, textiles, silk banknotes, carvings, carriages, and all sorts of other interesting paraphernalia. However, we didn't see many exhibits that directly confronted some of the darker realities of the city's history, including that it held a notorious slave market. It felt a bit remiss to be enjoying the glorious architecture at face value without acknowledging the suffering that lived side-by-side with the great wealth generated by the trading city.
After a busy morning of exploration, we were hungry for lunch. However, the walled city had limited dining options and felt more touristy than we prefer, so we escaped into the main city and found a roadside tandir (oven) for lunch. We had no idea what we were buying since there was no sign and the food is kept warm inside the oven until someone orders it, so it was a bit of a mystery lunch! In the end we think it was gumma – probably best described as an Uzbek pasty. They were so good (and affordable – 65p each) that we returned the next day for more, much to the stallholder's amusement – she definitely recognised us as we'd made such a meal of our first order!
On our second full day, we visited the Pahlavon Mahmud Mausoleum. This was noteworthy for its spectacular tiling – the interior was totally encrusted in gorgeous, tiny turquoise and blue tiles* – but truly memorable for the fact that two newly married couples visited for prayers with their entourages while we were there. We sat quietly and tried not to get in the way, and it was so lovely to see. It did get us wondering about wedding traditions in Uzbekistan, and we read an article over dinner that evening. It was a fascinating (if sometimes shocking) read, but we should preface it by saying that we don't know how typical some of these traditions really are or how quickly things are changing. I know I've read articles about British wedding traditions before and thought, "Yes but no one does that any more!"
By this point, we'd visited all of the open buildings within the walled city, so we set our sights towards the Nurullaboy Palace. It had a couple of interesting exhibits and room settings but was mostly just huge and eerily quiet (and we kept finding ourselves in totally empty buildings).
However, we did amuse ourselves for quite some time running around this room of eight mirrors!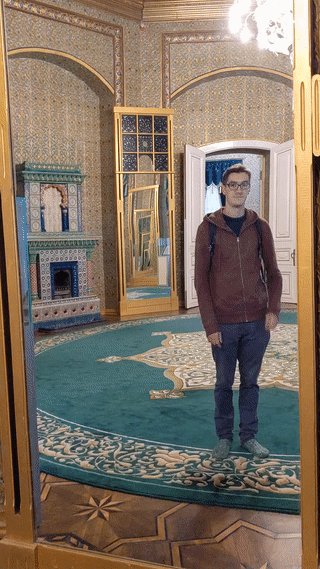 This marked the end of our time in Khiva, and the next morning we walked to the train station at sunrise, ready to catch a train to Bukhara.
---
*Oli really cracked me up when he said it reminded him of a particularly memorable London Rental Opportunity of the Week. If you know, you know.