We crossed into Turkey by bus – our first 'proper' border crossing since leaving the UK. With the border formalities completed in about an hour and a half, we passed fields and fields (and fields, and fields) of sunflowers on the four hours between the border and Istanbul. We were expecting a strong cat showing in Turkey and the count steadily ticked upwards even from the bus window. We also saw lots of minarets and I suggested to Oli that we might like to count these too. Perhaps it's for the best that he flatly refused!
We were very excited to be in Istanbul for a couple of reasons: it's a city that's been high on our list for a while, it marks us crossing into Asia on our overland journey (which feels like a pretty big milestone), and most importantly, my parents were coming to visit! This was much needed – it's only been a month and we've already started telling identical jokes simultaneously. They weren't even funny when only one of us was telling them, so it was high time for some outside company.
We had a day and a half in Istanbul before my parents arrived, and then one full day together in which we did some serious sightseeing.
Stop 1: Hagia Sophia
Over its 1485-year history, the Hagia Sophia has been a church, a mosque and a museum. Most recently, it was converted back to a mosque in 2020, and this meant that we couldn't visit all parts of the building that were previously open. Despite this, it was a pretty amazing space.
Stop 2: The Blue Mosque
Our next stop was just across the Sultanahmet Park from the Hagia Sophia: the iconic Sultanahmet Camii, better known as the Blue Mosque.
Sadly, the interior of the Blue Mosque is currently undergoing restoration work and so we didn't get the full effect of the spectacular interior. None of us could quite work out how Mum managed to take this photo (below right), which seemed to circumvent all the scaffolding across the interior of the dome! I'm assuming she didn't climb up, but to be honest I wouldn't rule it out.
Stop 3: Basilica Cistern
We didn't have the best start when Oli managed to book tickets to visit an entirely different cistern on the extremely confusing website (you do have to wonder how many tourist-attraction cisterns one city really needs) but despite the crowds, this stop was a bit of a highlight. Built in 532 to provide the city with fresh water, it was a cavernous underground space supported by columns that had been salvaged (or pinched) from ancient temples. It was then somehow entirely forgotten and wasn't rediscovered until 1545. We wandered around the space on raised walkways searching for fish (we didn't spot any) and admired the art installations set between the columns.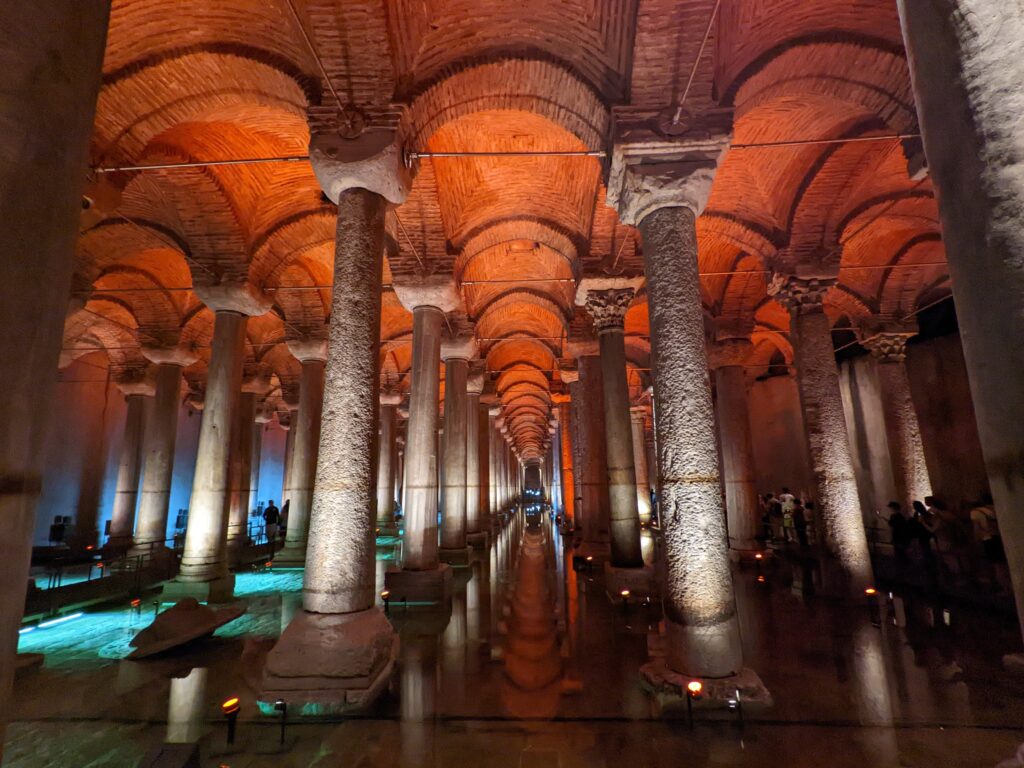 Stop 4: Lunch at Sultanbahti Köftecisi
It was a bit of a challenge in the well touristed area of Sultanahmet to find somewhere decent for lunch, but we were lucky to find Sultanbahti Köftecisi recommended on a blog post. It was tucked away up some stairs and had a reassuringly small menu (normally a good sign) so we ordered nearly all of the dishes on offer. We shared lentil soup, köfte, bean salad, rice and chips, and demolished it all.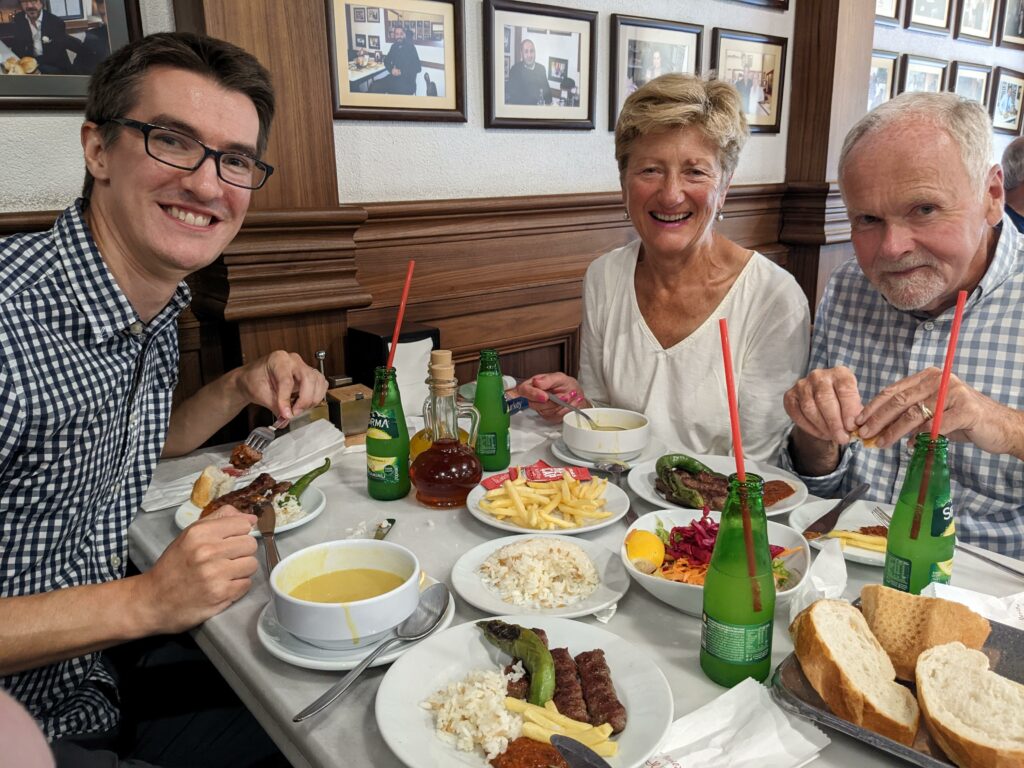 Stop 5: Topkapı Palace
Our final sightseeing stop of the day was a biggie – the Topkapı Palace. We could probably have spent all day here exploring the four courts and all of their constituent buildings, containing treasures such as the Spoonmaker's Diamond (which weighs a casual 86 carats!)
By this point we were seriously flagging, so we kept saying we would stop and then proceeded to explore a whole new part of the palace. It turns out that with four of us, it's much harder to enforce the only look at two things in each room rule! Our favourite part of all was probably the gorgeous tiles in the Harem.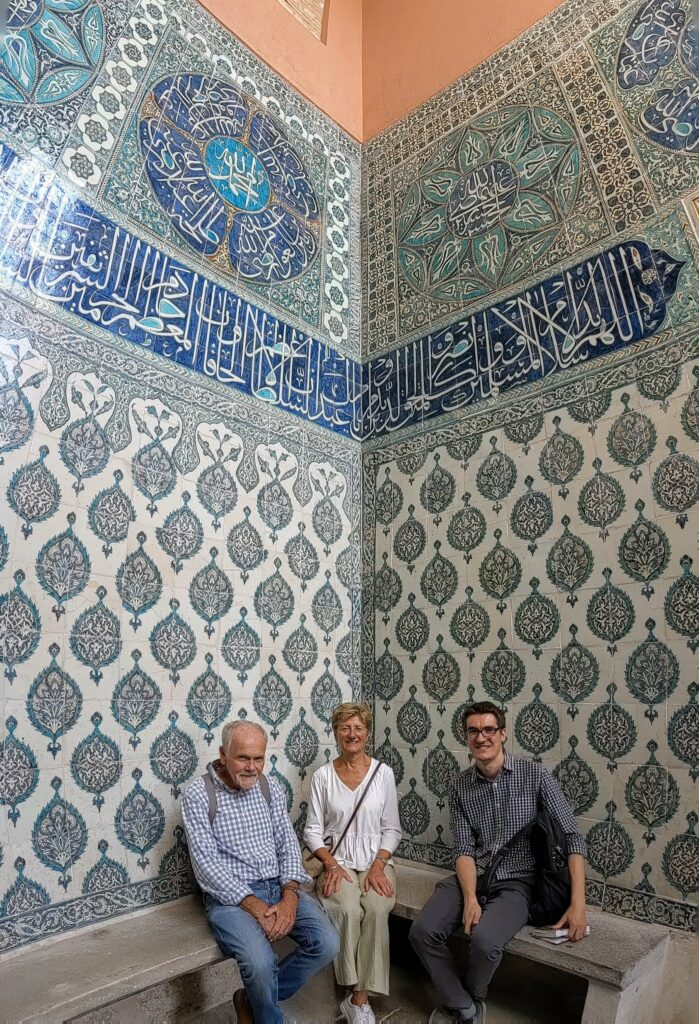 Stop 6: Dinner at Antiochia
In the evening, we treated ourselves to a delicious meal at Antiochia, where we faced the age-old problem that Dad wanted to order his own food, while Mum, Oli and I all wanted to share (to be fair, it was a meze restaurant). So, we compromised and Dad ordered his own and we all ate it for him. He made a great choice!
---
The next day, we parted ways so that Mum and Dad could catch a flight to Izmir. Oli and I were booked onto an overnight train (more on that later), so we had a full day to fill and headed for the Anatolian (Asian) side of the city – we'd visited briefly a few days ago but wanted to explore the Kadıköy and Moda neighbourhoods. It was worth the trip – without any big-hitting tourist sites, there were fewer foreign visitors and it felt much less international and more like a real working city. We really liked the laid back vibe and spent the day wandering, watching ferries, fighting a bull, counting many cats, admiring the street art, riding the tram and stocking up on dinner to eat on the train at the beautiful produce market.