Brisighella is small mountain town built at the foot of three hills, which are occupied respectively by a clock tower, a fortress and a church, and surrounded by vineyards. It's the sort of unspoilt Italian town that we've been dreaming about, but never quite expected to find in reality. It's no wonder that Brisighella is a member of the organisation of the most beautiful villages of Italy.
Our departure from Bologna got off to a slightly rocky start when I cracked my forehead on a doorframe as I was rushing to pack my bag before checking out. Luckily, Sara somehow managed to find frozen peas in the train station shop, which seemed pretty fortunate given that none of our fellow passengers were buying frozen vegetables at the same time as their long-distance train tickets.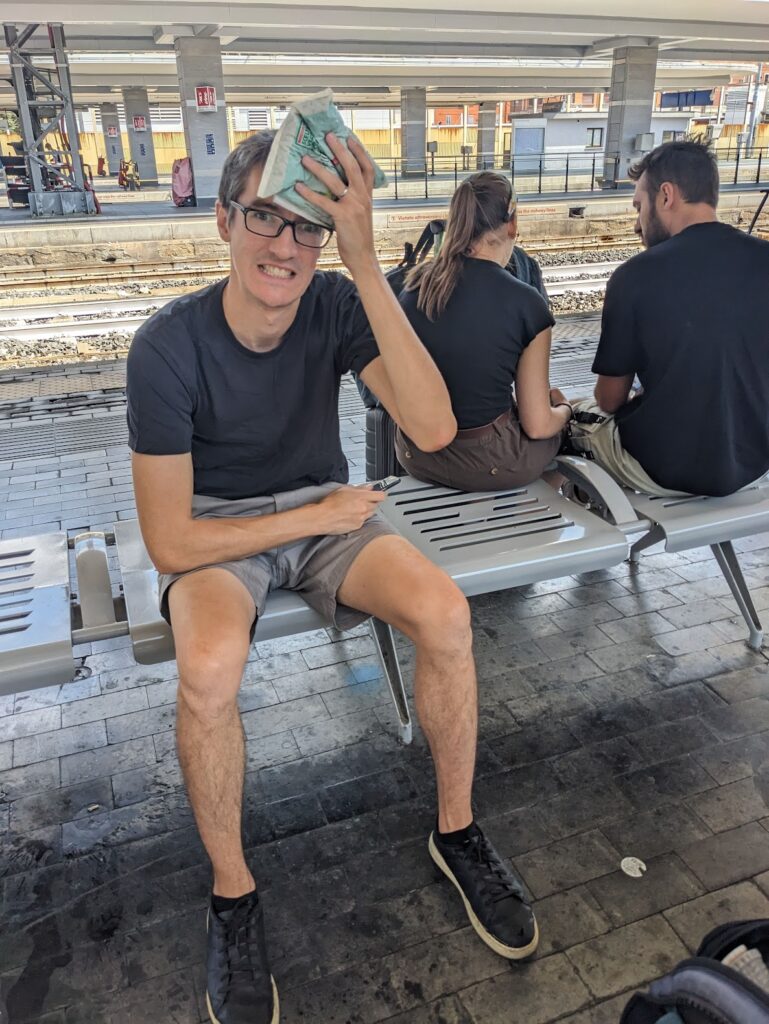 But it soon turned out that all our rushing was for nothing, as our train to Faenza was delayed and we missed our onward bus to Brisighella. This left us stranded for a couple of hours in Faenza until the next bus, but it did at least give us some time to catch up on the blog! 😬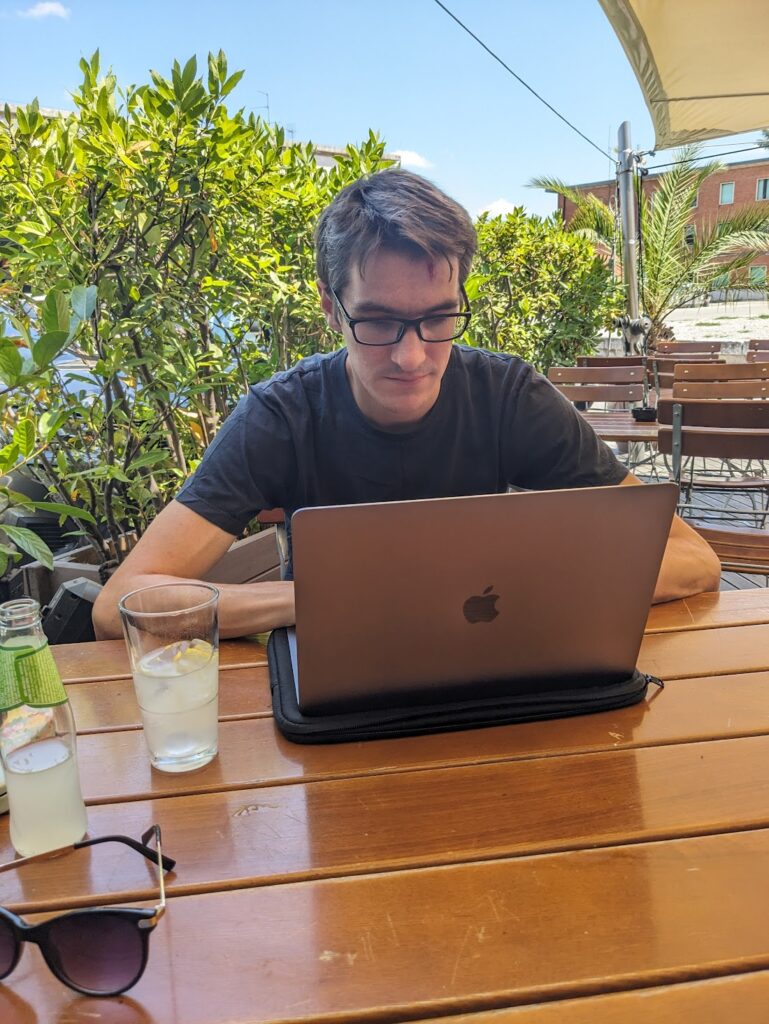 I couldn't quite believe it when we finally arrived at our accommodation – it looked just like one of those Trivago adverts where the woman rather unrealistically asks for the perfect hotel with a roll-top bath in the centre of Venice for £62 a night. We'd booked a room in a charming B&B, whose sun terrace overlooks the central town square – the perfect spot for an afternoon drink and breakfast the next morning. It's got to be one of the loveliest and most low-key places we've stayed on this trip.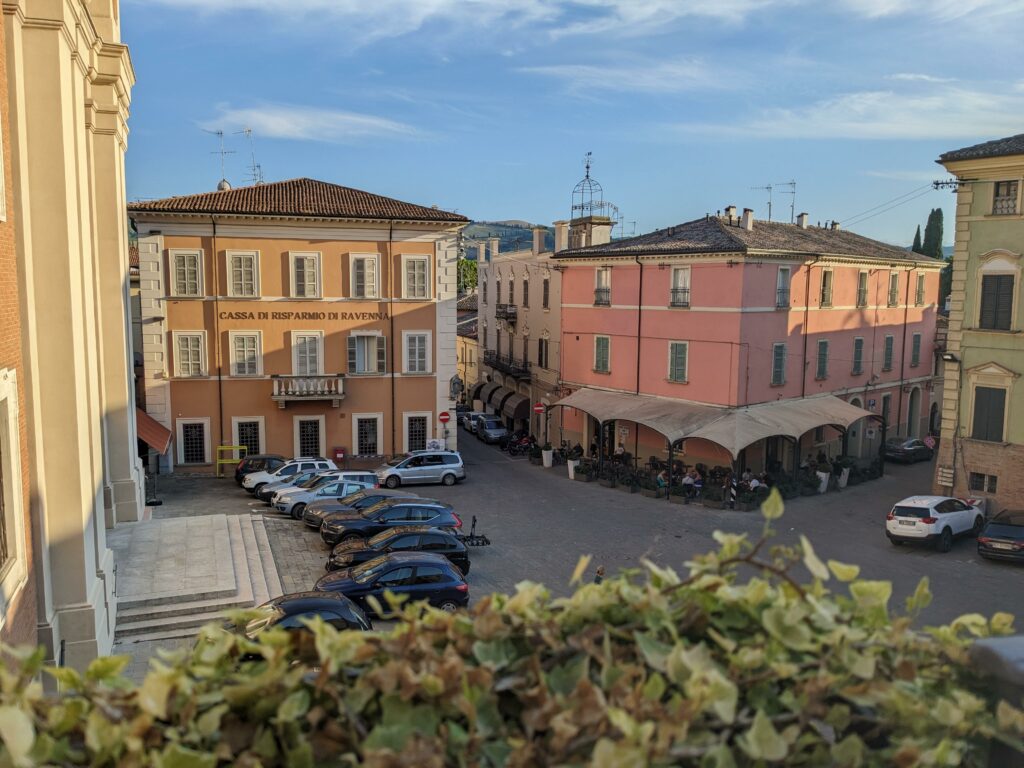 When we ventured out later in the afternoon, we found the undulating Via degli Asini (aka Road of the Donkeys) hidden behind a series of arched windows above street level. This street began life as a defensive post in the city's walls in 1290, before becoming a commercial thoroughfare for carters and their donkeys carrying Gypsum from nearby caves. We never did get to the bottom of why the pathway was so uneven, but I'm guessing it was either old age or something to do with the wall's defensive function!
With the heat of the day now fading, we took a walk up to the clocktower, which is perched somewhat precariously atop a rocky outcrop. Even though it has been damaged and rebuilt many times over, a tower of some form has occupied this spot since the 16th century. The views were nothing short of spectacular on the way up, and we could clearly see where the town ended and the vineyards began.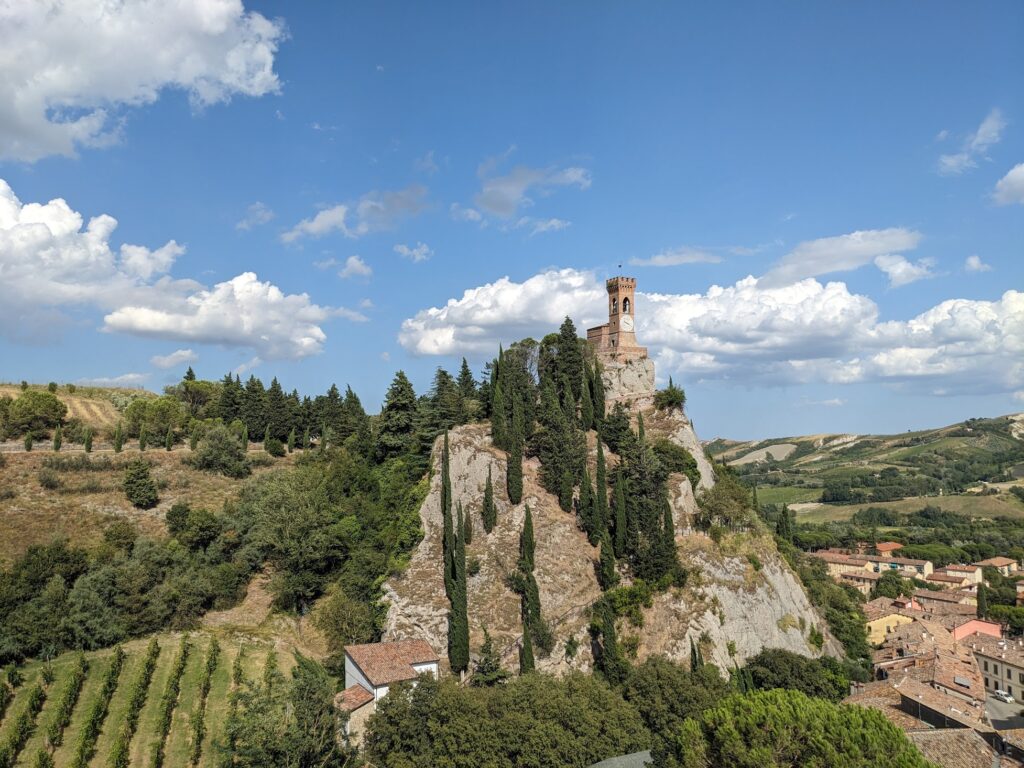 We continued back down to the town and up again to reach Rocca Manfrediana – the fortress that has presided over the town since 1310. The roughly square fort has circular towers in two corners and a series of high walls from which visitors can take in the views. As stunning as it was, it didn't sound like the most comfortable existence for the fortress' inhabitants, especially for the prisoners who were kept and tortured in the towers.
Back in the town, we loved wandering Brisighella's cobbled streets and meeting the local residents, many of whom emerged in the cool of the evening to eat and socialise.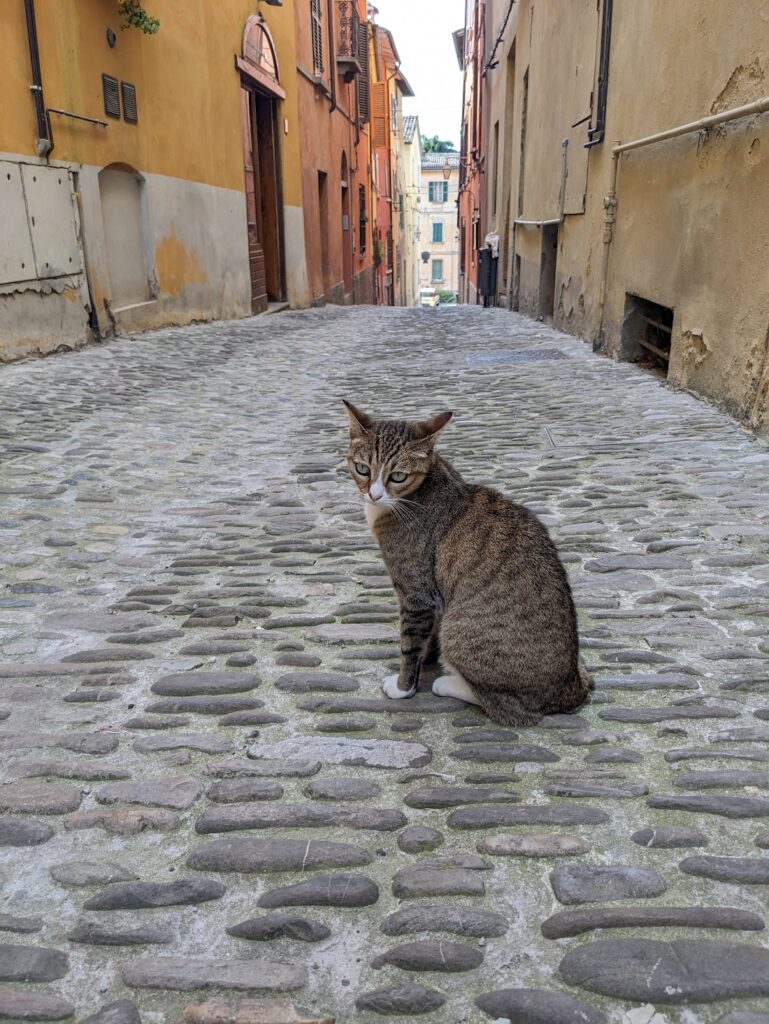 All in all, Brisighella felt both beautifully quiet and not even that hard to get to. It sometimes amazes me how little distance you need to travel to get off the beaten track, even in Italy in July. I'm not sure we'd need to spend a whole week here, but I wouldn't mind visiting a few more of the most beautiful villages of Italy if Brisighella is anything to go by.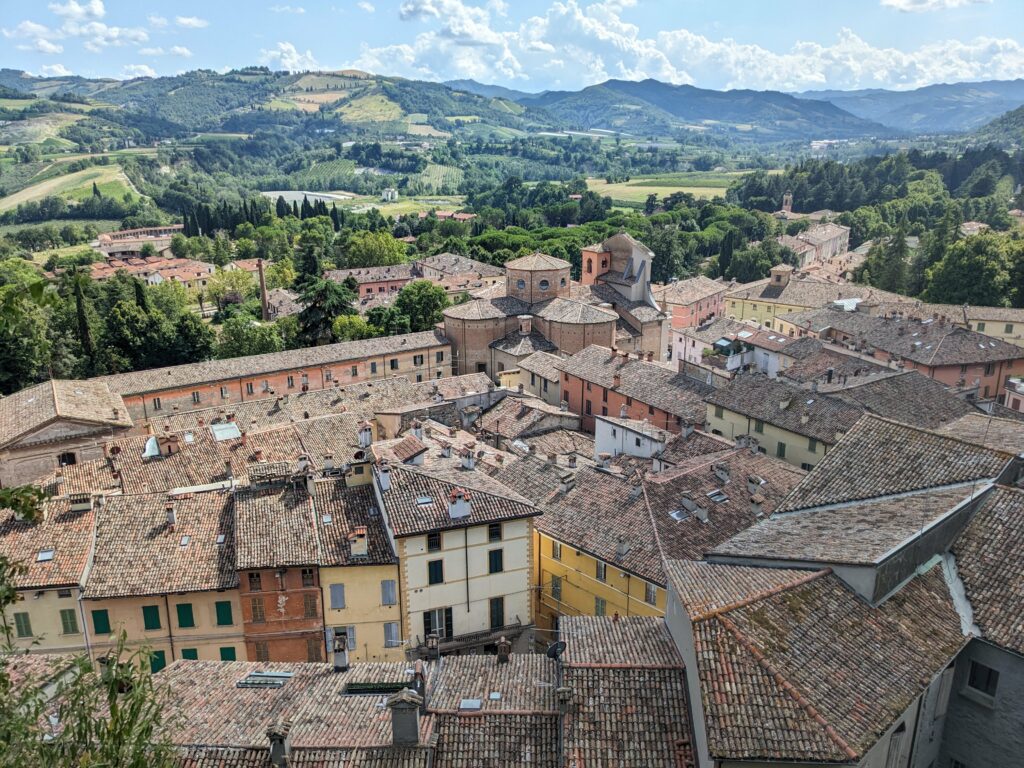 From Brisighella, we had just one final stop to make in Italy – the bustling seaport of Ancona.