From Ho Chi Minh City, we took a 6-hour, cross-border bus to reach Phnom Penh, our first stop in Cambodia.
One of the first big contrasts we noticed on the streets of Phnom Penh were the number of tuk tuks around – although these are often associated with the whole of Southeast Asia, we didn't see a single one in Vietnam. But in Cambodia, it's even possible to hail them using Grab (the Southeast Asian version of Uber), which we loved. It was a bit more exciting than a Prius turning up every time!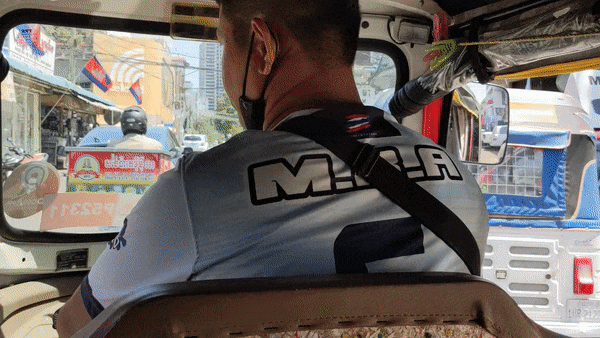 We took a ride in one to visit Phsar Tuol Tompoung, better known as the Russian Market. It acquired this nickname during the 1980s, when it was frequented by the then-large Soviet immigrant population in the city. We read that it was worth a visit even though it sounded very tourist-focused, but it well exceeded our expectations. Yes, there were stalls selling the ever-present elephant trousers, but there were also sections for fresh produce, fish, meats and, always my personal favourite, car and bike parts. I love the idea that you could pop to the market to find a spare wing mirror after a prang on the busy streets!
Our next stop was the Royal Palace, which sits just next to the Mekong River. This was a spacious compound filled with lots of impressive buildings, most of which we couldn't enter because this is still the official residence of King Sihamoni. We were allowed to peek into the Throne Hall, but sadly no pictures were allowed. More impressive was the Silver Pagoda next door (and part of the same entrance ticket), which housed an emerald Buddha and a seriously blingy, diamond-encrusted Buddha (although again, no photos allowed). In any case, my favourite part was the 642 metre mural, which extended around the whole enclosure and told the tale of a Cambodian poem. Although we weren't familiar with the story, the paintings were so beautifully intricate that we spent quite some time following the walls around the complex to admire them.
---
Wat Phnom is a temple set on the only hill in town, and gives the city part of its name (phnom means hill in Khmer). We climbed the hill to visit the temple and were hoping to watch the sunset over the city, but sadly we couldn't see much of the view because there were so many trees. But the temple was definitely worth a visit, and we also saw a chicken visiting a shrine to worship, which was bizarre enough to make our day and probably better than a sunset anyway. While we were there, three monks arrived (and we saw more getting out of tuk tuks at the entrance, which was a little surreal).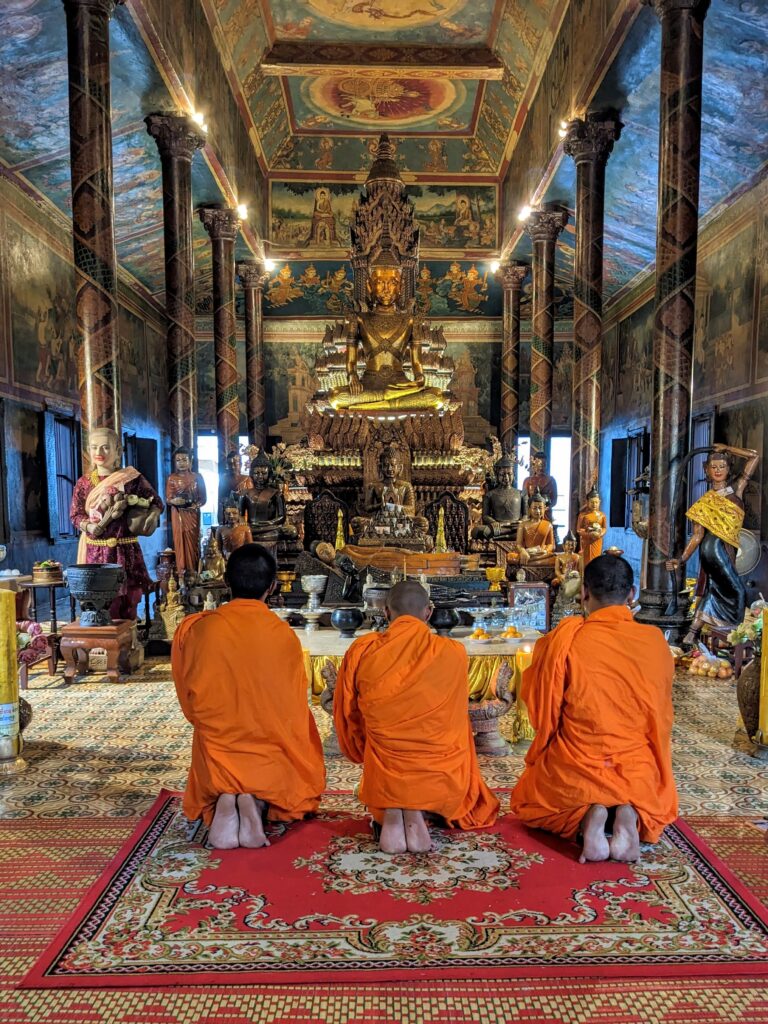 As we were exploring the temple, we started to realise that literally every available surface was covered in banknotes that had been left as offerings throughout the day. Even as the monks prayed, one of the temple attendants was going around, retrieving all the money and giving it to another group to count. They had stacks and stacks of notes already!
As we left, we saw a commotion just across the road and went to see what was happening. There was a crowd of people feeding a group of ENORMOUS hornbills, who would rest for a while on the railings outside a company headquarters while they took as much food as they fancied, then spread their wings and fly back across to the trees in the temple grounds. They looked like dinosaurs when they were in the air, and it was a pretty unexpected sight in the middle of the city!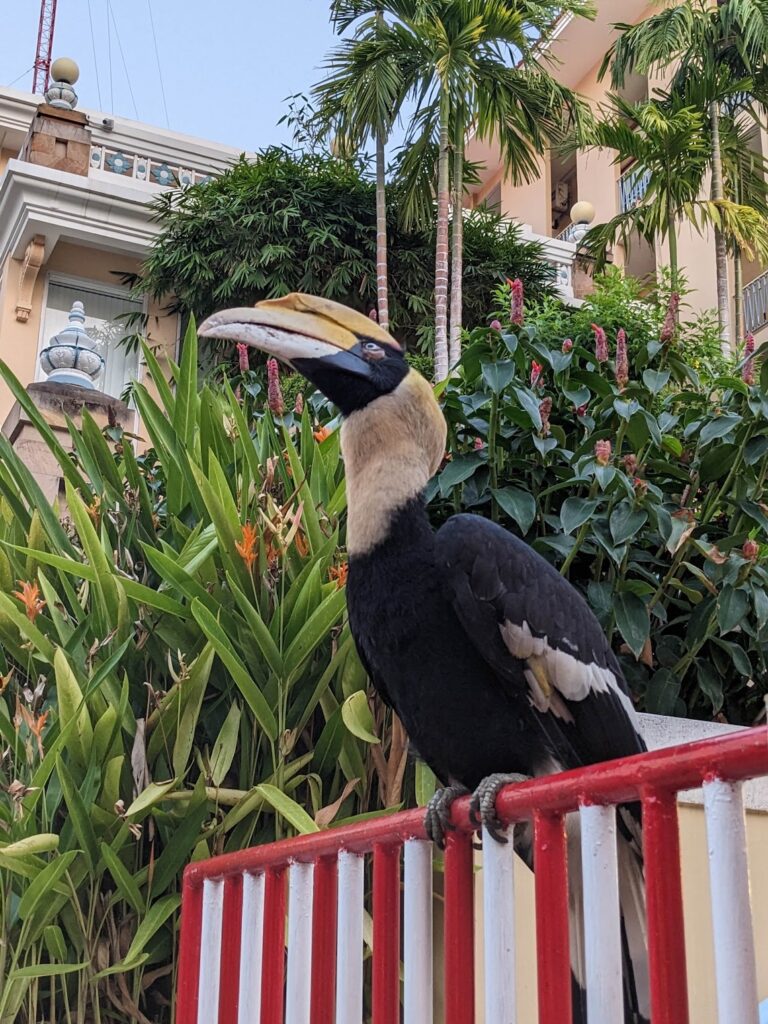 Finally, we couldn't resist some time swimming in the glass-sided rooftop pool of our hotel, which had a brilliant view towards the Mekong River and across many of the sights we'd visited during our short stay in the city.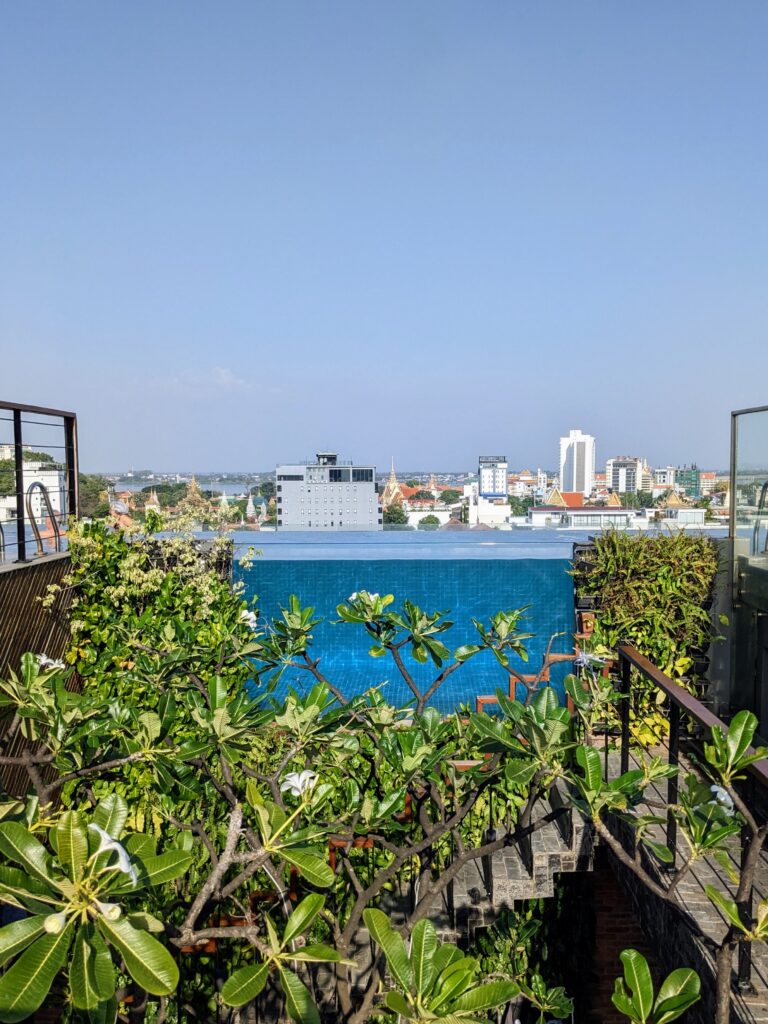 To be honest, I'm not sure we really got under the skin of Phnom Penh. We'd read that the city had a bit of an edge to it, but we found it surprisingly relaxed and with a bit of a hipster vibe, so I'm sure there was much more we didn't experience. We liked its tropical and steamy atmosphere though, which felt like it had much more in common with Singapore than its geographically closer neighbours in Vietnam. It's somewhere we'd have to revisit to explore further – but for now, we were hopping on a train across Cambodia to the small city of Battambang.