We got up bright and early to catch the daily train from Phnom Penh to Battambang, departing at 6.40am. Oli had booked our tickets online the previous day and carefully selected our seats from the hundreds available, but when we eventually found our train (by some fluke) on an un-numbered platform at Phnom Penh's central station, it had only three tiny carriages and no seat numbers, so our seat reservations didn't mean a thing. We did read this might happen! No matter, we found a spot and settled down for the journey across Cambodia.
We had no real idea how long it might take, because Oli had looked everywhere and couldn't find an official arrival time (only an estimate from our fave Man in Seat 61). I suppose no one can complain it's late if there's no indication when it will arrive! In the end, it was a scenic (if rather bumpy and dusty) six-hour journey through some beautiful small villages and rural areas.
Our guidebook had described Battambang as an 'elegant riverside town', so we were a bit surprised to discover just how dusty it was. For the next couple of days, we never quite managed to shift the dust we'd acquired from the open windows of the train, but actually, we really liked the town's architecture and its super-relaxed vibe. In fact, I was really surprised to discover (when fact-checking this post) that it's Cambodia's third largest city – I would never have guessed!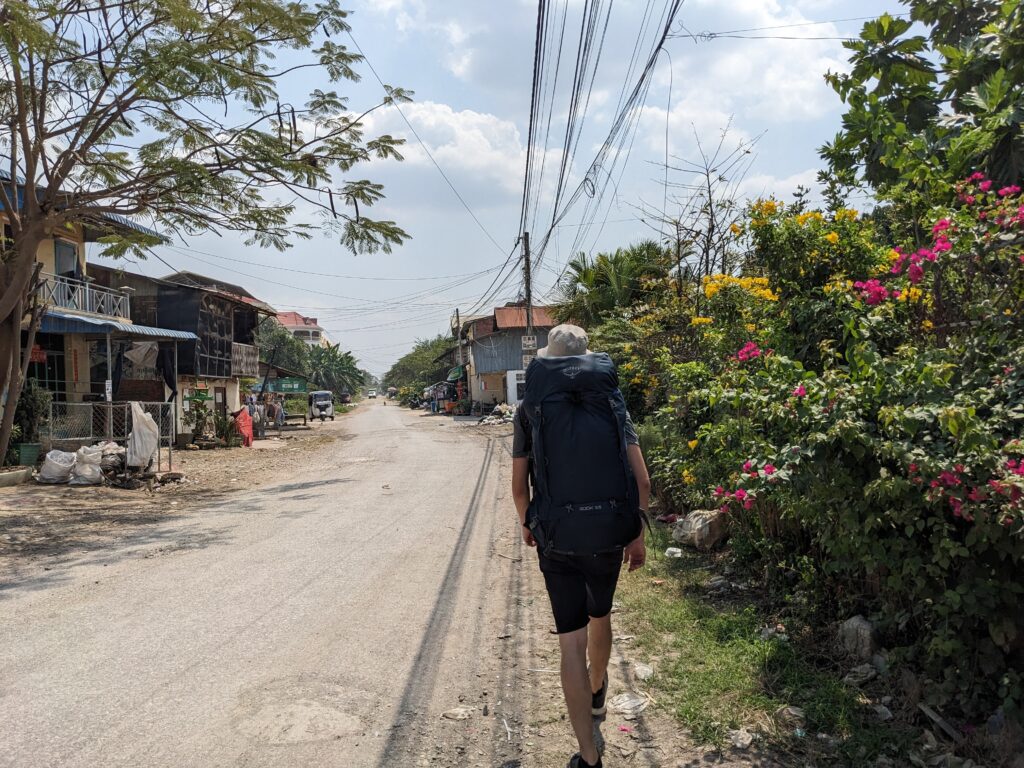 The town is known for having Cambodia's best-preserved French colonial architecture and traditional shophouses, so we spent some time following an excellent walking tour of the area (or, more accurately, Oli navigated and read out the information while I pointed out the buildings and tried not to yawn – it was HOT and I hadn't had coffee!)
We also hired bikes for a day so that we could explore a bit further afield, and took a lovely 25km roundtrip cycle along the river and to Ek Phnom Pagoda, a half-ruined temple. This was a great warm up for our upcoming visit to Angkor Wat!
While we were there, we saw a group of monks in orange robes working by hand to clear overgrown plants from around the temple. I'm not sure if they had plans to put more of the huge stone blocks that were strewn around the site back together or whether they were simply taking care of it as it stood, but either way, it looked like incredibly hot work.
In the same area, we also explored a modern temple, which had incredibly colourful painted scenes on every surface of the interior. Our guidebook suggested skipping this in favour of the ruined temple hidden behind, but I really liked it here – we've visited an awful lot of historic temples recently and it was nice to see where people actually worship today. Not to mention that I am easily impressed by brightly-coloured things!
Just next door, we spotted a giant Buddha statue. The first time I went to visit one of these (in Hong Kong), I assumed that they were really unusual, but actually, it turns out they are everywhere, hidden in the most unexpected of places! It always makes us smile that they all hold some kind of record for being the largest, with lots and lots of qualifications (e.g. the one in Hong Kong is the largest seated bronze Buddha in the world – it's not the largest Buddha, or the largest seated Buddha, or even the largest bronze Buddha, but when you put them all together…)
Our final activity in Battambang was a first for us on this trip: we took a cooking class. It's been quite some time since we stayed anywhere with a full kitchen so we haven't cooked since maybe Almaty (actually that's not quite true, we had kitchens in many of our Korean Airbnbs, but with the weird quirk that you weren't actually allowed to cook in them)! Anyway, we decided that as we enjoyed eating the local food so much, perhaps we should learn to make some of it.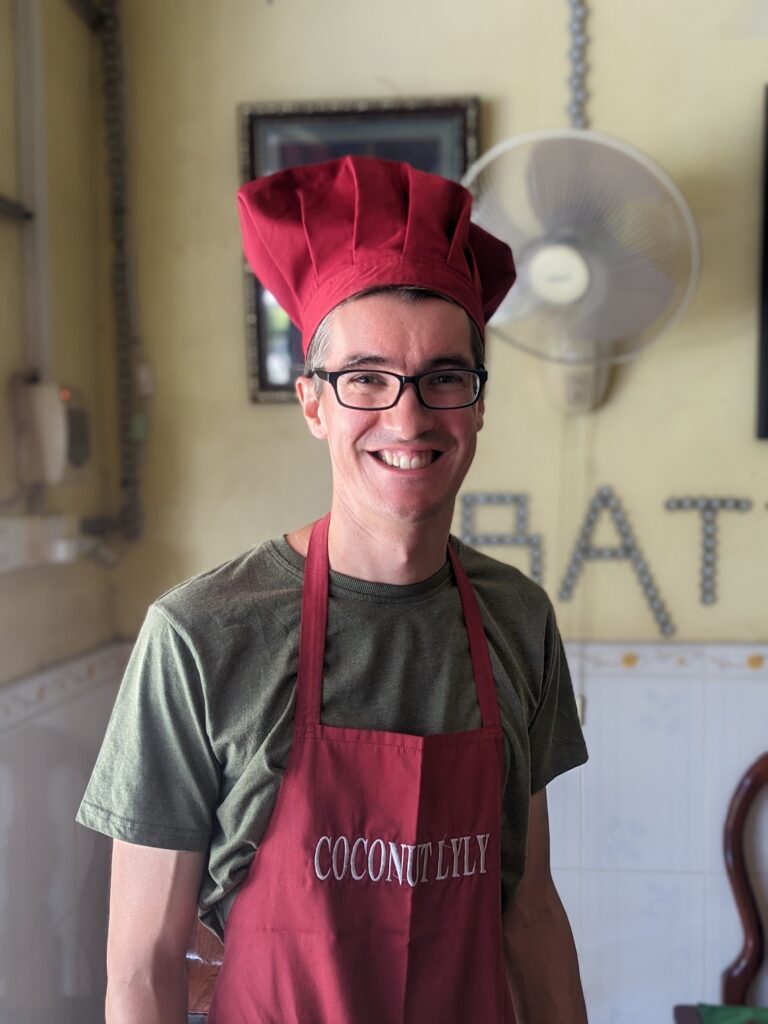 Our first stop was the local market, which was buzzing in the early morning. We bought some of the ingredients we would need for our class, including the coconut milk required for our main course. I found this part really interesting – we saw the dedicated machine that compresses the fresh coconuts to produce the rich, creamy coconut milk and deposits it into a clear plastic bag. I've never had coconut milk as fresh as this! But what really got me were the huge sacks of dessicated coconut that are left over from this process. Chef LyLy laughed as he asked us whether we use this as an ingredient at home (obviously, he already knew that the answer was yes) – in Cambodia, this is used as chicken food!
Unfortunately, I was really messy from eating the delicious coconut sticky rice that we'd been given as breakfast, so I didn't manage to get any photos of the cool coconut machine. But you can have a photo of my breakfast, instead…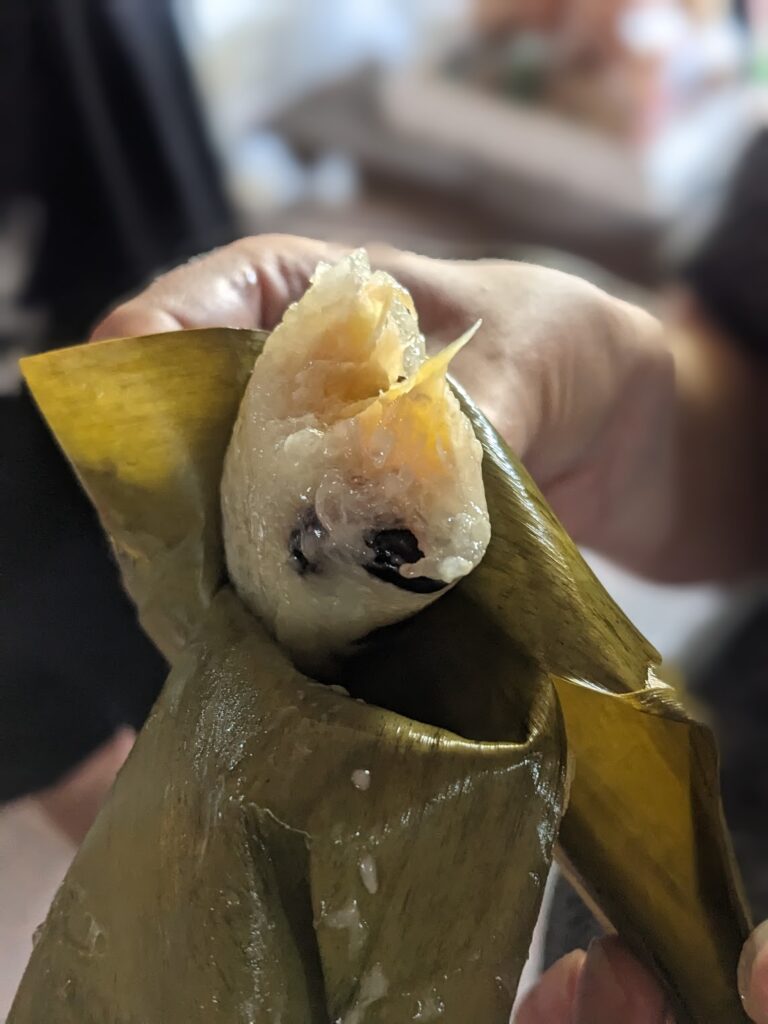 Next, it was back to the cookery school to get started on our four dishes. We were making Fish Amok, which is a coconut milk and white fish curry steamed in a banana leaf bowl. It is milder than a Thai curry (Cambodian food has very little spice), with a slightly different fragrance and an unusual moussey texture, but equally delicious. Fish Amok is Cambodia's national dish, and Oli has been eating it almost daily so now considers himself a bit of a connoisseur. To accompany this, we made a green mango salad with a tangy dressing and fried carrot and taro spring rolls with a dipping sauce. Finally, pudding was the restaurant's own speciality, a coconut dessert akin to a Panna Cotta.
The jury is out on whether we'll ever actually make this food at home – if previous cookery classes we've taken are anything to go by, then probably not! But it was a fun way to spend a morning, and we got an absolutely delicous lunch out of it.
This concluded our time in lovely Battambang, so we boarded an eastbound bus to Siem Reap, the gateway to the mighty Angkor Wat.