From Waitomo, we hopped back onto the daily InterCity bus, which took us south through beautiful countryside and small towns that looked like they were straight out of an NZ version of a Western.
Our bus left us within reach of Tongariro National Park in a village rather vaguely named 'National Park' and we settled into our accommodation, a simple cabin that had everything we needed except one glaring omission: firewood. We could have purchased some ourselves, but we were far too stubborn so we spent our remaining budget on a bottle of red wine and kept warm that way instead! In any case, having a volcano at the end of the road more than made up for our slightly chilly accommodation.
The following morning, we caught the 8am shuttle into the park ready for our day's tramping (NZ lingo for hiking). We were a bit apprehensive as we had a 17.6 km hike ahead and the afternoon forecast was looking a little soggy, but for now the weather was utterly stunning. As we sped along the road on the approach to the National Park, with volcanos looming and the sun shining, it suddenly hit me that NOW we were in NZ! We'd been in the country for nearly a week already, but as much as Auckland and Waitomo had been a great start, they didn't quite have the big-sky, outdoorsy vibe that I'd dreamed of before coming here. This was why we'd come, and we were feeling pretty excited to be here.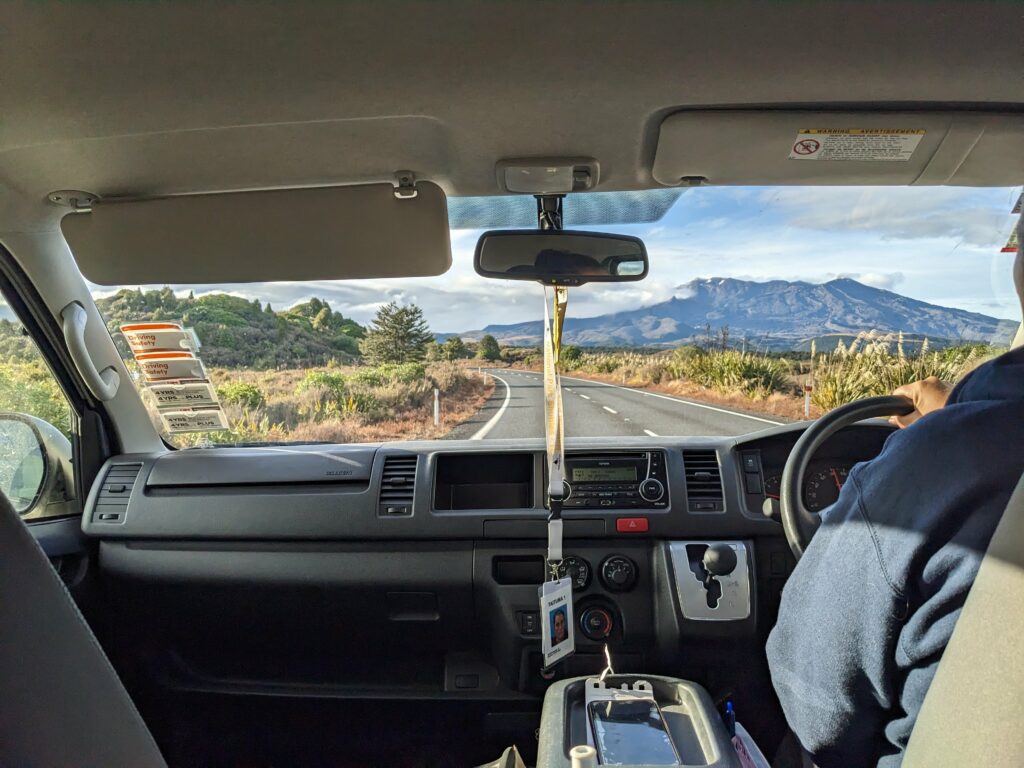 The park's most famous hike is the Tongariro Alpine Crossing, a demanding day hike that ascends to a saddle between Mount Tongariro and Mount Ngauruhoe, passes two craters and several emerald crater lakes before descending again. We wanted to hike this, but we'd read enough warnings about the need for alpine experience and ice equipment at this time of year that we decided we'd best play it safe. Instead, we chose the Tama Lakes hike, which was only a little shorter but had 340 m elevation gain compared to the Crossing's 1,196 m elevation gain. This turned out to be a great choice – we met very few people (whereas apparently the Crossing has up to 3,000 people per day!) and saw some spectacular scenery in exchange for relatively little climbing.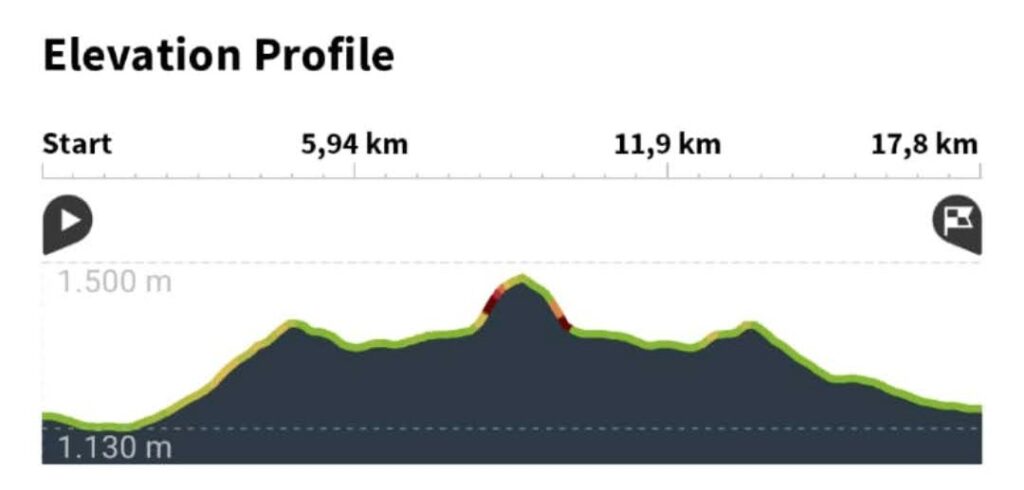 We began the hike in alpine woodland on a path running next to a river and before long reached a pretty waterfall where we had the first of our snacks.
Then we began our ascent, when the views really opened up and we had views of all three active volcanos that sit within the park. At times, the open heathland reminded us of Scotland (apart from that the sun was shining, obviously!). We'd read online that this was an 'advanced' route, but the paths were incredibly well-maintained, so progress was much easier than we were expecting. Then again, conditions are everything, and we were fortunate to have sunshine and blue skies.
After a couple of hours, we reached Lower Tama lake, which sits in an old explosion crater from the nearby volancos.
We'd provisionally planned to turn around here, but we knew that another 30 minutes' climbing would bring us to Upper Tama lake and we just couldn't resist. It was definitely worth the climb and it gave us a bit of 'proper' walking off the manicured footpaths and boardwalks on some loose scree and an exposed ridge.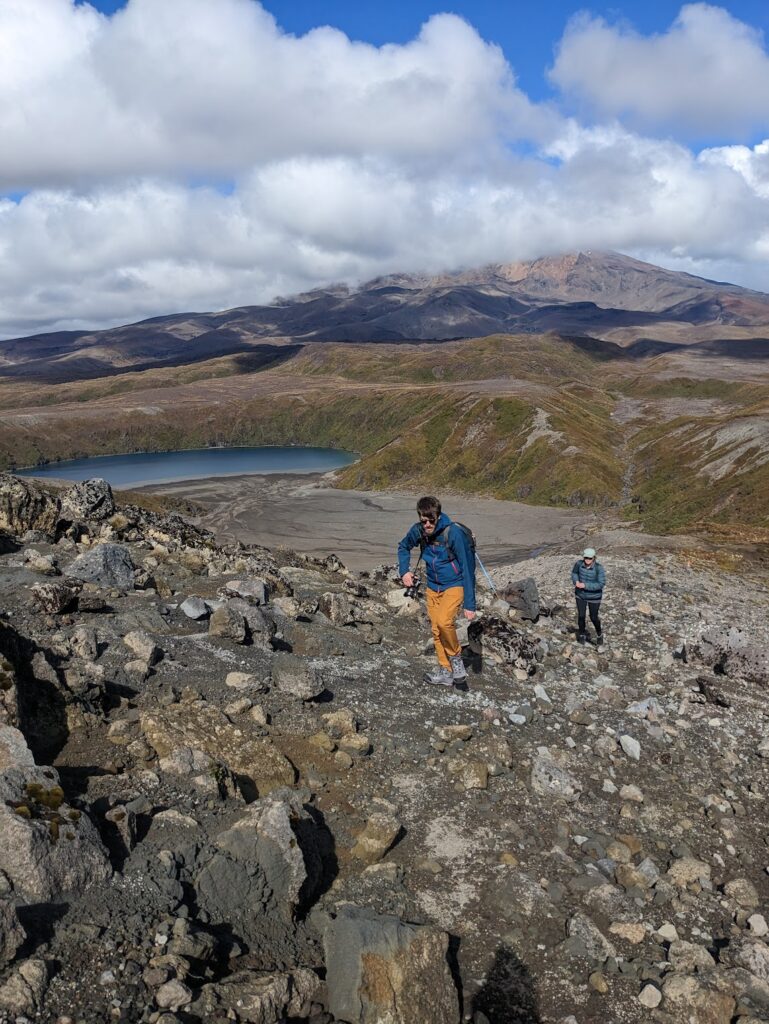 The view at the top was spectacular and we settled down to eat our packed lunches, feeling very pleased with ourselves and life in general (if a little windswept).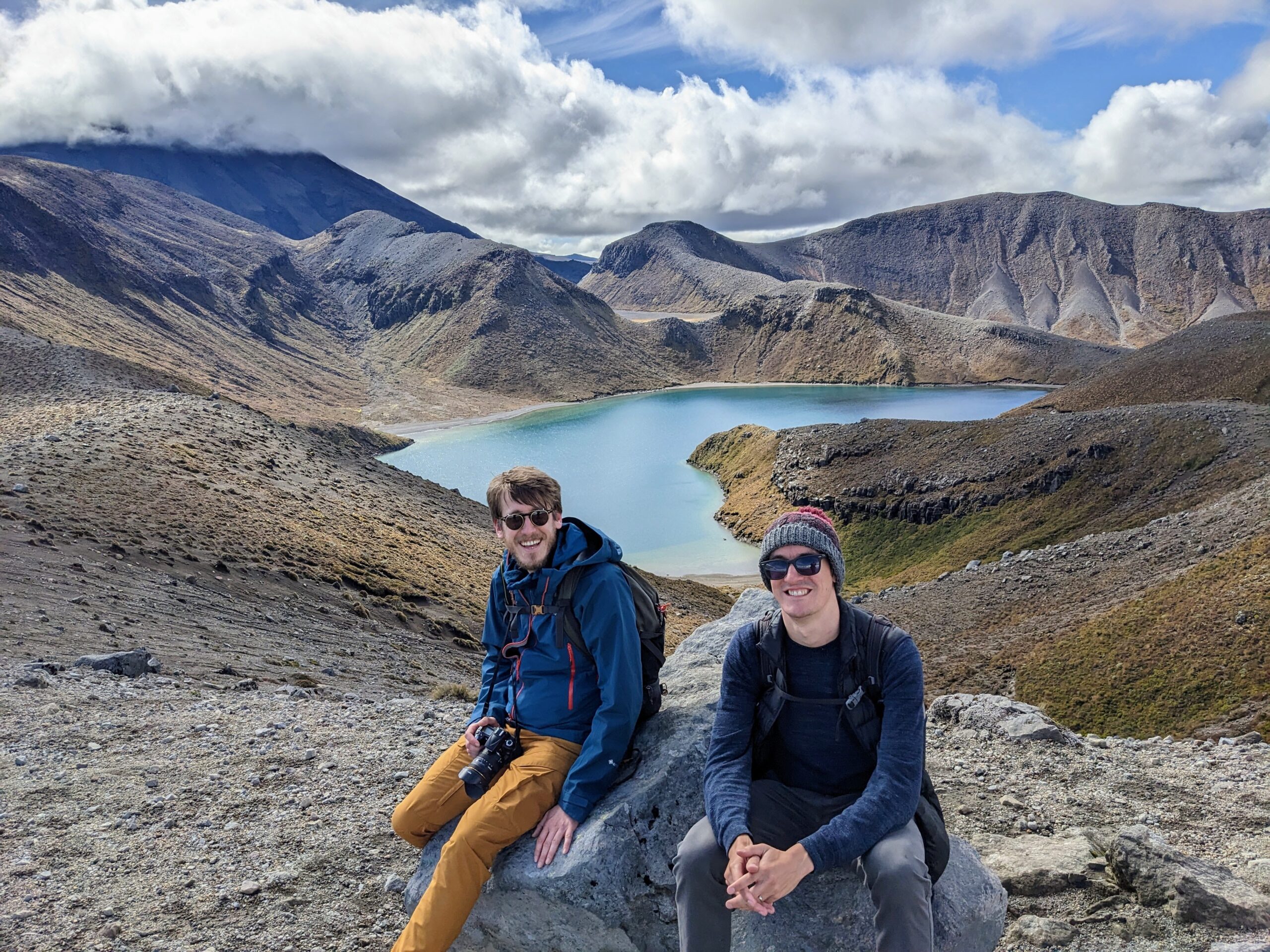 We made good time on our return journey and after just four hours' walking (six hours overall – we did have one or two snack breaks!) we made it back to our starting point. We couldn't find anywhere to buy a victory drink so we headed to the National Park visitor centre in the hope that it would occupy us for the two hours until we were due to catch our return shuttle. It was actually fantastically engaging with lots of exhibits on seismic activity in the region, local flora and fauna, and more. But best of all, we discovered that there was a theatre with dangerously comfortable seats showing a (long) documentary about volcanos. So, nothing against the documentary, but I'm pretty sure we all had a bit of a nap while we were there. We did wonder how often the staff have to come and empty the theatre of tired hikers!
That evening, Mario insisted we just had to join him outside for a few minutes where he'd been stargazing (and fending off curious dogs, apparently). We'd just got cosy inside, but we're glad he insisted as the sky was very dark and the stars were spectacular. From our position in the southern hemisphere, we could see the Milky Way stretching across the sky, as well as the Magellanic Clouds, two other galaxies that are only visible from south of the equator. It was pretty cool – and very handy to have an Astrophysicist on hand to give us a tour!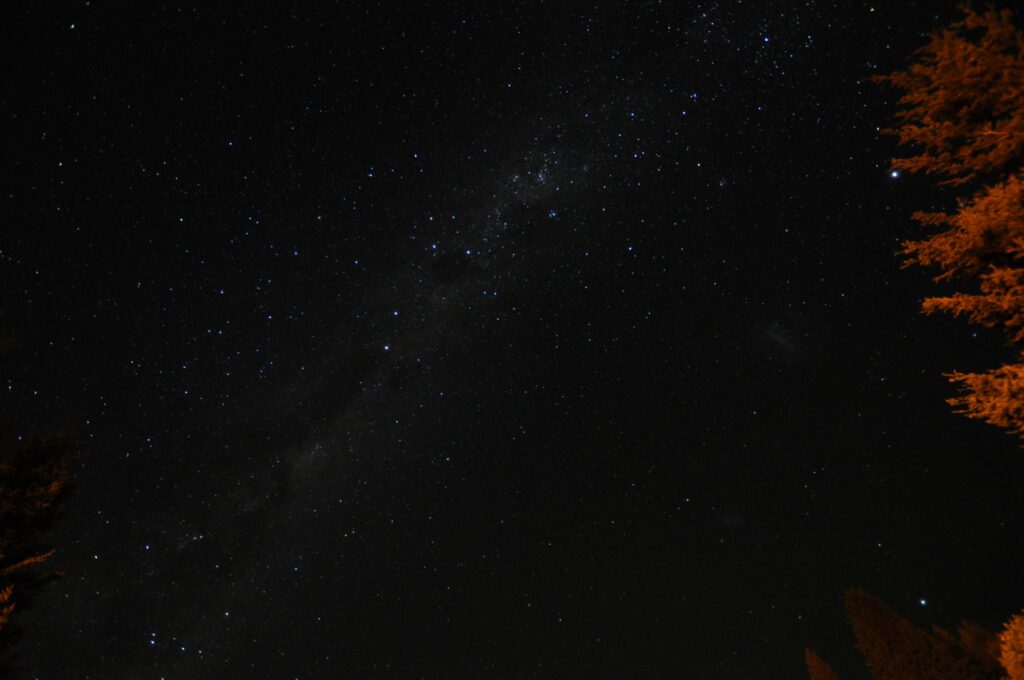 The next morning, we checked out of our little cabin with plans to sit in a local restaurant, slowly ordering coffees, lunch and more coffees until it was time for our afternoon train. However, we soon realised the flaw in this plan as there were only two local restaurants and neither opened for lunch! Thankfully, the sun was shining so we picked up some food from the only shop (which also served as a petrol station, souvenir shop, local meeting point…) and sat outside to eat. In a good indication of how much NZ likes coffee, there may not have been any restaurants or cafes, but there was a van serving excellent coffee. We'd just bought a pack of Tim Tams in the shop, so when combined with the coffee there was really only one option…our first Tim Tam Slam!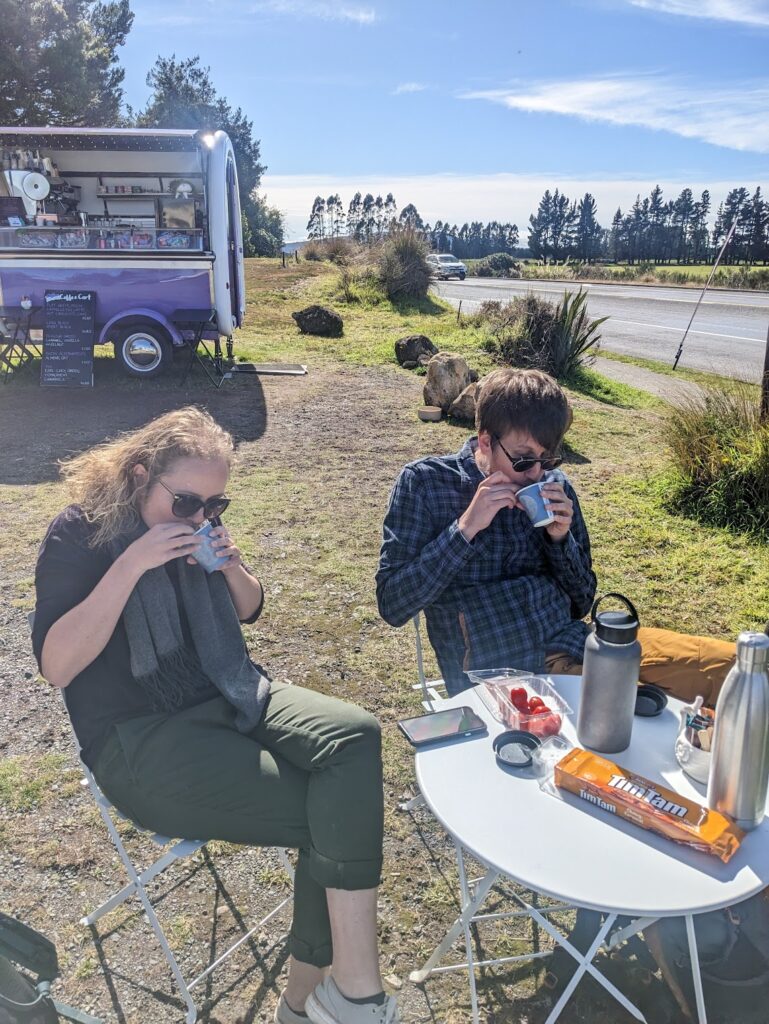 Bite off opposite ends of the Tim Tam
Dunk it in the coffee (or hot chocolate) as if it were a straw and slurp enthusiastically
Slam it into your mouth and enjoy the coffee, biscuit and melted chocolate medley. The trick is to eat the biscuit as soon as the coffee reaches your mouth, as you have just seconds before the Tim Tam self-destructs
We thought that this was just an NZ rite of passage that we had to try (even though confusingly, Tim Tams are actually Australian), but we had no idea the combo would be SO delicious! I'm sure the sunshine and volcano view helped too, so just to be thorough, we've repeated it several times since (with tea, hot water and we've even considered mulled wine) and haven't yet been disappointed. For anyone that wants to eat along at home (highly recommended), we think the nearest UK alternative to a Tim Tam would be a Penguin bar.
This culinary triumph concluded our time in Tongariro National Park. Next time, we head to New Zealand's capital, Wellington, for coffee, craft beer and cable cars.