From Auckland, we took a 2.5-hour coach to the village of Waitomo. For context, pretty much the only road-based public transport around New Zealand is provided by InterCity buses, the NZ equivalent of the UK's National Express. Using these buses felt so straightforward compared to much of our transport across Asia. For example, our bus tickets had both the address and a Google Maps link of the departure location – in some places in SE Asia, we were given only the name of the city and were left to work out the rest ourselves!
Almost everyone who visits Waitomo is here to see one thing – the Glowworm Caves. However, arriving in Waitomo village was one thing, but getting to the meeting point for our glowworm cave tour was quite another. The meeting point was inexplicably 10 km out of town, and with no public transport links, we were faced with either a 3.5 hour walk on a busy highway or a 150 NZD (£75) taxi fare. After all three of us had spent hours trying desperately to find a better plan, the rafting company took pity on us and agreed to give us a lift. Phew! It turns out that trying to tour NZ on public transport isn't quite as easy as we'd thought!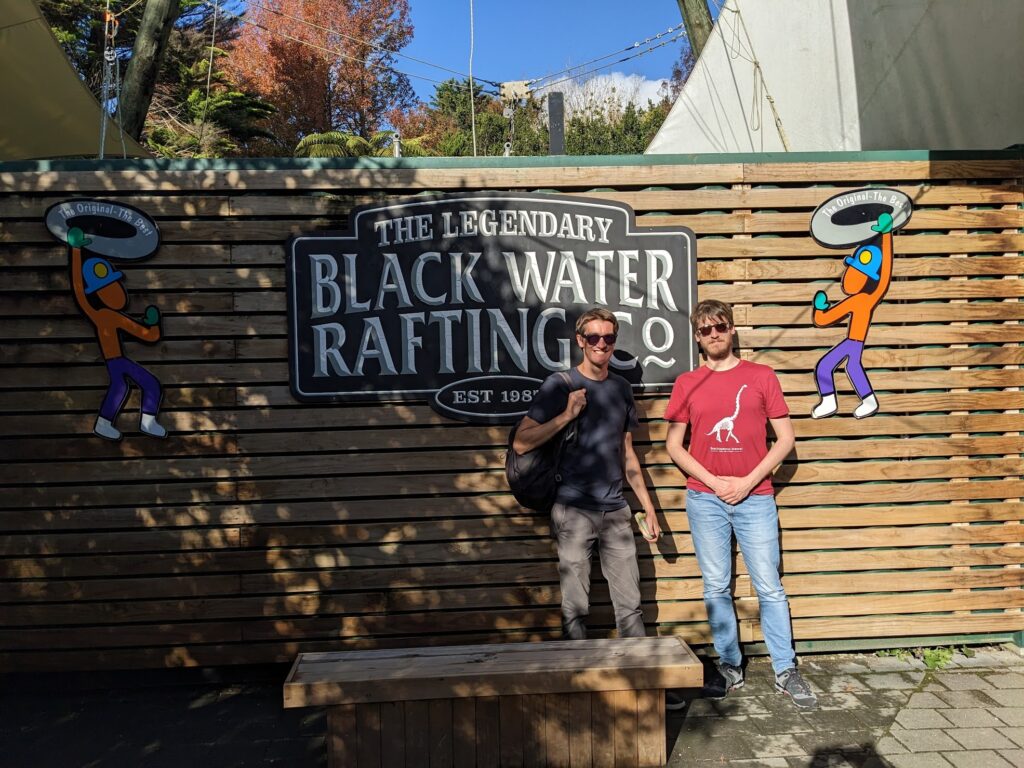 The cave-dwelling glowworms are mysterious creatures. They spend the majority of their existence in larvae form attached to the roof of pitch black caves, where they catch flies to eat and use the resulting energy to produce a cocoon and a faint green glow. When they finally emerge from their cocoons, they have a single day to mate, having been born without a mouth (no street food for them!). Still, it's the light that they give off that we were here to see, but for that, we needed to get kitted up.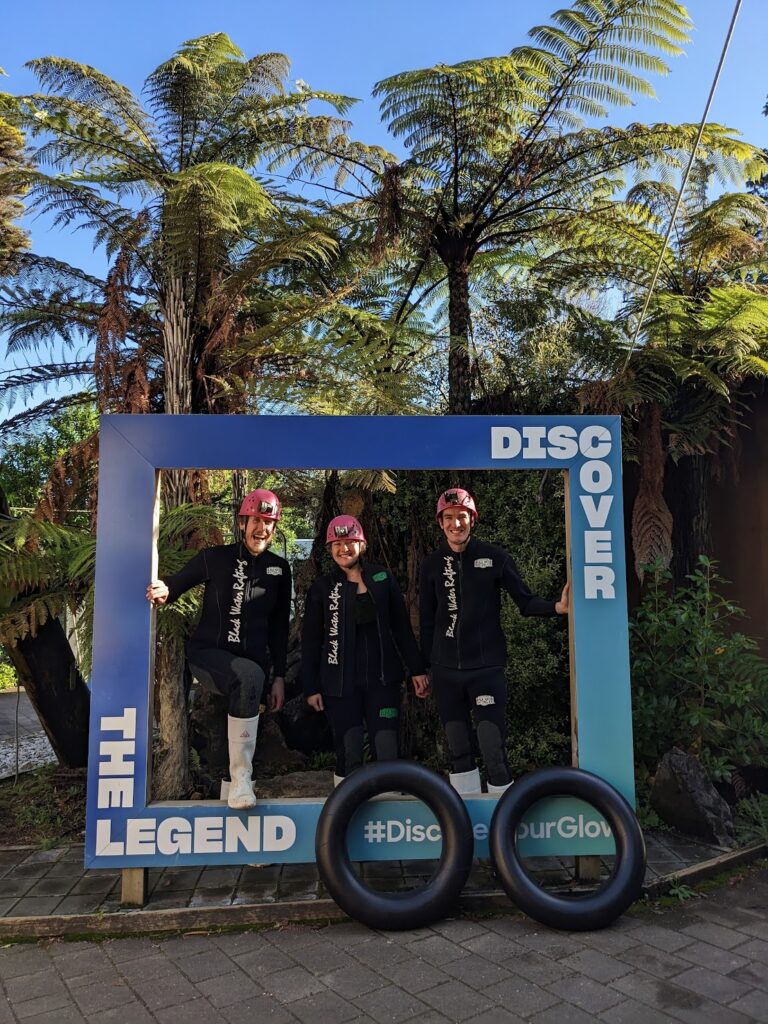 Our caving attire began with a full wetsuit, a jacket and special wetsuit socks. We then accessorised the outfit with a helmet, a head torch, and white rubber boots to complete the look. Putting on a wet and cold wetsuit is never an elegant process, which was good preparation, as it turns out that there's nothing elegant about caving either. We spent the next hour crawling through tiny passages in the cave to reach an underground river.
Eventually, we reached the river and spent some time climbing, wading and floating through it, until we reached a waterfall. We were instructed that the best way to get over the waterfall was by jumping backwards off it and into our rubber rings. This took a real leap of faith (thankfully helped by our guide giving us a good shove to get us on our way), and ensured there was no turning back. We then floated through the cave, at times forming a "human eel" by holding on to each other's boots to form a long chain. Finally, our guide challenged us to turn off our head torches and float our way out of the caves in the pitch black, using only the glowworms as a guide to the exit. The whole thing was both exhilarating and magical, and Sara was delighted to tick this off her NZ must-see list, even if she doesn't look it in the picture below!
We weren't allowed to take phones or cameras with us, but the guides generously snapped hundreds of photos as we gradually made our way through the cave. However, only three photos ever appeared on the online portal, but they just so happened to be of the three of us. I feel for the other members of our group who only have these super-flattering photos by which to remember their experience!
---
The following day, we took a walk along the Waitomo Walkway through the lush countryside surrounding the caves. The scenery looked just like something from The Lord of the Rings, which I guess is unsurprising given that most of the filming took place here in New Zealand.
The route wasn't exactly full of obstacles, although we did come across an ingenious style of gate that we'd never seen before. It took a little investigation before we figured out how to use it, as demonstrated expertly by Mario.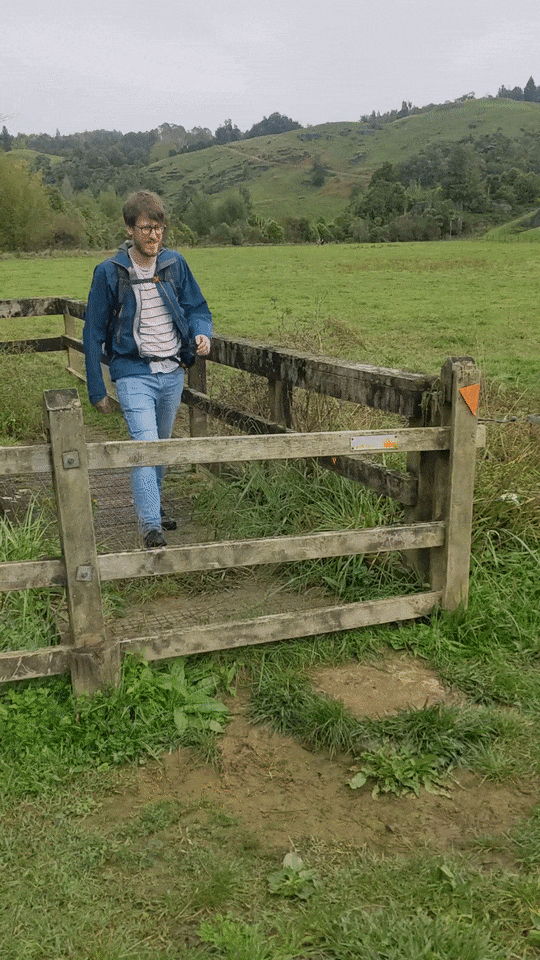 ---
After just 24 hours in Waitomo village, we continued south into the Tongariro National Park, home to three huge and active (!) volcanos.