From Blenheim, we hopped aboard the Coastal Pacific train for the 311 km journey south to Christchurch.
This train was just as comfortable as our stint on the Northern Explorer, but this time the ride had ocean views almost the whole way. We passed the time between gazing out the windows with a few more Tim Tam Slams, and while our antics did evoke a little nostalgia from our captive audience, they also politely implied that it was more of a children's activity. Mario defended our snack choice by referencing a photo of an adult clearly slamming a Tim Tam on the Wikipedia page, but I'm not sure they were convinced.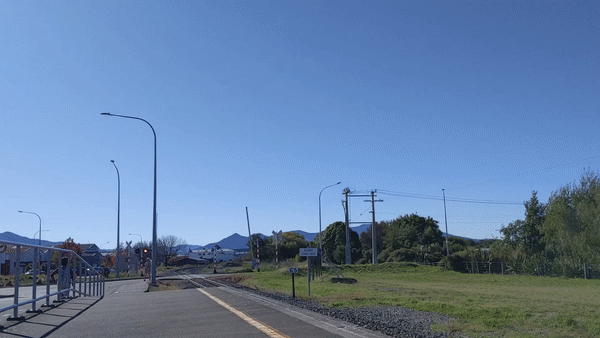 We had two full days in and around Christchurch, the first of which we spent seeing the city centre. On the second, we took a road trip to the Banks Peninsula.
Day 1: Quake City
Arriving in Christchurch, the effects of the 2011 6.3 magnitude earthquake were evident almost everywhere we went. This was clearly a city in the midst of a full reconstruction, but on a vastly different timescale to what we witnessed in Gyumri, Armenia. We visited Quake City, Christchurch's earthquake museum, which covered the initial impact and response, as well as the the reconstruction effort since. It was pretty shocking watching and listening to first person accounts of how the earthquake completely reshaped their city, and how the residents' attitudes to the city have changed over time.
While I naively expected the decision to repair Christchurch's buildings to be straightforward, reading about Christchurch Cathedral (whose collapsed spire made headlines around the world) tells quite the opposite story. Initially, there seemed to be little agreement on whether the original cathedral should be restored or a new cathedral built in its place. In 2012, it looked set to be completely demolished, but since then the original building has been stabilised and restoration work is now in progress. In the meantime, Anglican services have been relocated to the Cardboard Cathedral, a building made from 98 giant cardboard tubes and constructed in less than a year.
We also saw plenty of street art, either on the exposed sides of old brick buildings or as part of the restoration effort. Note that the building in the photo on the right below actually has a flat frontage, despite the the perspective trick!
One local institution that has stood the test of time is C1 Espresso, despite having needed to relocate to the old post office following the destruction of their original premises by the earthquake. This cafe is famous for delivering (some of) their menu via a network of pneumatic tubes, which connect the kitchen to each customer's table.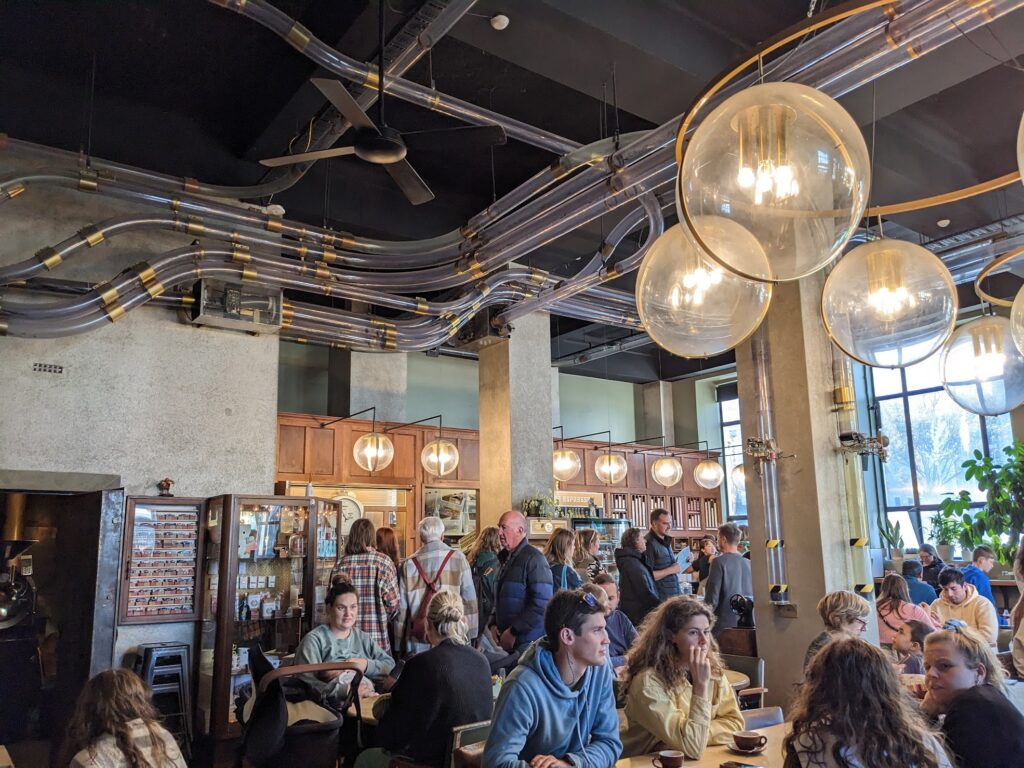 In fact, this place came doubly recommended, by both the Lonely Planet and Tom Scott, who each insisted that a cafe like this can't survive without the food and coffee actually being good too. We couldn't agree more, and ended up visiting the cafe three times during our stay in Christchurch.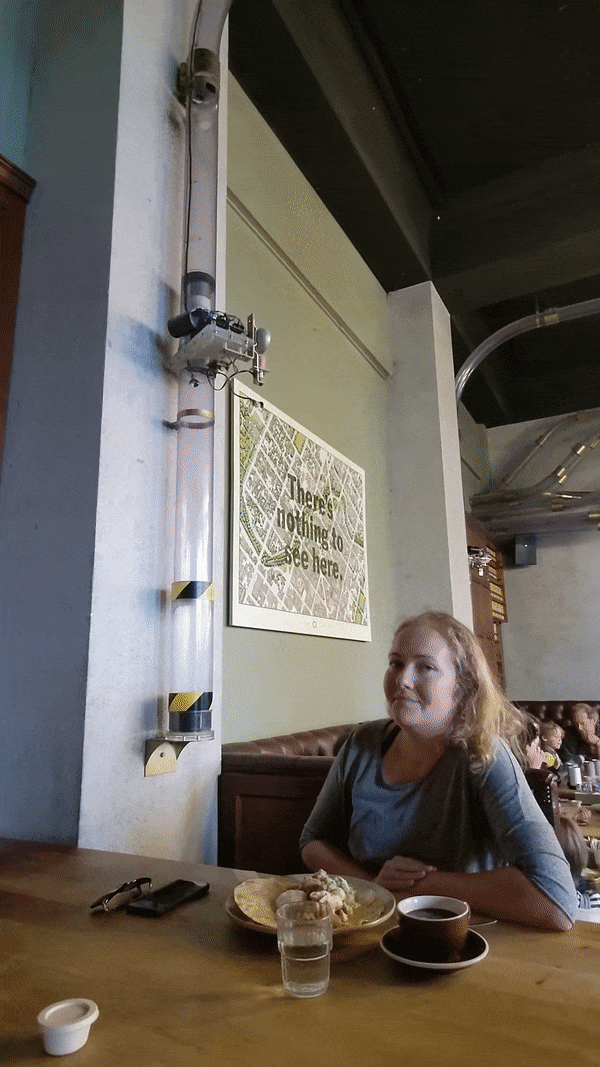 Walking around the town, we were really impressed to see Christchurch's historic tram rattling across the main square and through narrow gaps between buildings. That was until we saw that the cost of a day ticket is 35 NZD (£17)! For comparison, a day ticket on Christchurch's central bus network is 2.60 NZD. In my books, this labels the tram not just as a tourist attraction, but also a tourist trap 🙁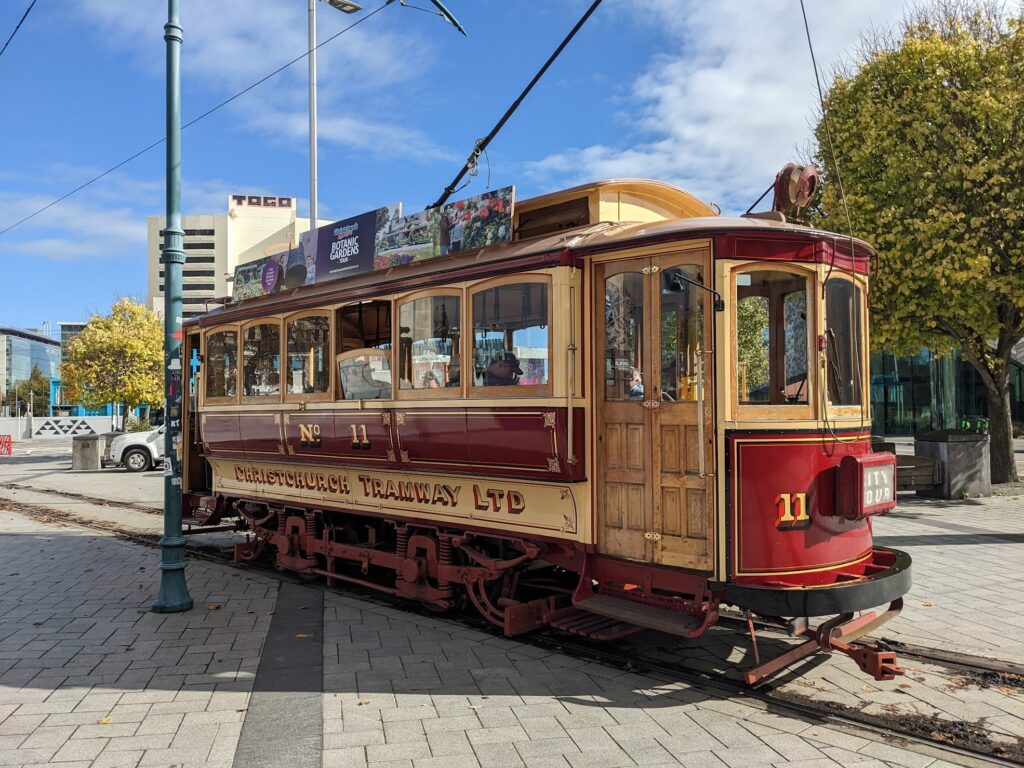 We did however thoroughly enjoy Christchurch's Riverside Market, the permanent replacement of the city's temporary Container Mall. It was jam packed with street food and local produce, with no shortage of excellent beer and wine either.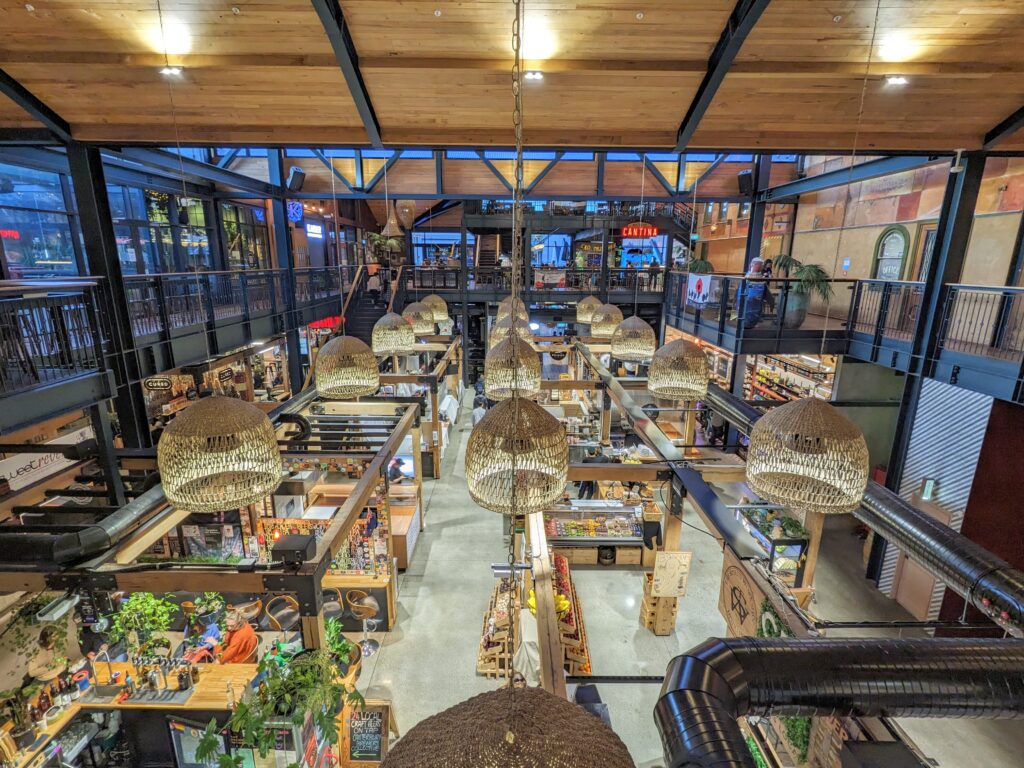 Day 2: Road trip around Banks Peninsula
The following day, we hired a car to explore the Banks Peninsula. This is an area which is pretty much impossible to see without your own transport, and with Mario filling a third seat in the car, we managed to justify the carbon emissions to ourselves.
I expected driving in New Zealand to feel fairly familiar given that they also drive on the left, and indeed it was straightforward so long as you can keep your eyes off the spectacular scenery long enough to check the road every once in a while. The only subtle difference is that the indicator / windscreen-washer stalks are on the opposite sides of the wheel relative to the UK. Despite noting this before pulling out of the car hire depot, I still gave the windscreen a good wash as I changed lanes on the roundabout on the way out of the airport.
We first drove to Lyttelton via the scenic Summit Road. Now, New Zealand isn't short of natural beauty, but we're always suckers for a bit of industrial logistics. We stopped briefly at a dramatic viewpoint that also overlooked a container port, and enjoyed watching the swarm of specialised vehicles moving containers from the dock onto a ship. And just before you raise your eyebrows, we weren't the only ones at the viewpoint!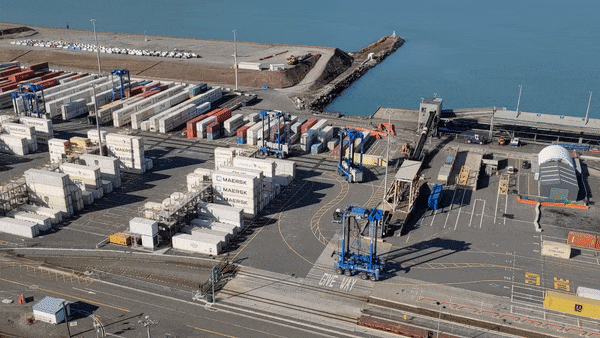 From Lyttelton, we continued around the Banks Peninsula towards Akaroa via another scenic route (also called Summit Road!) along the top of the volcanic ridge. Pausing for a packed lunch of goodies from C1 Espresso with a view, I tucked into my huge pork and apple sausage roll. This certainly made it into my top five sausage rolls ever, and even gave Hart & Lova (our favourite bakery in Kilburn) a run for its money, although Sara was less convinced.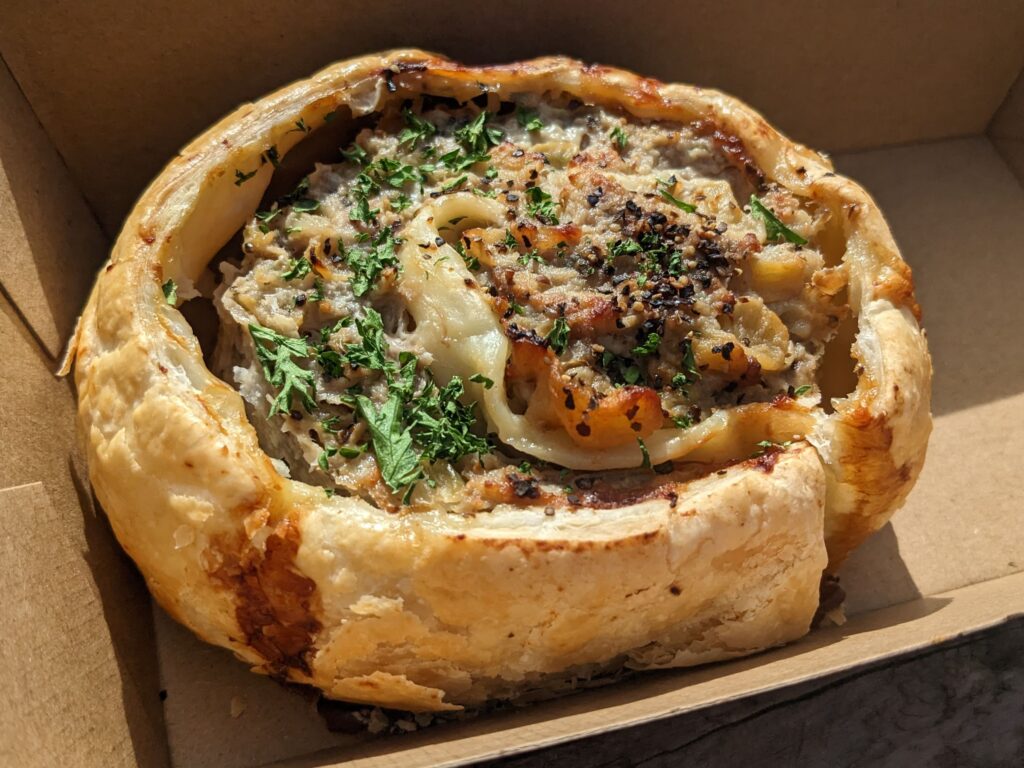 We then dropped down into Akaroa, a charming coastal town that at first glance had a strange obsession with all things French. We later learned that the town was settled by 63 French emigrants in 1840, which went some way to explaining the French influence. I also had my first taste here of Hokey pokey ice cream, a popular flavour in NZ consisting of vanilla ice cream with chunks of honeycomb – apparently an important piece of kiwiana!
The last stop on our road trip was Tumbledown Bay – a secluded beach on the southern shore of the peninsula. We never would have found this beautiful place (it was a 20-minute drive down a dirt road!) if it wasn't for the recommendation of an old colleague – thanks, Michael! Here, Sara and Mario threw caution to the wind and braved the cold waters for swim, while I held their towels. It was only once they were in the water that I noticed a playful herd of seals splashing around on the rocks and surfing on the waves just metres from where Sara and Mario were swimming. It really was a beautiful moment.
This concluded an action-packed, two-day stay in Christchurch, and we returned the hire car completely covered in dust, but with a sparkling clean windscreen. Special thanks to Michael for all his recommendations around the Banks Peninsula – we had an awesome time!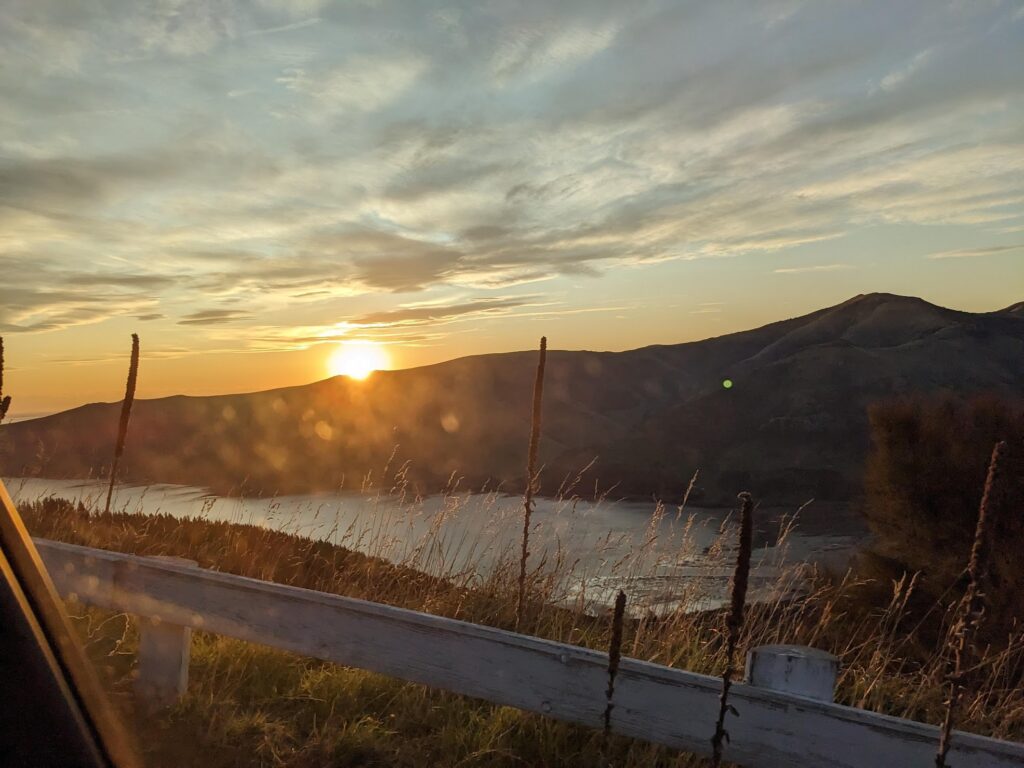 For our next adventure, we're trading the hire car for a trio of mountain bikes and attempting a four-day journey along the Central Otago Rail Trail.