I can still remember when I finally accepted that it wasn't just a myth that people could tell the difference between grape varieties just by taste and smell. We were sitting in our favourite Southampton pub at the time, the Gordon Arms in Portswood, and one of my friends passed me a glass of wine from the bar. It was love at first taste. After several years of drinking variously awful white wines that had probably been open for weeks in student pubs, this actually tasted good! Of course, my friend had absolutely no idea which wine they'd ordered, so it took a few more rounds to establish what I'd enjoyed so much, but after some perseverance (!), I discovered it was a Sauvignon Blanc from Marlborough and I never looked back. My wine tastes might have broadened a bit these days, but ever since then I've wanted to visit Marlborough to see the distant vineyards and taste the wines at source. And we were finally here!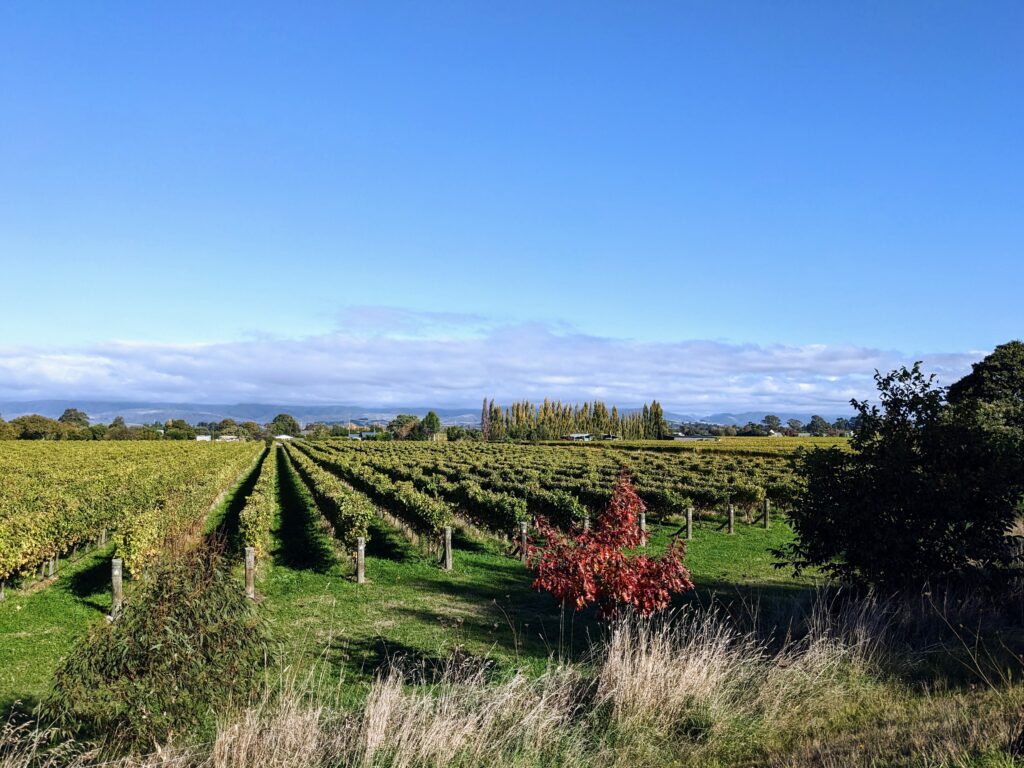 The Marlborough region's vineyards stretch on for nearly 300 square kilometres, but we'd chosen to concentrate our efforts on a small area just to the north-east of the town of Blenheim, and to do so by bicycle. Although we arrived in the pouring rain, our full day to explore the region dawned with gorgeous sunshine, so we were feeling very lucky.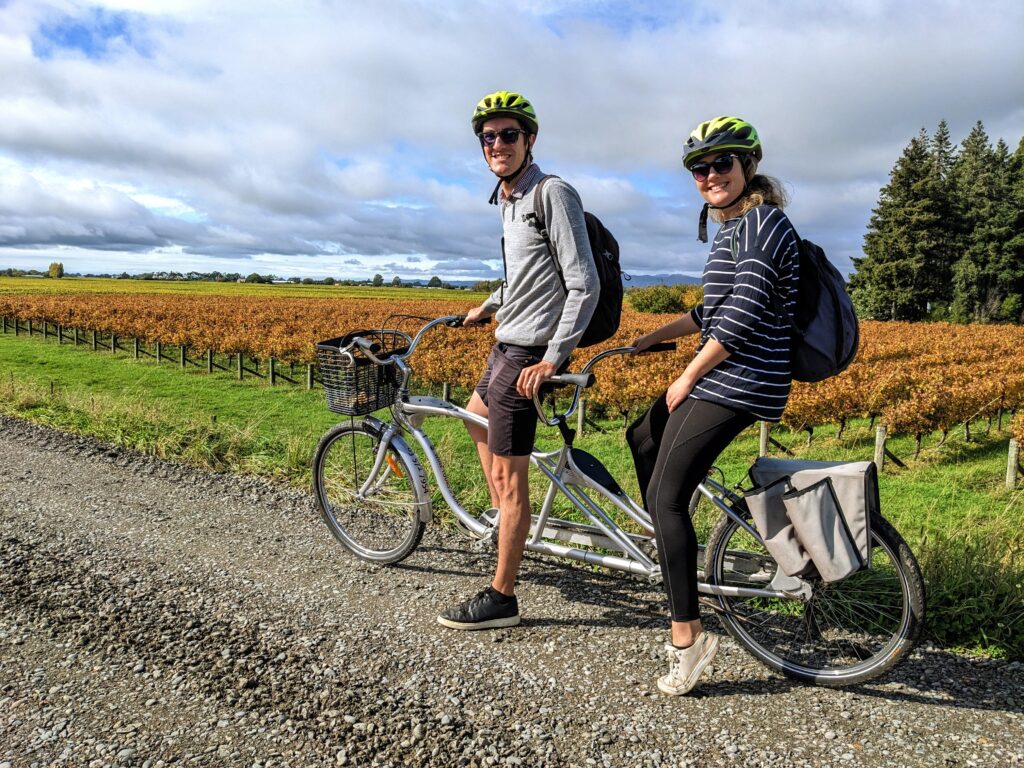 Honestly, I've rarely been happier! After a long break in Southeast Asia, Oli and I were starting to find our stride on a tandem again and our bickering was much reduced (Mario may disagree…), so I spent lots of the day hanging off the back of the bike (still pedalling, I promise!) and taking hundreds of photos of the orderly rows of vines against a backdrop of photogenic mountains. In between, we made stops at three vineyards and a brewery.
Stop 1: Allan Scott Winery
We began our day at Allan Scott, mainly because they had enomatic machines (essentially fancy wine vending machines) so you could build your own tasting. Of course, we couldn't actually be trusted with this as we immediately got seduced by a 'cat wine' (i.e. a Sauvignon Blanc with a bespectacled ginger cat on the label), which wasn't quite to our taste. They had three other Sauvignon Blancs on offer that I'm sure would have been much better, had we been less shallow!
Wines: 6/10
Bonhomie: 7/10
Setting: 8/10 (comfy beanbags in the sunshine with a vine view)
Stop 2: Picnic
With one eye on our budget and another on the fact we hadn't got round to making a lunch reservation, Team Deli (i.e. Oli and Mario) headed into Blenheim in the morning to pick up a picnic from a fancy deli/cafe. We ate this sitting on the grass verge of a quiet side road, right next to the vines. Splendid!
Wines: 0/10 (just water with our picnic, we are sensible in our old age – although my salmon tart would have paired perfectly with a crisp white)
Bonhomie: 8/10
Setting: 9/10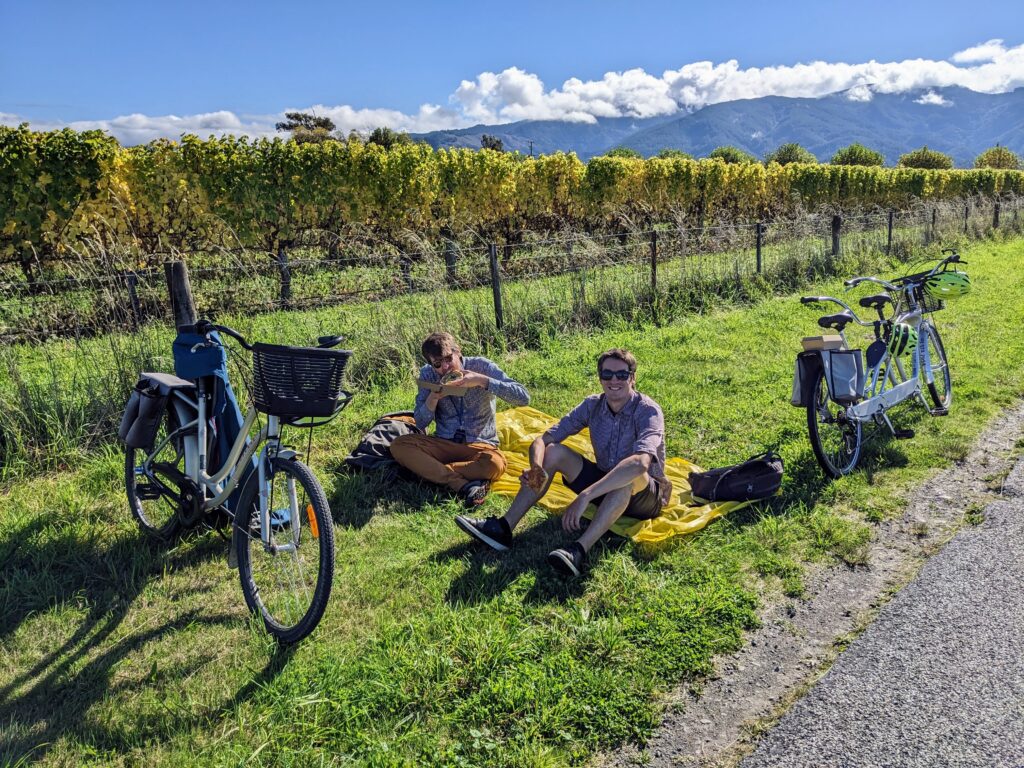 Stop 3: Moa Brewing Co.
To thank Oli for indulging us with a full day of wine tastings, we popped into Moa Brewing for a cheeky post-lunch pint. Oli had a hazy IPA, Mario had a white IPA, and I had an alcoholic ginger beer. The beers were good, but it just didn't feel right to be drinking them in the middle of Marlborough…
Wines: 0/10 (to be fair, it was a brewery, but I did have a slight sense of humour failure when they couldn't make me a post-lunch coffee)
Bonhomie: 5/10 (post-lunch slump, plus see coffee debacle above)
Setting: 7/10
Stop 4: Huia Vineyards
Our fourth stop was at Huia, by far the smallest vineyard we visited. This was our only traditional guided tasting of the day, with a super friendly sommelier popping to our table every few minutes with a new bottle and explanation of what we were about to try. We really liked the relaxed, low-key atmosphere of this vineyard, and got talking to the friendly group sat next to us, who gave us lots of NZ travel tips. It soon became clear that 'Trace', one of the group, was much more interested in chatting and drinking the wine than the wine tasting itself. When the sommelier came over to pour them a tasting of Chardonnay, she asked them how they felt about it (apparently Chardonnay divides opinion the world over). "Yes, it was great," Trace answered. "No, no," her friends replied, "You haven't tried it yet!"
Wines: 8/10
Bonhomie: 8/10
Setting: 10/10 (what a spot)
Stop 5: Forrest Wines
We'd been told by the cycle hire place that if we wanted one last tasting before we returned the bikes at 5pm, Forrest Wines was one of the better bets as most other tasting rooms shut early. However, they emphasised that we should arrive by 4pm or else they probably wouldn't serve us. So, at 3.59 on the dot we screeched into the tasting room and placed our order. Despite having finished serving food for the day, they even agreed to put together a cheeseboard for us (we must have looked hungry). Kiwis are just too nice!
Alongside the cheese, we were each served a big tray of (tiny) glasses of seven different wines. After a very quick description of each, we were left to our own devices. This was partly good as we were free to be brutally honest about the wines, but bad as we immediately forgot what they'd told us about each of them. Despite a full day of tastings, we had our first classic Marlborough Sauvignon Blanc here, so we bought a bottle to savour later. After all, we'd been given special wine panniers on our bikes so we needed to make use of them!
Wines: 8/10
Bonhomie: 10/10 (a day well spent)
Setting: 8/10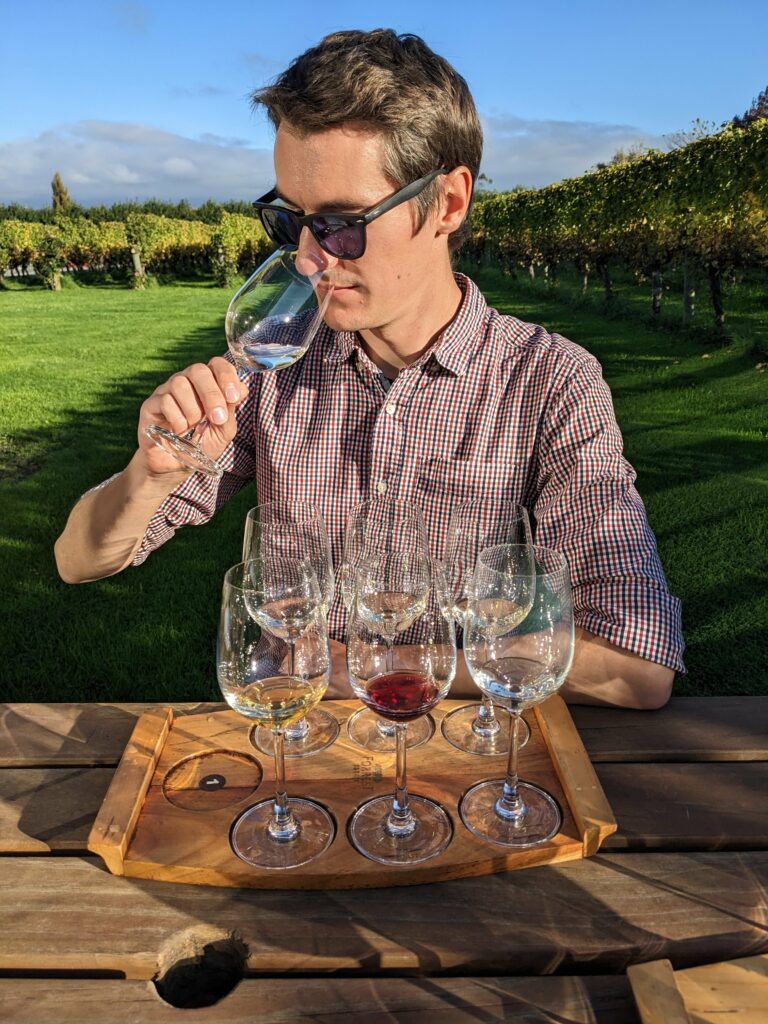 After a highly successful day of cycling, tastings, picnic and cheese, it was time to hop on our second (and final) NZ train that would take us all the way to the South Island's largest city, Christchurch.